1 View
Subaru Prepping Hybrid Vehicle for New York Debut
March 22nd, 2013 7:31 PM
Share
We're committed to finding, researching, and recommending the best products. We earn commissions from purchases you make using links in our articles. Learn more here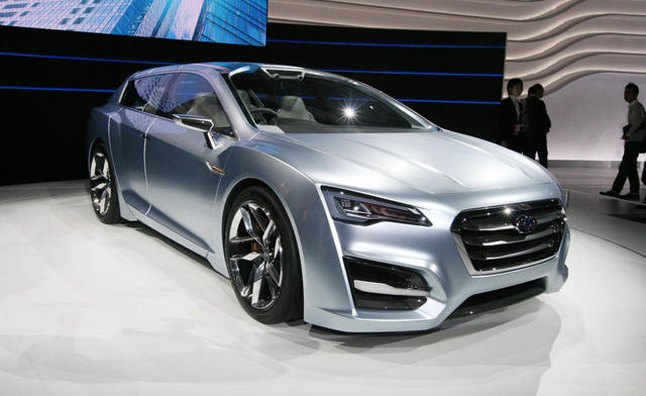 Looking to keep up with rivals and complete a full line overhaul, Subaru is readying a hybrid powertrain for one of its vehicles, likely to be unveiled at the upcoming New York Auto Show.
While details remain secret, Kenichi Yamamoto, director of product management and coordination at Subaru of America confirmed to The Detroit Bureau that parent company Fuji Heavy Industries is getting a hybrid model ready. According to Yamamoto, the Japanese market spurred this decision, as Honda, Toyota and Nissan all offer hybrid vehicles, which are constantly gaining market share.
SEE ALSO: Subaru Advanced Tourer Concept Previews Subie's First Hybrid

The brand's hybrid technology was previewed back in 2011 with the Advanced Tourer Concept (shown above), which was driven by a turbocharged direct-injection 4-cylinder boxer engine mated to an in-house hybrid drivetrain. The concept also had a version of Subaru's trusted all-wheel drive setup, though in this case, the power was sent to the rear wheels via electric power.
What remains to be seen is which vehicle the hybrid setup will mate with first. The Advanced Tourer Concept was more wagon than anything else, suggesting that the Forester could be first in the lineup to receive the electric power treatment, although the Legacy is also rumored to be a front runner for the hybrid tech.
GALLERY: Subaru Advanced Tourer Concept
Stephen Elmer
Stephen covers all of the day-to-day events of the industry as the News Editor at AutoGuide, along with being the AG truck expert. His truck knowledge comes from working long days on the woodlot with pickups and driving straight trucks professionally. When not at his desk, Steve can be found playing his bass or riding his snowmobile or Sea-Doo. Find Stephen on <A title="@Selmer07 on Twitter" href="http://www.twitter.com/selmer07">Twitter</A> and <A title="Stephen on Google+" href="http://plus.google.com/117833131531784822251?rel=author">Google+</A>
More by Stephen Elmer
Published January 23rd, 2013 10:34 AM
Popular Articles
Latest Comparisons
Car Buying Tools