2 Views
More Powerful Dodge Challenger SRT8 Planned as Camaro Z/28 Rival
March 31st, 2013 11:54 AM
Share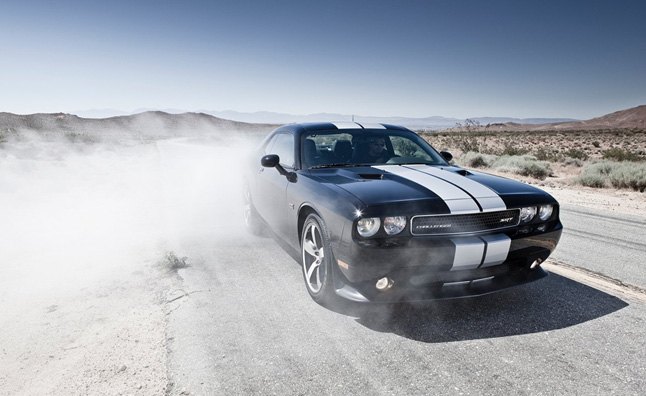 Now that Chevrolet has introduced its new 2014 Camaro Z/28, SRT and Dodge are looking to rise to the challenge with a more powerful, lighter Challenger SRT8 model.
Though he was light on details, SRT President and CEO Ralph Gilles promised that the brand would soon have "an answer to the Z/28." The current Challenger SRT8 392 has 470 hp and 470 lb-ft of torque, but it's not as competitive as the Camaro Z/28 or even the now discontinued Ford Mustang Boss 302. Chances are, SRT is working behind closed doors to enhance the power of its 6.4-liter HEMI V8 to at least match, if not exceed, the performance of the new Z/28 – that means at least 500 hp.
SEE ALSO: 2014 Chevrolet Camaro Z/28 Faster than ZL1
More importantly though, SRT will have to lighten the load on the Challenger, which weighs in at more than 4,100 pounds in its current form. All-around performance will also likely be enhanced with larger brakes, sportier suspension, lighter wheels, and stickier rubber.
Now Challenger dreamers can hope for a detuned version of the Viper's 8.4-liter V10 to make its way under the hood of a Challenger, but that's unlikely.
In the same interview, Gilles also made mention that the Barracuda, the replacement for the Challenger, is further off than people believe. The current Challenger is likely to stick around for at least a few more years.
[Source: Motor Trend]
Discuss this story at ChallengerTalk.com
Published March 31st, 2013 11:51 AM
Popular Articles
Latest Comparisons
Car Buying Tools