1 View
2013 New York Auto Show Video Wrapup
April 4th, 2013 9:11 AM
Share
We're committed to finding, researching, and recommending the best products. We earn commissions from purchases you make using links in our articles. Learn more here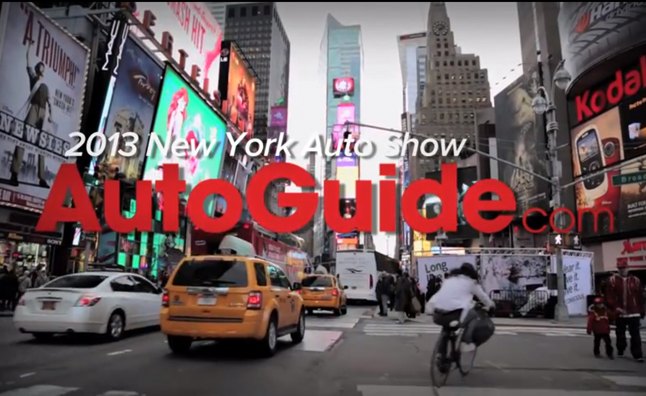 Thanks to AutoGuide's crew of editors and video producers, you can experience the New York Auto Show from the comfort of your couch, subway seat or office chair.
They worked tirelessly to comb the halls of Manhattan's Javits Center to bring you first look videos of the most interesting, exciting and important reveals. Then we put them all right here (convenient, no?) so you can make the trip yourself.
The Internet: because you don't want to have to pay for a hotel in Manhattan.
Get the Flash Player to see this player.
{ "id": "13000246", "alt": "", "title": "", "video_link": "https://www.youtube.com/embed/jaTHVuC4Oks", "youtube_video_id": "jaTHVuC4Oks" }
{ "width": 634, "height": 357, "showRelated": true }
{ "id": "13000249", "alt": "", "title": "", "video_link": "https://www.youtube.com/embed/EM_HJKE8hLI", "youtube_video_id": "EM_HJKE8hLI" }
{ "width": 634, "height": 357, "showRelated": true }
{ "id": "13000252", "alt": "", "title": "", "video_link": "https://www.youtube.com/embed/hcTtoN8kPJo", "youtube_video_id": "hcTtoN8kPJo" }
{ "width": 634, "height": 357, "showRelated": true }
{ "id": "13000255", "alt": "", "title": "", "video_link": "https://www.youtube.com/embed/psnx9an3lOA", "youtube_video_id": "psnx9an3lOA" }
{ "width": 634, "height": 357, "showRelated": true }
{ "id": "13000258", "alt": "", "title": "", "video_link": "https://www.youtube.com/embed/XjaqHGpmCm8", "youtube_video_id": "XjaqHGpmCm8" }
{ "width": 634, "height": 357, "showRelated": true }
{ "id": "13000261", "alt": "", "title": "", "video_link": "https://www.youtube.com/embed/plB-97icS5Q", "youtube_video_id": "plB-97icS5Q" }
{ "width": 634, "height": 357, "showRelated": true }
{ "id": "13000264", "alt": "", "title": "", "video_link": "https://www.youtube.com/embed/e6DZ_Didr5Q", "youtube_video_id": "e6DZ_Didr5Q" }
{ "width": 634, "height": 357, "showRelated": true }
{ "id": "13000267", "alt": "", "title": "", "video_link": "https://www.youtube.com/embed/wIrtiuAx7I4", "youtube_video_id": "wIrtiuAx7I4" }
{ "width": 634, "height": 357, "showRelated": true }
{ "id": "13000270", "alt": "", "title": "", "video_link": "https://www.youtube.com/embed/hyvLN_KXBI8", "youtube_video_id": "hyvLN_KXBI8" }
{ "width": 634, "height": 357, "showRelated": true }
{ "id": "13000273", "alt": "", "title": "", "video_link": "https://www.youtube.com/embed/uooAePLXoJA", "youtube_video_id": "uooAePLXoJA" }
{ "width": 634, "height": 357, "showRelated": true }
{ "id": "13000276", "alt": "", "title": "", "video_link": "https://www.youtube.com/embed/yBYjlhMiMi8", "youtube_video_id": "yBYjlhMiMi8" }
{ "width": 634, "height": 357, "showRelated": true }
{ "id": "13000279", "alt": "", "title": "", "video_link": "https://www.youtube.com/embed/e9dvDvm5MPI", "youtube_video_id": "e9dvDvm5MPI" }
{ "width": 634, "height": 357, "showRelated": true }
Colum Wood
With AutoGuide from its launch, Colum previously acted as Editor-in-Chief of Modified Luxury & Exotics magazine where he became a certifiable car snob driving supercars like the Koenigsegg CCX and racing down the autobahn in anything over 500 hp. Find Colum on <a href="http://www.google.com">Twitter.</a>
More by Colum Wood
Published April 1st, 2013 8:45 PM
Popular Articles
Latest Comparisons
Car Buying Tools