1 View
Top 10 Cars of the 2013 SEMA Show
November 8th, 2013 5:58 PM
Share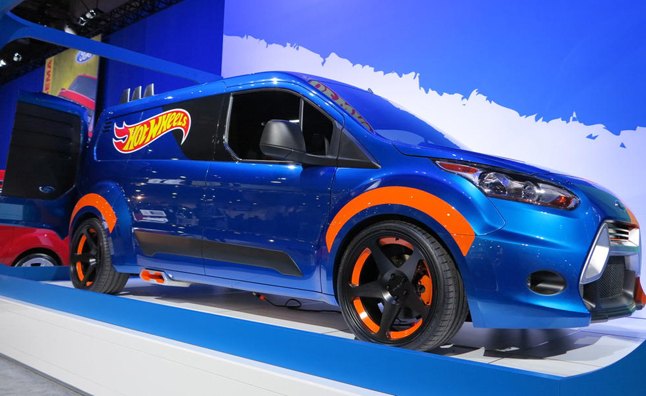 Yet another SEMA Show gone by, yet another million plus square feet of sheer custom car insanity.
In a town where weird is normal, the masses of modified cars seem at home. Turbochargers the size of volleyballs are often wedged into Honda Civic engine bays and nobody bats an eye at airbrushed artwork of wolves and near-nude women. Despite the propensity for depravity that comes with a no-last-call town, SEMA is never anything short of a legendary gathering. With that in mind, here are the top 10 cars of this year's show, hotly debated by the AutoGuide.com staff.
Blue, orange and covered in Hot Wheels graphics, the custom Ford Transit Connect was one of two vehicles unveiled by the brand in Las Vegas this week. It featured a gutted interior with two 18-inch tablets and a 55-inch TV screen. There are two Recaro sport seats in the front and a set of twin fins mounted above the rear doors.
Last year, Chevrolet unveiled a production version of its Hot Wheels Camaro, citing positive feedback from the previously shown concept. Don't hold your breath on Ford following suit.


As you can probably guess, there isn't much left here in common with Camrys for sale in Toyota dealerships. Built in collaboration with NASCAR driver Parker Kligerman, the car is an all-out performer. It has a turbocharged V6 and stripped cabin typical of a rally car. Of course, there's a roll cage and racing buckets. The dashboard is also replaced with carbon fiber.



Ridiculous, or ridiculously awesome? It's a Honda Odyssey with 1,029 hp tuned by Bisimoto. It's called the "Power-Van" and now you know better than to test whoever is driving it from a red light. Or maybe not. It's hard to imagine that much power doing anything other than smoking the front tires. Still, you've got to respect the fact that its a van with Veyron power, don't you?

It's a real shame that Toyota isn't building the Supra and media speculation about its impending return is never far from sight. BMW and Toyota are collaborating on a sports car that many hope will become a successor to the tuner favorite.
But who wants to wait for that? This GReddy x Scion Racing FR-S creation highlights an early albeit impractical alternative. It features a Supra 2JZ engine good for about 750 hp.
Seeing a Pantera is always a treat, so it wasn't a surprise when the "ADRNLN" De Tomaso Pantera got a lot of attention. Following tradition, the modernized supercar is powered by a Wegner Motorsports LS3 V8 making 600 hp. That power goes through a ZF five-speed manual transmission directly to the rear wheels.
Love it or hate it, you've got to appreciate how much effort went into this Mustang. One of several sitting in the Ford booth this year, the re-formed rear end and removable aluminum roof collectively took more than 350 hours to make. All too often, cars on display at SEMA are thrown together quickly with a big turbo, bigger wheels and a slammed suspension with little creativity. That certainly isn't the case here, although it does have a blower boosting the 5.0-liter Coyote V8 to about 750 hp.

Chevrolet's C7 Corvette is arguably the biggest star of this year's SEMA Show and understandably so. It doesn't need anything extra to be cool, but Chevrolet built a real-world version of the Stingray you can drive in Gran Turismo 6. It uses the stock 6.2-liter LT1 V8 to make 460 hp. It has custom exhaust pipes, unique vents on the front and rear fenders along with custom competition sport seats and a flat-bottomed steering wheel.
I was riding with Colum Wood in an Audi R8 V10 Plus the last time a pink Porsche 911 crossed my path. We were both laughing at the guy driving it, wondering who his divorce lawyer was because it was clear that his wife didn't get much in the settlement. Nobody was laughing here.
With a striking wide body kit, coilover suspension, and lightweight Work wheels, its nothing short of stunning in person. The kit costs $20,000 and augments the 930's already impressive curves.
How can Chevrolet not come up with a version of this for actual sale? The Silverado Cheyenne concept uses GM's fifth-generation 6.2-liter V8 with 420 hp and 460 lb-ft of torque. Chevrolet stripped most of the content from its cabin and gave the truck a carbon fiber bed.
It also wears a carbon fiber front lip spoiler, gets carbon ceramic brakes wheels shared with the Z/28 Camaro. While the high-end parts might be a bit much for series production, the fact that Ford and Ram both sell short box pickups with powerful engines seems like reason enough for this one to be born.
Someone at Ferrari is probably fuming over the fact that this car got so much attention. The ultra-exclusive brand doesn't take kindly to people revising its designs. But at least in this case, the car looks great.
Liberty Walk is no stranger to modifying exotic cars and the Ferrari 458 seen here features a new front splitter, rear diffuser and deck lid spoiler.
It boils down to one fact: this is a Ferrari 458 with an even more imposing stance. It's arresting, attractive and something you would be surprised to see, even in the sorts of neighborhoods where people own Italian exotics.
Published November 8th, 2013 2:02 PM
Popular Articles
Latest Comparisons
Car Buying Tools