41 Views
February 13th, 2014 1:37 PM
Share
We're committed to finding, researching, and recommending the best products. We earn commissions from purchases you make using links in our articles. Learn more here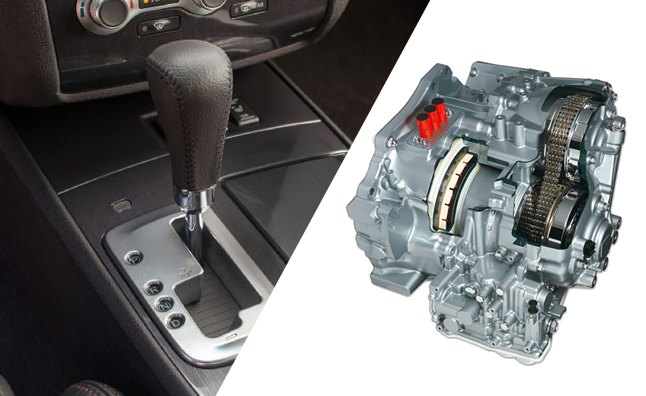 Automatic transmissions are HUGELY popular in North America. Europe is still a strong hold for the manual gearbox but on this side of the Atlantic self-shifters account for at least 90 percent of new-vehicle sales; the standard trans lost the market-share race decades ago and in spectacular fashion.
Despite their dominance the automatic is not a unified adversary, a single threat. There are several major kinds slush-box ranging from the traditional planetary-gear, stepped-ratio unit, to dual-clutch models to the controversial CVT, which of course is shorthand for continuously variable transmission.
And that final option is the one that raises the ire of true automotive enthusiasts like nothing else this side of hybrids. If these folks don't have three pedals and a mechanical ratio-selector to play with they just aren't satisfied.
CVTs are a relatively new trend on the market; they promise better fuel economy and smoother driving, but how do they actually work? How can they change ratios without traditional gears? Is this automotive witchcraft or just common-sense engineering?
A LOOK INSIDE
Surprisingly there is a wide variety of different CVT designs out there, but for automotive applications many of them just aren't practical. Pierre Loing, vice president of product, advanced planning and strategy at Nissan North America said "For us there is basically one system, which we use in different sizes and executions… for transversely mounted applications."
Of all the automakers in North America Nissan has probably been the most aggressive in pushing CVTs. The technology has proliferated throughout their lineup in recent years and you can get one in vehicles ranging from the tiny Versa Note hatchback all the way up to the hefty Pathfinder crossover.

The layout used by Nissan and other companies consists of a few major components including a pair of variable-diameter pulleys as well a special belt that connects them. Jim Paris, director of business development,
Continental
business unit transmissions NAFTA region summed things up succinctly. He said "By varying their dimensions the belt itself rides higher or lower on the pulleys and changes the ratio between the drive and the driven pulley."
In short one pulley gets bigger and the other smaller. This movement changes the ratio between the two; it's a brilliantly simple and effective idea that always provides the driver with the proper "gear."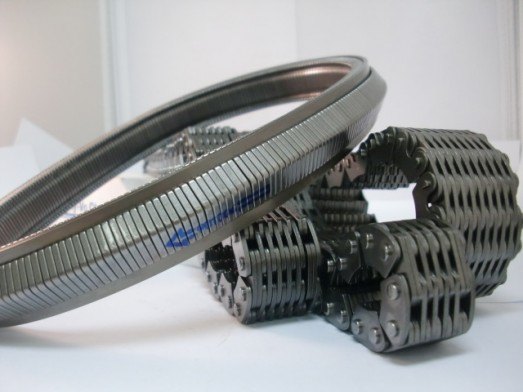 Curiously Continental, a tire-one supplier company, doesn't actually build any CVTs. Instead they focus on controllers. Paris said "We're actually the largest maker of transmission electronics on the globe." This includes things like sensors, actuators and mechatronic modules. They work intimately with OEMs on all kinds of automatic transmissions from conventional planetary models to dual-clutch units to CVTs and beyond.
Now, one of the most complicated parts of a CVT is actually the belt, probably more appropriately referred to as a chain. Paris said "The belts themselves have a lot of work to do, transferring a multiplication of engine torque through the driveline." He also touched on their cost and complexity, noting that they're difficult to build and require very tight manufacturing tolerances, something that makes them quite expensive.
These belts are often constructed of a series of metallic segments joined together by metal bands. This design allows the belt to flex yet still transfer torque without ripping apart. Still other CVT designs use chains that consist of innumerable metal links to form a sturdy yet flexible loop. Keeping things simple, some CVTs push while others pull.
In addition to automobiles CVTs are used in all kinds of applications from snowmobiles to stationary machinery. In these lighter-duty applications the transmissions often feature rubber belts instead of chains or bands.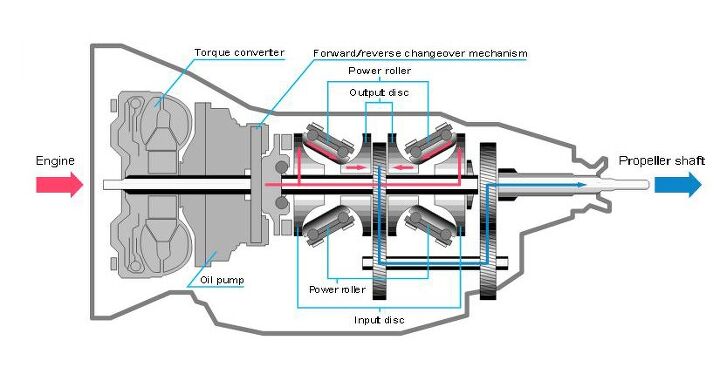 Beyond the variable-diameter pulley style, Nissan also experimented with another CVT configuration. The toroidal design is completely different and has no belts. Instead it features rollers and disks that vary the ratio between input and output. Loing said "Nissan looked at this technical challenge," building one in the 1990s. He noted that "it was an exceptional transmission," comparing it to an expensive watch, though that was its Achilles' heel; it was just too costly for mass-market vehicles.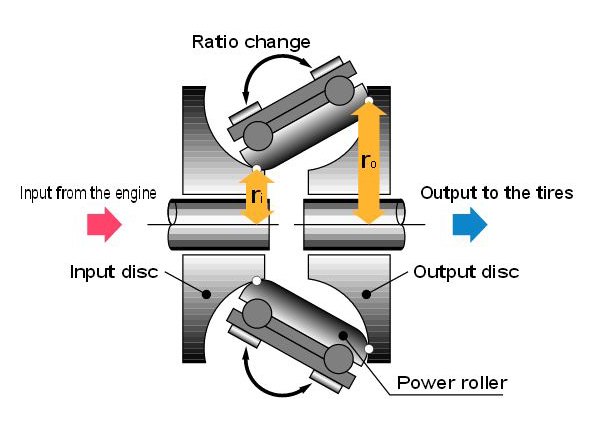 A third option is called the E-CVT, a design used in the popular
Toyota Prius
and its Hybrid Synergy Drive system. This setup features a planetary gearset like a conventional automatic transmission but with a twist… literally. "Suns, planets and rings are each attached to a torque-producing device" Paris said. "They have two electric machines and the engine" he continued. Varying the torque applied to different parts of the gearset changes the ratio, just like a variable-diameter pulley CVT.
BENEFITS
CVTs continue to gain more and more traction in the marketplace. Nissan and to a lesser extent Audi were pretty much on the forefront of this movement but other automakers are jumping on the "belt-wagon" so to speak. Loing said that with their latest models "Toyota and Honda [are] coming to CVT as well."
There are a couple reasons for this "shift" (no pun intended) in transmission preference. Loing said "the biggest one is fuel economy, the other one is smoothness." With no preset ratios like a typical planetary-gear automatic he said "[there's] no torque cut" meaning the power flows in one steady stream as you accelerate – it doesn't get interrupted by gear changes.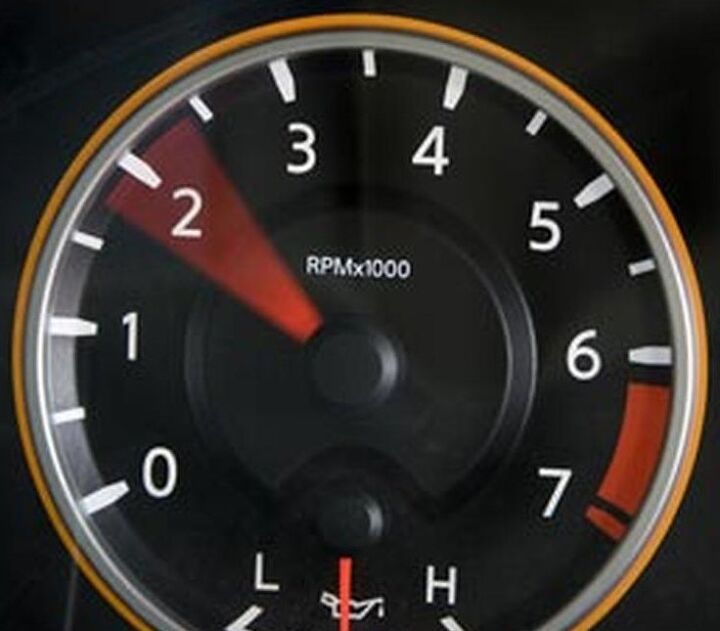 "I think in general the smoothness is valued" Loing noted, though not by all drivers. "[Some] customers tend to like to have some of those torque cuts." In response Nissan can actually simulate traditional upshifts in several of its new CVTs to make them mimic a conventional automatic gearbox.
Loing said the reason a CVT is more efficient than a conventional automatic is because "it has the engine operate between the maximum torque and maximum power. By doing this the engine always operates in the optimal RPM zone."
Additionally Paris said that compared to a typical planetary-gearset transmission "the number of mechanical parts is much lower." He also said "It's odd, in a way CVTs are a less efficient design than other transmission types." According to Paris they have "higher internal friction," but since they "allow the engine to operate in a narrower rev band" they're more efficient overall.
Paris said that friction is something companies like Jatco, a leader in the CVT market one of Nissan's major partners, have been ruthlessly working to reduce. According to Jatco their new CVT 8 model features a best-in-class ratio spread and significantly lower friction compared to previous CVT models.
DISADVANTAGES
Of course everything has its advantages and disadvantages; CVTs are no exception. One of the biggest drawbacks has to do with how much torque they can handle. Loing said they're typically limited to between 300 and 350 Newton meters of twist. In 'Murican figures that works out to between roughly 220 and 260 lb-ft of torque.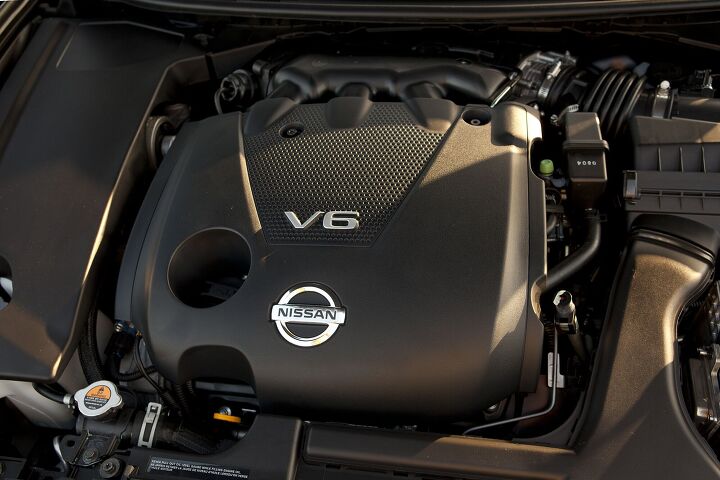 However, in recent years manufacturers have been able to increase how much CVTs can handle. "The improvement of the belt has made this torque increase possible" Loing said.
Another potential disadvantage is mass. Even though they have fewer internal parts Paris said "CVTs tend to be the heaviest of the transmission types." He also said that due to low adoption rates in the past "[They've] been very expensive to replace."
But what about reliability? Do CVTs have more issues than conventional automatic transmissions? Paris said absolutely yes, noting that there have been a number of class-action lawsuits associated with past units.
But automakers have certainly made strides in improving reliability over the years. In fact Loing said drivers shouldn't have any issues with CVTs, noting that Nissan backs them up with the same warranty you'd get with a conventional automatic transmission. "There's no reason why it should be different" he said.
Another downside to CVTs has to do with NVH, that's noise, vibration and harshness. Due to their limited torque capacity they're often paired with small, four-cylinder engines. During acceleration CVTs will typically hold a powerplant at a specific RPM, which can create a droning sound and lots of driver irritation.
THE FUTURE
Going forward CVTs are practically guaranteed to continue gaining traction in markets around the world as automakers work to improve fuel efficiency. Japanese OEMs led by Nissan are really pushing them. Loing said "It's our best selling transmission in North America" noting that "It's something that's here to stay with us."
Nissan is even starting to expand its CVT offerings in the Old World, a market that's still dominated by manual gearboxes. "We see now even in Europe CVTs coming in the Nissan lineup and associated with diesel" Loing said, noting that the new generation of the company's Qashqai compact crossover features an oil-burner paired with a CVT.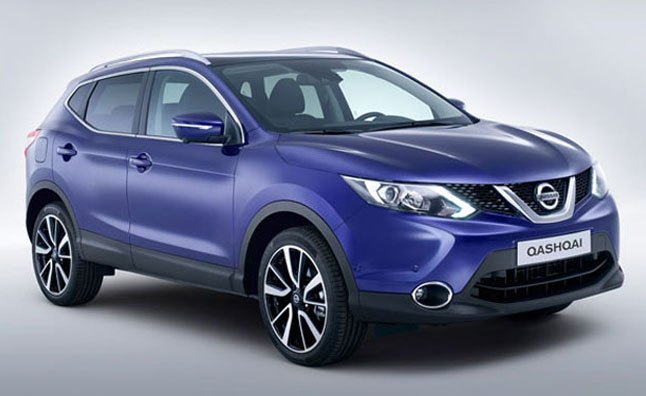 One area of future improvement could be the adoption of dry clutches instead of torque converters. Paris said "That could take some money out of CVTs," which according to him tend to be expensive.
As it stands today continuously variable transmissions will probably continue their growth in the marketplace. Love them for efficiency and smoothness or loathe them because of droning NVH and possible durability issues they're not going anywhere.

Craig Cole
Born and raised in metro Detroit, Craig was steeped in mechanics from childhood. He feels as much at home with a wrench or welding gun in his hand as he does behind the wheel or in front of a camera. Putting his Bachelor's Degree in Journalism to good use, he's always pumping out videos, reviews, and features for AutoGuide.com. When the workday is over, he can be found out driving his fully restored 1936 Ford V8 sedan. Craig has covered the automotive industry full time for more than 10 years and is a member of the Automotive Press Association (APA) and Midwest Automotive Media Association (MAMA).
More by Craig Cole
Published February 13th, 2014 1:32 PM
Popular Articles
Latest Comparisons
Car Buying Tools