1 View
2016 Chevy Volt Bows With 50-Mile Electric Range
January 12th, 2015 1:39 PM
Share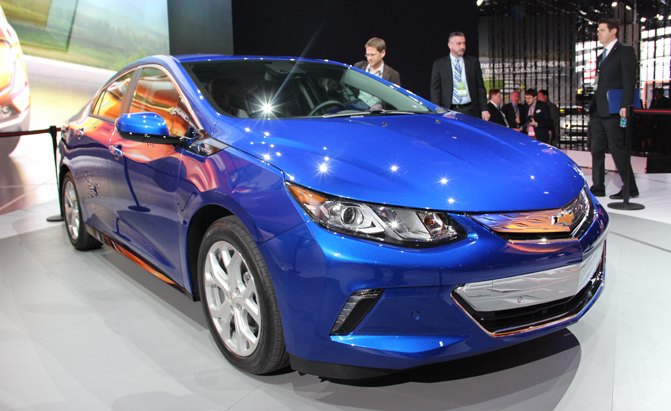 Chevrolet is set to unveil its all-new, second-generation Volt at the Detroit auto show later today. This 2016 model features a laundry list of improvements but most importantly its electric-only driving range has been increased to 50 miles.
When you factor its internal-combustion gasoline engine into the equation this car should offer a total driving range of more than 400 miles. The folks at GM said typical owners will be able to go for 1,000 miles or more between fill-ups. This is because they estimate that people living in warm-weather climates like California of Florida will be able to make as many as 90 percent of their trips on electricity alone.
But range is not the only area engineers have improved about the new, second-generation Volt. The car's performance is better as well. The blast from a standstill to 60 miles an hour has been hastened by about seven percent, clocking in at a claimed 8.4 seconds. And even better than that is the naught-to-30 time, a figure that's important in urban driving situations. It's been slashed by 19 percent to just 2.6 seconds.
Making this possible is an all-new powertrain. It's built around an 18.4 kWh lithium-ion battery pack that features an equally new cell design that's supposedly 20 percent more energy dense. Because of this increase the total number of cells has been cut from 288 in today's Volt to just 192.
The electric motor-portion of this car's drivetrain has also been improved. Instead of using one large- and one medium-sized motor, engineers have opted to go with two medium-sized units that work together. This arrangement is more efficient, tremendously smaller and around 100 pounds lighter. Additionally it requires significantly fewer rare-earth metals.
2015 Detroit Auto Show Coverage
A 1.5-liter four-cylinder engine serves as the car's range extender. It's the first application of this new powerplant family in North America. With direct injection and a 12.5-to-1 compression ratio it puts out 101 hp on its own and should deliver a combined fuel-economy rating of 41 MPG. Fortunately for drivers it runs on regular-grade gasoline, unlike today's Volt, which requires premium.
Combining the output figures of its electric motors and gasoline engine this car has a total of 149 hp and 294 lb-ft of torque.
The 2016 Volt is new from the ground up, riding atop a pristine architecture, specifically the second-generation of GM's Delta platform. It features lots of high-strength steel for safety as well as an aluminum hood and hatch to help cut mass. Overall its curb weight is a little more than 3,500 pounds.
The car's cabin is constructed overwhelmingly of hard plastic, which seems a little cheap though the graining does add a slightly premium feel. Benefiting drivers is a new infotainment system with a large, easy-to-read display. The digital instrument cluster has been totally revamped as well.
Additionally the Volt's passenger capacity has grown from four to five. There's now a middle seat in the back, though with such a massive hump in the floor this spot is best used for short trips in emergency situations.
Naturally, pricing and availability information are not available at this time but the 2016 Chevy Volt will likely go on sale late this year.
GALLERY: 2016 Chevrolet Volt Live Photos
GALLERY: 2016 Chevrolet Volt
Published January 12th, 2015 12:01 AM
Popular Articles
Latest Comparisons
Car Buying Tools