4 Views
You Can Relax, a Manual 2017 Subaru Impreza Was Just Confirmed
May 24th, 2019 11:29 AM
Share
We're committed to finding, researching, and recommending the best products. We earn commissions from purchases you make using links in our articles. Learn more here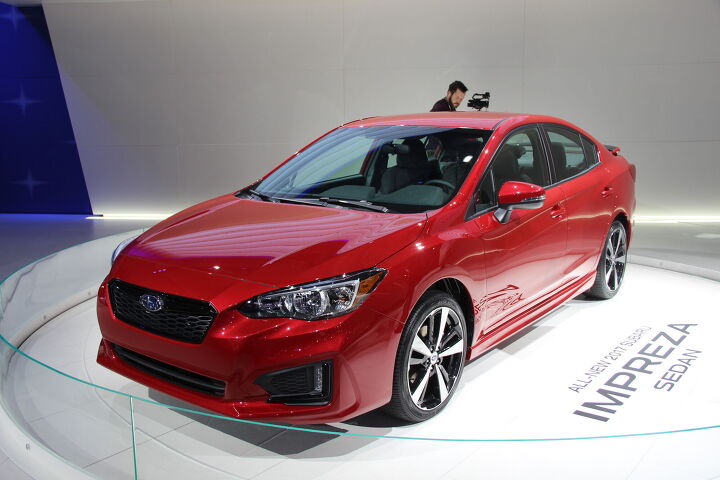 Subaru faithful can relax, as the 2017 Subaru Impreza will be available with a manual transmission. You just might need to live in the land of maple syrup and free health care to buy one.

When the wraps came off of the 2017 Subaru Impreza last week at the New York Auto Show, details were scarce as to what exactly was going to be included with the all-new compact sedan and hatchback. We learned about the new Sport trim and the bump in power to the four-cylinder engine thanks in part to direct injection.
Much fuss was made about the updates to the continuously variable transmission that includes seven "gears" controlled through the paddle shifters. Mention of a salt-of-the-earth, row-your-own-gears manual transmission was mysteriously absent.
SEE ALSO: 2017 Subaru Impreza is Roomier, Slightly More Powerful
Could Subaru, a company that prides itself on fun-to-drive vehicles, be omitting the manual transmission from its compact cars? Good news for Canadians: Subaru Canada has confirmed that a manual transmission will be included in the 2017 Impreza, but specific details as to which trims it will be available in have yet to be released.
For American consumers, however, the answer is not quite as clear. We reached out to Subaru USA and have been informed that a manual transmission option for the 2017 Impreza is still to be determined.
Even if Subaru USA decides to not offer a manual transmission at launch, the 2017 Impreza, which will now be built in Indiana, will indeed have some manual transmissions installed, at least for the Canadian market. That means it could always be offered in America down the road if interest is great enough. But really, we can't see Subaru offering the Impreza as CVT-only. We hope we're right.

Mike Schlee
A 20+ year industry veteran, Mike rejoins the AutoGuide team as the Managing Editor. He started his career at a young age working at dealerships, car rentals, and used car advertisers. He then found his true passion, automotive writing. After contributing to multiple websites for several years, he spent the next six years working at the head office of an automotive OEM, before returning back to the field he loves. He is a member of the Automobile Journalists Association of Canada (AJAC), and Midwest Automotive Media Association (MAMA). He's the recipient of a feature writing of the year award and multiple video of the year awards.
More by Mike Schlee
Published March 28th, 2016 1:57 PM
Popular Articles
Latest Comparisons
Car Buying Tools