1 View
Ram, Jeep 3.0L EcoDiesels Accused of Using Emissions Cheating Software
February 7th, 2017 11:23 AM
Share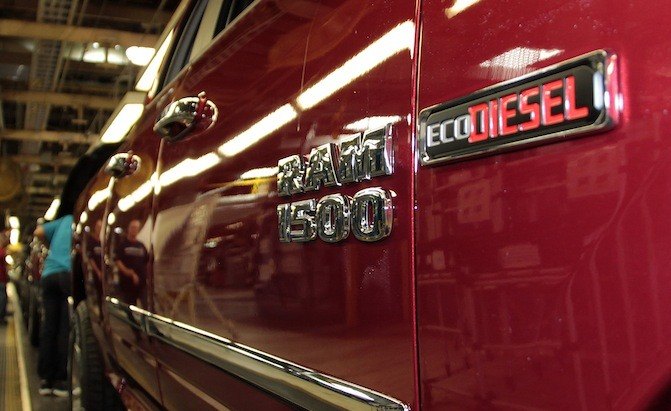 The U.S. Environmental Protection Agency (EPA) has sent a notice of violation to Fiat Chrysler Automobiles (FCA) advising the company that its 3.0-liter diesel equipped vehicles use illegal software that is meant to fool emissions tests, allowing them to spew an illegal amount of pollutants.

The EPA alleges that about 100,000 2014-2016 Jeep Grand Cherokee and Ram 1500 vehicles fit with the 3.0-liter EcoDiesel engines have at least eight separate pieces of software that were not disclosed to the agency, meant to change how the engine handles its emissions. The software kicks in under certain operating conditions, allowing the engine to output more than the legal limit of NOx.
Meetings have already taken place on the matter, but so far, FCA has not offered a suitable explanation on why this software was not disclosed to the EPA during the certification process. The EPA is asking Fiat Chrysler to prove why this software is not a defeat device which is intentionally hiding emissions output from testing.
In an official response, Fiat Chrysler says that it is "disappointed that the EPA has chosen to issue a notice of violation with respect to the emissions control technology employed in the company's 2014-16 model year light duty 3.0-liter diesel engines." The brand says it "believes that its emission control systems meet the applicable requirements."
FCA says that is has already proposed a number of actions to address the EPA's concerns, but so far those action have not been enough to please the regulatory agency. "FCA US looks forward to the opportunity to meet with the EPA's enforcement division and representatives of the new administration to demonstrate that FCA US's emissions control strategies are properly justified and thus are not 'defeat devices' under applicable regulations and to resolve this matter expeditiously."
SEE ALSO: Fiat Chrysler, Cummins Now Dealing with Diesel Allegations
The 3.0-liter diesel engines in question are manufactured by VM Motori, an Italy-based diesel engine maker owned by Fiat. Its ownership history is a little muddled, having been under the control of the former DaimlerChrysler and, at least partially, General Motors at one time or another before Fiat bought the entire company in 2013.
This is only a notice of violation, so all 2016 FCA vehicles fit with EcoDiesels are still for sale. Since the news broke, FCA stock prices have fallen by 16 percent.
Discuss this story at our Dodge Forum
Published January 12th, 2017 10:54 AM
Popular Articles
Latest Comparisons
Car Buying Tools