1 View
Ford Wants Its Self-Driving Cars to Read Your Body Language
May 5th, 2017 11:19 AM
Share
We're committed to finding, researching, and recommending the best products. We earn commissions from purchases you make using links in our articles. Learn more here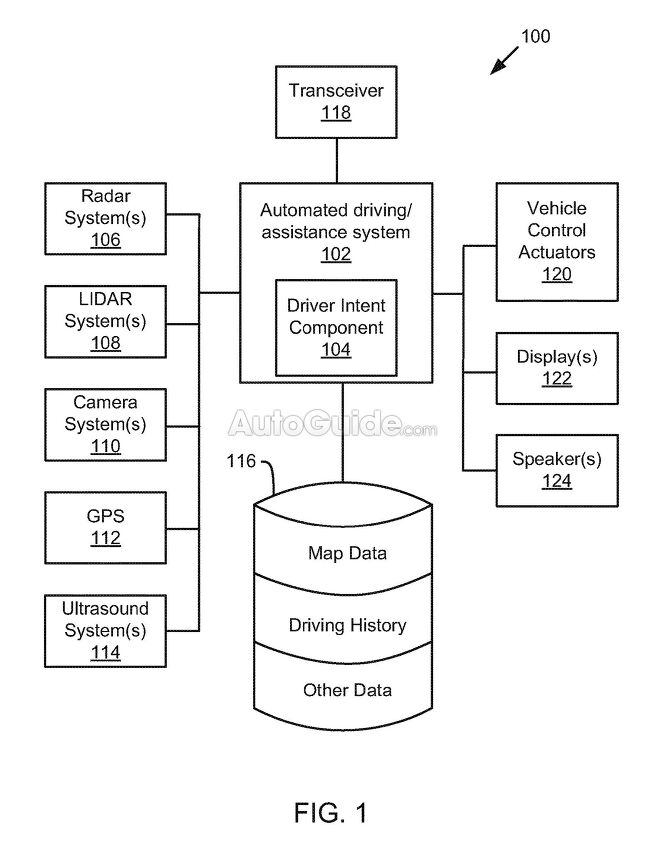 Ford is working on technology that can predict vehicle movements based on a driver's body language.
A patent application filed on November 4, 2015, was published this week and in it, it details "systems, methods, and devices for predicting driver intent and future movements of a human-driven vehicle." Essentially, the system predicts future movements of a car by using a camera system, a boundary component, a body language component and a prediction component.
One reason Ford is likely developing this technology is to help keep roads safe when autonomous vehicles are first introduced. It's highly unlikely that self-driving cars will be adopted at a rapid rate, meaning for a period of time, there will be both self-driving cars and human-driven cars sharing the roadways.
SEE ALSO: Ford Patent Details Automatically Adjusting Rear Seats
In the patent application, Ford acknowledges that the first generations of autonomous vehicles are having to drive alongside human drivers, and as a result, autonomous vehicles need to be able to predict the motion of surrounding vehicles, even if they are human-driven. The technology Ford is working on is hoping the predictions are more accurate if the intentions of those other drivers can be inferred with the help of information about their body language, such as the direction of their gaze over time and any gestures they make, like waving to signal another car to go first at a four-way stop.
Discuss this story on our Ford Forum
Stephen Elmer
Stephen covers all of the day-to-day events of the industry as the News Editor at AutoGuide, along with being the AG truck expert. His truck knowledge comes from working long days on the woodlot with pickups and driving straight trucks professionally. When not at his desk, Steve can be found playing his bass or riding his snowmobile or Sea-Doo. Find Stephen on <A title="@Selmer07 on Twitter" href="http://www.twitter.com/selmer07">Twitter</A> and <A title="Stephen on Google+" href="http://plus.google.com/117833131531784822251?rel=author">Google+</A>
More by Stephen Elmer
Published May 5th, 2017 11:19 AM
Popular Articles
Latest Comparisons
Car Buying Tools