1 View
FCA: There's Still No Viable Business Model For Electric Cars
October 11th, 2017 3:00 PM
Share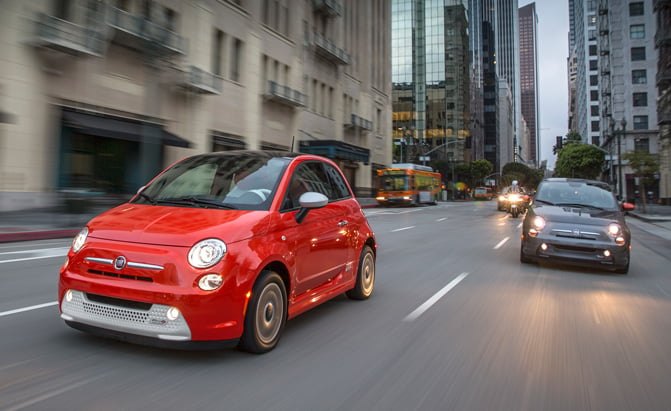 Fiat Chrysler CEO Sergio Marchionne believes that there's presently no viable business model for electric cars.

In an interview with The Street, the oft-outspoken executive said that it is extremely hard to make a business case for electric cars due to the costs associated with researching, developing and building them. He applauded Tesla founder Elon Musk for his turning the electric automaker into what it is today, but expressed doubt as to the long-term viability of the business.
"We still don't have a viable economic model for delivering an electric car," Marchionne said. "As much as I like Elon Musk, and he's a good friend and actually he's done a phenomenal job of marketing Telsa, I remain unconvinced of a … economic viability of the model that he's pitching."
Tesla is currently in the middle of what musk described "production hell" as it tries to ramp up output the Model 3 from its California factory. It has so far failed to deliver on its goal of building 1,500 Model 3s in September, with the company claiming to have built just 220 Model 3s at the beginning of October. Production "bottlenecks," as Musk put it, could only cause Tesla's expenses to swell, making profits even further away for the company that the media said "keeps losing money."
FCA is all too familiar with the idea of a profitless EV. Marchionne jokingly urged people not to buy the Fiat 500e because the automaker lost $14,000 on each one sold. That figure was based on the cost of batteries and other components needed for electric vehicles back in 2010, however. Those costs have dropped considerably since that time – but Marchionne says he still wouldn't be making money on the 500e if it were to be engineered today.
SEE ALSO: Wall Street Loves Ferrari, And Sergio Marchionne Knows Why

"So I think we need to be careful, because when we embrace electrification, and I made comments on the fact that we lose money on every Fiat 500, the electric that we sell in the U.S. Now that's reflective of the 2011-2010 costs in terms of components," he said. "Those costs have come down. If I were to do it again, I would certainly reduce the amount of the loss, but I would not make any money. And you can't run economic entities on losses. It doesn't happen."
Instead of going all-in on EVs as so many other automakers have committed to doing, FCA will instead invest in hybrids that meet regulatory C02 levels and don't result in astronomical R&D costs.
"We will do all the right things," Marchionne added. "We are investing without making a lot of noise on electrification. We will combine it with combustion to yield the right level of CO2. But we're not betting the bank on going fully electric in the next decade. It won't happen."
[Source: The Street, Autoblog]
Published October 11th, 2017 2:52 PM
Popular Articles
Latest Comparisons
Car Buying Tools