2 Views
2018 AutoGuide.com Car of the Year: Meet the Contenders
May 24th, 2018 9:08 AM
Share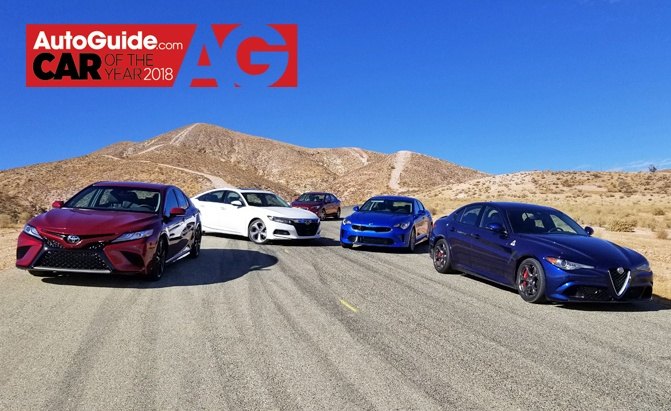 { "id": "13323514", "alt": "", "title": "", "video_link": "https://www.youtube.com/embed/x8X3D0cI0-s", "youtube_video_id": "x8X3D0cI0-s" }
{ "width": 634, "height": 357, "showRelated": true }
It's been a big year for the automotive industry.
More new and redesigned vehicles were introduced than we could shake a proverbial stick at. From luxury models to family-friendly four-doors, full-size utilities to car-based crossovers (and boy, there A LOT of these), manufacturers were running at redline to roll out all this fresh product.
Highlighting the best of what's new, we narrowed this field – which is broader than the Midwestern prairie – down to a much more manageable group for our 2018 AutoGuide.com Car of the Year showdown. From dozens upon dozens of models, we selected the five most significant or transformative cars that were introduced for the new model year. Are you ready to meet our contenders?
---
2018 Subaru Impreza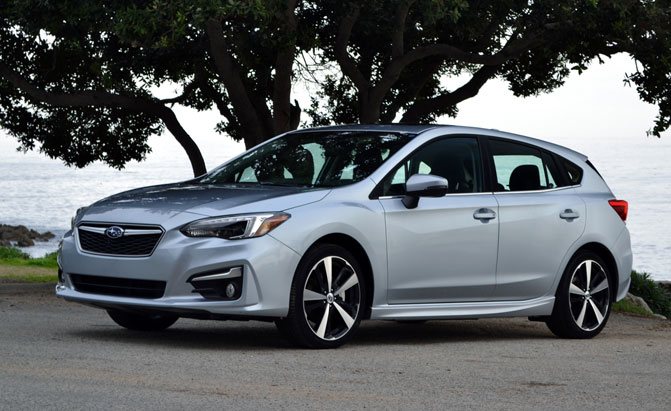 Starting with smallest and most affordable vehicle in this year's evaluations, the Impreza sedan offers more refinement and style than ever before, along with customary Subaru virtues like standard all-wheel drive. It also comes with a huge trunk that clocks in at more than 12 cubic feet (349 liters), though for drivers that want even more utility, a five-door hatchback version is available as well.
This popular compact car features a brand new – and very rigid – architecture, one that helps provide top safety ratings and impressive over-the-road refinement. Further increasing the Impreza's appeal is an elegant interior that sets a new standard for the Subaru brand.
SEE ALSO: 2018 Subaru Impreza Review
Making things easier for drivers is standard Apple CarPlay and Android Auto functionality. The company's optional EyeSight suite of advanced driver-assistance technology is available as well, though for extra cost.
If there's a weakness to this impressive little package, it's found under hood. Power is provided by a 2.0-liter boxer four-cylinder engine. Despite featuring direct fuel injection, it delivers a rather meager 152 horsepower with 145 pound-feet of torque. It can be paired with either a five-speed manual gearbox in lower-trim models, but a continuously variable automatic will undoubtedly be the volume transmission; it's the one our test model featured.
---
2018 Kia Stinger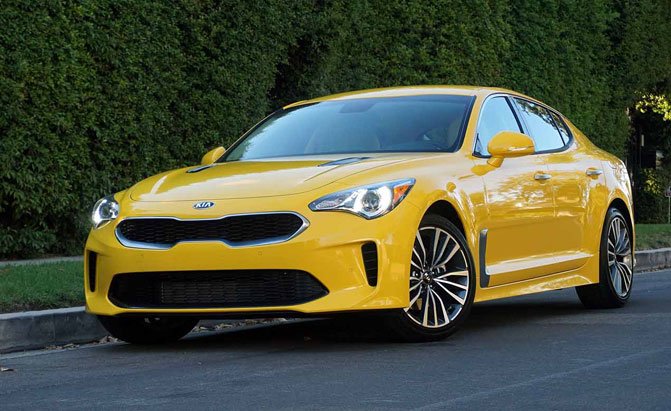 Kia's slogan, "The Power to Surprise," has been proven true time and again as the South Korean automaker introduces one impressive product after another. But taking the cake, AutoGuide.com's cadre of editors were over the moon with the brand's all-new Stinger.
A sporty and stylish liftback four-door, this car is all kinds of awesome. It looks great, drives even better, and offers more practicality than you might expect. Throw in an Audi-esque interior as well as muscular drivetrains and you have all the right ingredients for a transformative product.
SEE ALSO: 2018 Kia Stinger Review
Between the Stinger's front fenders one of two different engines can be installed. Serving base duty is a 2.0-liter turbo that's rated at a stout 255 horses and 260 pound-feet. With a standard eight-speed automatic gearbox, this is more than enough to move this car with remarkable vigor.
Want more? No problem, because Kia is happy to indulge your desires with a 3.3-liter twin-turbo V6, one that's good for 110 additional ponies. Further broadening this car's appeal, rear- or all-wheel drive is offered, meaning the Stinger can be owned by customers living across vast swaths of North America.
Downsides here are few. This car could offer more space in the back seat and its front buckets are a touch too firm and flat. But hey, in the grand scheme of things, these are pretty minor gripes.
---
2018 Honda Accord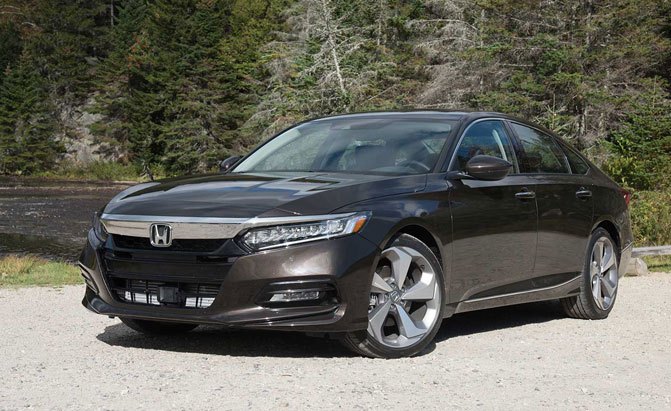 Next up, the venerable Accord, a bread-and-butter sedan that's historically been one of the midsize segment's strongest contenders. And fortunately for Honda fanatics, engineers have once again nailed it, delivering not just a good family car but an all-around excellent vehicle that, in higher trims, can legitimately be described as a luxury sports sedan.
With a high-quality interior, standard driver-assistance technology, handsome styling, daresay fun dynamics, a huge trunk and back seat as well as a range of powerful and refined drivetrains, this all-new 2018 Accord is the real deal, and a force to be reckoned with.
SEE ALSO: 2018 Honda Accord Review
Our top-of-the-line Touring tester was equipped with a silky-smooth 2.0-liter turbocharged engine and a 10-speed automatic gearbox. With 252 horsepower on tap and more gears than there are days in a week, this drivetrain made the Accord legitimately fast. Bury the accelerator and it screamed ahead with shocking verve, even on mountain roads.
For drivers that don't need so much oomph, a smaller 1.5-liter engine is also offered. It delivers a more-than-adequate 192 horsepower and an equal helping of torque. Honda also builds a hybrid version of the Accord, for maximum fuel economy.
This sedan does it all and then some. ACCORDingly, our complaints are shockingly minor, centering mostly on refinement. Ride quality could stand to be less gritty and it'd be nice if the gearbox were a touch smoother, but really, that's about it.
---
2018 Toyota Camry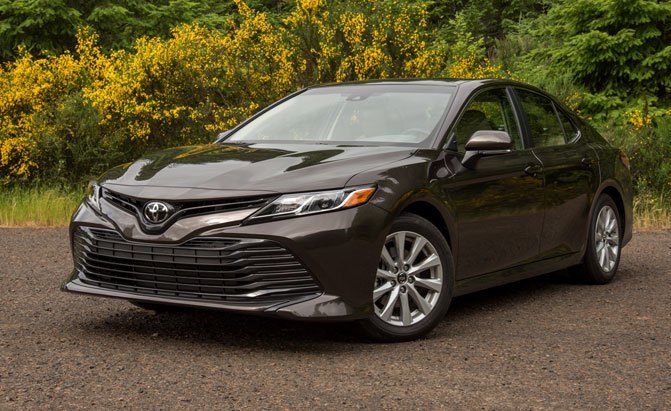 Has there ever been a time when both the Honda Accord and Toyota Camry were totally redesigned for the same model year? We can't remember this ever happening before, yet for 2018 both are all new.
Underpinning this latest-and-greatest Camry is the firm's TNGA (Toyota New Global Architecture) platform, which provides a rigid, refined and safe foundation for an all-around solid family sedan.
Underscoring their newfound passion, this family hauler features a bold new design, one dominated by an imposing grille. We're not convinced every potential buyer will appreciate this new look, but at least they will have an opinion on it, which is arguably a first for Camry.
Matching its exciting exterior is an equally fresh cabin. With a flowing design, there's plenty of space to stretch out and ample creature comforts. Like the Accord, Toyota Safety Sense P is standard, the brand's suite of driver-assistance technology, though curiously, Apple CarPlay and Android Auto are NOT offered at any price.
SEE ALSO: 2018 Toyota Camry Review
As in years past, two engines are available including a base four-cylinder and a more muscular V6. Our test car featured the former, which is more than adequate and sure to power 90-plus percent of Camrys sold in America. Displacing 2.5-liters, this naturally aspirated unit is rated at 206 horsepower in sporty XSE models, while torque clocks in at up to 186 pound-feet.
Fewer and fewer manufactures offer a six-cylinder option in the midsize-sedans segment but we applaud Toyota for continuing to do so. Smooth and muscular, the Camry's up-scale engine 3.5-liter offering is good for 301 ponies. No matter which engine you opt for, they're both paired with an incredibly refined eight-speed automatic gearbox.
More stylish, refined and better equipped than ever, the new Camry is nonetheless still a cautious move. Toyota could have pushed even farther with this car. It feels like they still played it safe in a bid to continue appeasing longtime buyers. Preaching to the choir isn't necessarily a strategy that will net them extra sales.
---
2018 Alfa Romeo Giulia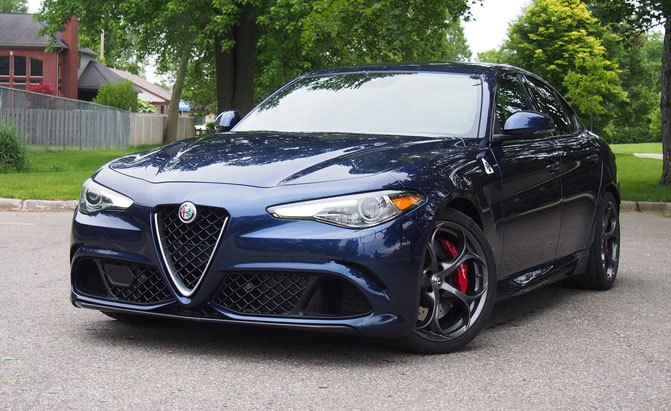 The most powerful and expensive model in the 2018 AutoGuide.com Car of the Year field hails from Italy. Alfa Romeo's Giulia is a sultry-looking sports sedan with incredible on-road dynamics and a driver-focused cabin.
And in top-dog Quadrifoglio form, this machine is a giant-slayer. And why shouldn't it be? There's a Ferrari-developed 2.9-liter V6 under the hood, one that delivers 505 horsepower and 443 pound-feet of torque. If that's too over the top for you, a 2.0-liter four-cylinder is also offered. It delivers a more-than-adequate stable of 280 equines.
SEE ALSO: 2018 Alfa Romeo Giulia Quadrifoglio Review
For customers in North America, a responsive eight-speed automatic transmission is standard across the board, though drivers in other global markets can get a six-speed manual for an even more engaging experience.
On road, this car is absolutely dynamite. Its steering is as close to perfection as you'll ever experience, the acceleration is stupid fast, the exhaust makes unholy sounds and even the stock brakes will peel your face off, never mind what the $8,000 optional Brembo carbon-ceramic setup can do.
This Alfa Romeo's interior is mostly a pleasant place, with high-quality materials and a flowing, almost organic design. Still, almost all our complaints about this vehicle are found in here. The car is hampered by an obtuse infotainment system, awkwardly placed shifter paddles, annoying self-centering control stalks and sporty bucket seats that may be too confining for a lot of customers. In short, this is a car that nails the most important fundamentals but fails in a lot of little ways.
---
The Winner?
These five machines represent the best cars introduced for model year 2018. Each one raises the bar for its manufacturer, but only one can be the AutoGuide.com Car of the Year. Which one will drive away with our coveted trophy? Watch the video above to find out.
Check out the AutoGuide.com Car of the Year Winner from Last Year
Published December 19th, 2017 8:25 AM
Popular Articles
Latest Comparisons
Car Buying Tools