21 Views
McLaren X2 Concept is a Formula 1 Racer From the Far Future
September 13th, 2018 5:49 PM
Share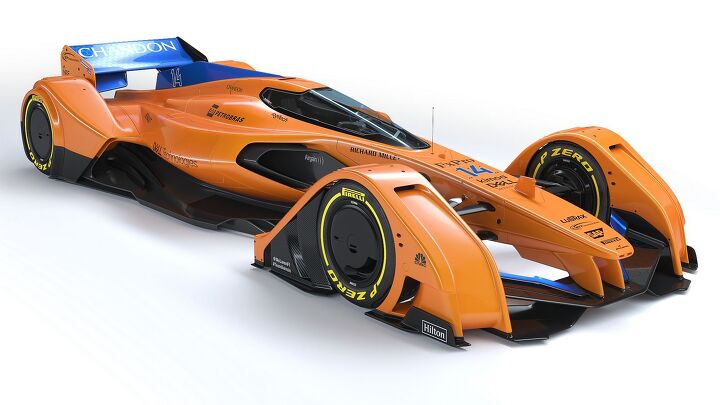 McLaren has revealed its vision for a Formula 1-style race car from the far future.
The creation, dubbed the McLaren X2, is actually an evolved version of a design study McLaren first showed off in 2015 called the MP4-X.
McLaren designers drew up the MP4-X after the FIA called for increased driver protection for open-wheel racing cars. Formula 1 found a solution in the way of the controversial 'halo' for this year, so McLaren felt it was fitting to revisit its MP4-X idea in the wake of the halo's introduction.
The X2 is a future-vision canopy car that looks virtually identical to the MP4-X – except it has McLaren's new papaya orange livery applied to it instead of the old red/black combo from the Honda days.
SEE ALSO: How Did the McLaren Senna Get its Name?

Like the MP4-X, the fictional X2 was envisioned with a variety of forward-thinking technologies, such as inductive charging, a high-impact protective canopy, active aerodynamics, a ground-effect floor and even an onboard system that monitors the driver's vital signs. McLaren also envisions the X2 coming with thin battery cells that could be easily integrated into the vehicle's body and crash structure – a similar idea of which was applied the Lamborghini Terzo Millenio concept.
Perhaps one day Formula 1 will ditch its rather ghastly halo in favor of a more neatly integrated solution such as the canopy featured on the McLaren X2.
Discuss this story on our McLaren Forum.
Published May 31st, 2018 11:45 AM
Popular Articles
Latest Comparisons
Car Buying Tools