2 Views
Photos of 2020 Ford Bronco Leak From Dealer Meeting
September 2nd, 2019 8:48 AM
Share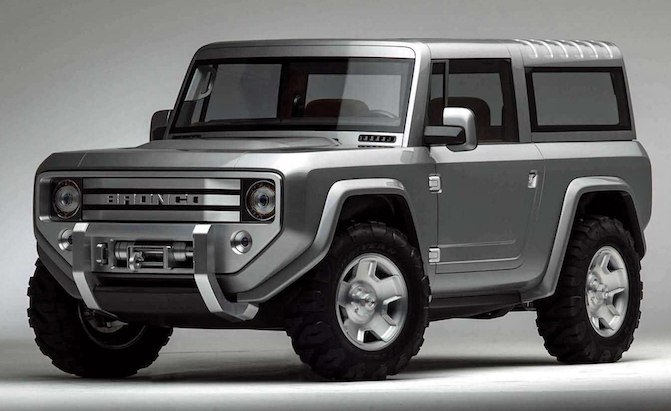 [Update: Ford legal is all up in our business and has forced us to remove the images. If you want to see the photos, Google them. They're still all over the internet.]
This is it, folks. We've found pictures of the 2020 Ford Bronco.
Found on a publicly accessible part of a Ford website hosting pictures of the 2018 dealer meeting in Las Vegas, these pictures give us a dandy look at the new Bronco.
A pair of superbly retro round LED headlights paying homage to the original Bronco bookend a bold grille featuring the word FORD in block letters, which appear to be illuminated. This mirrors some of the teaser images officially released by Ford, so we're confident this is the real deal.
ALSO SEE: New Ford Bronco to Enter Production in 2020, Will Tap Ranger Platform
The side profile shows a lantern-jawed machine with square lines. A vent of some sort, likely decorative, is ahead of the front door. There is also a neat character line that kicks up into the rear side glass just aft of the rear door. Its white roof is a take on a styling flourish that's rapidly permeating all corners of the crossover industry.
And, yes, the new Bronco is most definitely a four-door crossover, not an enormous SUV as we remember it. However, it's styling as shown here is appropriately chunky, as if the designers were given a T-square as their sole tool. We're OK with that.
The Bronco shown on the far right has a satisfyingly chunky set of tires, indicating that while this rig may not be a direct competitor to the Wrangler, it will likely be able to take on terrain similar to that conquered by machines like the Cherokee Trailhawk.
Which raises a good question – what would Ford call an off-road focused Bronco? FX4? Adrenalin, maybe? Your guess is as good as ours.
The reason we think this image here is the Bronco and not some sort of 'baby Bronco' (which has also been alluded to in potential product plans) is thanks to the other images being shown to the audience in these photos. Marketing-speak like "authentic off-road capability" and "an SUV that means business" could refer to anything but the image of the word 'Bronco' by itself leads us to believe we are looking at that machine.
Also, recall that Ford did tease something earlier this year that could be a smaller crossover with a similar style to the one shown here. However, its headlights are just ever so slightly more upswept than this rig's, whose round peepers have decidedly square frames.
Now we know what the Bronco will look like, our next job is to speculate on powertrain options. Four-cylinder? EcoBoost V6? What type of four-wheel drive system will it have? Stay tuned for that speculation.
From Off-Road.com
Published November 13th, 2018 10:21 AM
Popular Articles
Latest Comparisons
Car Buying Tools