1 View
Toyota Finally Finds Remedy For Wheels Falling Off BZ4X
October 7th, 2022 9:25 AM
Share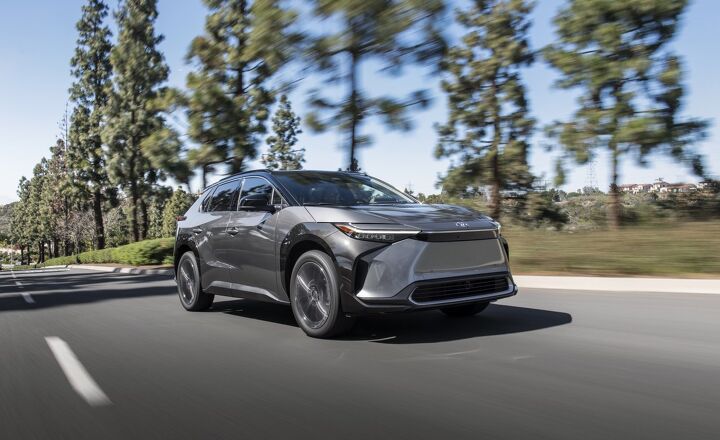 After a long stop sale, the Toyota BZ4X's issues seem to be ironed out.
The Toyota BZ4X and Subaru Solterra haven't had such an easy run. Aside from losing eligibility for the federal plug-in vehicle tax credit, both companies had to recall the handful of cars they sold due to a fairly serious recall. According to Toyota and Japan's Ministry of Transport, the BZ4X and Solterra had issues with wheels coming off, prompting a stop-sale and total recall of all BZ4Xs and Solterras sold worldwide. The move saw 2,700 Toyota BZ4Xs and 2,600 Subaru Solterras sold worldwide recalled, and the factory that made the two cars halted production for a while. Toyota claimed that sharp turns and hard acceleration could cause the wheel hub bolts to loosen, meaning a wheel would be liable to fly off at any time.

Now, a remedy has been officially found. Toyota will make sure hub bolts are replaced with a new design that includes a washer. These newly designed wheel hub bolts shouldn't let the won't let the wheel wobble and loosen. Also, technicians will make sure the bolts themselves are correctly tightened. The Japanese Motomachi Toyota plant will start production of the EV crossover on October 6. As explained before, most of the Solterras and BZ4X's delivered were in Europe and Japan; no Solterras have been delivered to US or Canadian customers.
Upon restarting production after the long three-month hiatus, Toyota is focused on fulfilling past orders, and getting the EV crossover into customer driveways.
Become an AutoGuide insider. Get the latest from the automotive world first by subscribing to our newsletter here
Published October 7th, 2022 9:25 AM
Popular Articles
Latest Comparisons
Car Buying Tools