564 Views
Best Overland Tires for Adventure
August 2nd, 2023 12:21 PM
Share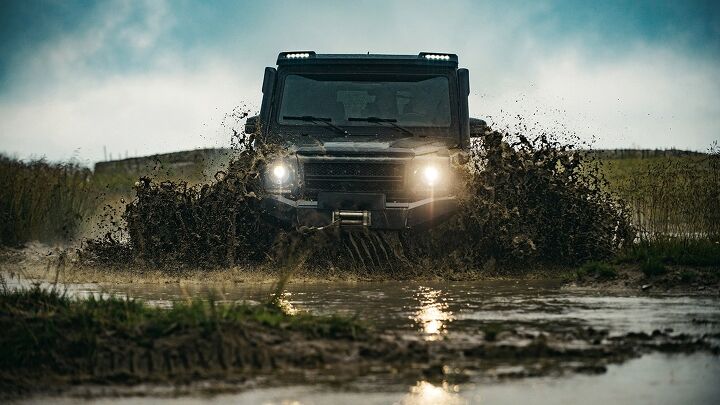 If you're planning on heading off-road, then it's time to upgrade the tires on your SUV or pickup.
Unless you've picked a specialist off-road package, those factory tires are aimed at maximizing fuel economy and minimizing road noise, not traction in the dirt. And they're definitely not designed to handle the abuse of rocks, logs, and trails like you're going to see when you're overlanding. Don't worry, there are solutions. The best tires for overlanding give you more grip, can handle being aired-dow, and are much more able to withstand the punishment off the pavement. Here are our picks for your best options.
Table of contents
BFGoodrich All-Terrain T/A KO2
The BF Goodrich All-Terrain T/A is the go-to when it comes to off-road tires and the K/O 2 keeps that legacy moving forward. K/O means its key feature is off-road driving and 2 stands for second-generation. This tire has split and bruise-resistant sidewalls with thicker rubber and a design meant to deflect objects that could cut in. 3D sipes maximize traction and even the shoulders of the tires have tread to give you as much grip as possible when the trail turns deep. These tires have Baja-winning technology in their core, so they can help you get out and get back every time. Most sizes are also 3-Peak Mountain Snowflake rated, showing you they'll work in the snow as well as the dirt.
| | |
| --- | --- |
| Features | Baja tested, good looks, excellent capability |
Falken tire isn't as well-known as BF Goodrich, but the company still delivers serious rubber. The Wildpeak A/T3W is a winter-rated all-terrain tire that has one of the deepest tread depths in the segment. That means top-level traction for more miles. The tread blocks have ridges to stop stones from getting caught and 3D Canyon sipes meant to stop uneven wear in high-torque situations.
| | |
| --- | --- |
| Features | Winter-rated, deep tread, high-torque sipes |
The Nitto Ridge Grappler is designed to mix all-terrain and mud-terrain characteristics. This makes it an excellent tire for life in places where mud isn't the norm, but that can turn wet suddenly. Nitto gave the tire deep and aggressive tread lugs on the sidewall and shoulders to help improve off-road performance, but a variable pitch pattern for the tread promises to reduce road noise and stone ejectors stop rocks from digging into the tire carcass. The two tire sidewalls are also designed differently, this lets you put the more aggressive lugs outside for a mean-looking truck or turn them inward to look more traditional.
| | |
| --- | --- |
| Features | Designed for mud and rocks, noise tuned tread |
The Geolandar's dual sidewall design provides extra protection against punctures when you're on the trail. It also has large and dynamic shoulder blocks meant to maintain traction when you're scrambling through sand or gravel, with aggressive center blocks for strength and a mix of sipes and narrow grooves for slick terrain. Yokohama's HD-2 tread compound is designed specifically for off-road use, meant to be resistant to cuts and chips as well as offer long life. Though this one does not have a 3PMS marking for snow weather use.
| | |
| --- | --- |
| Features | Off-road compound, strengthened shoulder, quiet ride |
Toyo Open Country A/T III
The Open Country A/T III offers up to a 65,000-mile warranty, one of the longest in the business. That's because Toyo wants you to be able to rely on this tire for a very long time. The tread has 3D sipes for wet and snow (it is 3PMS rated), stone ejecting blocks, and staggered shoulder lugs for extra traction. Toyo says the tire's new compound and design have more evenly distributed voids, which it says wear better, increase tread rigidity, and add to off-road grip. This tire is also offered in more than 150 sizes, making it easy to find the right size for your rig, stock or not.
| | |
| --- | --- |
| Features | Long warranty, loads of sizes |
The Grabber A/TX is meant for pickup and full-size SUV drivers who want traction in the dirt and in the wet. These tires have a tough compound meant to resist cuts and chips and the tread has stone bumpers to stop it from loading up with small rocks. Deep tread and multi-angle tread blocks are meant to grab into surfaces like dry riverbeds and gravel as well as other loose terrain, with sipes to grip packed dirt and snow. Plus under the main tread, General has placed a layer that absorbs sound to help boost ride comfort and lower in-vehicle noise levels.
| | |
| --- | --- |
| Features | Noise absorption layer, winter rated, stone bumpers |
Cooper Discoverer STT Pro
This is one of the first mud terrain tires on this list, so what does that mean? It means wide Mud Slingers 2.0 trenches that are designed to dig into the mud and continuously clear it from the blocks as the tires spin. It also means large Earth Diggers shoulder scoops meant to dig deeper and move more mud and sand to get you moving. Because it's meant to spin and sling mud, the tire tread is also designed with rubber that resists getting shredded by jagged rocks. The tires also have Stone Armor tech that adds durability thanks to channels, ridges, and edges that are all designed to avoid damage from sharp rock edges and other trail debris. Your campsite might be soggy, but these tires will get you there and back.
| | |
| --- | --- |
| Features | Mud-ready, deep clearing lugs, shred-resistant rubber |
Goodyear Wrangler All-Terrain Adventure with Kevlar
A long name for a tire that offers long life. The Wrangler A/T with Kevlar is used on some serious factory off-roaders because of its strength. Two layers of DuPont Kevlar in the tread protect the tire carcass from the worst slashing, cutting, and flaking that the trail can throw at it. That extreme resistance to damage can help make sure you get home without a flat on the most punishing trails. The tread itself offers exceptional grip on the trail, but the tire is able to deliver factory-friendly levels of on-road performance in wet and dry as well as minimal cabin noise.
| | |
| --- | --- |
| Features | Kevlar reinforcement, versatile tread, winter rating |
What to Look For in Overlanding Tires?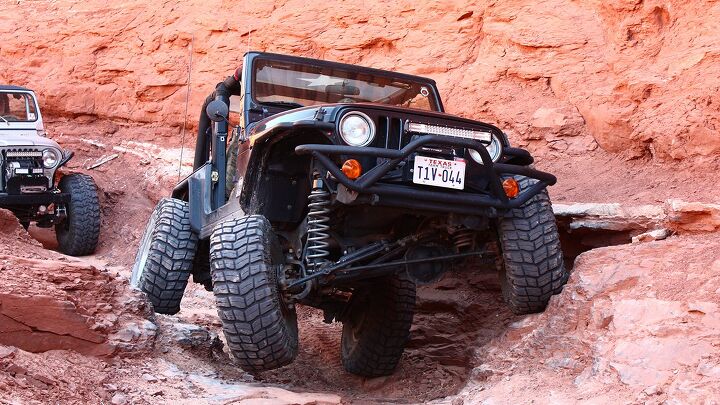 Where are you going?
The first thing you want to consider is where you're planning to go. Off-road tires are generally broken up into two segments, all-terrain and mud-terrain. That's A/T or M/T. All-Terrain tires are designed to be good on a wide variety of surfaces including dirt, gravel, pavement, rocks, boulders, riverbeds, sand, and sometimes even snow. Mud-Terrain tires are ok on most of those surfaces but are really designed for the unique surface that is mud.
In deep mud, slinging mud out the back is the way to move forward. Tread blocks that act like paddles and don't jam up with muck are how you get to the other side of a mud hole. That's the opposite of how to get traction in the snow or on ice, and it's not great on other surfaces either.
What's Your Ride?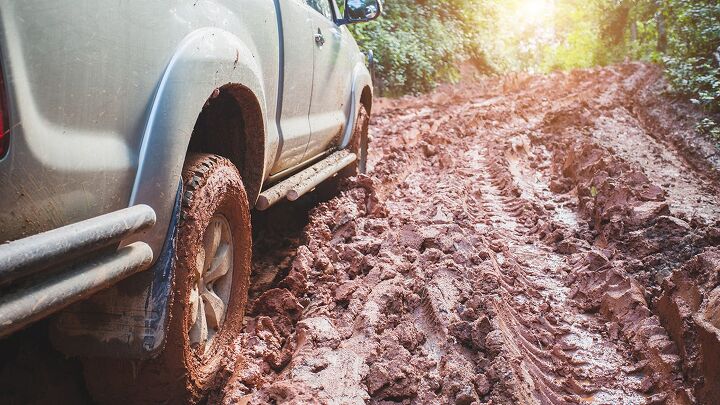 Every tire has a load index. It's a number that represents how much weight each tire can carry, and if you're overlanding it's essential. Because a tire with a lower number can't handle the same amount of weight. If you're running empty most of the time, maybe that's not a problem but if you're loaded up with camping gear, a lower-rated tire can fail and leave you stranded.
Going up to a higher number is fine (but it won't give your vehicle a higher payload), it won't hurt anything except maybe ride comfort. Going lower, though, is bad. For the right load rating, look at the tire sticker in your vehicle's door jam.
Published August 2nd, 2023 12:21 PM
Popular Articles
Latest Comparisons
Car Buying Tools