487 Views
Ford Introduces Ranger Plug-In Hybrid For Europe. Bronco PHEV Next?
September 19th, 2023 3:49 PM
Share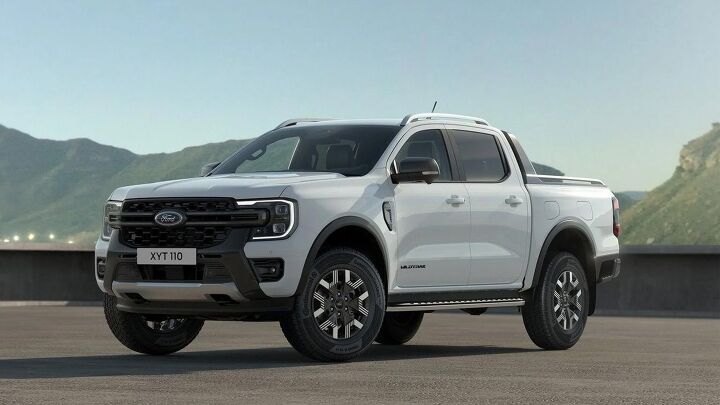 Ford (partially) electrifies the Ranger overseas. Could we get a Bronco PHEV from it?
The Ford F-150 Lightning is a great, great truck. However, its high price and oversized dimensions don't exactly make it the ideal vehicle for much of the rest of the world that prefers smaller trucks. But, the electrified truck revolution won't pass them by – Ford's just unveiled a plug-in hybrid version of the new Ranger pickup.
The Ranger PHEV l ooks the same as the recently unveiled Ranger pickup sold in North America. The truck uses a 2.3-liter turbocharged engine (just like the non-hybrid truck), but is supplemented by an electric motor and battery of unspecified power and capacity. Ford won't give the exact deets, but the brand says the Ranger PHEV has the most torque of any Ranger, ever. Considering the Europe-only Ranger 3.0-liter diesel has 443 ft/lbs of torque, that means the Ranger PHEV is definitely going to be a beast to drive. Oh, and the Ranger PHEV will be able to travel 28 miles on full electric power.
Ford says that the Ranger PHEV is only meant for overseas markets, and they likely won't bring it to the U.S. and Canadian markets. However, we think that some aspect of the Ranger PHEV could make it here – the Ranger's chassis and powertrain are closely related to the Ford Bronco. Could the Ranger PHEV's guts spawn a Jeep Wrangler 4xe competitor? It seems like a no-brainer, but we'll just have to wait and see.
Become an AutoGuide insider. Get the latest from the automotive world first by subscribing to our newsletter here.
Published September 19th, 2023 3:49 PM
Popular Articles
Latest Comparisons
Car Buying Tools