2.4K Views
Here's Why Used Cars Are a Total Rip-Off Right Now
September 25th, 2023 3:37 PM
Share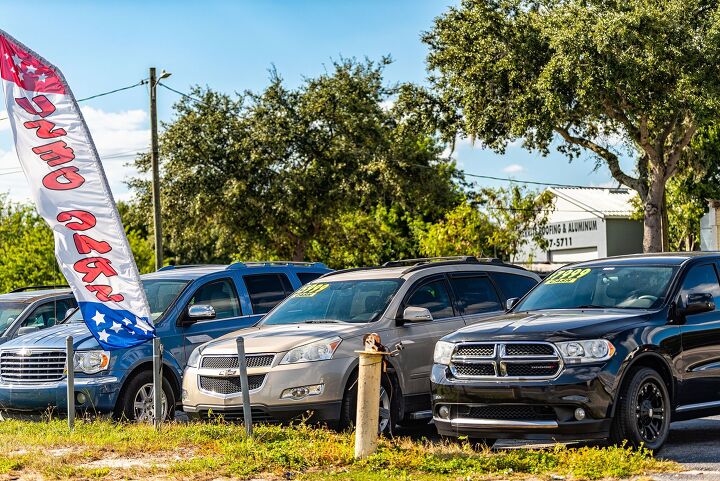 Late-model used car shoppers are finding themselves in a tough spot as they navigate a dramatically changed marketplace. Just a few years ago, a budget of $23,000 could fetch a three-year-old vehicle, but today, that same amount will barely secure a six-year-old car. This shift has left buyers with fewer options and older vehicles to choose from, and it's primarily due to a combination of limited new car production between 2020 and 2022, as well as the ongoing effects of inflation.
A recent study by iSeeCars.com analyzed over 21 million used car transactions between 2019 and 2023, shedding light on the significant changes in the used car market. The study reveals that the average age of used cars sold has increased from 4.8 years in 2019 to 6.1 years in 2023. Simultaneously, the average price for used cars of all ages has surged by 33 percent, rising from $20,398 to $27,133.
The Supply Crunch
The primary driver of these changes is the limited availability of one- to three-year-old used cars, stemming from restricted new car production during the pandemic. iSeeCars' Executive Analyst, Karl Brauer, points out, "Plant shutdowns and limited new car production during the pandemic are still playing havoc with the used car market." As a result, there are 28 percent fewer one- to three-year-old used cars available today compared to 2019.
The ripple effect of constrained new car production is evident in the age distribution of cars in the market. One-year-old used cars have experienced the highest price increase, with a staggering 67 percent rise in prices from 2019 to 2023. However, the impact is felt across the entire spectrum, with prices for vehicles aged one to seven years witnessing significant increases, averaging 33 percent.
Change in Market Share
A closer look at the market share data further illustrates the shift towards older used cars:
In 2019, one-year-old cars represented 13.5 percent of the market share, but by 2023, they only accounted for 7.3 percent, a 45.8 percent decrease.
The market share for two-year-old cars decreased by 19.5 percent during the same period.
Three-year-old cars saw a 26.7 percent drop in market share.
The market share for cars aged four to eleven years increased, reflecting the scarcity of younger models.
Cars eleven years and older saw a 43 percent increase in market share.
Budget Constraints
Perhaps the most significant challenge facing used car shoppers is the age of vehicles they can afford with their budget. iSeeCars compared prices of three-year-old models in 2019 with what the same amount of money could buy in 2023, revealing a stark contrast:
A budget of $23,000 in 2019 could have purchased a three-year-old car. However, in 2023, that same budget will only secure a car that's six years old, on average.
This means that cars purchased in 2023 are not only twice as old as those in 2019 but also have accumulated 40,000 to over 100,000 additional miles for the same price.
As a result, the 48 models listed in the study have had to age more than twice as much, landing in the 7- to 9-year-old range in 2023 to be within $1,000 of their 2019 prices.
Methodology
iSeeCars conducted this analysis by examining over 21 million used car sales data from January to August in both 2019 and 2023. They aggregated data on the share of cars from each model year and their prices to determine the changes in share and price by age during these periods. Additionally, they compared the average price of three-year-old cars in 2019 with prices for all ages in 2023 to identify the closest match in price to the 2019 benchmark. This study encompasses a wide range of vehicles while excluding heavy-duty and low-production models.
In conclusion, the used car market has undergone a significant transformation in just a few years, leaving shoppers with older options and higher prices. The effects of limited new car production during the pandemic continue to reverberate through the market, making it essential for buyers to adapt to a new normal where their budget buys a more mature vehicle.
Become an AutoGuide insider. Get the latest from the automotive world first by subscribing to our newsletter here.
This article was co-written using AI and was then heavily edited and optimized by our editorial team.
Published September 25th, 2023 3:37 PM
Popular Articles
Latest Comparisons
Car Buying Tools