2K Views
2024 Chevrolet Silverado 2500 HD High Country Review
August 30th, 2023 4:37 PM
Share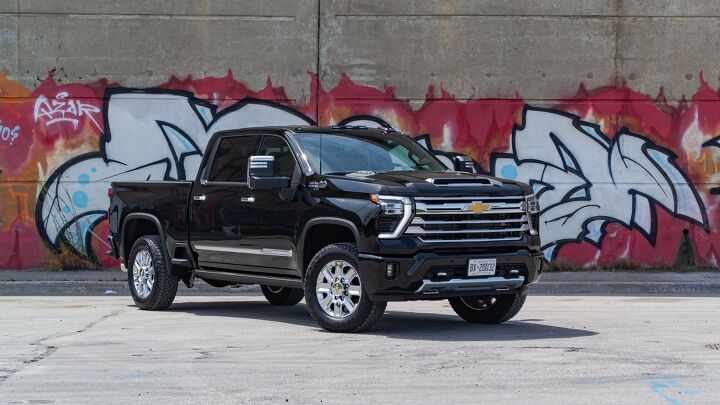 | Love It | Leave It |
| --- | --- |
| Much-improved interior | Size of small house |
| Muscular diesel engine | Lacks the headline figures of competitors |
| Smart towing tech | Overly vague steering |
I am not the target audience for the 2024 Chevrolet Silverado 2500 HD High Country. At least, not yet.
The market isn't just clamoring for crossovers. Pickup truck sales continue to grow too, including the heavy duty segment. As Chevrolet Canada's Doug Kenzie points out in an office at the Silverado's Oshawa, Ontario assembly plant, the whole HD scene has grown 13-percent in the last five years. GM has a huge portion of it as well, snatching just over half with the Silverado and its GMC Sierra twin.
We've all noticed an up-tick in outdoorsy activities the past few years, right? Well, when you need to take the entire camp site to the camp site, a heavy duty truck starts to make sense. And that's how I found myself spending a week with the refreshed 2024 Silverado HD.
What's new?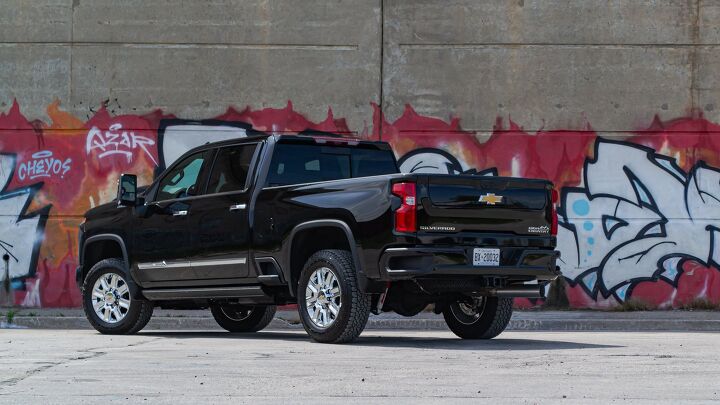 Just as it did with the light-duty truck last year, Chevy has given the Silverado HD (2500 and 3500) a thorough update to stay fresh. There's a new look outside—well, for some trims; still a bluff nose that sits around chest height, but with C-shaped daytime running lights and a cleaner grille. Standard tow hooks now poke out from the bumper. You'll find the new look on the LTZ and High Country, and it's optional on the LT; the rest continue on with the fridge-like face of yore. The sides and taillights are basically identical, though the latter now feature animated indicators. Standard bed-size is 80 inches, with a 97-inch long-bed option. Every 2500 and 3500 cab option—two-door regular, short-door double cab, and this crew cab—can be had with the long bed. The standard bed is available on 2500 Double Cab and both Crew Cabs.
Of course, it's positively massive. Finding spots in the city to park the HD was challenging, and I had to drive Ace Ventura-style in my underground lot to ensure it cleared all low-hanging pipes. It did, by about two inches. Am I ever happy it has the power folding (and extending) trailering mirrors.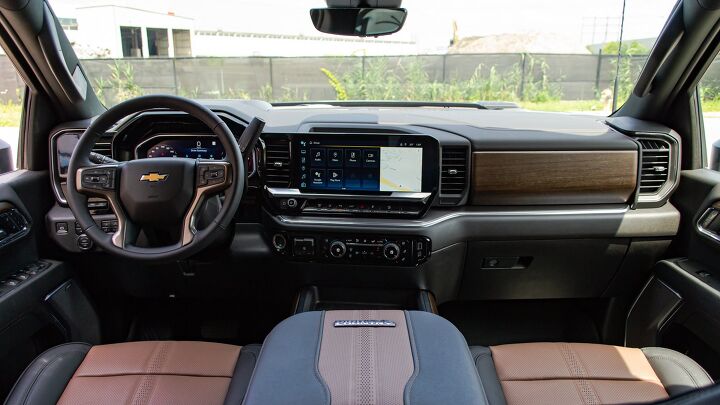 More significant changes happen within the cabin. On LT trims and up, the Silverado HD adopts the light-duty truck's redesigned interior, with a big 13.4-inch central touchscreen holding center stage. The crisp display now runs on Android Automotive, and includes Google On-Board. The reworked dashboard also houses a 12.3-inch digital instrument cluster, with an available color head-up display (HUD) beaming out ahead of the driver. Chevrolet hasn't forgotten the importance of physical controls either, keeping a bounty of buttons below the screen. The whole show is canted towards the driver for easier access.
Underhood, the HD ditches the outdated six-speed auto for the gas engine; all models now use an Allison-branded 10-speed automatic. That 6.6-liter V8 continues to produce 401 horsepower and 464 pound-feet of torque. Meanwhile the Duramax turbo-diesel found in this tester now produces a strong 470 horsepower and a huge 975 pound-feet of torque. Number-crunchers will note that's down compared to the diesel options at Ford and Ram, but we're still talking up to 22,500 pounds of trailering capability with the 2500. As ever, that number very much depends on the specific trim and spec of the truck, mind.
A much nicer place to spend time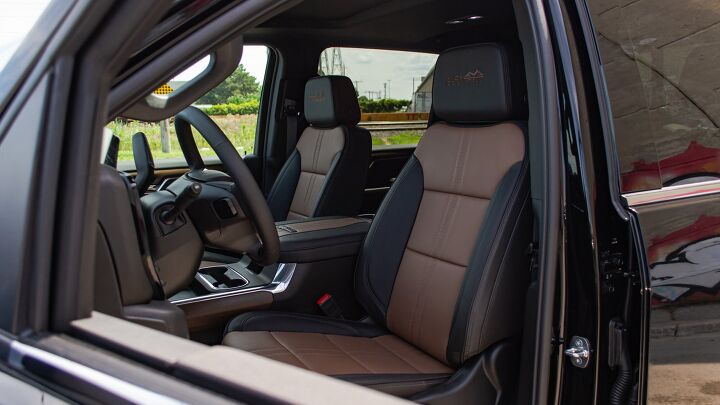 This particular tester is the high-falutin' High Country, the top trim in the lineup. In comes generous hunks of open-pore wood, uniquely-stitched two-tone leather seats, and a smattering of High Country badges, both metal and embroidered. A redesigned center console provides enormous levels of storage, in addition to a clever wireless charger solution that tucks a phone in a dedicated (and grippy) slot aft of the cupholders. The inductive charging never loses the connection, and the phone screen stays out of view. Smart.
Are there still a few low-rent plastics here and there? Enough that that the F-250 and Ram 2500 still have a slight edge in cabin ambience, yes. But it's a much closer fight now, and a huge upgrade to what came before—or still exists, if you're sitting inside a WT or Custom. Chevy spokespeople stressed that choice was made to maintain affordability on the lower trims.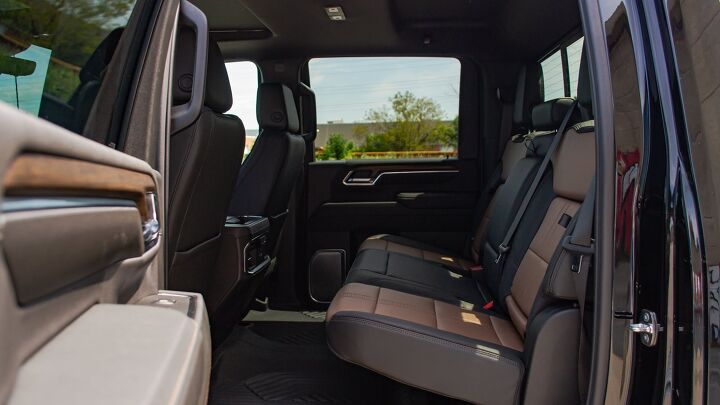 Space is as you'd expect given the HD's footprint: cavernous. Big, square windows and a relatively low beltline allows even three adults to sit in the back with comfort. They get their own climate controls too—though they might be a stretch to access on the back of the center console. The Silverado was pressed into cottage trip duty during our week together, and even crammed full of supplies, a dog crate, doggie travel bed/harness, the dog himself, and four people, it remained a comfortable space. We only tried the heated seats briefly for obvious reasons, but the ventilation feature sure is effective.
Muscular powertrain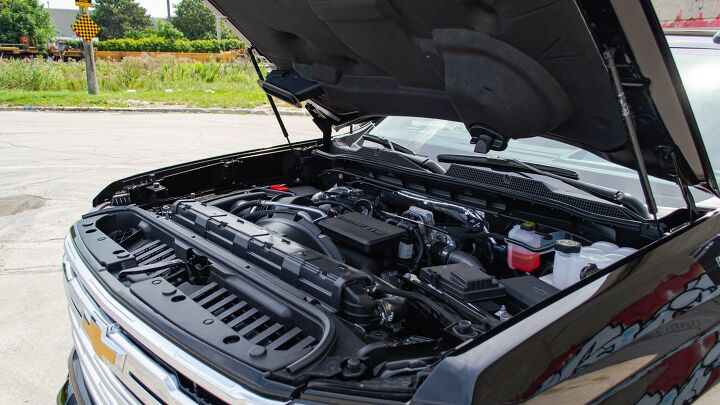 It goes without saying that the diesel is the right choice in the HD. Sure, a 7,700-pound (ish) curb weight has a way of dulling 470 horsepower, but the Silverado is still plenty quick, easily getting up to highway speeds with an accompanying 18-wheeler soundtrack. Chevy has tuned the engine for strong low-end performance, and with the smooth-shifting 10-speed, it operates in that range almost all the time. If there's a problem, it's that the power is almost too accessible; on a rainy day, the torque pitched the Silverado slideways as it crossed over a concrete streetcar path during a low-speed right turn. Whoops.
The steering is light and vague, though that's about par for the course in heavy duty land. Unladen, the ride can sometimes be harsh, as expected given that gargantuan towing capacity. The High Country settles into a comfortable cruise on the highway however—also not a surprise—and even returns a fairly respectable 13.0 L/100 km over 500 miles (804 kilometers). The huge tank means not having to stop for around 620 miles (1000 km) … just be prepared to drop a lot of cash at the diesel pump.
Smart tech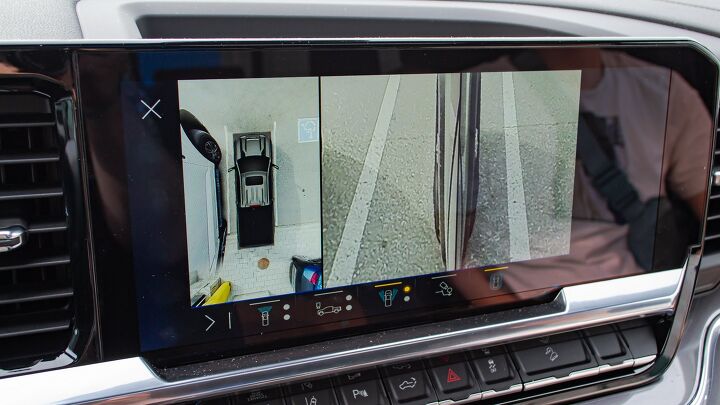 The Silverado's tech suite majors on ease of use. The new infotainment system is just as simple to use as the old one, only more powerful. Much of that is down to the native Google goodies, which are included as part of a three-year data trial; a subscription is required afterwards. The optional digital rearview mirror is plenty useful if you've got something tall in the bed, or a full rear bench. I appreciate that Chevrolet keeps the HUD controls right beside the wheel for easy access, too.
More than that, it's the trailering and driver assists that are big gains here. The Silverado HD might not get the Super Cruise that the 1500 enjoys, but its adaptive cruise control is a mighty fine example of the feature, and it takes into account attached trailers. The dedicated trailering menu allows owners to save multiple trailer profiles, and access up to 14 different camera views. Chevy's trick transparent trailer view is back and now compatible with gooseneck and fifth-wheel trailers. Finally, a Gross Combined Weight Alert warns the driver if they've exceeded the GCWR. All these helping hands improve driver confidence.
A local success story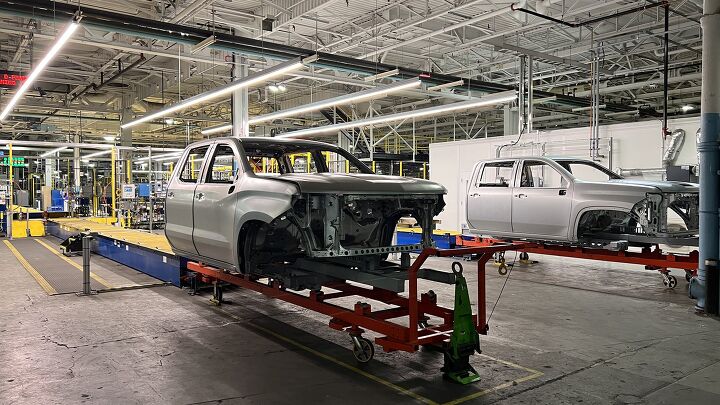 As part of the week-long loan, Chevy gave us a rare tour of the Oshawa assembly plant. With over $1.2 billion invested, Chevy reopened the plant in 2021, building both light- and heavy-duty Silverados. It's the only single plant to do both, though it doesn't build either the GMC or raised-suspension models (ZR2). The plant now employs 3,200 hourly workers, many of whom come from other industries. It's a wholly modern enterprise, with over 1,000 robots—including the only full-size truck plant to marry a cab box and frame with 'em—and zone-locked smart tools that record every single usage for quality control.
Dollars and sense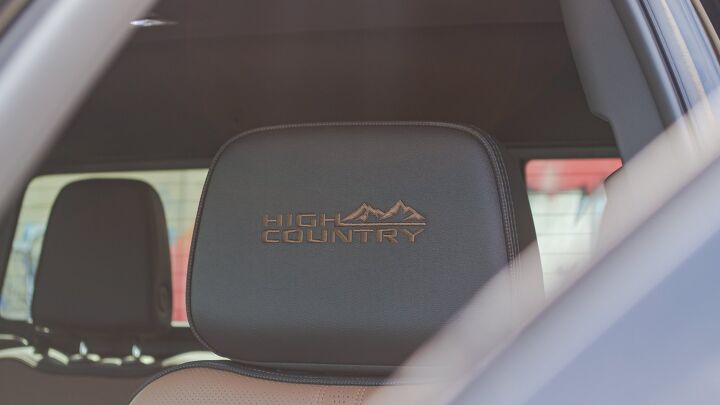 This much fancy-pants truck comes at a pretty steep price. The High Country only starts at $75,990 ($96,031 CAD), and there are still options to add from there to meet this tester's full feature list. Easily the largest impact comes from the diesel engine, which is an extra $9,480 ($10,995 CAD) all on its own. This truck runs a little over $88,000 ($112,000 CAD); nearly double the $46,395 ($59,499 CAD) WT 2WD entry point for the 2500 HD.
Verdict: 2024 Chevrolet Silverado 2500 HD High Country Review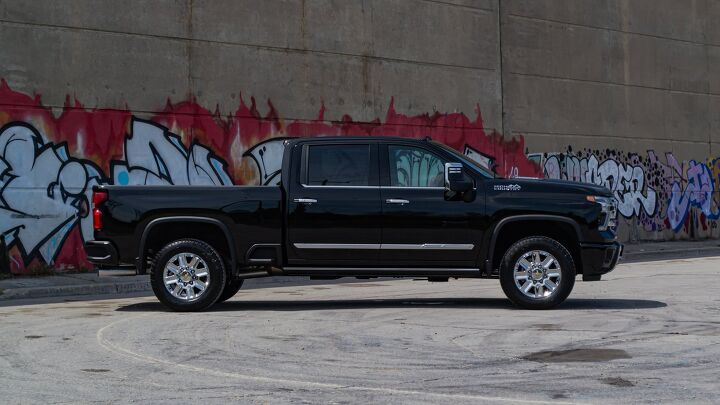 Do I still think the Silverado HD is entirely too large? Yep. What? I'm a city kid.
But for folks who genuinely need its towing and hauling capabilities, the '24 updates have made this a vastly more appealing rig. The cabin finally feels worthy of that price tag, and the robust suite of trailering assists takes so much of the stress out of that business. The improved manners shift this big boy ever closer to the 1500 experience behind the wheel, so there's less of a penalty—perceived or otherwise—for those trading up from the half-ton. I only hope Chevy finds a way to bring all these useful updates to the entire trim lineup soon.
Become an AutoGuide insider. Get the latest from the automotive world first by subscribing to our newsletter here.
2024 Chevrolet Silverado 2500 HD High Country

Engine:

6.6L V8 Turbo-Diesel

Outputs:

470 hp, 975 lb-ft

Transmission:

10AT, 4WD

US Fuel Economy (mpg):

N/A

CAN Fuel Economy (L/100 km):

N/A

Starting Price (USD):

$46,395 (inc. dest.)

As-Tested Price (USD):

$88,660 (est, inc. dest.)

Starting Price (CAD):

$59,499 (inc. dest.)

As-Tested Price (CAD):

$112,319 (est, inc. dest.)
Published August 30th, 2023 4:37 PM
Popular Articles
Latest Comparisons
Car Buying Tools