301 Views
2021 Chevrolet Silverado 2500HD High Country Review: A Hunter's Best Friend
April 22nd, 2022 1:00 PM
Share
We're committed to finding, researching, and recommending the best products. We earn commissions from purchases you make using links in our articles. Learn more here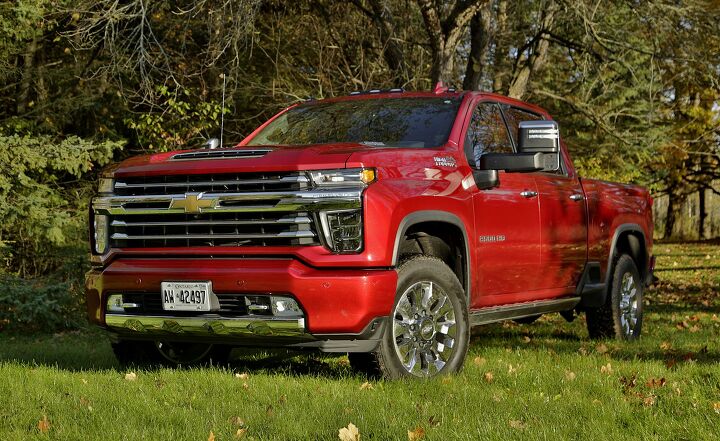 October, a hunter's favorite month. And no, it's not because of pumpkin spiced lattes, and cute scarves; it's moose season!
Any hunter will know, that when you drive deep into the bush on public land for a week of hunting swamp donkeys, you need a lot of stuff. Luckily we had a Chevrolet Silverado 2500HD Duramax Turbo-Diesel High Country to help us get there.
2021 Chevrolet Silverado 2500HD power and towing
With everything packed in our fully enclosed trailer, it comes to around 6,000 lb. An easy task for the big V8 Duramax turbodiesel with 445 hp and an insane 910 lb-ft of torque.
Get a Quote on a New Chevrolet Silverado
But with all that power, comes great responsibility. With a whopping 18,500-pound tow rating, (about 15 average-sized bull moose) you almost feel bad not towing that much. So, there was extra motivation this year to fill the trailer with moose meat.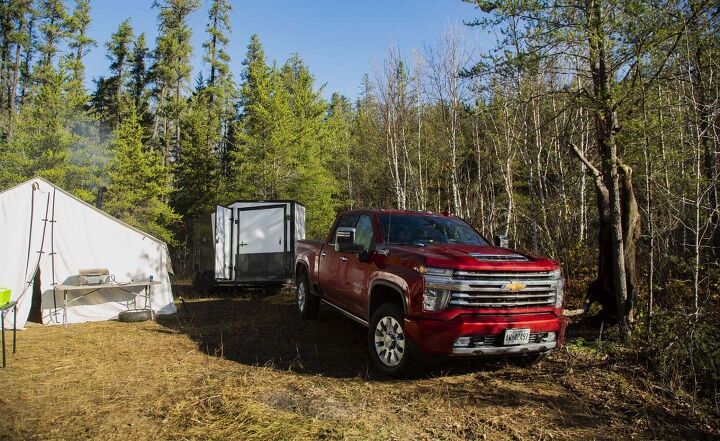 The payload capacity numbers are nothing to shake a stick at either, coming in at 4,717 lb. We put a 1-cubic yard bag of firewood and about ten 20L cans of gas in the bed, and it was barely squatting.
See Also: 2022 Chevrolet Silverado Gets a Large Touchscreen, Super Cruise, and ZR2 trim
Power delivery is quite impressive with and without a trailer on the back. 0–60 mph times on the truck are somewhere around 8 seconds, which isn't great, but considering it weighs over 6,000 lb, it's not bad either. It's while driving on the highway though where it really shines. When you hammer the gas to pass someone, and that big turbo V8 kicks in, it rockets you past people with ease.
One caveat is, as big as those towing and payload numbers are, they're still the lowest amongst the truck's main rivals from Ford and Ram.
2021 Chevrolet Silverado 2500HD Fuel Economy
The main reason we decided to use a diesel this year was because of the fuel economy. While there's no official numbers for heavy duty trucks, we were averaging around 13 mpg towing our big trailer, which is miles (literally) above last year's numbers in the RAM 2500 Power Wagon with the Hemi V8, which was around 9mpg. This saved us a ton of money, especially considering the astronomical price of fuel these days. The only downside is that it's a $9,750 upgrade for the V8 Duramax engine. That means a lot of towing to break even.
SEE ALSO:
2020 Ram 2500 Power Wagon Review: An Off-Road Beast … and a Hero
2021 Chevrolet Silverado 2500HD Exterior Design/Features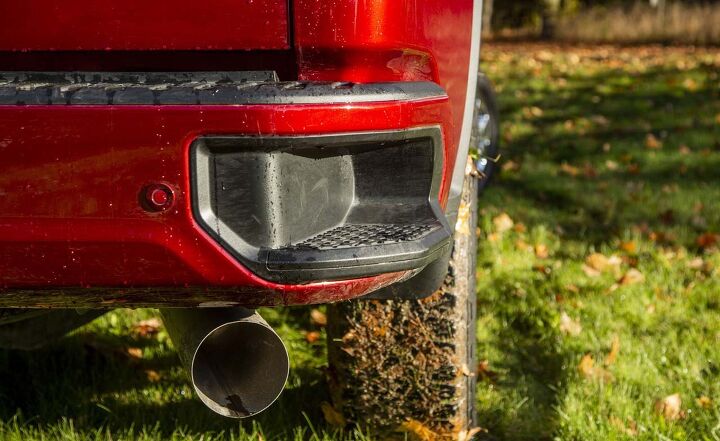 After traveling 12 hours through the night into Northern Ontario, we arrived at our spot the morning before the moose season opener. The day we arrived is mostly spent setting up our camp, but once we were done I had some time to take some pictures and really do a once over of the truck.
See Also: Ram 1500 vs Chevrolet Silverado 1500: The Battle for the Second Bestselling Truck
While I'm not a huge fan of the way it looks, it still turned some heads passing by camps in the back country, especially in the cherry red color that we had. The front end is aggressive and masculine, but to me, it just looks like they were trying too hard to make it look mean. It reminds me of David Bautista with a big head and squinty eyes. I'm also not a big fan of chrome, and the truck we had was laden with it, including the $2,995 upgrade for the 20" chrome rims. If I were to buy this truck, I'd go with the LTZ Z71 Sport version, and add all the technology and convenience packages that come with the High Country Deluxe package. It looks much better with colour matched trim, and black accents and wheels.
I do love the features on the truck though, like the automatic folding running boards, the side and rear steps to get into the bed, the power opening AND closing rear tailgate, and my favourite feature, the 120v plug in the bed, which came in very handy…
2021 Chevrolet Silverado 2500HD Handling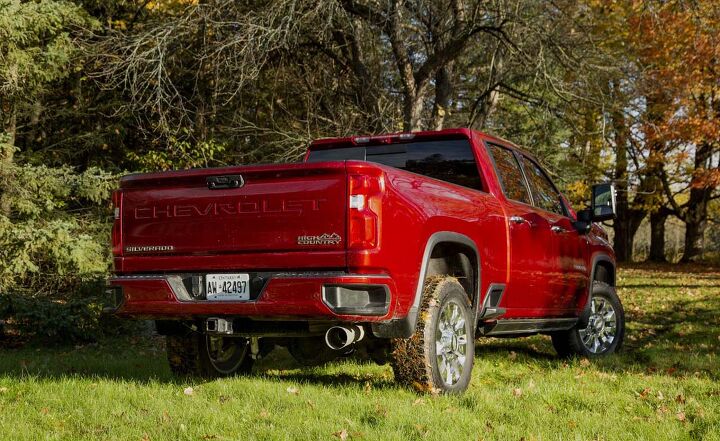 On-road this thing is a dream to drive compared to some other ¾ ton pickup trucks. I find a lot of them really struggle to stay between the lines, and you're constantly making micro adjustments to keep it straight, which on a 12-hour drive (like we have every year) is a nightmare. This thing did a very good job at tracking straight. I also love the feeling of the steering wheel. The leather feels great, and they did a good job of making it feel like I'm driving a smaller vehicle, without that disconnected feeling that I experienced in the RAM 2500.
See Also: 5 Details That Stand Out on the 2022 Toyota Tundra Hybrid Pickup
Off-road however, it handles about the same as any heavy-duty truck…painfully bad, even equipped with the Z71 Off-Road package. With the exception of the RAM Power Wagon, HD trucks are not meant for off-roading. The suspension required for the huge towing and payload numbers is too stiff to soak up bumps on uneven terrain. The entire truck just rattles and shakes when going over bumps and rocks. It's not an enjoyable experience … but then again, the point of buying one of these is not for its off-road prowess.
2021 Chevrolet Silverado 2500HD Interior Design/Technology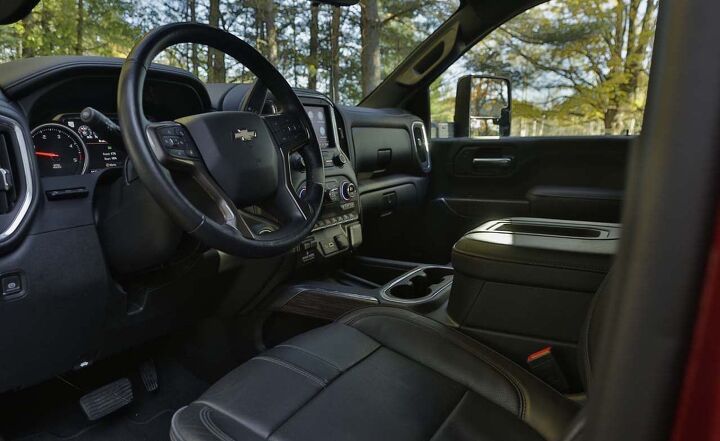 We hunted hard over the next five days. Walking several miles each day through miserably thick bush, steep inclines, and barely navigable swamps, and by the end of it we were wiped. Thankfully we had the plush leather seats of the 2500 High Country to relax in, all the way home.
My thoughts on the look of the interior are similar to my thoughts on the exterior. It's nice, but it's certainly not best in class. The materials are mostly premium, with the exception of the cheap looking copper plastic accents, and the power adjustable heated AND cooled leather seats are comfortable, but the overall look is kind of bland. The tiny 8.0-inch screen is even further dwarfed by the giant center stack that surrounds it. Almost every vehicle is getting appointed with giant tablet style screens so I'm surprised GM didn't add this for the 2020 redesign.
See Also: Ford F-150 vs Ram 1500 Comparison: Truck Yeah
This truck is absolutely packed with technology though. Starting with the center stack, you get a wireless charging pad, Apple CarPlay/Android Auto which is finally also wireless, so the charging pad actually serves a purpose. There is also automatic climate control, 2 USB ports (one being USB-C), a 120v plug, trailer brake controller, a plethora of hard buttons that control things like the Exhaust brake, power for the 120v plug, and hill descent control, which is available through the Z71 off-road package.
2021 Chevrolet Silverado 2500HD Camera Control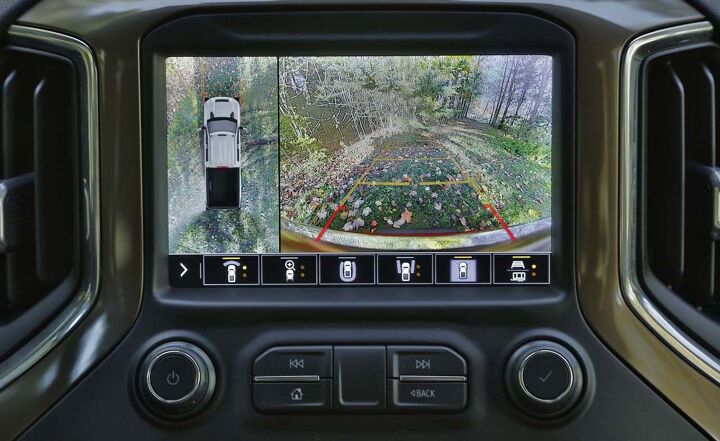 But the coolest feature is all the different HD camera views. There're the two blind spot cameras, front view, rear view, bed camera, two trailer cameras (if installed), 360 surround view, and the best one: the rear-view mirror camera, which displays what the rearview camera sees on the rear-view mirror with the flick of a switch. This came in very handy for us as we had gear packed floor to ceiling in the back seat, completely impeding our view.
The tech doesn't stop there though. The digital instrument cluster is also one of the best I've seen. It displays just about any bit of info you could think of related to the vehicle, but most notably is the brake pad life. I have to yet to see that elsewhere. The HUD is also one of the best and most clear systems I've ever seen.
On to the back: the heated rear seats are also quite comfortable, with lots of room for any adult, and you get an additional 120v plug as well as two USB ports, one of which again is USB-C, which is nice for anyone with a newer phone. The extra storage in the backrest is also a cool feature, and with the seats fully lifted up, there was tons of room for our gear.
One thing I was shocked to see that is not even an option however, is adaptive cruise control and lane keep assist. Just about every vehicle on the market has this at least as an option, and some even come with it standard. This is a hugely important feature to me and seems like a relatively simple thing to include, especially at this price point.
2021 Chevrolet Silverado 2500HD Price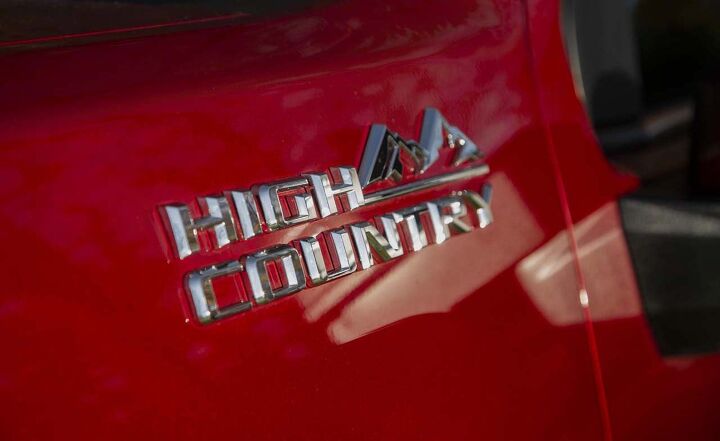 The base model comes in at $36,995, but that has no cab, only 2WD and none of the necessary features. Our tester was nearly maxed out at $80,525 after freight, but that gave us everything. Like I mentioned before though, there are better options. The diesel isn't required unless the truck is being used for serious work every day, which will save a whopping $9,750. Ditch the chrome wheels for another $2,995 and the cost of the Silverado now decreases by $12,745 plus tax. It's still a fantastic truck, and will be able to tow more than legally allowed to without classifying it as a commercial vehicle.
2021 Chevrolet Silverado 2500HD Conclusion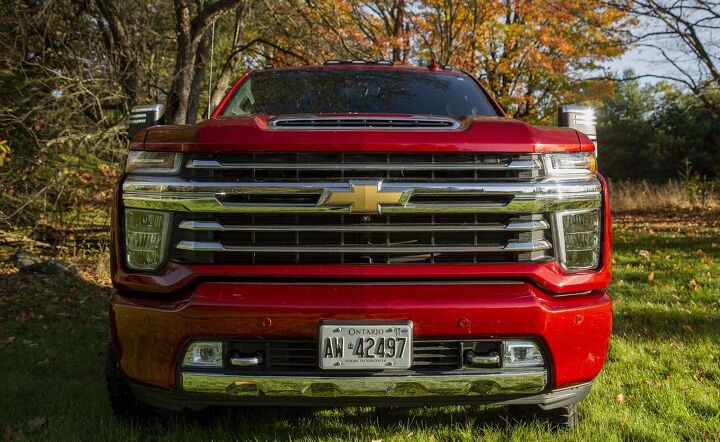 Regardless of any gripes I may have initially had about the 2021 Chevrolet Silverado 2500HD, it's still a fantastic truck. It's very powerful, capable, comfortable, and most of us would love to own one. The camaraderie with the boys, the laughs, reconnecting with nature, all make this experience unlike anything else. Doing it in the big comfy leather seats of the Silverado 2500HD High Country only makes it sweeter.
3 FAQs
How much is a 2021 Chevrolet Silverado worth?

Base models start at $36,995 USD ($49,948 CAD)

How much is a fully loaded 2021 Chevrolet Silverado?

Fully loaded our High Country came in at $80,525 USD ($94,873 CAD)

Is the 6.6-liter Duramax any good?

It is a powerful and efficient engine. The cost to upgrade to the Duramax may be too steep for some buyers.
Become an AutoGuide insider. Get the latest from the automotive world first by subscribing to our newsletter here. Published November 10th, 2021 3:55 PM
Popular Articles
Latest Comparisons
Car Buying Tools