452 Views
Ford Mustang Mach-E Rally Ushers in EV Road-Rally Car Era
September 7th, 2023 7:09 AM
Share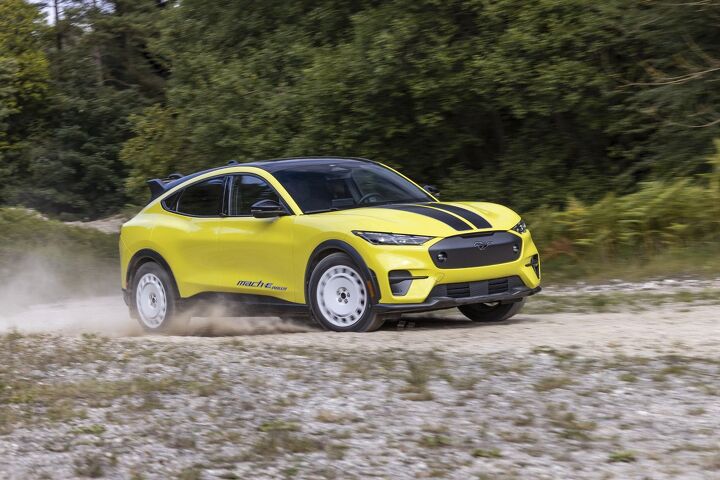 There's a new kid in town with a familiar name, familiar purpose, but entirely different make up. It's a Mustang that hopes to carry-on the tradition of vehicles like the Focus RS, but in an all-electric SUV body. Behold the all-new Ford Mustang Mach-E Rally.
More than just a name, the newest member of the Mach-E family is a thorough overhaul of the electric SUV. Ford designed, tested, and tuned the Rally on a specially built rallycross course, logging plenty of dirt-slinging miles. The brand even benchmarked the rally-inspired Subaru WRX.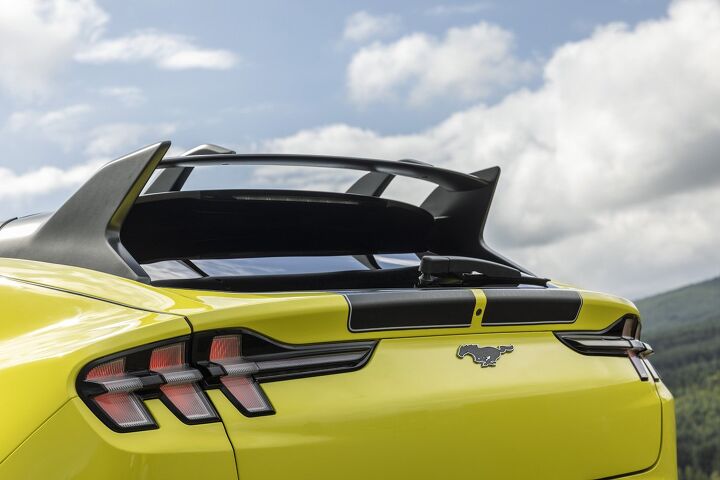 To differentiate the Rally from other Mach-E models, it houses a host of cosmetic and functional upgrades to the exterior. Up front, there is a unique front fascia with embedded fog lights as well as a unique splitter. The roof is painted black and there's a giant rally-inspired rear wing.
The vehicle will be available in six colors, including Grabber Blue, Star White, Glacier Grey, Shadow Black, and Eruption Green. The final color is exclusive the Rally and arguably the brightest: Grabber Yellow. Regardless of which pigment is chosen, all Mach-E Rally's will include standard dual racing stripes.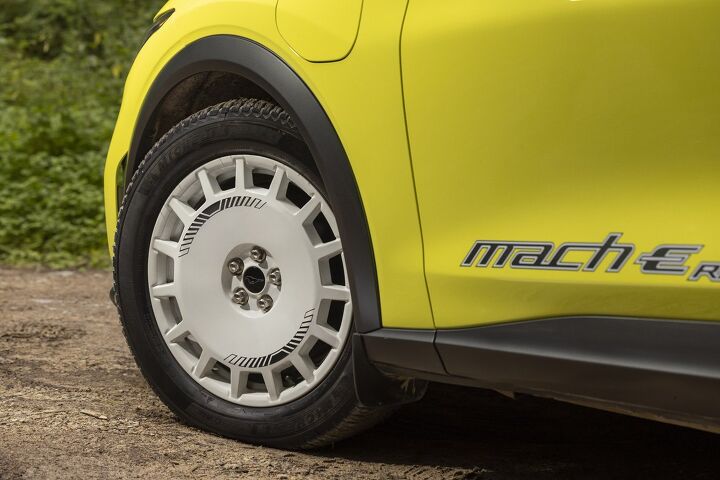 Our favorite part of the Mach-E's exterior are easily the rally-style 19-inch wheels. They're instantly recognizable to anyone who's watched a Ford rally car over the past 40+ years with bright white paint and a multi-spoke design. They wear more dirt friendly 235/55R19 Michelin CrossClimate2 tires.
While on the topic of dirt, there are upgraded front and rear motor shields as well as coating on the doors and fenders to prevent paint chips. To complete the look and protection, there's also dealer available mud flaps. Items that are missing include skid plates, but Ford is looking to develop accessories in-house, and knows the aftermarket will also be making parts.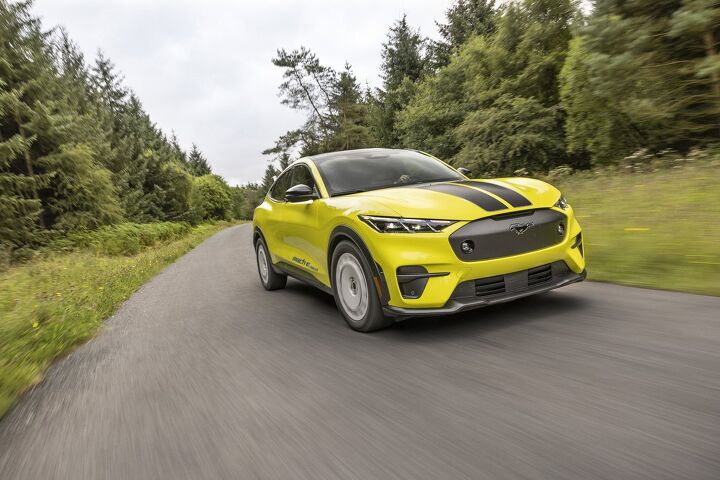 To traverse dirt roads as quickly as possible, the Mustang Mach-E Rally will come standard with the dual mode, all-wheel drive set-up. Ford claims it will have at least 480 horsepower and 650-pound-feet of torque. That's more than the current Mach-E GT. As well, max power can now be used over a longer period, thanks to software upgrades that better control temperatures. That means no more five-second-limited bursts.
As should be expected, there is a RallySport Drive Mode that allows the electric SUV to slide more, get sideways, and better control linear acceleration. The manufacturer hopes for a driving range of 250 miles on a single charge from the 91-kW battery. Once depleted, the Mach-E can still charge at speeds up to 150 kWh.
Besides drivetrain upgrades, there's also a lot of suspension tweaks. The tuning has been reworked to accommodate MagnaRide shocks that add 20mm in ground clearance compared to regular Mach-E models. There are Brembo brakes up front and if things get a bit too out of hand, and the Rally becomes stuck, there is a built-in recovery point.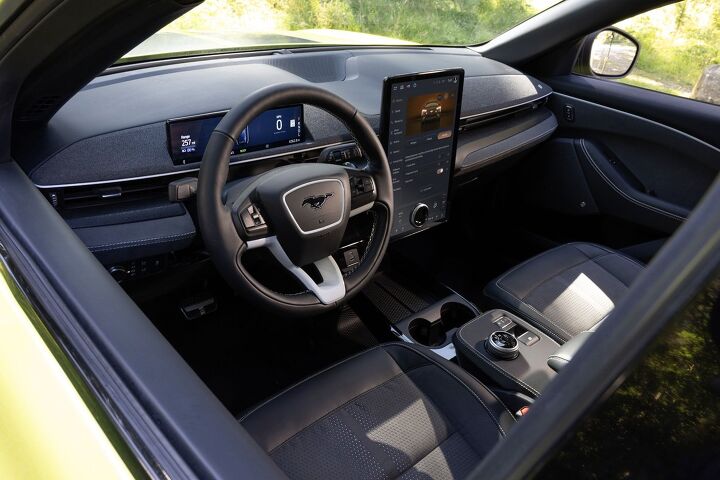 Inside, the interior features gloss white accents throughout that match those fabulous wheels. Did we mention how much we like the wheels? There are also special performance seats with gloss white seatbacks.
The huge infotainment screen has been reworked and more controls are now performed with the large knob at the bottom. There are less touchscreen sliders and a camera button is always visible. The Mach-E Rally also includes Ford's latest Bluecruise 1.3.
The special edition Ford Mustang Mach-E Rally should start around $65,000 USD when it goes on sale next year. Production is slated to begin in early 2024.
Become an AutoGuide insider. Get the latest from the automotive world first by subscribing to our newsletter here.
Published September 7th, 2023 7:09 AM
Popular Articles
Latest Comparisons
Car Buying Tools