57 Views
The Best Chevrolet Silverado Accessories Every Owner Needs
May 2nd, 2023 2:03 PM
Share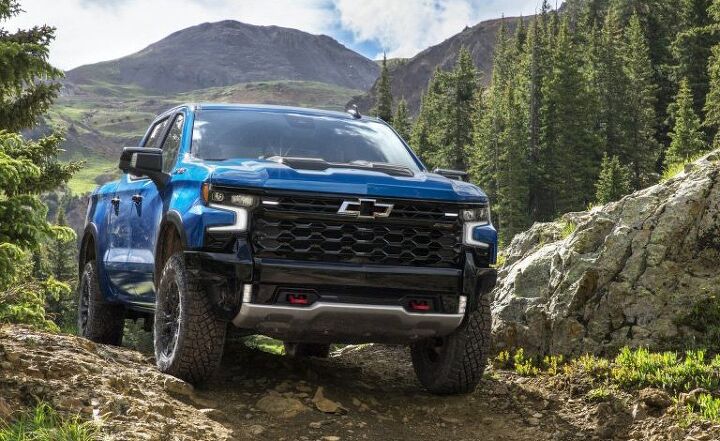 If you're shopping around for the best Chevrolet Silverado accessories to bolster the practicality of your truck, you've come to the right place.
The Chevrolet Silverado is one of the best-selling vehicles on the road today in North America, and that means that there's a massive array of products you could be spending your hard-earned dollars on – things like tonneau covers, truck covers, trailer hitches, bed extenders, and more. Unfortunately, that means it's easy to sometimes get lost in the fray; paralysis by analysis is very real, and faced with so many options, it's understandable if you're feeling a bit overwhelmed.
Not to fear: we've put together this helpful list of the best Chevrolet Silverado accessories that every owner should have on their list, covering a range of different uses and price points. Start here any time you find yourself wondering what cool truck gadget you should purchase next.
1. UWS RigidCore Aluminum Truck Tool Box
You didn't buy your Silverado to make runs to the mall and commute to the office, did you? You bought it to do work, which means you could use a good toolbox to haul all your wrenches, sockets, drill bits, and other fun stuff to the jobsite. UWS is here to fill that need. The company makes several different bed-mounted "crossover" toolboxes for the Chevrolet Silverado model range, each as tough and secure as the last with extra-thick aluminum walls, stainless steel handles that won't corrode over years of repeated elemental exposure, and a patented foam-filled RigidCore lid that's engineered to retain its shape and prevent binding. And if it's thievery you're worried about, UWS's crossover toolboxes feature tough locks and latches to keep thieves' mitts off of your expensive tool collection. Just make sure you order the right model for your model year Chevrolet Silverado; EC10473 is recommended for most second- and third-generation Silverado models, while EC10013 is suggested for the latest generation.
Promoted Product: Gold Shield 5L Chevy Silverado Truck Covers at CarCover.com
There is no denying that the Chevy Silverado is one of the best looking trucks on the road. One of the best ways to keep it looking good is by using a Gold Shield 5L Chevy Silverado Car Cover from CarCover.com. The Gold Shield 5L is a five-layer car cover, cut to specifically fit the shape of your full-size truck, with strap and buckle cinches at each end and an elastic band for a snug fit. The cover is 100% waterproof and weather and UV-resistant. It has a limited lifetime warranty and is made from three layers of polypropylene, a single layer of microporous film, and an additional layer of soft fleece lining to help shield the pain job and keep your Silverado looking good. Whether you're hitting the trails, or cruising the streets, you want your Chevy Silverado looking its best, and one of these car covers can help with that.
2. UnderCover SwingCase Truck Bed Storage Box
Truck bed toolboxes are great, but they have their downsides. For one thing, they're a bit on the heavy side, and in most cases, they don't permit the use of a tonneau cover. If you find yourself looking for alternatives to the traditional truck toolbox, check this out: the UnderCover SwingCase Truck Bed Storage Box. It's a more tucked-away, discreet way to add a bit of tool and part storage to the bed of your truck, using contoured hard plastic bins that are designed to sit just behind the rear wheel wells when stowed, and swivel out for easy access when needed. That means they take up very little of your useful bed space – a total win in our book. Each of these Chevrolet Silverado accessories is sold individually, so you can choose between driver side, passenger side, or both when ordering, but no matter which direction you go, you're getting a rugged, durable black plastic storage bin with an organizer tray and a weather-tight lid seal designed to keep the elements where they belong: out.
3. Napier Enterprises Sportz Truck Tent
You and your Chevrolet Silverado work hard. It's time to start playing even harder, with the Sportz Truck Tent from Napier Enterprises. The biggest advantage to a truck bed tent as opposed to a more traditional one is that if the ground at your campsite is a bit too muddy, sandy, or soupy for your liking, you don't have to suffer through it; the tent deploys right in your truck bed, meaning you've got a firm, dry surface to work with no matter where you are. That also means that in colder climates, you're not setting up right on the frigid ground, and you've effectively got more open space on your campsite for stockpiling firewood, hanging a slackline, or whatever it is that you're into. The Napier Sportz tent is surprisingly light for a spacious, full-featured two-person tent with 5.6 feet of headroom and a 4' by 4' awning that extends off the tailgate, and Napier boasts that it's the only truck tent on the market with a patented sewn-in floor, which give it extra durability and weather-resistance where you need it most.
4. MaxxHaul Hitch-Mount Truck Bed Extender
It doesn't matter how long your truck bed is; sometimes, you just need a little bit more. Those kayaks and long 2-by-4s aren't going to support themselves. Instead, what you need is the MaxxHaul Hitch-Mount Truck Bed Extender. One of the most practical, lifesaving Chevrolet Silverado accessories is also one of the easiest to install, plugging right into your factory 2" by 2" hitch receiver and giving you an instant extra few feet of length with the tailgate down. This bed extender is durable and built to last, with coated square steel tubing delivering a distributed load capacity rating of 350 pounds and excellent resistance to corrosion. And once you get your lumber to the jobsite, you can unload it and fold down the side arms to make a handy, portable work area. This bed extender is a direct fit for most Chevrolet Silverado 1500s with a factory hitch receiver, but if you've got a 2.5" by 2.5" square receiver, you can always make it work by using an adapter.
5. Husky Liners Weatherbeater Floor Liners
We don't need to tell you that life can get messy, whether you're at the campsite or the jobsite. To keep your Silverado's floors protected from rain water, slush, mud, salt, gravel, and all the rest, you need a properly well-designed set of water-tight floor liners – like these Weatherbeater ones from Husky Liners. These aren't your average one-size-fits-all rubberized floor mats; they're custom-formed to fit the contours of your truck's floor pan, giving you exceptional fitment and total protection for the most sensitive areas of your truck's factory carpeting. Molded from an advanced thermoplastic material, they'll retain their compliance even in the most frigid of temperatures, and they feature a deep-well design that effectively catches every mess and keeps it contained so you don't have to worry about spill-over. Because they are custom-formed for individual truck models, you'll need to take some care when ordering these Chevrolet Silverado accessories to ensure you get the right ones.
6. BAK BAKFlip MX4 Hard Folding Truck Bed Tonneau Cover
If you're anything like the average truck owner, keeping your truck bed cargo safe and protected is one of the most critical tasks on your mind. That's what makes the BAKFlip MX4 Hard Folding Truck Bed Tonneau Cover one of the best Chevrolet Silverado accessories you'll ever buy. Sure, it costs more than a soft tonneau cover, but the extra protection against theft and accidental puncture is well worth the added cost. The BAKFlip MX4 features a low-profile design with matte black coated aluminum panels that automatically latch as they're dropped into place, and which lock with the tailgate. That means you get the utmost security against anyone who might decide to poke around your valuables. It's a strong tonneau cover, with a 400-pound distributed load rating, and it's easy to install and operate, with a simple cable-release system so simple a child could operate it. This tonneau cover is available for just about every year of the Chevrolet Silverado 1500, 2500, and 3500, with several different bed lengths covered.
7. Lund-In-Motion Universal Truck Bed Xtender
There's more than one way to get a bit of extra cargo space out of your truck bed, and this is easily one of the most clever: the Lund-in-Motion Universal Truck Bed Xtender. Made from black coated steel tubing, this "universal" bed extender truly is about as close to truly universal as you can get, with an adjustable width that allows it to adjust to a wide range of truck bed widths. It's basically a big gate that's designed to mount at the rear of your bed and swing out over your opened tailgate when needed to retain extra cargo when the tailgate is down, or swing into the bed to function as a cargo divider when you don't need the extra space. The tapered shape allows it to be used with myriad different tonneau cover rails without interference, and after installation, it can be removed in a snap courtesy of a pair of quick-release mounting brackets. All-in-all, when deployed, it adds up to 2 feet of extra cargo length to your Silverado's bed.
8. BACKRACK Truck Bed Short Headache Rack
Your Silverado's bed is its greatest asset, but some things are easier to carry and transport with a "headache" rack installed. One of the most universally practical Chevrolet Silverado accessories out there, this headache rack from BACKRACK gives you a reliable place to mount an entire constellation of BACKRACK accessories, from tool holders to light brackets, so you can safely transport things like shovels, rakes, and ladders with ease, and have a sturdy base for installing auxiliary lighting. The rack is also designed to frame the rear window of your Silverado in such a way that large, heavy items aren't as likely to become a hazard in the event of a collision or a sudden panic stop, and anything that can potentially save your life or the lives of your passengers is worth the money in our book. When you order, just be sure to note that most often, the rack is sold without the required mounting hardware, which is usually more vehicle-specific than the rack itself.
9. CURT Pintle Hitch For 2-Inch/2.5-Inch Receiver
Your Chevrolet Silverado was born to do a lot of things, but one of its primary reasons for being is to tow. In order for it to live up to its full potential in that task, it's going to need a good hitch – like this CURT Pintle Hitch. Two different versions of this hitch exist: one made for 2" square receivers, like the factory unit on most Silverado 1500s, and one for 2.5" square receivers, like those found on a lot of Silverado HD models. Both are incredibly tough and well-built, with black coated steel construction and a polished ball, plus a spring-loaded arm for safely securing lunette rings up to 3 inches in inside diameter. The 2" version is rated for up to 12,000 pounds on the ball or up to 16,000 pounds pintle load, and the 2.5" version is even stronger, with ratings of 20,000 pounds all around. CURT is one of the most well-respected names in towing equipment, and for our money, we wouldn't trust anything less.
---
We are committed to finding, researching, and recommending the best products. We earn commissions from purchases you make using the retail links in our product reviews. Learn more about how this works.
Published October 1st, 2021 4:43 PM
Popular Articles
Latest Comparisons
Car Buying Tools