105 Views
Best Ford F-Series Accessories That Every Owner Needs
May 2nd, 2023 2:30 PM
Share
Upgrade your Ford Truck with the best accessories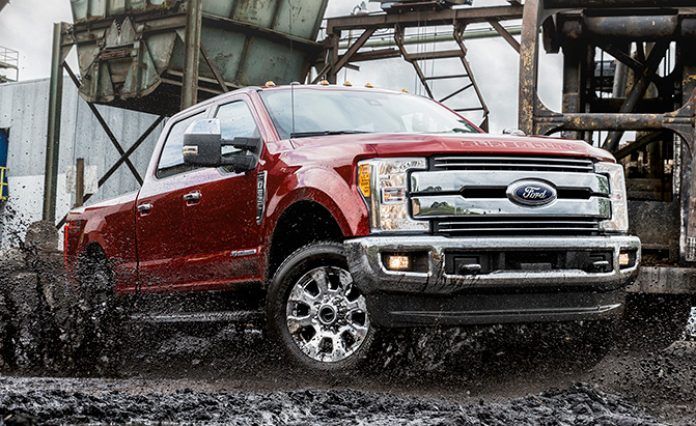 Your Ford F-Series takes good care of you, from getting you to and from work every day to dragging the family camper on the weekends, and hauling the occasional load of landscaping supplies. But if you really want to maximize your truck's usefulness, there are countless Ford F-Series accessories on the market to help you do it.
From towing equipment and cargo racks, to floor liners and truck covers, the list of goodies available for your Ford F-Series is practically never-ending. And that's hardly a surprise; after all, the Ford F-Series is far and away the best-selling vehicle in the US – an accolade it's kept under its belt for the past several decades. That means that you have your pick when it comes to what type of Ford F-Series accessories you want to equip, and which aftermarket accessories manufacturers you feel inclined to fork your money over to.
Here, we've rounded up the best Ford F-Series accessories on the market today, covering a range of manufacturers, price points, and purposes. No matter how you use your truck or how many miles you rack up in a given year, somewhere on this list are the right Ford F-Series accessories for you.
1. Husky Liners Floor Liners
Whether you're the sort who likes to take their Ford F-Series off-road for a day of fun in the mud, or you mostly just stick to the job site, a good set of floor liners or mats is indispensable. We recommend these custom-molded floor liners from Husky Liners. Why choose these? Because they offer the sort of perfect balance between quality and price that makes them one of the overall best buys among all Ford F-Series accessories. Designed especially for individual models and year ranges using Husky's FormFit design process, these floor liners ensure a perfect fit and exceptional staying power, contouring exactly to your truck's factory floor pan and keeping a firm grasp with Husky's exclusive StayPut cleats. And with high walls and functional ridges, they contain messes and spills effectively, keeping water, mud, and other junk away from your carpeting. Available for select Ford F-Series models from F-150 through F-450 stretching back to about 2008.
Promoted Product: Gold Shield 5L Ford F-Series Truck Covers at CarCover.com
The Ford F-Series trucks are the best-selling trucks in North America. Whether you drive an F-150, or one of the Super Duty versions, you want to keep your truck looking as good as possible for as long as you own it. One of the best ways to do that is by using a Gold Shield 5L Ford F-Series Truck Cover from CarCover.com. These protective car covers for your F-Series are made from three layers of polypropylene, a single layer of microporous film, and an additional layer of soft fleece lining to protect your truck's paint from scratches and weather. The cover has strap and buckle cinches at each end and an elastic band for a snug fit around the bottom of your Ford truck. The Gold Shield 5L Ford F-Series Truck covers are 100% waterproof and are weather and UV-resistant to help keep the paint looking great, and they come with a limited lifetime warranty and a carrying case so you can cover it wherever your road takes you.
2. Rough Country Low-Profile Hard Tri-Fold Tonneau Cover
Want to keep the contents of your truck bed protected from prying eyes and would-be thieves? That's why tonneau covers exist. Rough Country makes a great one: this hard tri-fold tonneau cover, with aircraft-grade aluminum panels, an attractive black textured finish, and an easy-to-use cable latch system that can be operated by virtually anyone. Each one is tailor-made to a specific F-Series model range and bed length, with a secure mounting system that installs simply at home, and the whole thing is made in the USA and backed by Rough Country's limited lifetime warranty, guaranteeing many long years of problem-free use. Sure, a soft tonneau cover will also keep your items put in your bed and keep them safe from prying eyes, and the purchase price is generally significantly lower. But a soft tonneau cover just can't match the strength or theft-protection of a hard one, and if you value such things, a hard cover is absolutely worth the extra cost.
3. UnderCover SwingCase Truck Bed Storage Box
Going hand-in-hand with a good tonneau cover, these UnderCover SwingCase Truck Bed Storage Boxes make for great Ford F-Series accessories for a number of reasons. First, they help keep your bed organized. Use them to help keep your hand tools, parts, and other odds and ends contained while you're on the move, leaving the rest of the bed open for larger items like wood and power tools. Second, they help protect your items from the elements. Each one has an airtight weather seal that blocks out rain, snow, dust, and whatever else mother nature throws at you. And third, they help keep prying eyes off of your valuable possessions, providing a needed dose of privacy and security. They install easily, and live stowed in the area behind each rear wheel well, swinging outward when needed for easy access. UnderCover manufactures these truck bed storage boxes for a number of different Ford F-Series models, including numerous years of the F-150, F-250, and F-350.
4. CURT Pintle Hitch for 2-Inch/2.5-Inch Receiver
Let's be real; you didn't just buy your Ford F-Series to run to the mall or pick the kids up from school, did you? You bought it to do truck stuff, like haul lumber and tow the family pop-up camper. That means you'll need a good hitch, and CURT is ready to provide. One of the most well-known names in towing equipment, CURT offers this stout combination ball and pintle hitch for 2-inch receivers, ready to accept any 2-5/16" cup or 2-1/2" to 3" lunette ring. Made from powder-coated steel, this hitch weighs in at just under 22 pounds, but it's rated to 12,000 pounds of tow weight using the ball, or 16,000 pounds with the pintle. That's plenty enough for the average Ford F-150 owner, and the pintle even features a handy spring-loaded arm that makes getting a secure connection a cinch. And if you've got a Ford F-250 or something else with a 2-1/2" receiver, CURT makes a combination ball/pintle hitch for that, too.
5. Lund Steel 5" Oval Curved Nerf Bars
Many newer Ford F-Series trucks ship from the factory with step or "nerf" bars already installed, but if your truck doesn't have them, or your factory bars are looking a little worse for the wear, give these 5" Oval Curved Nerf Bars from Lund a try. Lund is a well-known and respected aftermarket truck accessory manufacturer, and these nerf bars are a testament as to why. They ship preassembled and finished with a durable black powder coat to keep them protected from the elements, or alternatively with a polished stainless steel finish, and they're built sturdy enough to support up to 350 pounds without yielding. Other great features include textured flat step pads that help you get in and out of your Ford F-Series without slipping, even if conditions outside are a bit slick, and model-specific mounting brackets that makes installation easy as can be with no drilling. Lund offers these bars for numerous years of the Ford F-150 and F-Series Super Duty, from F-250 up through F-450.
6. AMP Research BedXTender for Ford F-Series
If you've ever had to drive with a lowered tailgate to accommodate longer payloads, you know that keeping those things properly secured can be a bit of a trick. Fortunately, there are bed extenders – simple metal gates that can be installed at the back of the truck bed to keep your longer payloads contained even with the tailgate down. The AMP Research BedXTender is hands down our favorite. With a U-shape design that maximizes cargo area, this bed extender effectively adds an extra 2 feet to the length of your bed by flipping out over the lowered tailgate and keeping your payload secure. Need to raise the tailgate? That's no issue; simply flip the BedXTender into the bed, and it can serve as a nifty cargo separator, splitting the length of your bed so you can keep your tools separate from your building materials, your camping gear separated from your firewood, or what have you. Different versions apply to different Ford F-Series models, so be sure to check compatibility before ordering.
7. MaxxHaul Hitch-Mount Truck Bed Extender
In addition to the "gate" style bed extenders, there's another type of bed extender that might be well-suited to your cargo-hauling needs: the hitch-mounted cargo rack. This MaxxHaul unit comes highly recommended. Made to fit any standard 2-inch hitch receiver – or larger, with the use of an adapter – this bed extender offers an adjustable height and width so you can install it, line it up with the bed floor, and instantly gain an extra few feet of length for longer payloads like 2-by-4s and kayaks. You can also fold down the side arms on the job site to make a nice, portable work area. With a distributed load capacity rating of 350 pounds and tough coated steel construction, this universal bed extender ought to last for years and years, and installation is so simple and quick that you can easily ditch it whenever you don't need it.
8. Thule TracRac Truck Rack
If there's a better-known brand than Thule when it comes to aftermarket vehicle cargo racks, we don't know what it is. Lucky for Ford F-Series owners, they make this universal TracRac Truck Rack system, which mounts to your truck's bedsides and provides plenty of extra cargo carrying capacity – 800 pounds of it, to be exact, so long as the payload is distributed evenly and the rack is properly installed. Wind noise is kept to a minimum by the aerodynamically sleek design, and perhaps best of all, this rack is compatible with a breadth of different Thule-built cargo accessories thanks to the standard T-track load bars. Manufactured from sturdy aluminum alloy, this rack is a reliable partner that should last you years of regular use without succumbing to elemental exposure and corroding. Just be sure to use thread locking compound on the hardware; many customers have noted that the nuts and bolts can work their way loose over time.
9. Napier Enterprises Sportz Truck Tent
For you weekend adventure-loving Ford F-Series owners, a truck bed tent is a great way to maximize your space on every campsite, not to mention one that mitigates the trouble of setting up a tent on rocky or uneven ground, in sand, or in mud. This Napier Enterprises truck bed tent is the perfect weekend camping companion, what with its light weight, quick and easy setup, and surprisingly capacious interior with 5.6 feet of headroom and space enough to sleep two comfortably. The tent is made of polyester and features a full rain fly to keep you nice and dry should the weather turn on you, and a 4' by 4' awning extends off the tailgate to provide ample shade with no need for guide ropes. Best of all, Napier says it's the only truck tent on the market with a patented sewn-in floor, giving it an extra bit of durability and weather protection where you need it most.
Find all the latest Ford D-150 reviews, comparisons, and information by clicking here.
---
We are committed to finding, researching, and recommending the best products. We earn commissions from purchases you make using the retail links in our product reviews. Learn more about how this works.
Published September 24th, 2021 5:04 PM
Popular Articles
Latest Comparisons
Car Buying Tools