5.7K Views
The Best Windshield Wipers Keep It Clear
October 11th, 2023 8:41 AM
Share
We're committed to finding, researching, and recommending the best products. We earn commissions from purchases you make using links in our articles. Learn more here
Don't wait until it's too late to replace your wipers. Here are the best windshield wipers you can get.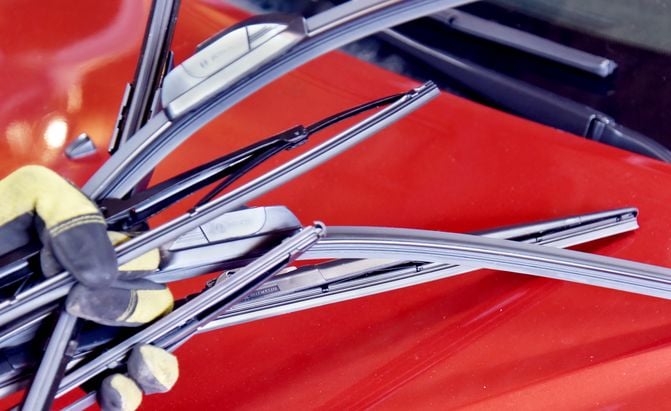 Windshield wipers are an often overlooked maintenance item on your vehicle, but they're one of the most important features when it comes to safety. Both for summer and winter driving (see our Winter Wiper blade picks). Poor wipers can affect visibility in bad weather and you don't want to wait until you're caught in a storm to realize your wipers are worn out and you can't see through the rain on your glass. Fortunately, now you don't even have to navigate the confusing rack of indistinguishable versions at an auto parts store to buy the best windshield wipers for your vehicle.
Our picks for replacement wiper blades make it easy to browse, shop, and compare the best silicone and rubber wipers and their pricing. Best of all, all the wiper manufacturers and most online retailers will have a fitment guide, allowing you to choose your vehicle to make sure you're getting the right length and mounting style wiper for your car.
In this article, we'll take a look at the best windshield wipers available, helping you make your shopping experience quicker and easier. For more information about windshield wipers, including the pros and cons of silicone windshield wipers vs. rubber, refer to our table of contents. Oh, and one last tip: Keep in mind that many cars use two different sizes. You can often get a kit for your car with two different sizes included; otherwise, wipers are usually sold individually and not in pairs so make sure you're ordering the right number.
How We Chose The Best Windshield Wipers
We started with our editors' many years of experience with aftermarket car parts, and backed this up with a survey of online reviews to come up with an initial list. We then purchased and tested different brands and styles of wiper blades, not just to find out how well they did with rain, but how easy they were to install, and how well they held up. We were surprised with the results, because at least in this case, more expensive doesn't always mean better.
For more on the best windshield wipers, including installation tips, see the Table of Contents.
1: Editor's Pick: ANCO 31 Series
If you've replaced your own wiper blades, you know it can be surprisingly frustrating. And as we tested blade after blade, we too grew increasingly frustrated, struggling with overly complicated and difficult attachment and locking mechanisms, squeaky and slapping wiper blades, and other assorted gimmicks.
But when we installed an Anco, we wondered if we were doing something wrong, because it just...clipped on. We even double checked the packaging to make sure we hadn't forgotten anything. You just pop it on your wiper arm using Anco's "KwikConnect" and you're done. It takes seconds. Even better, there's no plastic to get brittle and break in cold weather or after sun exposure, which has happened to us more times than we can count.
The 31-Series is available in a wide range of sizes, from 10 inches to 28 inches, almost guaranteeing an application for your vehicle. The "DuraClear" rubber compound didn't squeak or skip, and it conformed well to our windshield.
They won't last as long as expensive beam-style silicone wipers, and the open frame design will definitely pack up with snow and ice in the winter, but we think this is the best choice for most people who drive in above-freezing weather and change their own wiper blades. It's the perfect wiper blade to stock up on, so you have one to pop on when you need it.
| | |
| --- | --- |
| Pros | Easiest installation of any wiper blade tested, quiet and smooth, available in wide range of sizes, very affordable |
| Cons | Will clog up in snow and ice, won't last as long as more expensive blades |
2: Most Premium Wiper Blade: Bosch Icon
The Bosch Icon may be the best wiper blade made. It's one of the few we've ever used that can last a year or more in daily driving, and works equally well in summer or heavy snow. The company claims the Icon offers up to 40% longer life than other premium blades, and the rubber compound should be resistant to cracking from exposure to ozone, compared to other major competitors' brands. It also features an exclusive asymmetrical flexible spoiler design for effortless and quiet wiping. Bosch promises the Icon is easy to install, with a weather-shield double-locking connector, but we've installed them many times and continually find it to be one of the most difficult. This plastic housing has also been a weak spot in the past, and can be brittle when changing wipers in freezing weather.
If you live in an area that doesn't experience a lot of rain or snow, you may not need a premium blade like the Bosch Icon. As with every wiper blade, your fitment depends on your car—26 inches is now common, and 20-and 22-inch wiper blades also come on many cars.
Bosch wipers are original equipment on various luxury German vehicles, such as Audi, BMW, and Mercedes-Benz.
| | |
| --- | --- |
| Pros | Durable, close contact doesn't streak, good snow and ice performance |
| Cons | Price, wiper slap and skipping on some windshields |
Trico has been in the wiper game since the very beginning. The company invented the first mass produced wiper blade to ever go on sale. Since then, the company has continued to make some of the best wipers around. It even produces the factory fitment wipers for tons of brand new makes including Ford, Porsche, and Subaru.
Trico ExactFit wipers are designed for buyers who don't want to mess around. They want OEM quality wiper blades, and, crucially, they want them to be easy to install. Most wipers come with an adaptor so you can fit them to your vehicle, but that fitment can still be hit or miss with a lot of fooling around to get the right adaptor.
ExactFit wiper blades have a pre-installed connector that just snaps on instead. They are steel frame wipers, not a beam style, but that's what most automakers are still using as new. They should offer snow and rainwater clearing just like your vehicle did when it was new. They're not the most glamorous choice, but if they're good enough for your vehicle when it was new, they're good enough for when it's time for a replacement.
| | |
| --- | --- |
| Pros | OEM quality, OEM fit |
| Cons | Metal frame can corrode and clog, no fancy rubber compounds |
4. Best Winter Wiper Blade: Michelin Stealth Ultra Wiper Blade
Michelin offers a wide range of wiper blades of all styles, including beam, hybrid, conventional, and even specific applications for a rear windshield wiper. If you're looking for a hybrid wiper blade, the Michelin Stealth Ultra hybrid wiper blade is a popular choice, with a unique patented design featuring exclusive "Smart-Flex" technology that adapts to the curvature of a windshield for better wipes and improved vision.
Premium rubber (Michelin knows rubber!) with advanced coating delivers smooth and quiet wipes in all weather conditions, while a segmented hard cover provides maximum flexibility and protection from snow and ice. Installation is fairly straightforward with Michelin's "EZ Lok" connector system. It's worth noting, however, that numerous owners have found the included adapters aren't compatible with their vehicle. So make sure you're purchasing the correct application for your car. Fortunately, they're available in 14- to 28-inch lengths for most applications. The longer sizes, which are common on many late-model cars, are expensive. We'd recommend using our favorite cheap Ancos in fair weather and waiting for winter to use the Michelins. If you change your tires, it's a good idea to change your wipers.
According to Michelin, independent tests show that after 300,000 wipe cycles, the Michelin Stealth Ultra outperformed all industry competitors. These blades are highly recommended for drivers who encounter a lot of ice and snow, since the segmented hardcover beam design helps protect the blade from clogging up with frozen slush.
| | |
| --- | --- |
| Pros | Very durable, good winter weather performance, hard cover protects against clogging |
| Cons | Can be hard to install, expensive |
5. Best Bargain Beam-Style Wiper: Valeo Ultimate Series
Valeo makes an Ultimate branded wiper blade in both a traditional and a frameless style; we like the frameless, as it's one of the least expensive ways to get into a beam-style wiper. Beam style wipers turn the whole frame into one big spring. Because there are no moving parts, they tend to last longer. The full-length spring can conform better to your glass in long sizes, and it can be designed to resist aerodynamic lift at higher speeds. We found the Ultimate Series wiper's performance to be very close to premium wipers like the Bosch Aero, at a much lower price. But common to all frameless wipers, there's a lot of plastic in the attachment mechanism, which gets brittle with both UV exposure, and cold weather.
The Valeo Ultimate Series is available in a wide range of sizes ranging from 15 to 29 inches. The 900 Ultimate Series wipers claim to have best-in-class aerodynamics thanks to an integrated spoiler, along with enhanced aero-acoustics that reduce wind noise by up to 3dB for a quieter ride in severe weather.
The wiper is a beam-style blade, featuring "Tec3" advanced rubber technology which provides a smoother and quieter wiping performance. And since it's a frameless wiper blade with no metal structure to collect ice and snow, the Valeo Ultimate Series is a great choice for an all-season wiper.
Another selling point for the Valeo Ultimate Series is that the blades feature integrated flexors, providing over 1,500 pressure points for even blade-to-windshield pressure. These are the best beam-style wipers Valeo has to offer and they are priced competitively within the segment. We recommend them for drivers who experience moderate rain, snow, and ice, and ideally can keep their car protected in a garage or other covering when it's not being driven.
| | |
| --- | --- |
| Pros | Wide range of sizes, no metal superstructure, best-in-class aerodynamics |
| Cons | Lacks protective covering from ice and snow |
6. Best Water Repellent Wiper: Rain-X Latitude Water Repellency 2-in-1 Wiper Blades
You may have heard of Rain-X before, a brand that specializes in glass water repellents and cleaners. The original Rain-X glass water repellent dramatically improves wet weather during visibility, but it's not a substitute for high-quality windshield wipers. That's why the company offers the Latitude Water Repellency 2-In-1 wiper blade, which features Rain-X water repelling coating windshield treatment that is transferred from the wiper squeegee to the windshield during initial use.
We were skeptical, but we could quickly see the difference on our windshield between the Rain-X side and an Anco on the other. It really does leave a coating that makes water bead up and wipe off more easily. The attachment system, which comes with a universal adaptor, was also one of the best we tried, and it wasn't hard to install or remove. We would have ranked it higher, but we experienced squeaking, and a loud and very annoying slap when it changed directions. To be fair, this is a common problem with long, frameless wipers, but it seemed to be worst with Rain-X.
The beam-style blade offers the best performance out of all Rain-X offerings and is generally more affordable than the Bosch ICON and certain PIAA Silicone wipers. But since it is a beam-style blade, it isn't as durable for all-weather performance, so you will want to keep that in mind if you live in an area that experiences snowfall. The Rain-X Latitude Water Repellency blade doesn't have any type of extra casing to prevent clogging with ice and snow.
The blade itself contours to the curvature of the windshield, with a synthetic-blend rubber squeegee featuring a premium graphite coating designed for enhanced durability in rain and sleet. The Rain-X windshield wiper blade is one of the best-selling and best-reviewed wipers in North America and is available in single, double, and five-packs.
| | |
| --- | --- |
| Pros | Water repellent coating really works, available in money-saving multi packs |
| Cons | Lacks durable casing to prevent clogging from ice and snow, very loud |
7. Aero Voyager All-Season Wipers
Update: Aero now includes two extra rubber refills with its replacement wiper blades, essentially doubling the life of these windshield wipers.
Another beam-style option comes from Aero, which offers a six-month warranty on its products. They are billed as direct OEM replacement wipers constructed with a specially blended rubber for a smooth, clean, streak- and chatter-free wipe. The Aero Premium All-Season wipers also feature a flexible spine design, which is said to fit the windshield better for superior windshield contact.
Unlike some of the other wiper blades available on the market, Aero's replacements are sold as a pair in many different size sets, making them a cost-effective option. Since they are more affordable, however, don't expect them to perform as well as higher-priced competitors. They offer good all-season performance, but there are better options for snow and ice. But they also come with replacement refill edges and their price is low enough it would make sense just to buy an extra box and keep it in the car for emergencies.
Some would say Aero's wipers are the most "boring" of the lot, with no special selling points or qualities that make them stand out from the crowd. They're ideal for drivers who live in an area with moderate rainfall and aren't convinced they need to spend a significant amount of money for better blades.
Most owners are satisfied with the performance of Aero Premium all-season wipers given their price and found them easy to install, and they are among the most highly-rated on the list for cost-to-performance. Other users found that in certain weather conditions, the wiper blades don't last as long as some competitors. Always keep in mind your weather conditions when choosing the right blade for the job.
| | |
| --- | --- |
| Pros | Sold as a pair, affordable price, good all-season performance, 6-month warranty |
| Cons | No unique qualities, essentially an OE replacement, questionable durability in harsh weather |
PIAA offers silicone wiper blades that claim to be twice as durable as traditional blades. The silicone compound also promises greater visibility by coating the windshield with silicone, helping promote continuous water beading in inclement weather. PIAA's silicone wipers are available in three different models: Aero Vogue, Super Silicone (shown), and Si-Tech. Both the Aero Vogue and Super Silicone wipers are compatible with Silicone refills, potentially saving you money in the long run if you're comfortable with using refills.
The available options cover the three different types of windshield wipers, so there's a real good chance PIAA offers something that meets your needs.
The PIAA Aero Vogue lineup is a hybrid blade which incorporates the benefits of a traditional frame with that of an aero-style cover, featuring "Pass Through" technology that greatly reduces blade chatter and wind lift at higher speeds.
The PIAA Super Silicone uses a traditional exo-frame design that has been enhanced with additional pressure points to provide a smooth, clean, streak-free wipe with easy installation.
The Si-Tech lineup uses a flat-blade frameless design, which contours to the shape of the windshield to provide equal pressure points across the blade for even wiping. They are also designed to reduce snow and ice buildup during winter, making them a great option for those in colder climates.
All PIAA wipers come with a one-year warranty and are subjected to durability testing that follows the strict Japanese Industrial Standard (JIS K6301) method for physical testing of vulcanized rubber.
| | |
| --- | --- |
| Pros | Silicone wiper blades, broad product offering, one-year warranty |
| Cons | Price, may not be as durable in extreme weather |
Everything You Need to Know About Windshield Wiper Blades
They're often overlooked and sometimes even forgotten, but wiper blades are a very important part of safe driving. Even if you live in an area that doesn't experience a lot of rain or snow, it's important to maintain your wipers, so that when you do need them, they do their job well. Like other components on your car, wipers don't last forever and are subject to wear and tear, even if they're not being used often. Poor visibility is one of the most common causes of car accidents, and good quality wipers play an integral part in providing good visibility.
How Often do Windshield Wiper Blades Need to be Changed?
Regardless of whether they're being heavily used, it is recommended to replace your wiper blades every six months (although some manufacturers claim much longer lifespans). You should also periodically inspect them by simply lifting each windshield wiper arm off the glass and running your finger along the rubber edge. Inspect to see if any pieces of the rubber are rigid or chipped, or if they result in non-stop streaking when used. If you find your blades are in good physical condition but aren't cleaning the windshield effectively, you can clean them by using windshield washer fluid or glass cleaner with a damp rag, which will help if you have greasy smears on your windshield. Wipe any debris off the rubber and the portion of the windshield where the wiper blades rest.
Now, when it is time to replace your wipers, make sure you replace them as a pair. If one blade is worn out, that means the second one isn't far behind. Save yourself the time and hassle of having to make another trip back to the store. Just pay close attention when you're purchasing a wiper blade, as most manufacturers offer their products as a single unit, rather than a pair.
Also, make sure to check if your vehicle has a rear windshield wiper. It may not be used as often as the front wipers, but you will want to make sure it is also in tiptop shape so rear visibility isn't affected from an old and damaged wiper.
The Different Types of Wiper Blades Available
Shopping for new windshield wipers doesn't have to be an overwhelming task. But there are different types of blades to be aware of: conventional frame-style wiper blades, hybrid blades, and beam-style wiper blades.
The most common of the three are traditional frame-style windshield wiper blades, which feature rubber squeegees or halogen-hardened rubber. These blades are also often called bracket-type wipers, and are typically the least expensive but are vulnerable to snow and ice. A few have windshield treatments incorporated into the blade material that with time can help water bead up and flow off your windshield.
Hybrid blades have become more popular in recent years, featuring a similar construction as traditional frame-style blades, but with an added outer shell. The outer shell not only provides a lower profile, more aerodynamic design, but helps keep snow and ice off the blades themselves.
Lastly, beam-style wipers are constructed using a single, one-piece design, made of silicone or durable natural or synthetic rubber. Beam-style wipers are the most expensive of the three, but are said to last longer than conventional blades. Most brands that are designed for winter use are rubber, not silicone windshield wipers.
Like every other product in the automotive market, there are fancier and more expensive blades available, some of which are advertised with heated squeegees or scrubbers. It's up to you to decide whether you're willing to spend the extra money for more effective wipers, but unless you live in an area with rough climate conditions, beam-style wipers or even conventional wipers will suffice.
Choosing the Right Windshield Wiper for Your Car
It doesn't matter how much you're willing to pay if you end up with the wrong wipers for your car. The ideal wiper blade is one that fits your vehicle and performs well for your needs. Not all windshields are built the same, with varying shapes and sizes across all types of vehicles. When shopping for new wipers, you'll need the year, make, and model of the vehicle, although sometimes there are different lengths depending on whether your car is a two-door or four-door model. Most retailers will carry model-specific sets that are the correct length for your vehicle, but it doesn't hurt to measure your existing blades in inches to be on the safe side. Your owners' manual should also have your wiper size easily available, along with any instructions on changing them that are specific to your vehicle.
You will also want to check how the wiper blade is attached to your vehicle, which is often either a straight wiper arm, or a hooked wiper arm. Some replacement wiper kits will come with the proper attachment for your vehicle, while others are more universal and come with different adapters.
What About Refills?
An alternative to purchasing an entirely new wiper blade is to purchase a wiper refill or insert, which allows you to replace only the rubber element on the blade. Although this is inexpensive, it's often not recommended since the wiping element isn't the only thing that normally wears out on your wiper blade.
In addition, you'll need to know the exact type of windshield wiper that is on your car, and installing a refill is typically more difficult than attaching an entirely new wiper blade to the car's wiper arm. At the end of the day, you're not really saving a significant amount of money by using refills.
How to Replace Windshield Wiper Blades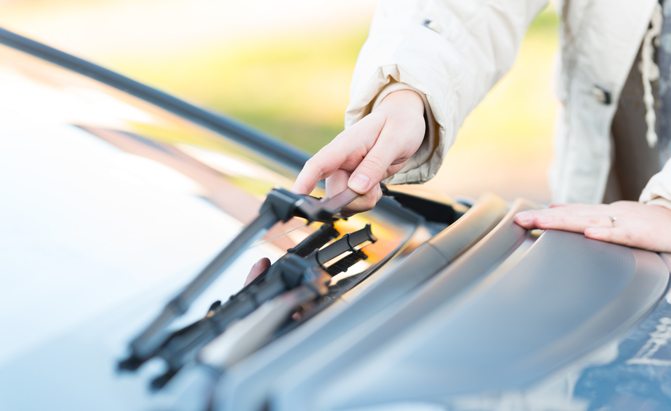 Photo credit: Monika Wisniewska via Shutterstock.com
Not all general maintenance items on your vehicle can be done in your garage or driveway. But one thing you can do on your own that helps ensure your car is safe to drive is changing out your windshield wiper blades. Here's a step-by-step guide on How to Replace Windshield Wiper Blades.
Start by taking out your replacement wiper blades from their packaging so they're ready to be installed. If the blades are different lengths, make sure you know which one is going on the driver's side and which one is going on the passenger's side.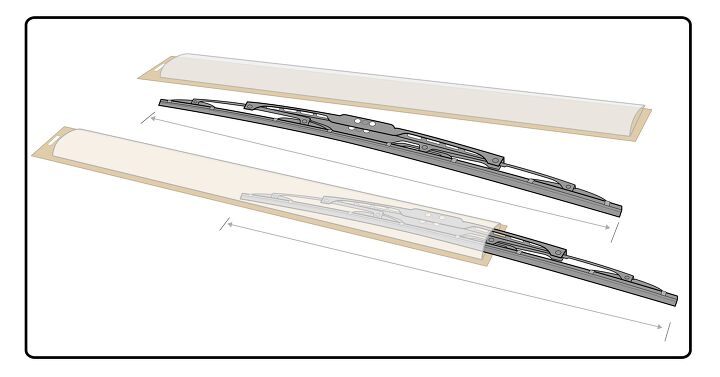 Lift the first wiper arm from the windshield and turn the blade so it is perpendicular to the arm. Check to see if your wiper blade has a release tab, as not all vehicles have them.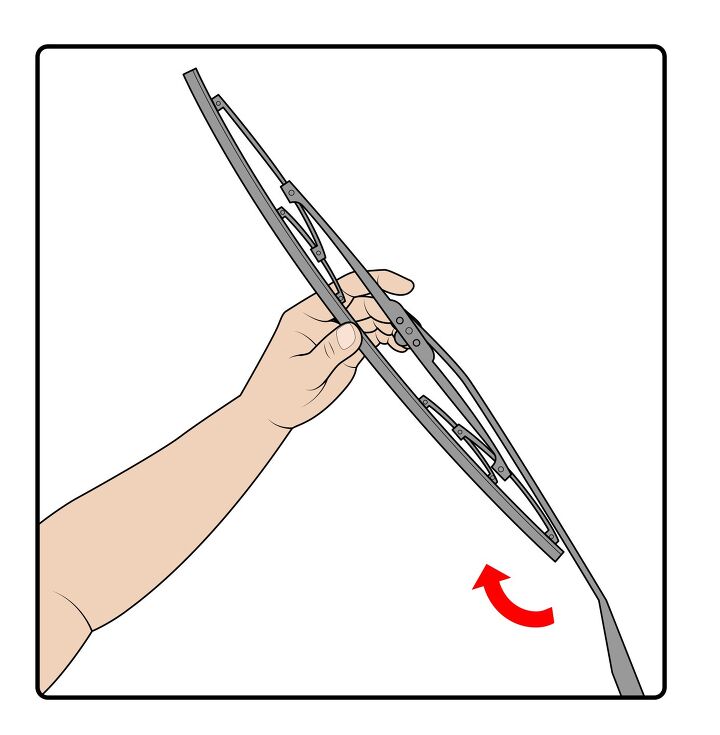 If your wiper arm does have a release tab, push down on the tab and pull down on the blade. Although it may seem like you're supposed to pull up on the blade, that's actually not how the blade is removed from the wiper arm. If your wiper arm doesn't have a release tab, you can simply pull down on the blade after turning it perpendicular to the arm.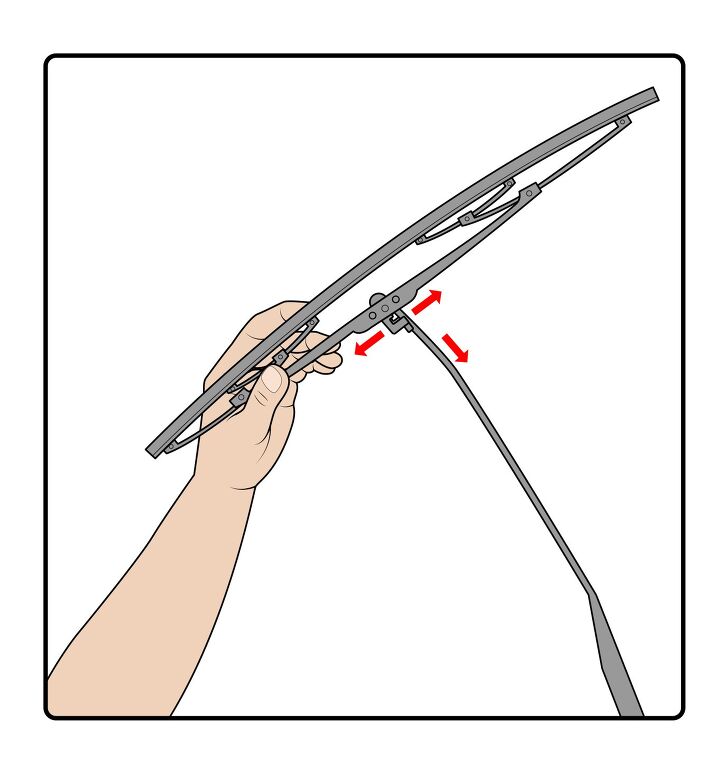 After you pull down on the blade, you will want to turn it so that it is parallel to the arm. Once that is done, you can simply pull off the wiper blade.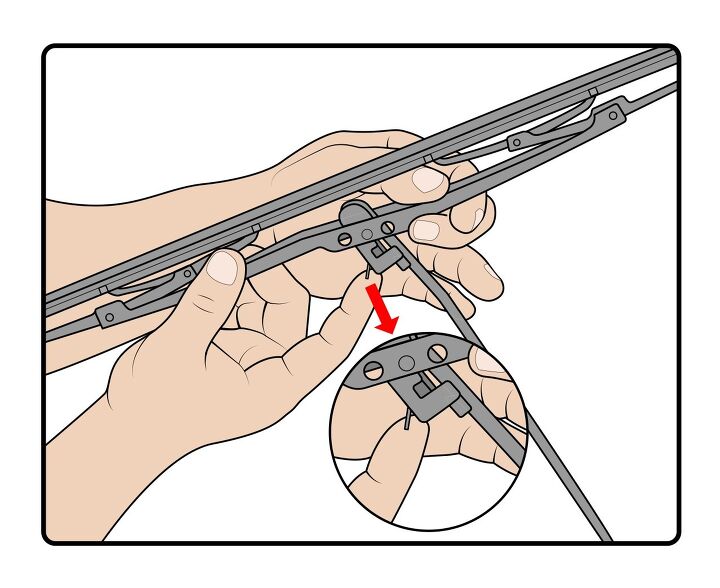 Installing the replacement wiper blade is basically repeating the steps in reverse. Start by having the blade parallel to the arm and threading it into the slot. Some wipers have adapters to make them fit your certain car's wiper assembly, so make sure you consult the installation instructions on the wiper package.
Then, turn the blade perpendicular before you pull up slightly to lock it in place. You will likely hear a clicking noise, or at least feel as if the replacement blade has snapped into place.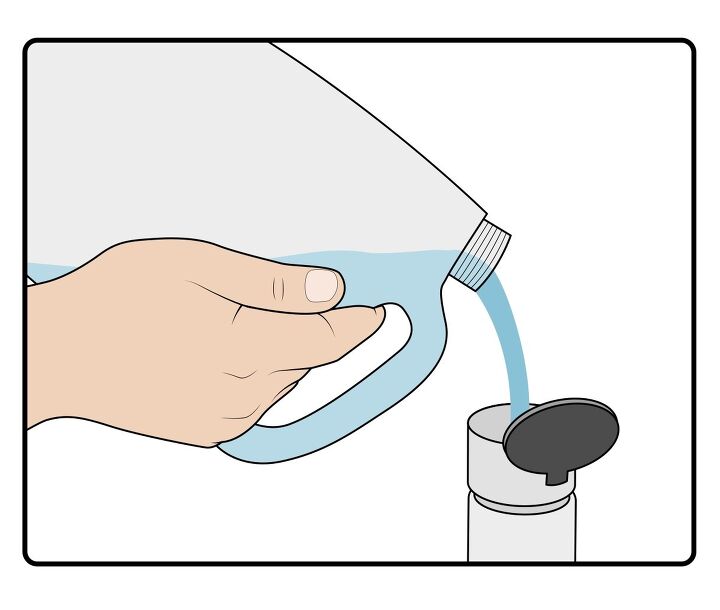 Repeat the process for the other wiper blade.
Once you have installed the new windshield wiper blades and lowered the wiper arm back onto the windshield, hop into your car and give them a test with windshield wiper fluid. This way, you know the wiper blades will function properly when you actually need to use them.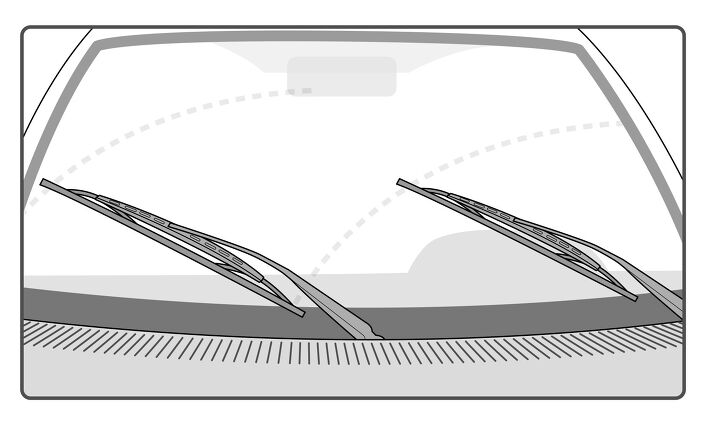 Illustrations by Samrat Chakraborty
Recent Updates
Oct 1, 2023: Updated links, added TricoExactfit
January 3, 2023: Removed promoted product recommendation.
December 5, 2022: Updated product links
October 27, 2022: Updated product links.
September 7, 2022: Removed SilBlade, Trico White, and Bosch AeroTwin from recommendations. Added photos and results from hands-on testing, awarded Editor's Pick to Anco.
May 26, 2022: Removed Promoted Product recommendation.
May 3, 2022: Updated product links.
April 6, 2022: Updated imagery.
---
We are committed to finding, researching, and recommending the best products. We earn commissions from purchases you make using the retail links in our product reviews. Learn more about how this works.
Photo credit: David Traver Adolphus / AutoGuide

Jason Siu
Jason Siu began his career in automotive journalism in 2003 with Modified Magazine, a property previously held by VerticalScope. As the West Coast Editor, he played a pivotal role while also extending his expertise to Modified Luxury & Exotics and Modified Mustangs. Beyond his editorial work, Jason authored two notable Cartech books. His tenure at AutoGuide.com saw him immersed in the daily news cycle, yet his passion for hands-on evaluation led him to focus on testing and product reviews, offering well-rounded recommendations to AutoGuide readers. Currently, as the Content Director for VerticalScope, Jason spearheads the content strategy for an array of online publications, a role that has him at the helm of ensuring quality and consistency across the board.
More by Jason Siu
Published November 29th, 2021 12:28 PM
Popular Articles
Latest Comparisons
Car Buying Tools