196 Views
2017 Audi A4 Vs BMW 3 Series Comparison Review
April 13th, 2022 2:35 PM
Share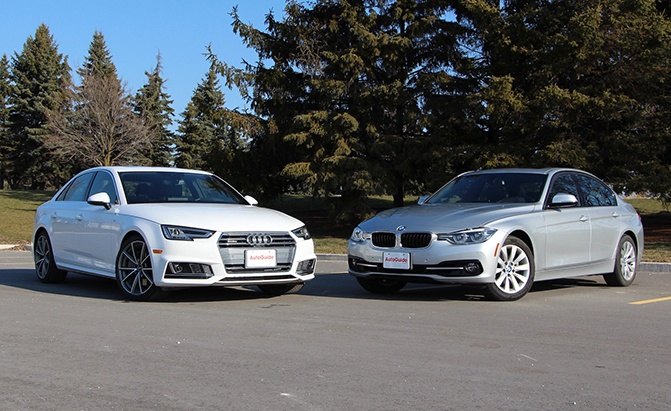 Ever since we picked up the Audi A4 for our long-term test, this is the comparison I've been itching to do.
While the Mercedes C-Class claimed the sales crown last year, the BMW 3 Series is a perennial bestseller and the undisputed benchmark in the compact luxury segment.
It's the obvious choice to see how far the A4 has come in this generation, and whether it can match the 3 for luxury, quality, refinement, technology and driving dynamics. So which of these two sporty luxury sedans has the goods and the balance to deserve your attention?
Get a Quote on a New Audi A4 or BMW 3 Series
Dynamic Duo
Although it's nearing the end of its life cycle, the 3 Series continue to sell well, and it's not hard to see why. The heart and soul of the 3 Series is its driving dynamics, and though time and technology have robbed it of some of its analog magic, it's still a joy to drive.
While the steering may pale compared to previous generations for pure visceral feedback, it has a substantial weight in the two Sport modes and offers direct, immediate responsiveness that makes piloting the 330 both effortless and rewarding.
SEE MORE: 2017 Audi A4 vs 2017 Mercedes-Benz C300
In the standard Comfort mode or Eco mode, the steering is lighter and more parking-lot friendly. Unfortunately, our test car was not equipped with any of the driving aids that make commuting a little less stressful, but thanks to good visibility, excellent stability, and control at any speed, it's not a chore at all even crawling through rainy, rush-hour traffic. While piloting the 330 is effortless, the ride can be a bit choppy at times even on this 17-inch winter tire package, almost as much as the A4 with the Sport suspension and big 19-inch wheels.
Equipped with the Sport package as it is, the A4 2.0T Quattro is a fully fledged sport sedan.
Beyond the power getting off the line, the evolution of Quattro has banished understeer except in the most extremely ridiculous corner entries. Coming out of corners, power shifts to the rear and it feel like a giant hand is gently shoving the tail of the car back in line. The steering itself isn't as natural or as heavy as the 3 Series, but it is quick, so it does the job admirably.
Simply put, with the 19-inch wheels and sport suspension, the Audi stays flatter and grips better in corners.
Compare Specs
vs
| Vehicle | 2017 Audi A4 2.0TFSI quattro | Advantage | 2017 BMW 330i xDrive |
| --- | --- | --- | --- |
| Engine | 2.0L I4 turbo | - | 2.0L I4 turbo |
| Layout | All-wheel drive | - | All-wheel drive |
| Power | 252 hp @ 5000-6000 | A4 | 248 hp @ 5200 |
| Torque | 273 lb-ft @ 1600-4500 | A4 | 258 lb-ft @ 1300-4000 |
| Transmission | 7-speed dual-clutch | - | 8-speed automatic |
| 0-60 mph | 5.7 sec. | 330i | 5.5 sec. |
| 0-100 km/h | 6.0 sec. | 330i | ~5.8 sec. |
| Weight | 3,626 lb/1,645 kg | A4 | 3,706 lb/1,681 kg |
| US Fuel Economy (city/hwy/comb.) | 24/31/27 mpg | - | 23/33/26 mpg |
| CAN Fuel Economy (city/hwy/comb.) | 9.8/7.7/8.8 L/100 km | A4 | 10.1/7.8/9.0 L/100 km |
| WB/L/W/H (in.) | 111.0/186.1/72.5/56.2 | - | 110.6/182.8/71.3/56.5 |
| WB/L/W/H (mm) | 2819/4727/1842/1427 | - | 2810/4643/1811/1429 |
| Cargo capacity | 13.0 cu-ft (368 L) | - | 13.0 cu-ft (368 L) |
| Rear headroom/legroom | 37.4/35.7 in. (950/907 mm) | - | 37.7/35.1 in. (958/892 mm) |
| US Starting price | $34,900 | 330i | $33,450 |
| US Pricing as tested | $54,250 ($950 freight included) | 330i | $49,615 ($995 freight included) |
| CAN Starting price | $38,500 | A4 | $41,200 |
| CAN Pricing as tested | $59,495 ($2,095 freight included) | 330i | $57,835 ($2,245 freight included) |
Although the ride is firm, and you feel pretty much every bump in the road, the suspension damps out any secondary rebounds, settling the car down quickly so you can continue on your way at a high rate of speed.
Both cars are reasonably quiet, even at highway speeds, and the stereos both pumped out clear, crisp sound, Harmon Kardon branded in the BMW and Bang & Olufsen in the Audi. However, I should note that the Audi, over the course of our long-term test, has occasionally dropped its music feed when connected via Apple Carplay, something we did not get a chance to witness in the 330i in our short time with it.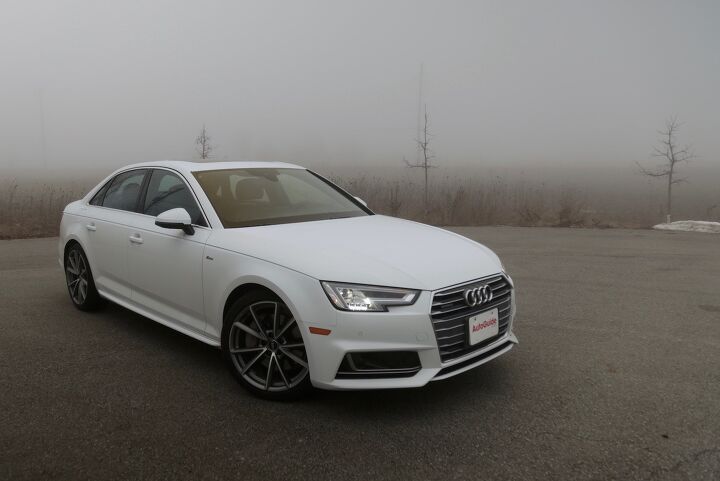 On the highway, the A4 already has that Germanic autobahn stability at any speeds, but I can't say enough about the adaptive cruise control and lane keep assist.
Some people may shy away from over-intrusive driving nannies, but I just find it to be another way to interact and engage with the car, monitoring its distance and how smoothly it closes the gap to slower traffic ahead, feeling exactly how smoothly the steering follows the curve of an onramp and noting its reduced speed when detecting lower speed limits. Despite its nearly self-driving abilities in traffic, constant attention is still required to watch out for times when the car might follow older lane markings or seams in the road.
Power Trip
Taking a page out of Audi's book, the BMW 3 Series' power comes from a 2.0-liter turbo four-cylinder and it feels both more powerful than its rating would suggest and lighter than its curb weight.
The peak 248 hp comes on at 5,200 rpm, and it has a mean little snarl as you climb the revs, but the 258 lb-ft of torque are available from 1450 rpm, so there is plenty of pull at low engine speeds. Although it is listed at a touch over 3700 pounds, BMW engineers have somehow made a deal with the devil to drop its zero-to-60 time to 5.5 seconds, a hair faster than the more powerful, torquier, lighter A4.
SEE MORE: 2017 Audi A4 Long-Term Test Update 1
Quite likely, it is the eight-speed transmission and all-wheel drive that deserve much of the credit for the impressive acceleration, but they serve the 3 Series well in other ways.
The transmission, especially, is a gem. It is smooth and seamless in daily driving, but the available sport mode makes shifts quick and snappy, and paddle shifters mean you can choose your own gears when the mood strikes you. It's every bit the equal of Audi's twin-clutch, but without the awkward pauses when just getting going or making low-speed maneuvers like three-point turns or parking. The shifter takes some getting used to, but that is not uncommon in this segment nowadays, and the same can be said of the A4, and at least it's not as aggravating as the stalk shifter in the C-Class.
There always seems to be more than enough power in the 3, the transmission is always in the right gear, and the rear-biased all-wheel drive will move torque front to back for ideal power distribution out of corners. With 52/48 weight distribution, it's a well-balanced car, so it only gets out of sorts if you force it, and the stability control is a subtle hand setting you right.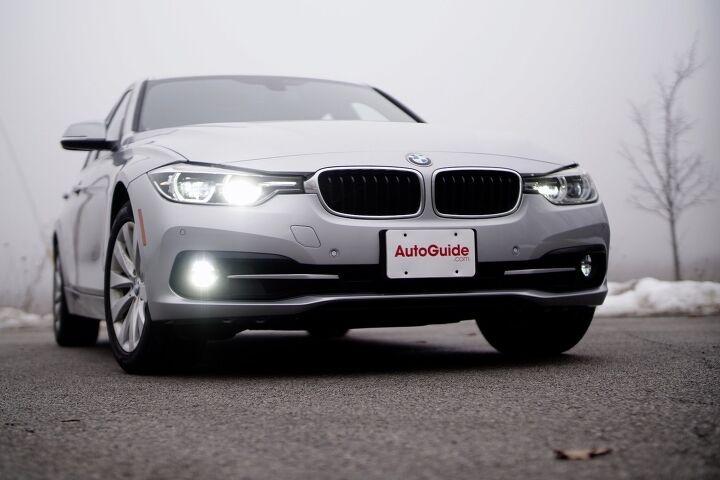 By now you should be well aware of my deep and abiding love for the A4, which serves our family well, but also offers just enough of an engaging drive for me to take my favorite "shortcuts" on the way home.
The A4 powers off the line thanks to 273 lb-ft available from 1,600 rpm, then 252 hp kicking in at 5,000 rpm, and Audi's all-wheel drive system gets power down effectively, launching its 3,626 lb to 60 mph in 5.7 seconds. If I had to point my finger at one thing that allows the heavier, less powerful BMW 3 Series to beat the A4 to 60, it would be the transmission.
Although the seven-speed S tronic dual clutch is amazing at speed, it is slow to engage, possibly costing it that 0.2 seconds or more before sending power on to the differentials and wheels. Since the A4 isn't really designed for the drag strip, so this is really more of a nuisance when parking or crawling around parking lots.
For the practically minded, the Audi A4 is just a little bit better at the pumps, rating 24 mpg in the city, 31 on the highway and 27 combined, while the 3 Series is listed at 23 mpg city, 33 highway and 26 overall.
Step Up Inside
The 3 Series is a good-looking sedan, inside and out, and has stayed fresh even several years after it debuted thanks to a fairly conservative and tasteful design. Like the A4, the 3 Series isn't breathtaking or groundbreaking, but it is appealing, and the more time you spend in it, the more you'll appreciate how well everything is laid out.
The sport seats featured here are superbly comfortable, adjustable and supportive in every way, even including side bolsters that hug your torso to lock you in place.
SEE MORE: Poll: BMW 3 Series or Audi A4?
The rear seats are spacious and comfortable enough for a pair of adults or three kids, and the trunk offers 13 cubic feet of space with split folding rear seats and a pass-through for skis and longer items.
The interior is also solidly built, everything feeling locked down and secure, with a touch of glossy wood trim adding some warmth and luxury. While the plastics and switchgear also impart a feeling of quality, the leather seats and steering wheel feel a class below the Audi's richer materials.
One thing I would find hard to live without is Audi's gorgeous steering wheel. The contoured grips of the S-line wheel feel perfect in my hands and the perforated leather is superb, as is the leather covering the seats.
While the A4's seats are missing the adjustable bolsters like the 3, I never felt the need for it since they seem to be designed perfectly for my fairly average size. Rear seat legroom is a bit better than the 3, but both will be comfortable for all but the largest adults, and both have plenty of room for kids, with easily accessed anchors for car seat installation. The trunk in the A4 is the same 13 cubic feet as the 330i, with similar splitting and folding capabilities.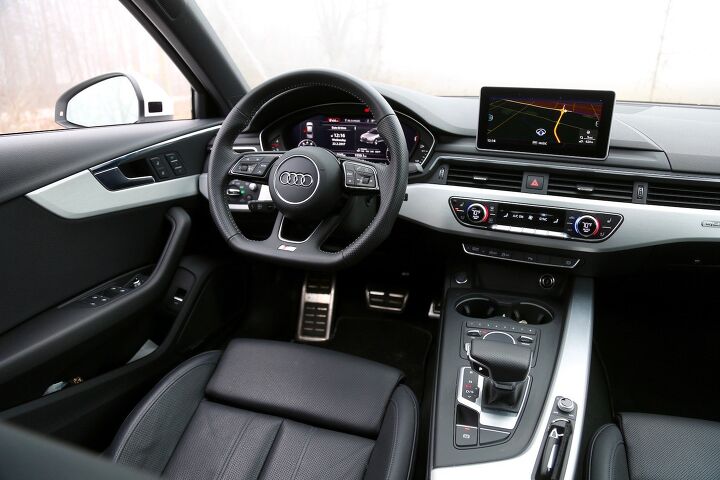 We probably don't need to say it again, but we will: the quality and finish in the A4 is as good as it gets in this class.
The plastics, buttons and knobs are equal or better to the 3 in most places, and it features aluminum trim instead of wood, so there is little to separate the two in interior quality, although the Audi features a touch more lighting and colour that makes for a more appealing night-time appearance, and an adjustable armrest that tilts and slides, while the 3's armrest just slides.
The biggest difference will come down to taste and selecting the interior trim that suits you, and both BMW and Audi offer a variety of wood trims, leather and color schemes.
Technophiles
Another element that makes the 3 Series easier to bear in heavy traffic is the iDrive interface.
After several generations of improvements, iDrive has become the poster-boy for ease of use, ergonomics and logical menus and controls. Because everything is accessed through the dash-top screen, it quickly becomes second nature to reach over to the big knob on the console and click and scroll through menus. The pad on top of the controller features handwriting recognition so you can scribble in contact names, numbers or input destinations.
This tester also has BMW's real-time-traffic information service, making the mapping and route guidance as good as Google Maps for estimating arrival time and rerouting around traffic snarls.
While Virtual cockpit is still a favorite, the two-screen setup can present an information overload for new users.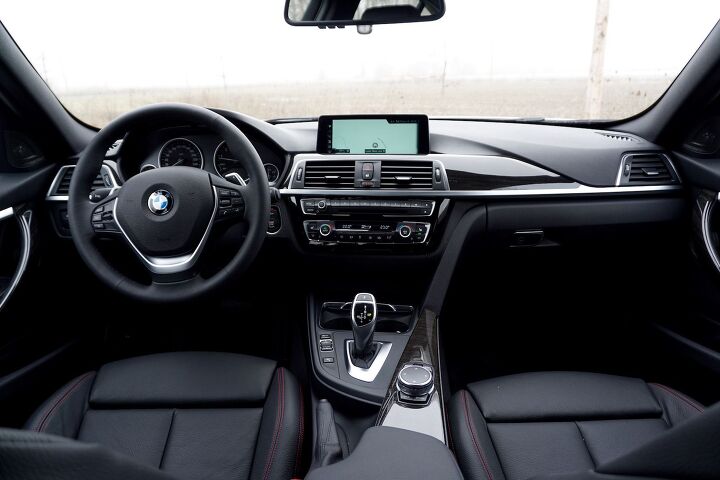 With some essential functions only available through the dashtop screen, I tend to use that controller by default, so it lacks that comprehensive utility that is so endearing in the R8 or TT. All the basic phone, audio and mapping functions are available in the gauge cluster, but vehicle settings and destinations need to be entered in the dash-top screen, which is easy enough using the knob and handwriting recognition, but remembering which functions you cannot access in the gauge cluster adds a sliver of complexity that I could do without.
The Verdict: 2017 Audi A4 vs BMW3 Series Comparison Review
The 3 Series starts at a modest $33,000 and as tested our 330i xDrive is about $50k. However, piling on the same features to match the Audi's tech arsenal adds another six grand to the price tag, so it's just about a wash when it comes to value.
It's easy to see why the 3 Series is the benchmark for the class, and BMW has done well to balance not only the luxury and sporting aspects of its iconic bestseller, but also innovation with ease of use.
The A4 starts at $35k, and runs almost $55k as equipped, but it has just about every feature I could ever ask for, and with its excellent quality and performance, it still seems like a bargain. The same can be said for the 3 Series, which also ha a practical wagon in the lineup if you are a fan of that useful cargo space.
I could live happily with either one of these luxury sedans, and none of the differences or flaws are things that would bother me much.
BMW is a driver's car through and through, but it's also easy to live with as a daily driver. Then again, the Audi A4 does all that and drives just a little bit better, the technology feels a bit fresher, and it's about the same value for your dollar, so it's my pick as the new king for the compact luxury segment.
Audi A4, BMW 330i
LOVE IT
Powerful yet efficient
Sporty handling
Interior quality and design
Easy to use technology
Great steering and handling
Slick transmission
iDrive
LEAVE IT
Information overload
Firm ride
Feels dated
Chattery ride
Published May 19th, 2017 6:57 AM
Popular Articles
Latest Comparisons
Car Buying Tools