440 Views
Ford Bronco Sport Vs Subaru Forester Wilderness: Which Rugged Compact SUV is Right for You?
July 4th, 2022 9:20 AM
Share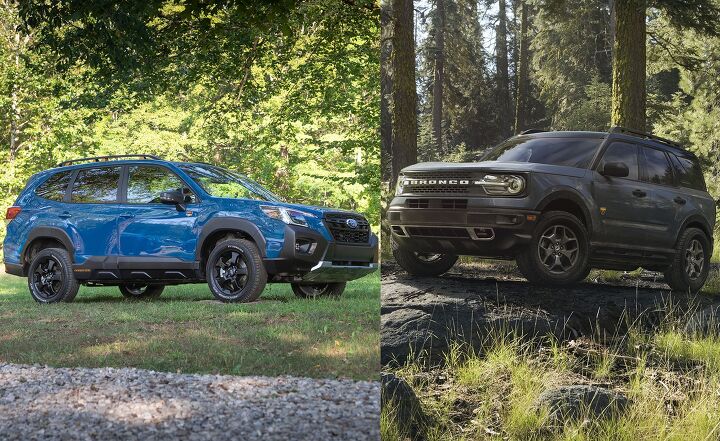 Thanks to a shopper that's rapidly shifting to a more outdoor-oriented lifestyle, today's SUVs come in an increasingly wide range of flavors designed to satisfy the appetites of drivers after enhanced capability, confidence, and clearance on the road less travelled.
Most crossover SUV's have modest off-road capabilities, and are designed primarily for use on paved surfaces. Still, a growing number of off-road capable crossover SUV's are hitting the scene these days, with automakers using specialized models and sub-brands to set their most capable offerings apart.
Below, we'll compare two of the latest off-road focused SUVs to hit the market.
Get a Quote on a New Ford Bronco Sport or Subaru Forester Wilderness
The Ford Bronco Sport is the entry model to a line of adventure vehicles recently debuted by Ford, and the Subaru Forester Wilderness—the latest member of Subaru's lineup of all-terrain enhanced models.
Both the Ford Bronco Sport and Subaru Forester Wilderness feature targeted hardware and feature content upgrades that make them more suitable for frequent use in challenging off-road settings, and both can be customized by shoppers with a wide range of parts, packages and accessories to meet virtually any sport, activity, or lifestyle.
Cabin Space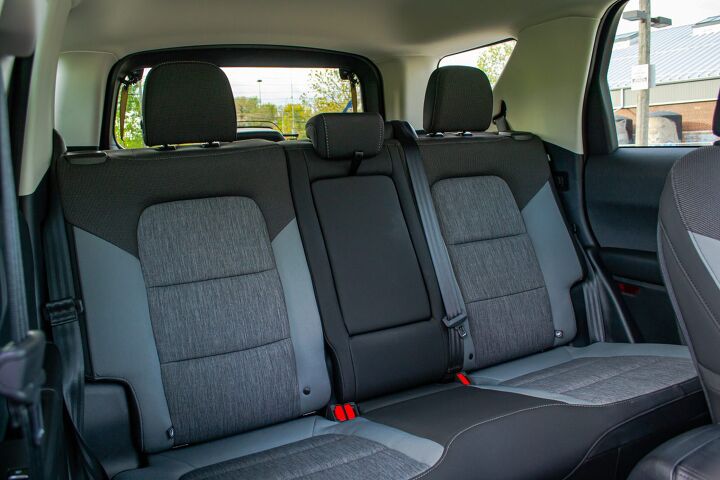 Ford Bronco Sport: In board the Bronco Sport, it's 42.4 inches of leg room up front, and 36.9 inches in the rear. On headroom, look for 41.5 inches in the front, and a slight increase to 41.7 inches in the rear seats.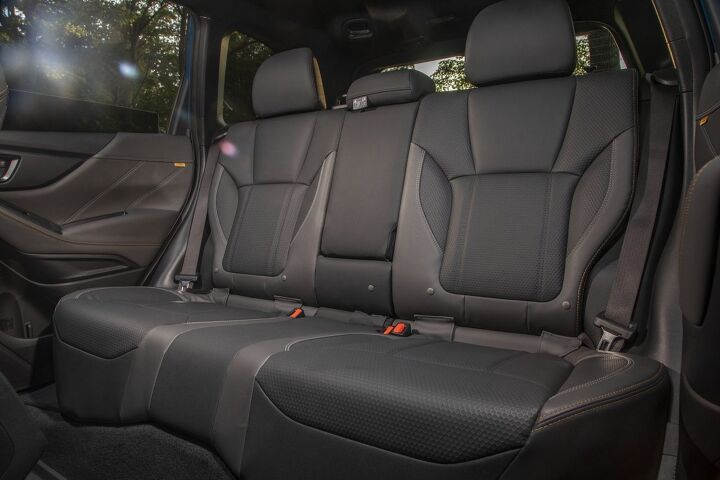 Subaru Forester Wilderness: The Subaru Forester Wilderness is 10 inches longer than the Ford Bronco Sport, despite an identical wheelbase of 105.1 inches.
Of the two, the Forester is nearly four inches shorter in terms of height.
On board, the Forester Wilderness provides 41.2 inches of front head room, a virtual tie with the Bronco Sport. On rear seat head room, it's 39.6 inches from the Subaru—meaning a 2.1-inch advantage in the Ford.
Wider occupants will find slightly more space in the Forester Wilderness, which has a rear-seat hip and shoulder room advantage.
Bottom Line: The Bronco Sport's abundant headroom (including rear seat headroom) will be a hit with taller families—though the Forester Wilderness is close in many dimensions and offers a more accommodating rear seat for wider passengers.
Cargo Space and Towing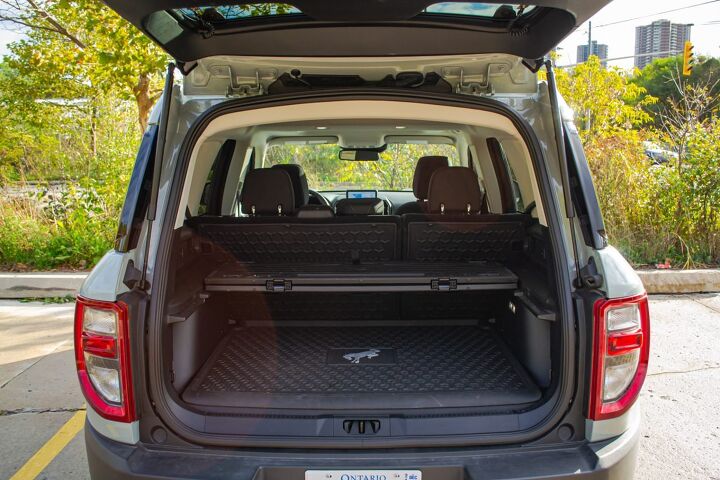 Ford Bronco Sport: The Bronco Sport's high-lift tailgate with built-in aimable floodlights, fold-out workstation table and other handy accessories give it one of the most versatile cargo holds on the scene. Rubberized surfaces are tough, durable, and easy to clean or hose off.
SEE ALSO:
2021 Ford Bronco Sport 1.5T Review: Friendly Mall Crawler
Look for 2,200 lbs of towing capacity when properly equipped, alongside 29.4 cubic feet of cargo volume behind the second-row seats. Fold the second-row seats down, and cargo volume expands to 60.6 cubic feet—plenty of room for a weekend's worth of camping gear, or the family dog.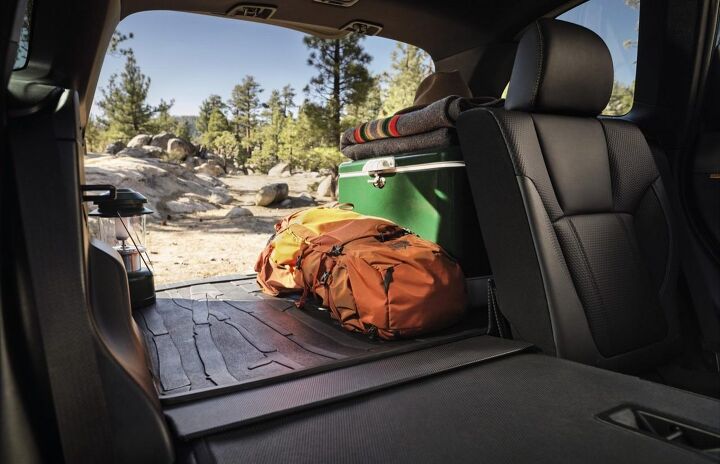 Subaru Forester Wilderness: The Subaru Forester Wilderness can tow 3,000 lbs, some 800 more than the Bronco Sport.
On cargo space, look for 28.9 cubic feet behind the second-row seats, expanding to 74.2 inches with the seats folded down.
Compared to the Bronco Sport, the Forester Wilderness delivers slightly less cargo space with rear seats in use, but plenty more with them folded down.
Bottom Line: On seats-up cargo volume, the Bronco Sport takes a slight lead—but the Forester Wilderness's nearly 14 cubic foot advantage in seats-down cargo volume makes it a better choice for shoppers who will frequently use their crossover to transport larger items, camping gear, furniture, and other items that require the rear sets to be folded flat. The Forester also wins the battle for highest tow rating.
Both models can be fitted with accessory roof racks and gear carriers to taste, if desired.
Tech and Features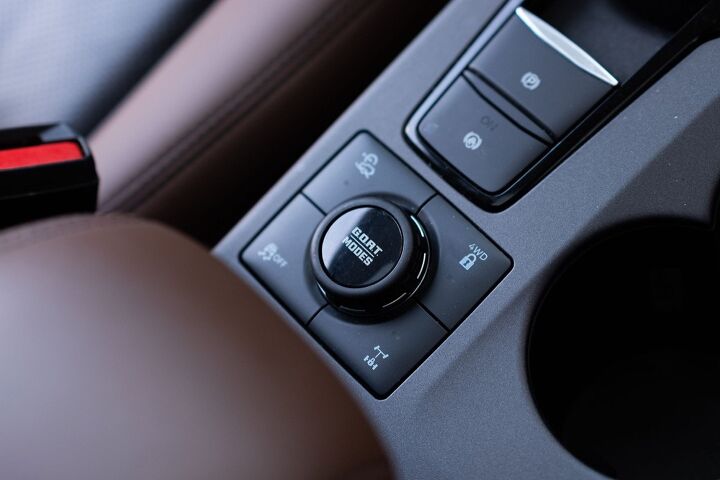 Ford Bronco Sport: For novice and avid off-roaders alike, the Bronco Sport offers features like Rock Crawl mode, Trail Control technology, the G.O.A.T. terrain management system, and a wide-angle exterior camera monitoring system with lens washer.
The Bronco Sport Base comes with standard features like a built-in bottle opener, aimable liftgate floodlights, manual climate control, a 4.2-inch cluster, dual USB ports, a manual day/night mirror and cloth seating.
Higher-end models add features like a MOLLE strap equipment holder system, automatic climate control, wireless Smartphone charging, leather-wrapped steering, and compatibility with both Apple CarPlay and Android Auto.
The Bronco Sport Badlands adds content including a 110-volt power inverter, additional power outlets, an up-sized display screen, and an available B&O sound system from Bang and Olufsen.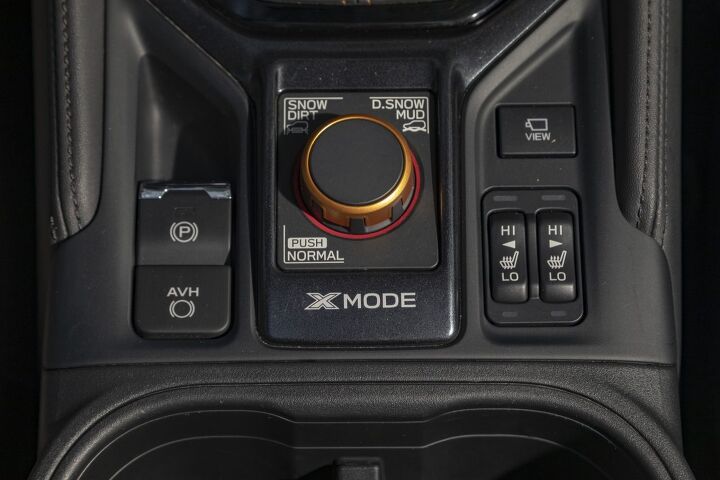 Subaru Forester Wilderness: For 2022, all Subaru Forester models include the SUBARU STARLINK connectivity system with 6.5-inch display, Apple CarPlay, Android Auto, and SiriusXM. Up-level features include a washer de-icer, heated seats, a power rear tailgate, Harman Kardon audio system, automatic climate control, and more.
Wilderness models get StarTex seating surfaces, which are designed to get wet and muddy and be easy to clean. An upgraded display screen is also fitted to the cabin, while the exterior features an anti-glare graphic stripe on the hood, and application specific LED fog lamps.
To support adventurous drivers, Subaru's X-MODE system allows push-button access to various drive-move presets that recalibrate vehicle systems for maximum grip and control in specific, challenging off-road settings. When activated, the X-MODE system makes it easier and less stressful to control the vehicle, even when traction is running low.
Bottom Line: Most shoppers will find the Subaru Forester Wilderness to have an impressive feature content list, though the Bronco Sport's longer list of handier touches and lifestyle-oriented features are sure to draw curious shoppers in for a closer look. Don't miss the Bronco Sport's handy seatback pouches—which are padded and zippered to keep tablets, phones and laptops safe, protected, and dust-free.
Powertrains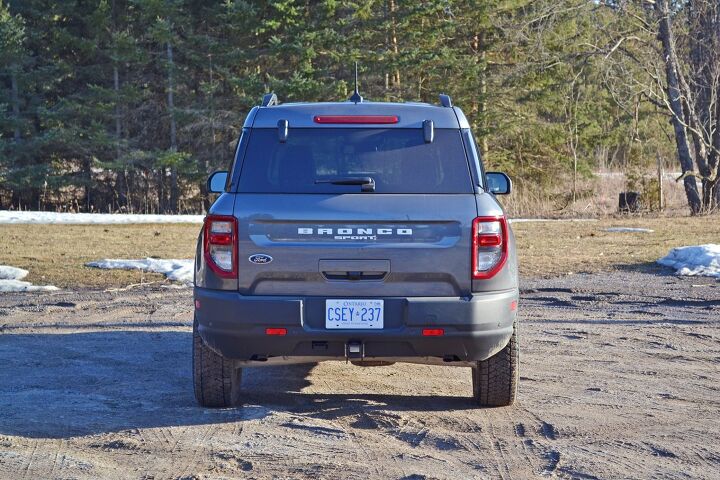 Ford Bronco Sport: An all-turbocharged engine lineup powers the Bronco Sport. Standard is a 1.5 litre EcoBoost four-cylinder engine with 181 horsepower and 190 lb.-ft of torque. This engine will work well with a light-footed driver concerned primarily with responsive low-rev operation, and maximum fuel efficiency.
The Bronco Sport's larger 2-litre EcoBoost four-cylinder turns in 250 horsepower and 277 lb.-ft of torque. Further down the driveline, it's All-Wheel Drive with an available advanced twin-clutch rear differential, and automatic 8-speed.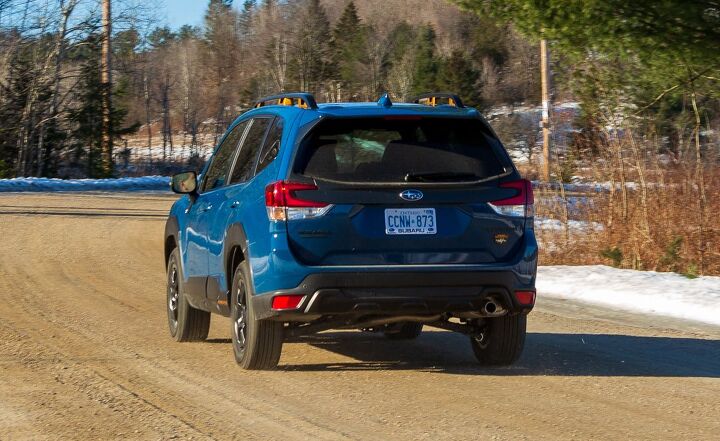 Subaru Forester Wilderness: The Subaru Forester Wilderness, like all other Forester models for 2022, is powered by a single 2.5 litre four-cylinder BOXER engine, good for 182 horsepower and 175 lb.-ft of torque. It's a close competitor to the Bronco Sport's 1.5 litre turbo engine, though the non-turbocharged Subaru doesn't deliver as much low-end torque as the Ford.
In Wilderness specification, the BOXER engine is fitted with an oil cooler, and an additional transmission cooler is installed to keep the CVT transmission running optimally. Symmetrical AWD is standard, of course.
Bottom Line: Subaru's time-tested BOXER engine has a strong reputation and should prove adequate for most, though the Bronco Sport's powertrain lineup offers more selection, more available power, and an available advanced twin-clutch rear-drive unit that acts as a locking differential.
Fuel Economy
Ford Bronco Sport: With 1.5 litre engine, the Bronco sport achieves 25 mpg in the city, and 28 on the highway. With the more powerful 2-litre engine, it's 21 mpg in the city, and 26 on the highway—with premium fuel recommended. Note that your results may vary depending on numerous factors, including equipped tires, wheels, and other accessories.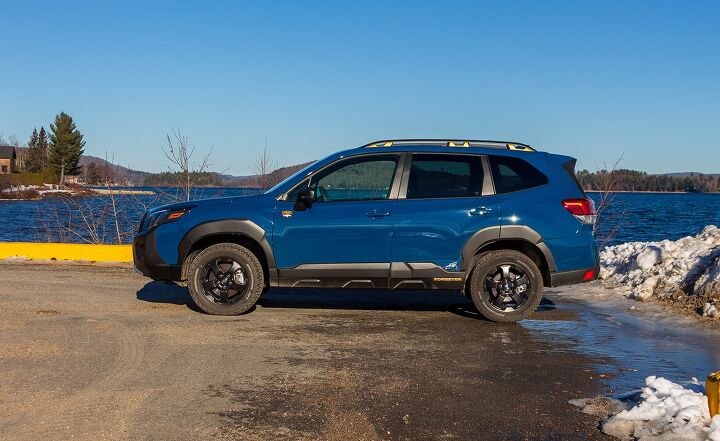 Subaru Forester Wilderness: The Forester Wilderness does 25 mpg in the city, and 28 on the highway—a tie with the Bronco Sport's slightly more powerful 1.5-litre turbo engine.
SEE ALSO:
2022 Subaru Forester Wilderness Review: First Drive
Bottom Line: There's no fuel economy difference between the Forester Wilderness and Bronco Sport where base engines are concerned, though the Bronco Sport's up-level engine option is available for shoppers after more power, with a small fuel economy penalty.
Safety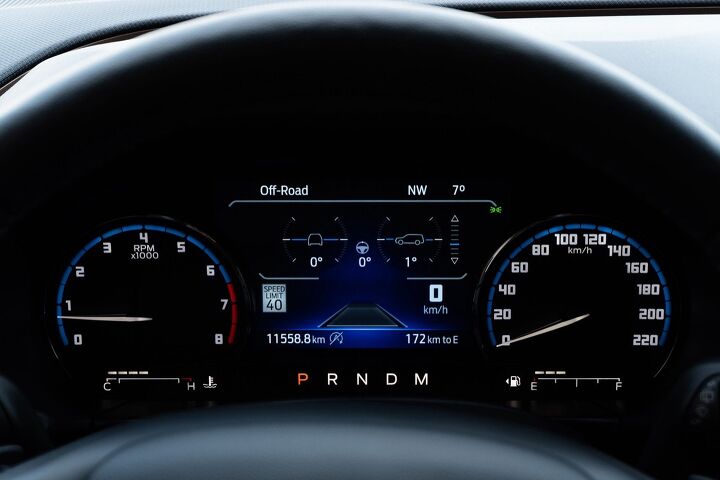 Ford Bronco Sport: The Bronco Sport comes standard with Co-Pilot360, a networked array of safety features including automatic high beams, blind spot information system, rear cross-traffic alert, lane keeping alert with assist, and a pre-collision assist system with emergency braking and pedestrian detection.
Enhancing this standard list of safety functions are available features like lane centering, speed sign recognition and evasive steering assist.
A comprehensive array of occupant airbags, including knee airbags, helps round out the package.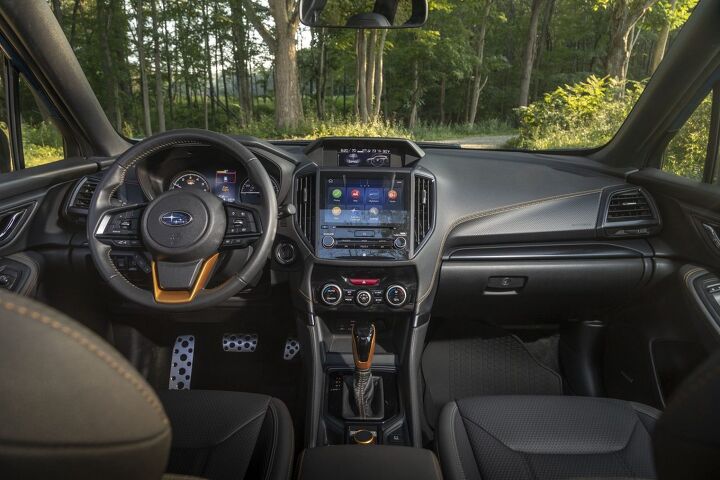 Subaru Forester Wilderness: Building on a strong reputation for safety, the 2022 Forester Wilderness adds the latest generation of Subaru's EyeSight system, with new-this-year tweaks adding improved performance across a wider range of situations thanks to a new camera view and control software.
Subaru's EyeSight system is highly rated by experts, and powers an array of features like lane departure and sway warnings, pre-collision braking, steering assist, adaptive cruise control, and even pre-collision throttle management, which cuts power if the accelerator is applied absent-mindedly while an obstacle is in the way.
Bottom Line: Both the Bronco Sport and Forester Wilderness ship with little less than the market's very latest must-haves when it comes to safety equipment, occupant protection, and peace of mind. Further, both models are an IIHS Top Safety Pick +, making them two of the safest vehicles in their segments.
Styling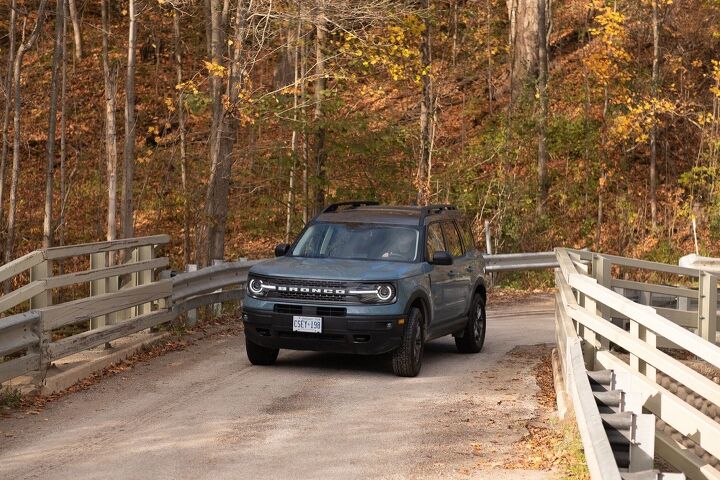 Ford Bronco Sport: The Bronco Sport's expressive color options and unique graphics convey plenty of energy, while integrated roof rails and lifted rear roof segment leave little to guesswork about its intentions as a fun-loving adventure-seeker.
The Bronco Sport's prominent fascias grab attention effortlessly, with the BRONCO logo displayed big and proud across the grille. The Bronco Sport looks ready for action, and proud to be one of the segment's go-to off-roaders.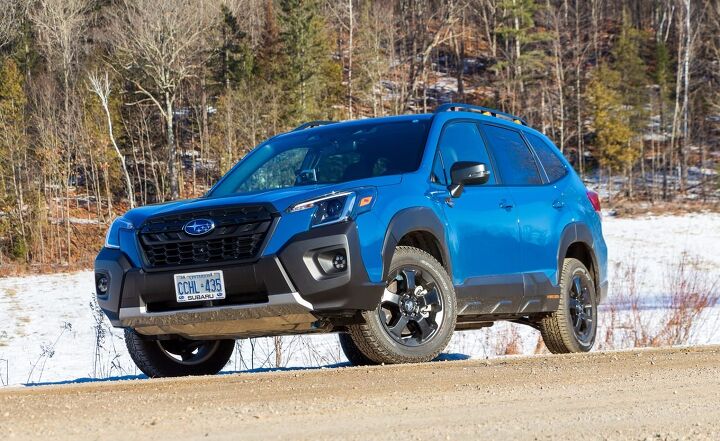 Subaru Forester Wilderness: The look of the Forester Wilderness is instantly Subaru, but with no shortage of exclusive touches applied to draw further inspection from onlookers. The elevated chassis gives the Forester Wilderness a higher ride than other Forester models, and beefy GEOLANDER all-terrain tires add a rugged new look, while enhancing off-road durability and traction.
Matte black wheels work with a Wilderness-exclusive fascia and larger wheel arch cladding to pump up the toughness, and the matte-black anti-glare hood decal adds further visual flair while protecting the driver's eyes.
Bottom Line: This one's a matter of taste—with the Bronco's more punchy and playful looks encouraging drivers to get out and explore on every drive, and the Forester Wilderness imparting a strong sense of toughness, confidence, and protection for those on board.
Pricing / Value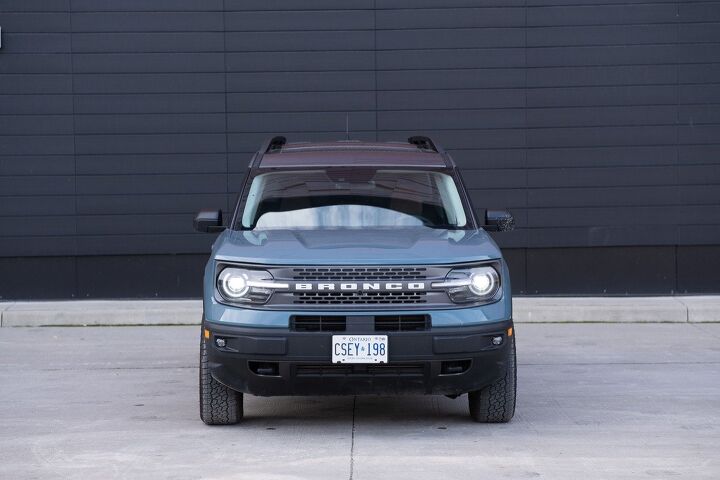 2022 Ford Bronco Sport: The 2022 Ford Bronco Sport lineup offers four models—the Base ($28,265), the Big Bend ($29,980), the Outer Banks ($33,900), and Badlands, complete with off-road and rough-terrain enhancements, from $36,590.
From the basis of these four models, shoppers can add further accessories, packages and options to tailor the Bronco Sport to their specific tastes.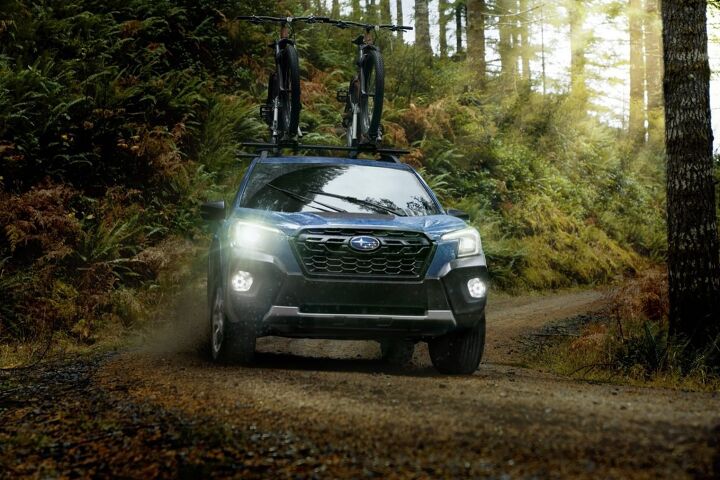 Subaru Forester Wilderness: Shopping for a Subaru Forester Wilderness may prove more straightforward—since the model is offered in a sole configuration at $32,280. Only a single option package is available, adding an upgraded multimedia navigation system, Harman Kardon stereo and power tailgate for an additional $1,850.
Bottom Line: Both machines are sure to satisfy for the dollar– depending on your preferred mix of ruggedness, equipment, styling and customizability. The Forester Wilderness gives shoppers just one option to consider, while the Bronco Sport opens the door to plenty of factory-built customization and models both cheaper and pricier than the Forester Wilderness.
Conclusion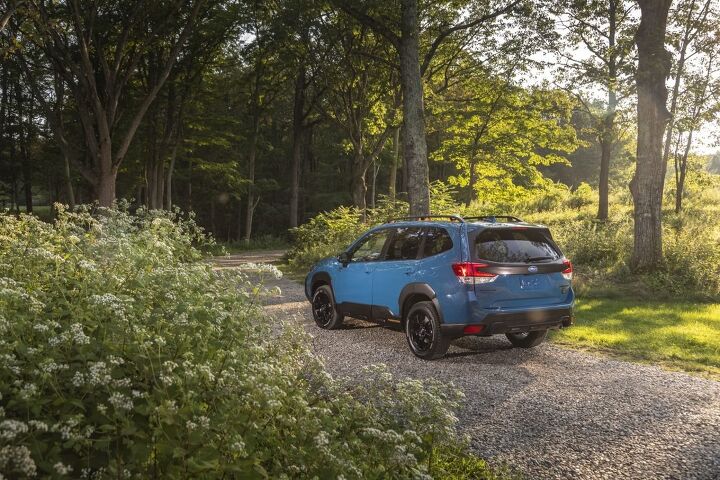 Whether you prefer the tried-and-true Subaru Forester's new Wilderness model, or the exciting new Bronco Sport, this pair of machines hold little back in supporting an active crossover driver for years of confident adventuring.
With the highest safety ratings in the game and solid dynamics both on road and off, here's a pair of crossovers that you're sure to be seeing plenty more of on the road.
Become an AutoGuide insider. Get the latest from the automotive world first by subscribing to our newsletter here.
{ "id": "12843943", "alt": "", "title": "", "video_link": "https://www.youtube.com/embed/cnPVet-ziqU", "youtube_video_id": "cnPVet-ziqU" }
{ "width": 634, "height": 357, "showRelated": true }
Published June 24th, 2022 1:00 PM
Popular Articles
Latest Comparisons
Car Buying Tools