331 Views
Genesis GV60 Vs Tesla Model Y: Which EV SUV is Right for You?
October 3rd, 2022 12:15 PM
Share
We're committed to finding, researching, and recommending the best products. We earn commissions from purchases you make using links in our articles. Learn more here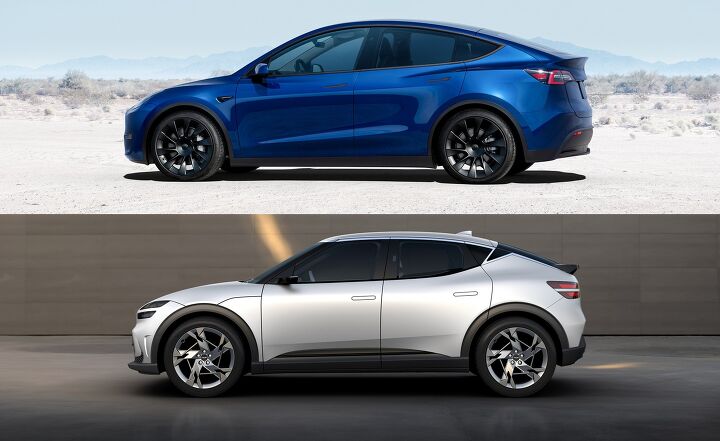 The Tesla Model Y is one of the most easy-to-recognize electric SUVs on the road.

Though increasing shopper interest in electric vehicles means more and more competitors are joining the scene. One of these is the GV60, the first electric crossover model available from Korean luxury brand Genesis.
Both the Tesla Model Y and Genesis GV60 are AWD-equipped, fully-electric crossover sport utes. They seek to attract new and veteran EV shoppers with their tech, range, performance, charging times and exclusive features. Both models are available in various configurations to match a wide range of shopper tastes and preferences, too.
Get a Quote on a New Genesis GV60 or Tesla Model Y
Of course, some crucial differences exist between these machines. Below, we'll line up the Genesis GV60 vs Tesla Model Y side by side to examine the key similarities and differences. The goal is to discover where these machines are the closest—and furthest—from one another. It's all to help set you up with useful information to help make a better purchase decision.
Let's dig in with the Genesis GV60 vs Tesla Model Y head-to-head showdown.
Cabin Space
Genesis GV60: The five-door GV60 offers its front-seat passenger 39 inches of headroom and 42.3 inches of legroom. In the rear seats, look for 38.1 inches of headroom and 37.6 inches of legroom. On shoulder room, GV60 occupants get 57.5 inches up front and 55.9 in the rear.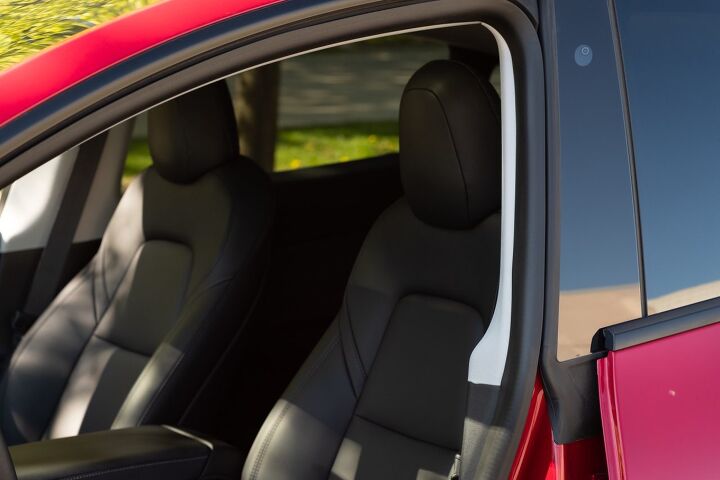 Tesla Model Y: Up front, Tesla Model Y drivers get 40.9 inches of headroom and 41.9 inches of legroom. The Model Y's second-row seats offer 39.4 inches of headroom and 40.5 inches of legroom. For shoulder room, Model Y passengers get 56.4 inches up front and 54 in the rear.
SEE ALSO:
Ford Mustang Mach-E vs Tesla Model Y Comparison
Bottom Line: The Genesis GV60 is about 10 inches shorter than the Tesla Model Y, despite nearly identical wheelbases. This 'wheels at the corners' design helps the shorter GV60 deliver a slight advantage in front-seat legroom over the Tesla Model Y. The larger Tesla is your best choice when space counts though, since it's got the superior figures for second-row legroom. The Tesla is also tops for headroom in both seating rows.
Genesis GV60 vs Tesla Model Y: Powertrains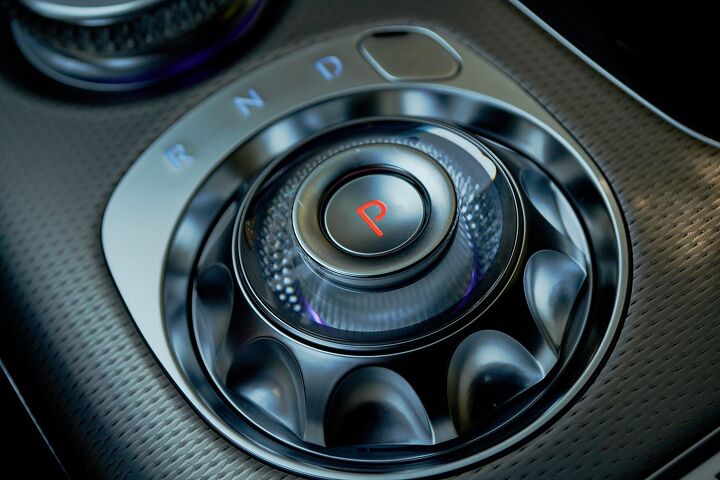 Genesis GV60: Genesis offers the GV60 in a 314-horsepower configuration with standard AWD. It uses a 74 kWh front electric motor and 160 kWh rear electric motor acting directly on the wheels. Spring for the Performance AWD model for higher motor output, and a boost in horsepower from the standard 314 to a potent 429– a figure extendable to 483 horsepower for short bursts in Boost Mode.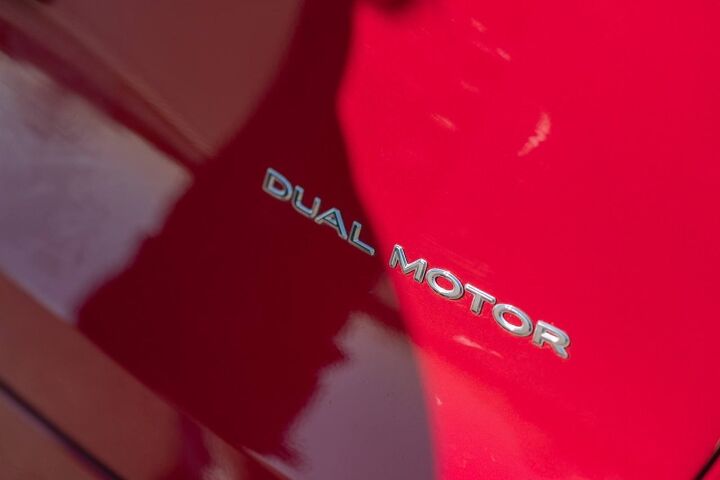 Tesla Model Y: For 2022, Tesla offers the Model Y in both Long Range and Performance models. The Model Y long range with AWD utilizes dual electric motors for a combined output of 384 horsepower. Go for the Model Y Performance, and output climbs to 480 horsepower, enabling 0-60 in well under 4 seconds.
In Long Range configuration, drivers get a 91 kW motor up front and a 200 kW motor in the rear. In Performance grade, the front motor is a 133 kW unit, while the rear motor is rated at 179 kW.
Bottom Line: Both models deliver a range of power levels for shoppers to choose from, and standard AWD to help them make the best use of it. The Tesla Model Y Performance boasts the fastest acceleration capability of the pair, with 0-60 in as little as 3.5 seconds. Still, a comparable GV60 is no slouch, with a roughly 4-second 0-60 run.
Range and Efficiency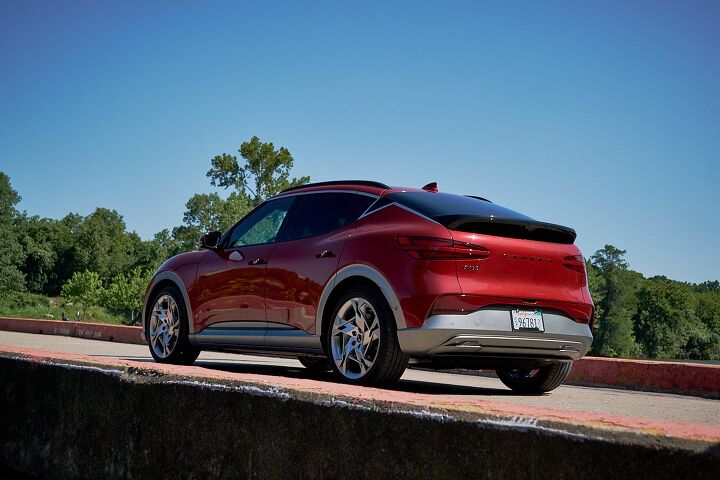 Genesis GV60: The Genesis GV60's dual electric motors are largely based on the drivelines found in models like the Hyundai Ioniq and Kia EV6. They draw power from a 77.4 kWh battery pack with 800-volt architecture for faster charging. In the GV60's Advanced grade models, drivers get about 248 miles of range per charge.
Equipped with more powerful motors, the GV60 Performance model draws power from the battery more quickly. Range drops sightly to 235 miles.
The EPA rates the GV60 at 95 MPGe combined in Advanced grade. That drops to 90 MPGe combined for the tuned-up GV60 Performance model.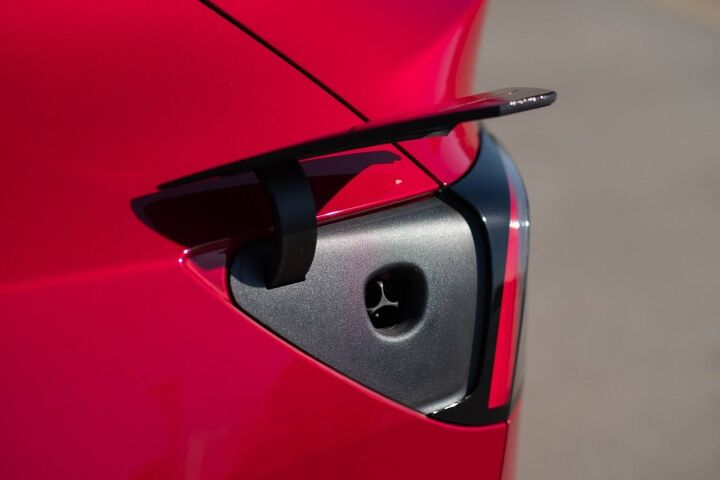 Tesla Model Y: The Model Y's 75 kWh battery is good for an EPA-rated range of 330 miles in Long Range configuration. That's more than any direct competitor. In the Model Y's Performance configuration, range drops a bit to 303 miles.
Look for a highly-efficient 122 MPGe combined rating from the Tesla Model Y Long Range. The Performance model has a still impressive 111 MPGe combined efficiency rating.
Bottom Line: The Tesla Model Y offers more range and higher energy efficiency than the GV60, regardless of configuration. The Genesis GV60's efficiency and range figures are competitive. But the Model Y flexes its muscles in this part of the comparison, thanks to a strong reputation for leading range and efficiency.
Cargo and Towing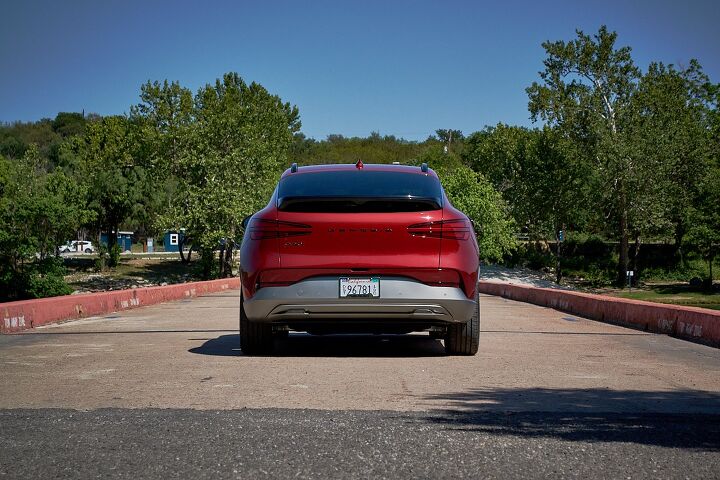 Genesis GV60: The Genesis GV60's rear liftgate opens to reveal a set of folding rear seats. Behind these, look for 24 cubic feet of storage. Folded flat, cargo space expands to 54.7 cubic feet, adding flexibility as needed. Up front, the GV60 has a small 'frunk', though storage space is limited to items about the size of its travel charging cable, or smaller.
SEE ALSO:
2023 Genesis GV60 Hands-On: 5 Amazing Features That Make This a Very Special Car
Towing capacity is 2,000 lbs in some markets, though the manufacturers website currently doesn't list a figure for North American models.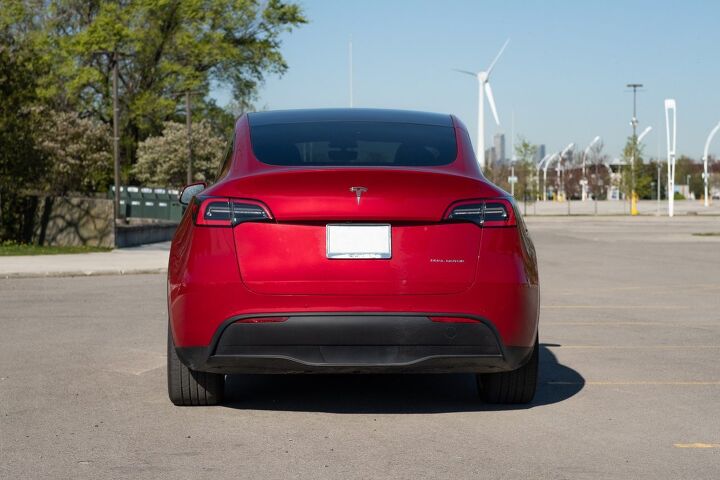 Tesla Model Y: The Model Y's larger frunk offers up 4.1 cubic feet of cargo space, in addition to cargo space in the rear of the vehicle. Look for 30.2 cubic feet of space behind the second-row seats. That figure expands to 72.1 cubic feet with second-row seats folded. Towing capacity is rated at up to 3,500 lbs. when properly equipped.
Bottom Line: The bigger and more accommodating Tesla has more space, more flexibility, and a solid towing capacity, That makes it the better choice for space-minded shoppers planning on frequent camping, trailering, and longer-distance travel.
Genesis GV60 vs Tesla Model Y: Safety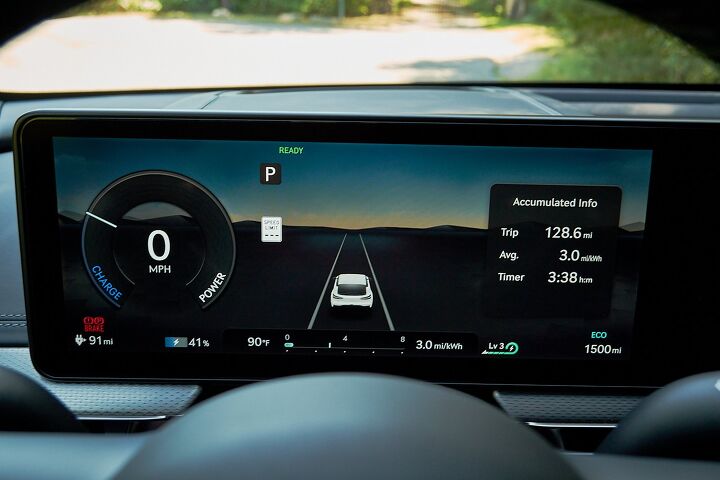 Genesis GV60: With digital side mirrors, a full perimeter of radar sensing tech, navigation-based smart cruise with lane-change assist and a powerful intelligent LED lighting system, the Genesis GV60 skips few technologies when it comes to keeping drivers informed, safe, and in control. Innovations like Safe Exit Assist can prevent passengers from exiting the vehicle if an incoming vehicle or cyclist is detected. And an advanced braking system can even brake automatically after a collision to prevent the vehicle from rolling away.
Crash test ratings aren't yet available for the GV60.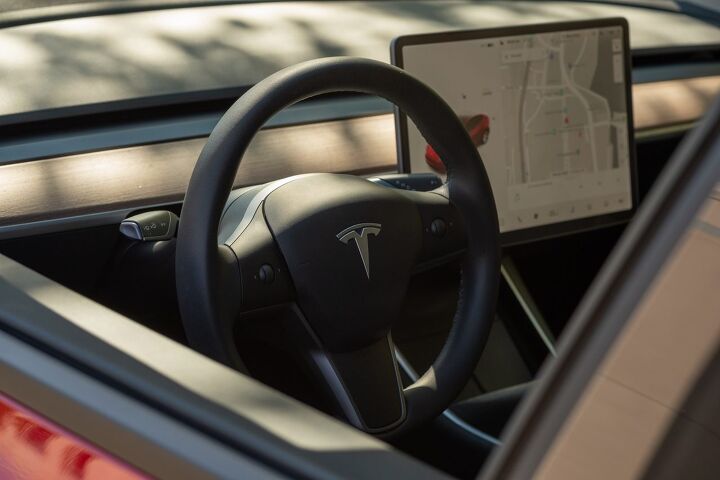 Tesla Model Y: The Tesla model Y on the other hand has been crash-tested,. Both the IIHS and NHTSA award the model top marks in all tests, categories and subcategories. This places the Model Y firmly amongst the safest vehicles on the road today. It reinforces the effectiveness of its collision-prevention technologies which are evaluated as part of its crash-testing scores.
The camera-based Tesla Vision system keeps a watchful eye on the road with 360-degrees of camera coverage that can see 250 meters in every direction.
Bottom Line: Neither machine should disappoint when it comes to offering shoppers the very latest in advanced safety and driver assistance tech. At this writing, the Tesla Model Y's strong crash testing scores should provide plenty of confidence for safety-minded shoppers. Still, there are clever safety innovations in the GV60 that are sure to raise a few eyebrows.
Tech and Features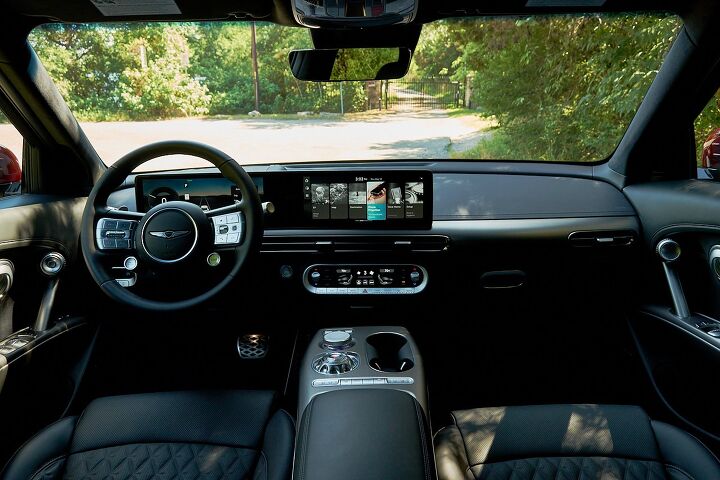 Genesis GV60: The Genesis GV60 is brimming with clever features and tech. In the GV60, drivers can use camera-based facial recognition instead of a key. It allows them to unlock their doors and start their engine. The same camera tech powering this system can also be used to auto-adjust the driver's seat and mirrors for the optimal driving position. Fingerprint authentication can be used for motor start up, eliminating the need to carry a key.
Active noise cancellation uses white noise for a quieter drive. The Bang and Olufsen stereo system floods the cabin with music on command. Other features include Vehicle to Load (V2L) charging capability, wireless smartphone charging, electronically-controlled suspension, and power-extendable driver's seat cushion.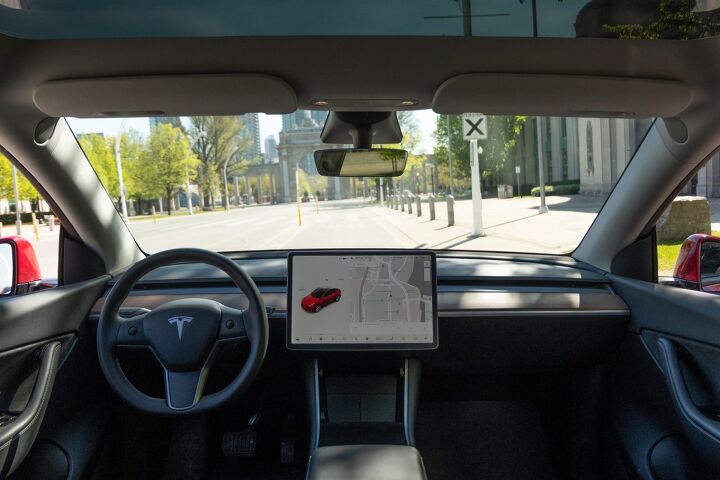 Tesla Model Y: Up front, Tesla's signature touch-screen interface allows drivers to control and monitor a multitude of vehicle functions on a single interface. Wireless charging pads and a glass roof add a connected and open feel to the drive. The Model Y is capable of over-the-air software updates that can automatically improve its operation and functionality over time. HEPA air filtration keeps occupants breathing easy.
SEE ALSO:
Tesla Raises Prices Again: Model 3 Now $48K, Model Y is $64K
The Enhanced Autopilot package adds further capabilities like Smart Summon, Autopark and Auto Lane Change. Tesla's full self-driving capability can be added, too. A heated and motorized driver's seat and power-adjustable steering with memory function make the ideal driving position a cinch. The advanced camera system and high-resolution displays take the stress out of parking, too.
Bottom Line: Fans of the latest tech and features won't be disappointed by either model in this comparison. The GV60 offers more exciting new features accessed via its high-tech cabin. The Model Y's well-honed and approachable tech offerings continue to draw new shoppers in for a closer look.
Styling
Genesis GV60: The Genesis GV60's slim and athletic bodywork and dramatic side profile are sure to turn heads,. Its compact and agile stance visually conveys a strong command of the road beneath. Glitzy-looking LED headlamps and sharp, angular wheel designs add a sophisticated intricacy, while the rear terminates in a sculpted, spoiler-equipped tail. On board, there's no shortage of drama as driver's slip into their seats behind a total of four display screens. The highlight of course is the signature 'crystal sphere' shifter taking centre stage.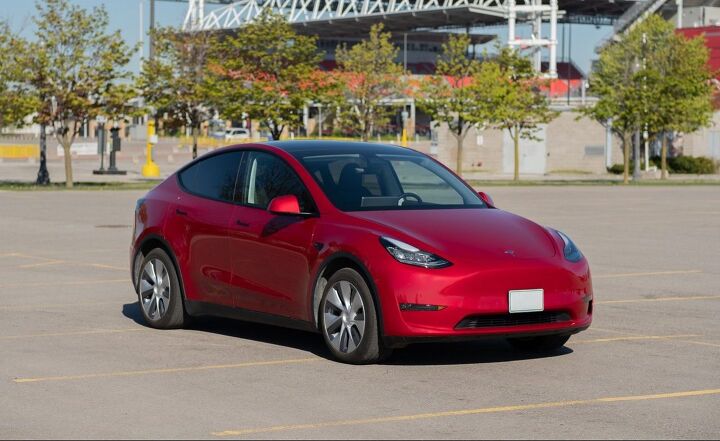 Tesla Model Y: Where styling is concerned, the Model Y focuses on simpler shapes applied to a smooth design that looks upscale but not busy. It can easily slip under the radar when painted in a more subdued color. Signature Tesla styling elements convey brand identity from a glance, and the clean lines and tall roof signal a sense of space within. In typical Tesla fashion, the cabin is minimal, upscale, and very tidy. It allows drivers to focus on the scenery, not the tech.
Bottom Line: The Genesis GV60's flashier and more dramatic looks will satisfy shoppers looking to make a statement. And they will see that statement every time they slip behind the wheel. Fans of a more elegant and subdued look that still packs some visual firepower may find the Model Y a better fit.
Pricing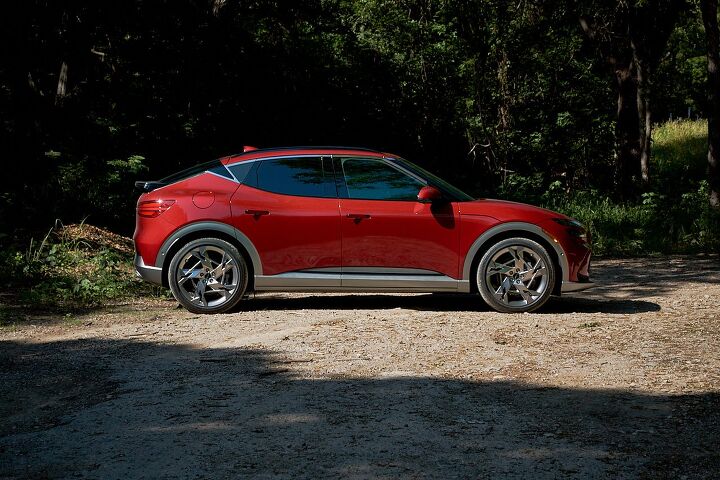 Genesis GV60: Pricing for the GV60 starts at $58,890, excluding a $1,095 freight charge. This 314-horsepower configuration delivers 248 miles of range with standard AWD, and includes a standard heat-pump climate control system, 8 airbags, Smart Cruise, 20-inch wheels, remote controlled parking, rain-sending wipers, Highway Driving Assist, fingerprint and facial recognition, and more.
SEE ALSO:
2023 Genesis GV60 First Drive Review: Keep EVs Weird
From $67,890 (plus freight), the GV60 Performance AWD delivers up to 483 Boost-mode horsepower, 235 miles of range, and added features including a limited-slip differential, electronically-controlled suspension, alloy pedals, 21-inch wheels, heated rear seats, and more.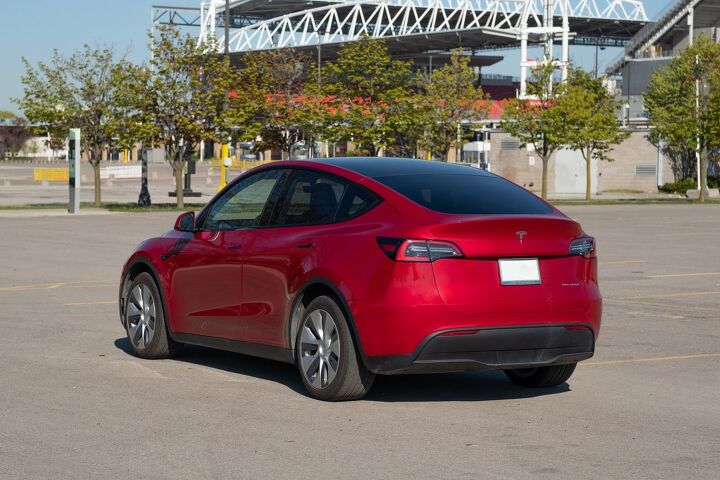 Tesla Model Y: Pricing for the Tesla Model Y starts at $67,440 for the Long Range configuration, and $71,440 for the Performance configuration.
On board, look for a premium stereo system, a 15-inch touch-screen display, heated and ventilated front seats, electric fold-flat rear seats, power tilt steering, adaptive cruise control, an air filtration system, mobile hotspot, and more.
Bottom Line: The Genesis GV60 makes a compelling choice for your dollars with a much lower entry price than a comparable Model Y Long Range, as well as a slew of clever new technical innovations and features. The pricier Tesla gives shoppers with deeper pockets their money's worth with superior range, power, space and efficiency.
Genesis GV60 vs Tesla Model Y: In Conclusion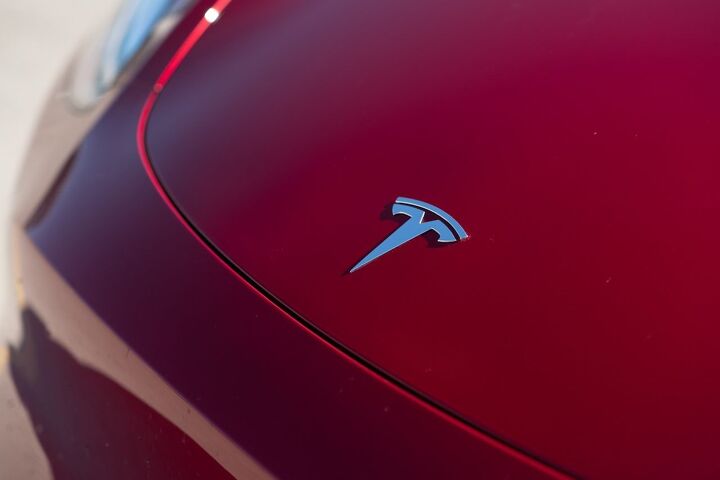 While the Genesis GV60 might be one of the best deals today on an electric luxury SUV, many shoppers after the ultimate all-electric performance will likely find the Model Y worth the extra spend thanks to its superior range, power output, energy efficiency and interior volume.
The smaller GV60 should have no trouble attracting gadget and tech aficionados with its camera mirrors and fingerprint recognition tech, and its interior and body should connect more readily with a shopper who wants to make a stylish statement.
Both models are machines of few weaknesses and many strengths, and both represent some great ways to spend your dollars on an electric luxury SUV.
Become an AutoGuide insider. Get the latest from the automotive world first by subscribing to our newsletter here.

Justin Pritchard
Justin Pritchard, an award-winning automotive journalist based in Sudbury, Ontario, is known for his comprehensive automotive reviews and discoveries. As a presenter, photographer, videographer, and technical writer, Justin shares his insights weekly through various Canadian television programs, print, and online publications. In 2023, Justin celebrated a significant milestone, airing the 600th episode of his TV program, AutoPilot. Currently, he contributes to autoTRADER.ca, Sharp Magazine, and MoneySense Magazine. His work as a technical writer, videographer, presenter, and producer has been recognized with numerous awards, including the 2019 AJAC Video Journalism Award and the 2018 AJAC Journalist of the Year. Justin holds a Bachelor of Commerce (Hons) from Laurentian University, which he earned in 2005. His career in automotive journalism began that same year at Auto123.com. Since then, he has written one of the largest collections of used car buyer guides on the internet. His passion for photography, nurtured from a young age, is evident in his work, capturing the scenic beauty of Northern Ontario. Living in a region with a particularly harsh winter climate has made Justin an expert on winter driving, winter tires, and extreme-weather safety. Justin's significant achievements include: 2019 AJAC Video Journalism Award (Winner) 2019 AJAC Road Safety Journalism Award (Runner-Up) 2019 AJAC Automotive Writing (vehicle review topics) (Winner) 2019 AJAC Automotive Writing (technical topics) (Winner) 2018 AJAC Journalist of the Year You can follow Justin's work on Instagram @mr2pritch and YouTube @JustinPritchard.
More by Justin Pritchard
Published October 3rd, 2022 12:15 PM
Popular Articles
Latest Comparisons
Car Buying Tools