488 Views
Honda Accord Vs. Kia K5: Which Sedan is Right for You?
July 13th, 2022 9:14 AM
Share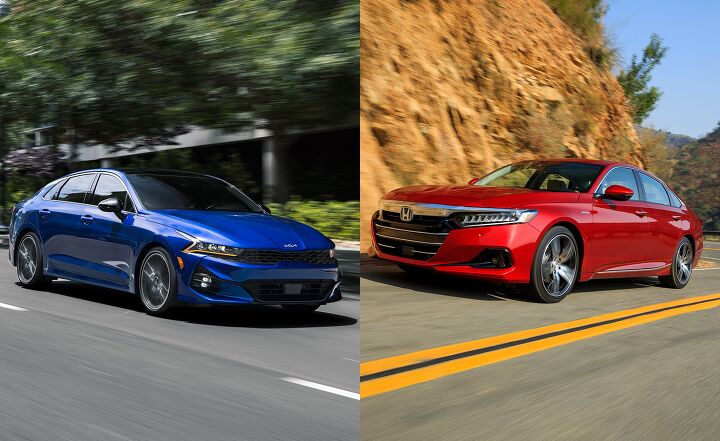 Honda Accord vs. Kia K5: Can Korean Style and Power Persuade You To Make The Switch?
It's no secret the Honda Accord is the knee-jerk reaction for anyone shopping in the mid-size sedan market. Over 40 years of refining and honing has made the Honda an unbeatable all-rounder, capable of transporting a family and their things reliably and in comfort, for a reasonable sum.
Get a Quote on a New Honda Accord or Kia K5
Kia wants to make a point with its flashy exterior design on the K5, but the message is more than skin-deep. A handsome interior plays host to a well-equipped technological suite. All-wheel drive is available for maximum sure-footedness, but the party piece is the K5 GT with its 290-hp turbocharged engine.
Does Kia provide enough style and substance to make would-be Accord shoppers swoon? We line the two up for a head-to-head feature and capability comparison.
Cabin Space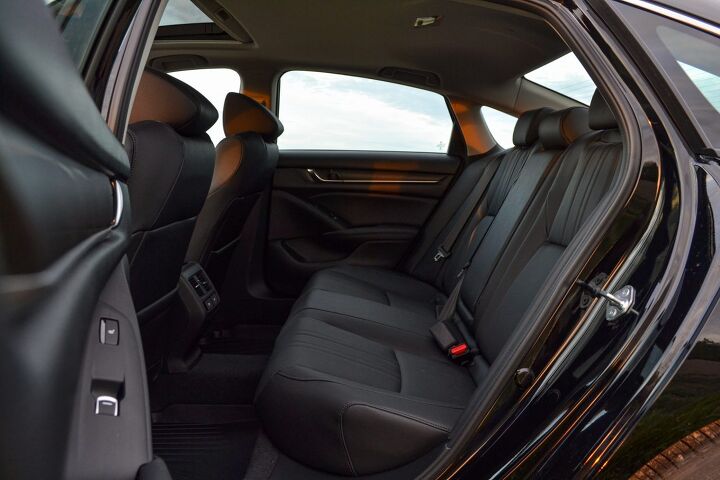 Honda Accord: Without a moonroof, the Accord will have 39.5 inches (1,004 mm) of headroom in the front, and 37.3 inches (948 mm) in the rear. Accords equipped with the ability to let the sun in will have 37.5 inches (953 mm) of headroom in the front, and 37.2 inches (944 mm) in the rear. Front row legroom is listed as 42.3 inches (1,075 mm), while there is 40.4 inches (1,026 mm) for rear seat passengers to stretch their legs. Shoulder room is 58.3 inches (1,481 mm) in the front and 56.5 inches (1,436 mm) in the rear, with 55.3 inches (1,405 mm) of front hip room and 55.0 inches (1,398 mm) in the back.
Kia K5: There is no shortage of legroom for front seat passengers in the K5. At 46.1 inches (1,171 mm) in the front row, the K5 is an excellent choice to take on extended road trips. Taller passengers may be less happy in the back, where there are only 35.2 inches (894 mm) of legroom. Headroom is 40.2 inches (1,021 mm) in the front and 37.8 inches (960 mm) in the back, or 38.4 inches (975 mm) in the front and 37.4 inches (950 mm) with a moonroof equipped. There are surprisingly 56.6 inches (1,438 mm) of hip room for both the front and back row, and 58 inches (1,473 mm) of shoulder room in the front with 56.1 inches (1,425 mm) in the rear.
Bottom Line: Do you plan on having people in the back row often? If so, the Accord may be the better choice. Otherwise, the K5 gives you the room to lounge in the front and you can still carry a few dogs in the back.
Powertrains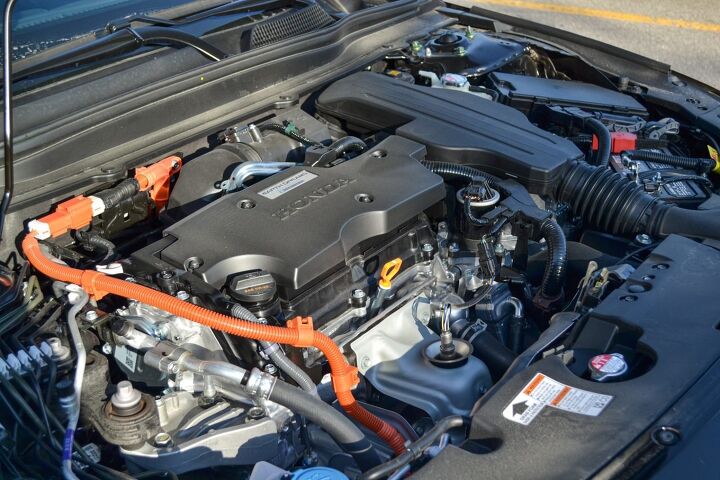 Honda Accord: Honda gave the Accord a range of three engines. LX, Sport, and EX-L trim levels can be had with a 1.5L turbo four-cylinder putting out 192 hp and 192 lb-ft of torque. The Sport can also be had with a turbocharged 2.0L four-cylinder with 252 hp and 273 lb-ft of torque, which is standard on the Touring. The 1.5L is matched to a CVT while the 2.0L comes with a 10-speed automatic.
The entire Hybrid range shares the same setup of a 2.0L Atkinson Cycle four-cylinder supported by batteries and motors. It has a combined output of 212 hp and sends power to the wheels through an E-CVT.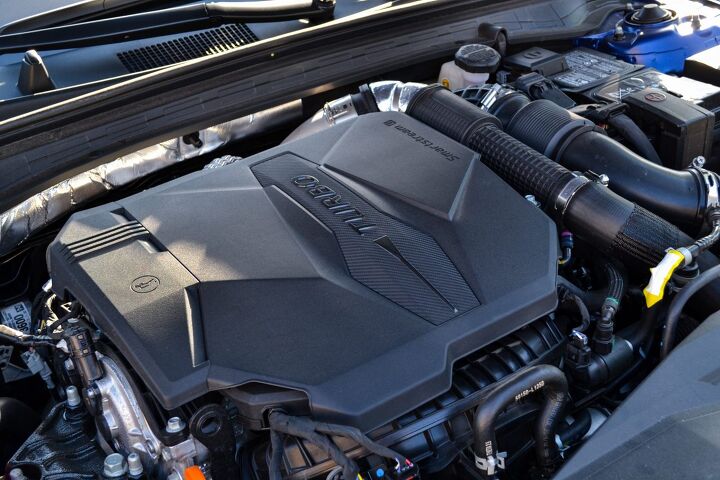 Kia K5: The K5 comes in two distinct flavors, but most will be equipped with the 1.6L turbocharged four-cylinder. It's good for 180 hp and 195 lb-ft of torque, paired with an 8-speed automatic. For those who would rather thrill than chill, the K5 GT shares the same 290 hp, 311 lb-ft 2.5L turbo found in the Hyundai Sonata N Line. Like the Sonata N, it also comes attached to an 8-speed dual clutch unit. The LXS and GT-Line trims can be configured with all-wheel drive, but the rest will be strictly front-wheel drive.
Bottom Line: The standard 1.5L found in the Accord may be a hair more desirable than the equivalent 1.6L from Kia, with slightly better fuel economy and performance. Honda's sportier offerings however do not match up to the sheer power of the K5 GT. To make up for it, the Accord Hybrid range gets impressive mileage numbers that leave it without a direct competitor from Kia.
Fuel Economy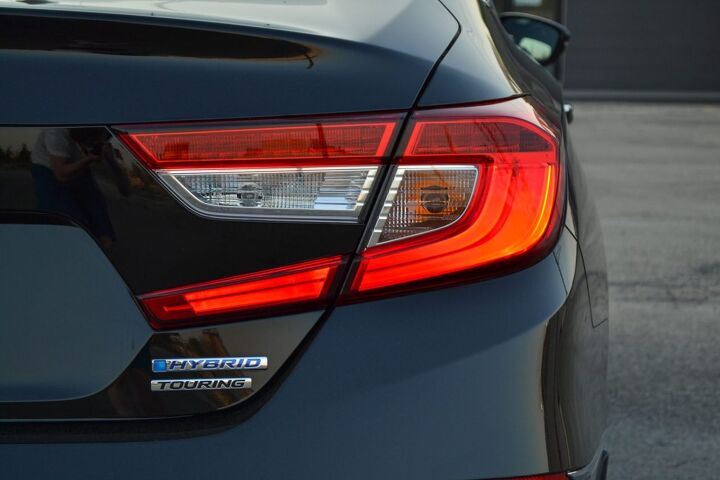 Honda Accord: Equipping an Accord with the 1.5L engine in either the LX or EX-L with net you 30 MPG (7.8 L/100km) in the city, 38 MPG (6.2 L/100km) on the highway, and 33 MPG (7.1 L/100km) combined. Switch to the Sport trims with the same engine and the numbers drop a bit to 29/35/32 MPG (8.1/6.7/7.4 L/100km). The 2.0L engine found on the Sport and Touring trims are rated for 22/32/26 MPG (10.7/7.4/9.0 L/100km).
To get the most out of the hybrid models, opt for either the standard Hybrid or the EX-L Hybrid, as they are rated for 48 MPG (5.0 L/100km) in the city and 47 MPG (5.0 L/100km) combined. The Sport Hybrid and Touring Hybrid still get impressive ratings of 44/41/43 MPG (5.3/5.7/5.5 L/100km).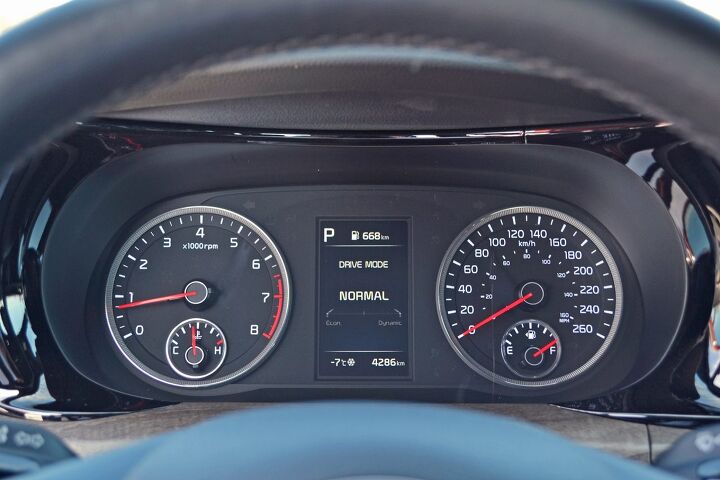 Kia K5: With the 1.6L engine and equipped with Idle Stop and Go, LX K5s are rated for 29/38/32 MPG (8.1/6.2/7.4 L/100km) for city, highway, and combined. The numbers drop slightly for LXS, GT-Line, and EX trims, which are rated for 27/37/31 MPG (8.7/6.4/7.4 L/100km). Add all-wheel drive into the mix (LXS and GT-Line only), and those numbers become 25/33/28 MPG (9.4/7.1/8.4 L/100km). The family-racer K5 GT surprisingly isn't all that much more thirstier with its 2.5L turbo, rated for 24/32/27 MPG (9.8/7.4/8.7 L/100km).
Bottom Line: If you're shopping on fuel economy, the choice is clear here. The Accord Hybrid outperforms the most fuel-efficient K5 by a mile. Even when comparing apples to apples, gas-only Accords still beat their Kia equivalent.
Cargo and Towing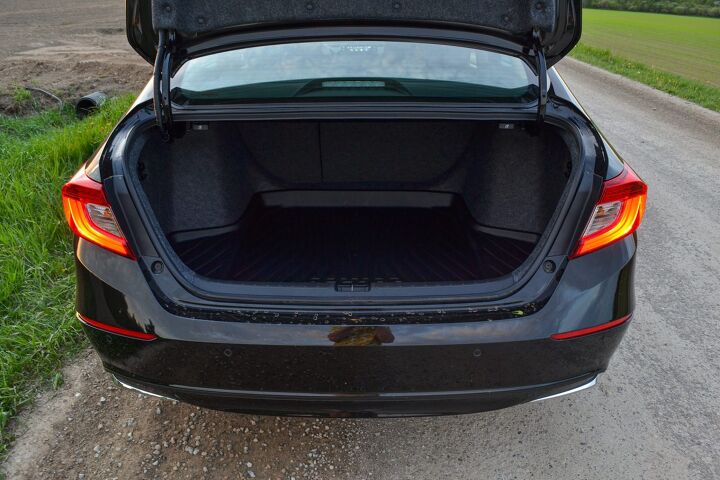 Honda Accord: The Accord allows for 16.7 cubic feet (473 L) of cargo in the trunk, with the rear seats up. As with most mid-size cars, the Accord is not rated for towing.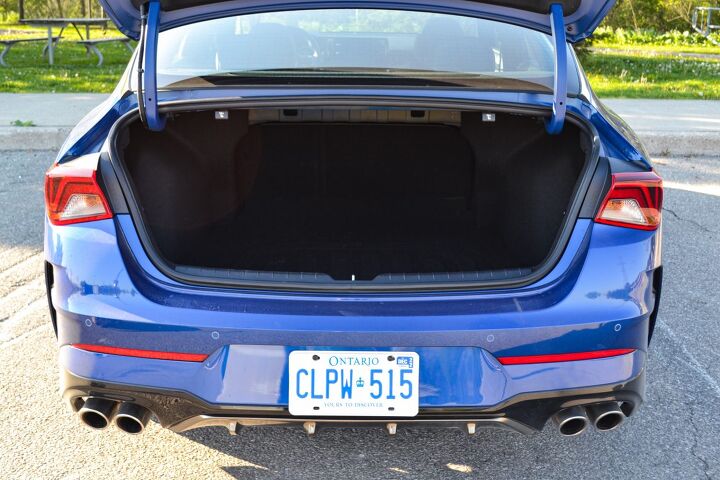 Kia K5: Pop open the trunk and you'll find 16 cubic feet (453 L) of cargo space for all your shopping needs. Same as the Accord, there is no tow rating for the K5.
Bottom Line: You just can't beat the Accord for trunk space in its class.
Safety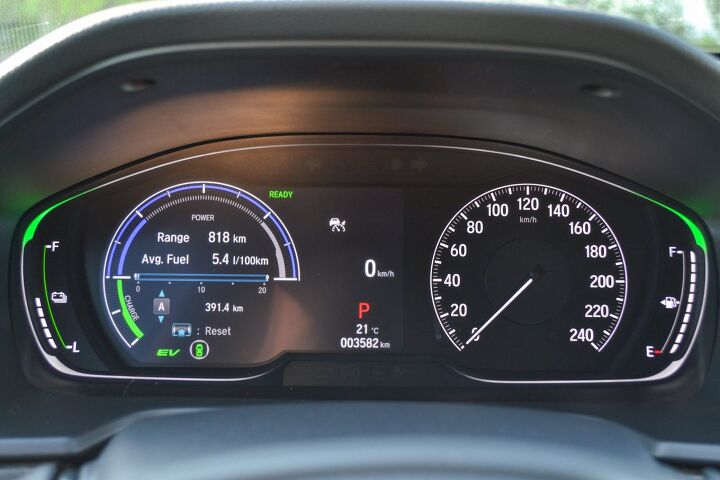 Honda Accord: The Honda Sensing Technologies suite is standard on all Accord trim levels and include Collision Mitigation Braking System, Road Departure Mitigation System, Adaptive Cruise Control with Low-Speed Follow, Lane Keeping Assist System, Forward Collision Warning, Lane Departure Warning, and Traffic Sign Recognition System. Auto High-Beams are also standard, as are front side, side curtain, and front knee airbags. Opting for a higher trim level unlocks more Driver-Assistive features, such as Blind Spot Information System with Cross Traffic Monitor, Low-Speed Braking Control, and Heads-Up Display.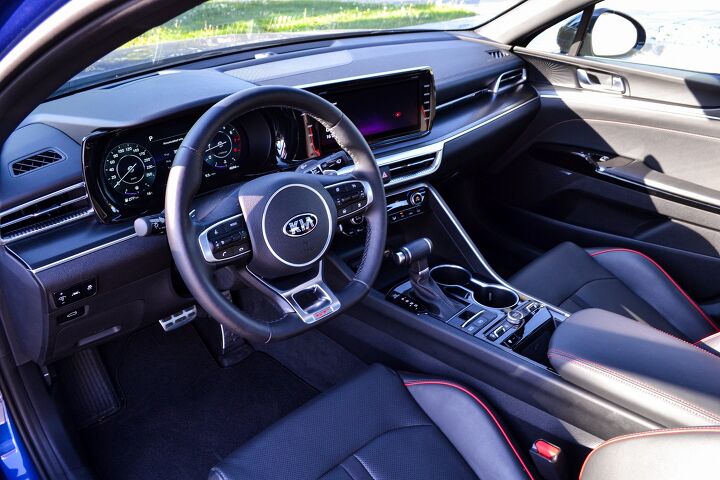 Kia K5: The Kia Drive Wise Driver Assist suite includes tech like Forward Collision-Avoidance Assist, Lane Keeping Assist, and Lane Following Assist as standard. Blind-Spot Collision-Avoidance Assist and Rear Cross-Traffic Collision-Avoidance Assist are standard on the LXS trim and up. Surround View Monitor is available as an option on EX and GT trims. A Navigation-based Smart Cruise Control with Highway Driving Assist help ease the monotony of long-distance driving, and are options starting from the GT-Line.
SEE ALSO:
2021 Kia K5 GT Review: An Almost-Perfect Everyday Sport Sedan
Bottom Line: Honda's set of active and passive safety tech is more comprehensive than what Kia has to offer, at least from the get go. Once everything is optioned in, the difference is much less apparent.
Tech and Features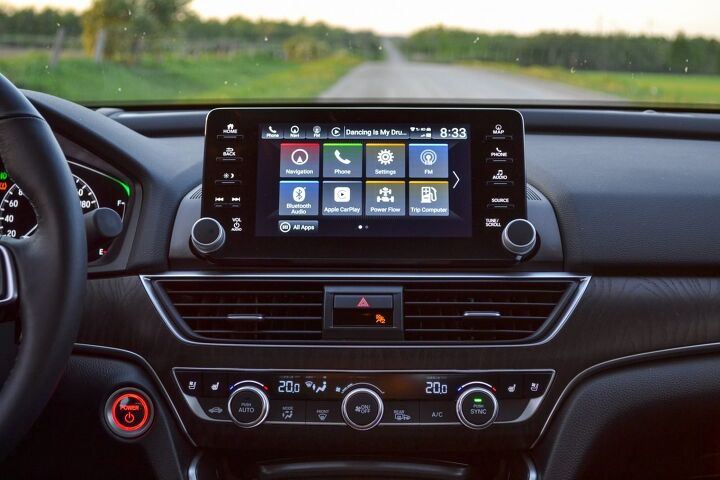 Honda Accord: Honda has equipped all Accords with Apple CarPlay/Android Auto, an 8-inch touchscreen infotainment system, and dual-zone automatic climate control as standard. Wireless CarPlay and Android Auto, wireless phone charging, SiriusXM, and heated front seats are standard with the 2.0L engine on the Sport trim, the Hybrid Sport, EX-L, and Touring. Opting for the EX-L or Touring and you'll be sitting in leather seats and bathing in music from a 450-watt audio system. The Touring also gets you ventilated seating in the front and heated seats in the rear. Power-adjustable driver's seat is included with the Sport, Hybrid Sport, EX-L, and Touring trims while power-adjustable front passenger seat is included with just the EX-L and Touring.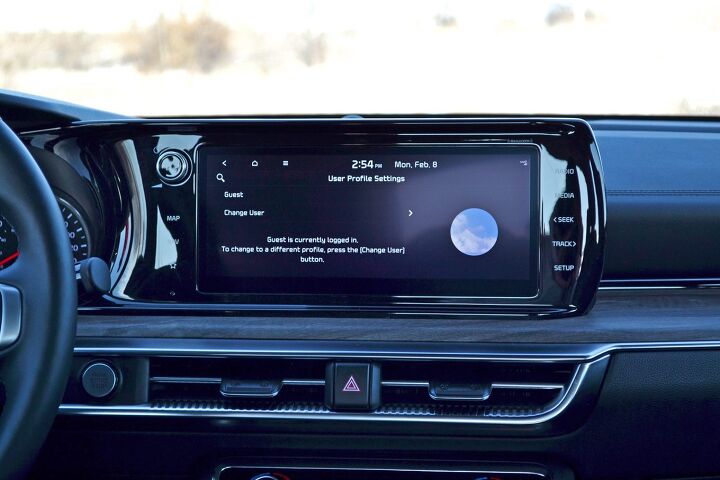 Kia K5: The strongest case for the K5 comes down to its equipment list. LX and LXS trims come standard with an 8-inch touchscreen armed with Apple CarPlay and Android Auto, dual-zone climate control, and a 6-speaker sound system. Moving up to the GT-Line unlocks a 10.25-inch touchscreen, remote connectivity, SiriusXM, navigation, wireless phone charging, and a power-adjustable driver's seat as standard. A 12-speaker Bose premium audio system is available as an option on the EX and GT, as are seat memory and a power-adjustable front passenger seat. Heated seats are standard starting from the GT-Line AWD level, and ventilated front seats are available as an option on the GT and standard on the EX.
Bottom Line: The Kia brings all of the tech you could want in a mid-size family sedan, all for a few thousand less than the equivalent Accord. It's an easy win for the K5.
Styling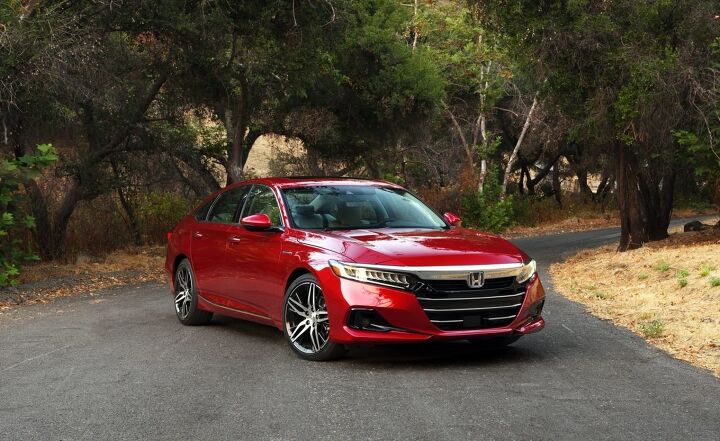 Honda Accord: The current iteration of the Accord has been around for a few years, and will be completely redesigned for 2023. In its current guise, the strong, horizontal trim found at the front defines the Accord's premium feel. It's a design that won't offend, nor necessarily win over anyone with its looks.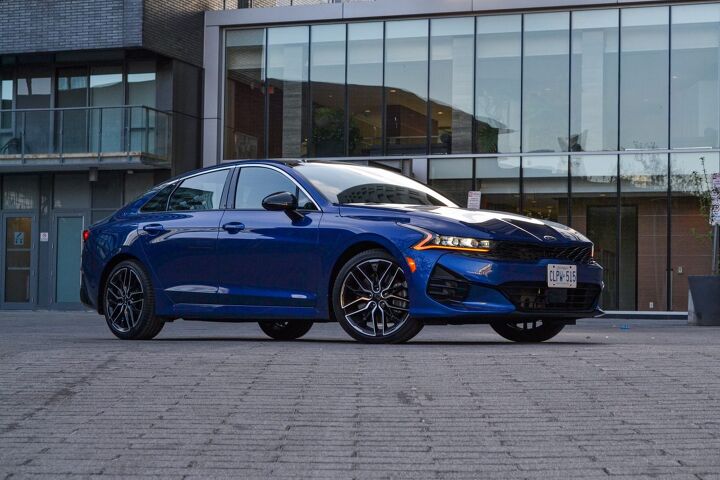 Kia K5: Definitely not one to blend into the mundanity of commuter traffic, the K5's acute angles scream speed, even without the spicy engine found on the GT. Regardless of which end you view it from, the K5 has a distinct presence. You won't mistake the unique headlights which extend into the front fenders for any other car, and the horizontal tail lights do a great job of setting a tone of luxury at the back.
Bottom Line: While the Accord's design language is biased toward creating a premium vehicle, the K5's design is decidedly sporty.
Pricing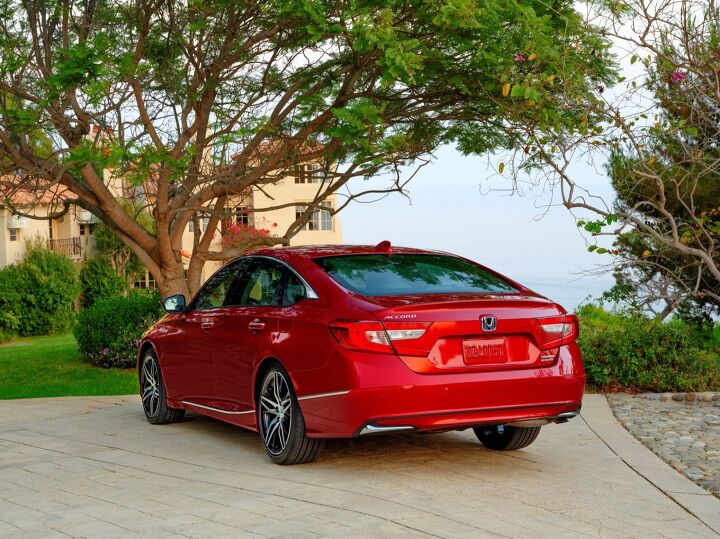 Honda Accord: Starting from the most wallet-friendly, the LX trim is priced from $27,615 (including $1,095 destination charge). The Accord Sport, EX-L, and Touring trims are priced at $30,075, $33,935, and $39,545, respectively.
SEE ALSO:
2021 Honda Accord Hybrid Review: The Great All-Rounder
Adding some motors and batteries into the mix and Accord Hybrid will start at $28,815, with the Hybrid Sport costing $32,165, Hybrid EX-L $35,135, and Hybrid Touring at $38,685.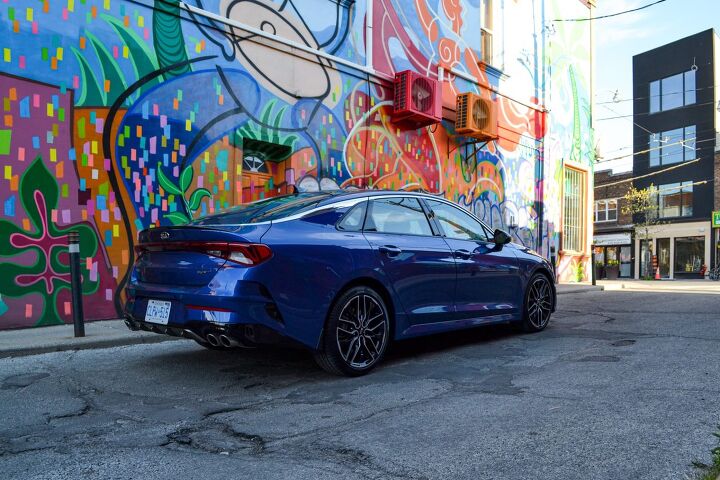 Kia K5: Kia offers the K5 starting from $24,845 (including $1,055 destination charge) for the LX trim. The LXS and GT-Line trims start at $25,845 and $27,245 respectively, and are available with all-wheel drive as an option for an extra $1,800 (on the LXS) and $1,600 (on the GT-Line). EX and GT models are available in front-wheel drive only, and start at $29,745 for the EX and $32,245 for the fiery K5 GT.
Bottom Line: The base K5 LX is comparable to the Accord LX but undercuts the price by a sizeable amount. Once you start moving up the pricing chart though, the comparison becomes less clear as the K5 is without a hybrid option, and the sportiest Accord fails to compete with the K5 GT. Nevertheless, the most lavish K5 money can buy is going to be more affordable than the equivalent Accord.
Conclusion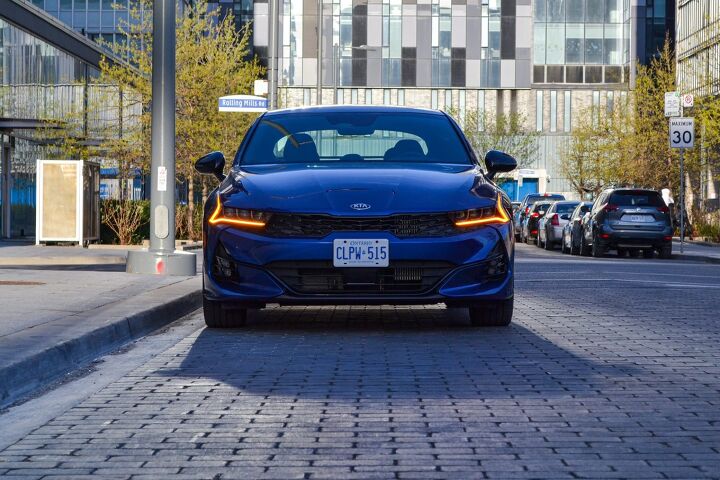 Kia chose not to play it safe for their mid-size competitor. The K5 is sharp, flashy, and the GT's 290-hp engine is fiery. The chiseled angles on the exterior is matched to a handsome, cleanly-designed interior. Every K5 is well-equipped, and having the option to add all-wheel drive capabilities is sure to be a plus for shoppers wanting a little extra traction on their drive. Let's also not forget the price, because the K5 really makes its mark on value.
The Accord does everything, and does them all well. Whether you're the one driving, or just tagging along for the ride, the Accord fails to disappoint. The hybrid drivetrain is the big differentiator, and what just clinches the win for Honda. Otherwise, Kia's persuasion of value and design might be too strong to turn away.
Become an AutoGuide insider. Get the latest from the automotive world first by subscribing to our newsletter here.
Published July 13th, 2022 9:14 AM
Popular Articles
Latest Comparisons
Car Buying Tools