2.5K Views
Honda Odyssey Vs Toyota Sienna Comparison: Minivan Mix-n-Match
July 4th, 2022 9:29 AM
Share
We're committed to finding, researching, and recommending the best products. We earn commissions from purchases you make using links in our articles. Learn more here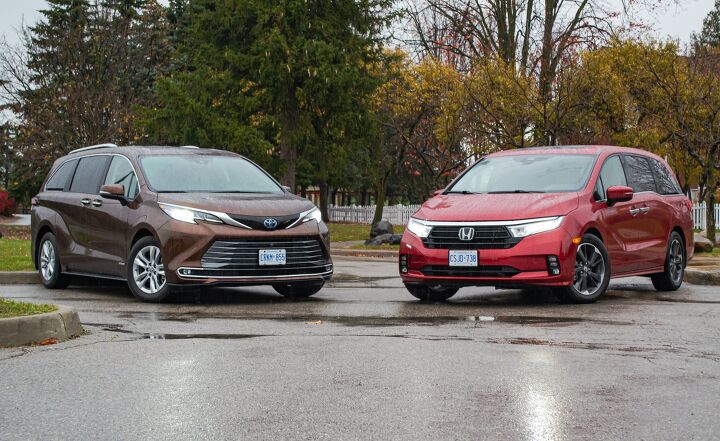 These two segment stalwarts have been battling it out since the '90s, and while the minivan category is not nearly as prominent now as it was then, the Honda Odyssey and Toyota Sienna remain.
What's interesting about these two now, apart from the fact that they both still sell more units than you might think (each have more than 70,000 units sold in the U.S. in 2021 as of this writing), is how their paths have begun to diverge.
Get a Quote on a New Honda Odyssey or Toyota Sienna
While the Odyssey is, in many ways, what it has been for years—a V6-powered front-wheel-drive van with a conventional (10-speed) automatic transmission—Toyota has embraced electrification with the Sienna. All Siennas sold in North America are now hybrid only, in either front or all-wheel drive, with an electronic continuously variable transmission.
SEE ALSO:
2021 Toyota Sienna Review: First Drive
Given how often these two are cross-shopped and the fact they're still volume sellers, editor Kyle Patrick and I strapped ourselves into these family haulers to see which one does it better.
Interior and Cargo Space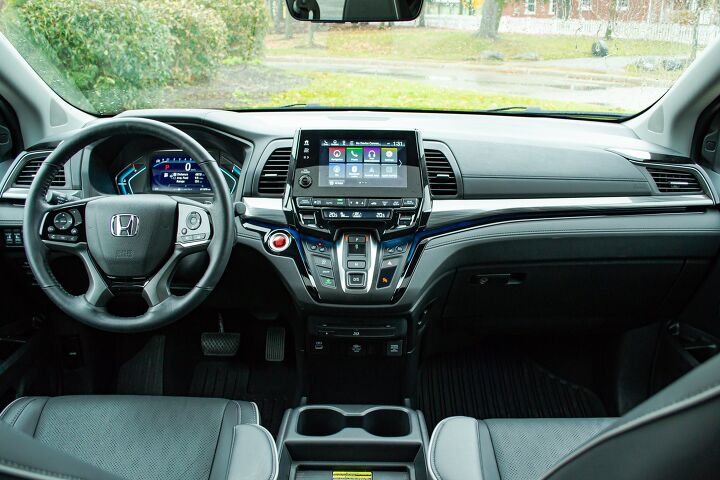 Odyssey: With these two, the tale of old versus new is really evident in the cabin and the Odyssey is firmly in the former category. While everything is well screwed together and logical from an ergonomic standpoint, it feels dated. It's a bit of a strange situation, given this fifth-gen van was all-new for the 2018 model year, but here we are. Some minor styling and packaging changes apply for 2022.
The Odyssey carries Honda's push-button/pull-tab transmission shift controls that Kyle and I both strongly dislike, but at least the dashboard and console layouts are uncluttered. Too bad it's so dull. On the plus side, the Odyssey's leather seats are quite supportive and comfortable, and help provide a good driving position that offers excellent visibility.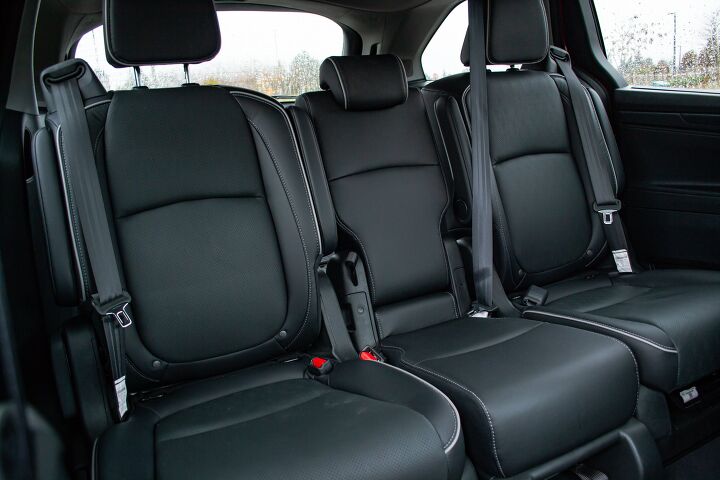 In terms of utility, the Odyssey feels spacious, and comes with some storage, albeit not an overabundance of it. There's a pass through located below the center console, along with a large console storage bin and fold-down armrests. The pass through isn't really designed for storage, but it makes the cabin feel more spacious.
As for the second and third row, the seats are lounge-like but rear access is still good, even in eight-passenger form. For those seeking more storage, the second-row middle seat can be flipped forward to reveal extra cupholders and a small bin.
Total passenger space for the Odyssey checks in at 160.1 cubic feet (4,533 liters) with maximum cargo rated at 155.7 cu-ft (4,409 liters) behind the first row. With the second and third row removed, a 4×8-foot sheet of plywood can be laid flat on the cargo floor.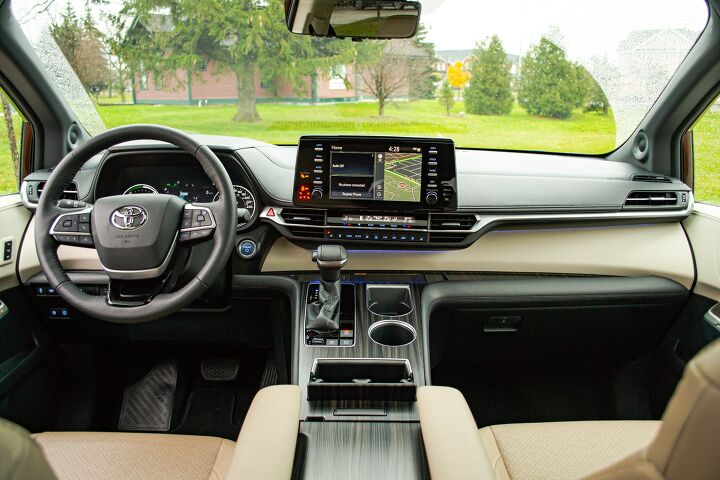 Sienna: The Sienna is all-new as a fourth-generation model for 2021, which gives it a bit of a leg up on the Odyssey in terms of design and innovation, even if the overall aesthetic doesn't set one's pulse racing. What's most striking to our eyes is the bridge center console, which provides loads of storage both above and below. From a set of extra cupholders—there are another two in the console—to its built-in dashboard shelf, the Sienna is the clear winner for occupants looking to empty their hands quickly upon entry.
SEE ALSO:
2021 Honda Odyssey Refines a Winning Formula
The wood veneer covering the console panel might not reek of sophistication but falls perfectly in hand reach and has plenty of room for a traditional gear shift lever, which Kyle and I both prefer. Kyle also notes that the wood grain look at least gives the Sienna some variety regarding materials and color palette, unlike the Odyssey dash, which has acres of black plastic.
As for seating, the Sienna's leather buckets aren't quite as luxurious as those in the Odyssey, but they're heated and provide for a good seating position. Kyle notes that visibility isn't quite as good as that offered in the Odyssey, but I thought it was a wash between the two. Seeing and being seen isn't an issue in either van.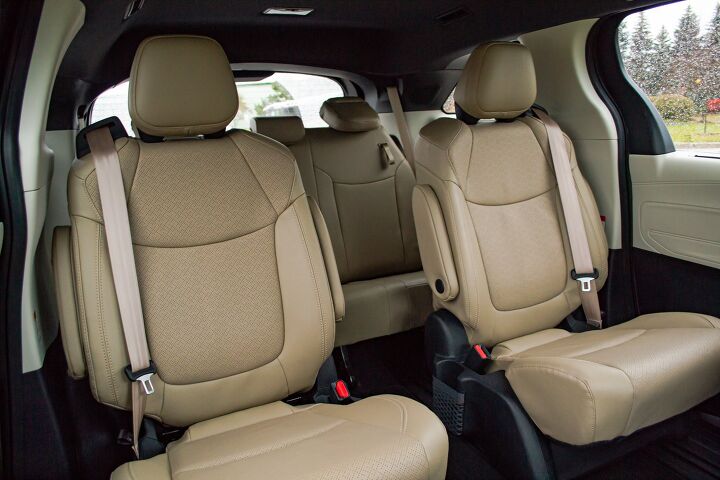 Like the Odyssey, the Sienna has seating for up to eight, with very comfortable accommodations for second row and third row passengers, including adults. Our tester wasn't fitted with ottomans, however, which are available for 2022 models.
Total passenger space for the Sienna checks in at 162.5 cu-ft (4,601 liters) without the sunroof and 159.7 (4,522 liters) with it equipped. Maximum cargo is rated at 101 cu-ft (2,860 liters) behind the first row. The Sienna can also carry 4×8-foot sheets of plywood, but they must be angled between the second-row seats which cannot be removed.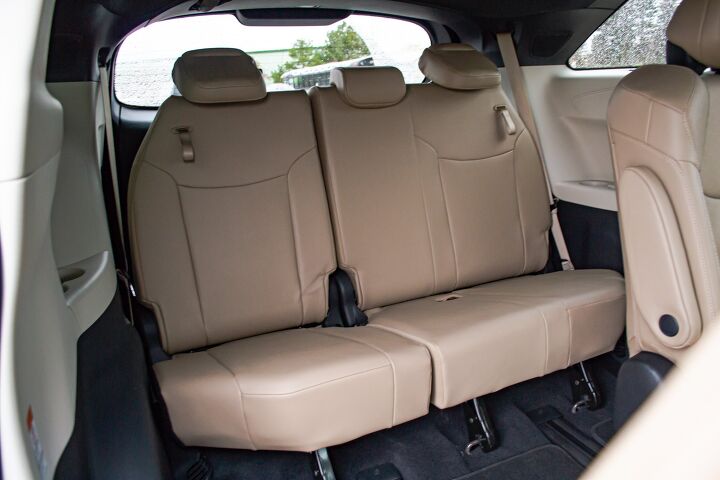 Bottom line: The Sienna's cabin feels more inviting with a friendlier dash/console layout with better storage options, but the Odyssey has more comfortable seats and significantly larger cargo capacity. The cargo disparity is somewhat surprising given the Odyssey is only 1.5 inches (38 millimeters) longer, 1.1 inches (28 mm) taller and both are 78.5 inches (1,994 mm) wide.
Tech and Features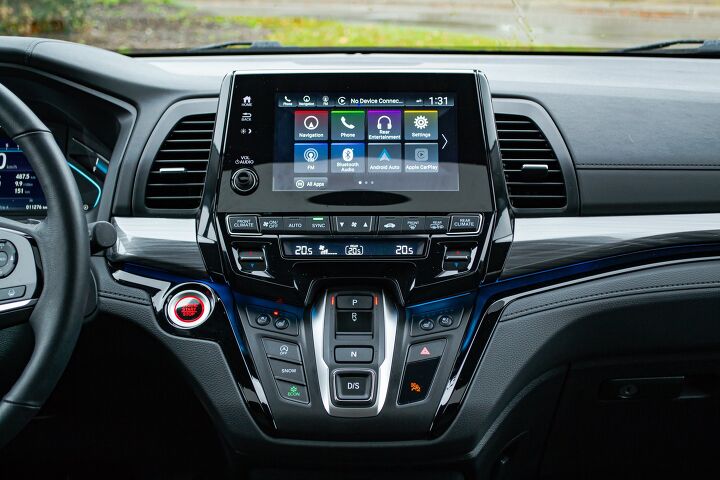 Odyssey: While the presentation might feel a bit dated, the Odyssey comes loaded with a long list of standard features. The 8.0-inch multimedia touchscreen seems a bit small, but it comes with embedded navigation and, as Kyle notes, it has color-coded menus with are easier to operate with peripheral vision. That said, the map graphics look old and grainy, the system doesn't respond faster than the Sienna's and the back-up camera lacks resolution and an overhead view.
Other standard kit includes a wireless cell phone charge pad, wired Apple CarPlay and Android Auto, and a 550-watt audio system with 11 speakers and a subwoofer. Other tech highlights include a 10.2-inch rear seat Blu-ray/DVD/streaming rear seat entertainment system, which comes with a remote control, HDMI, two headphone jacks and two wireless headsets.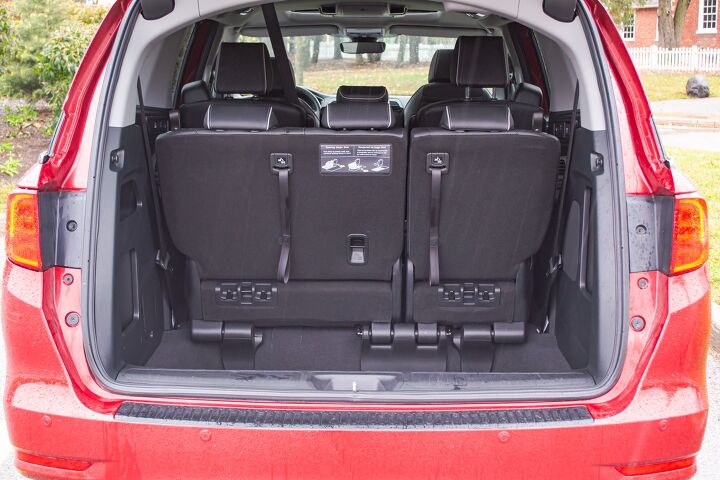 CabinTalk, which allows the driver to speak to rear seat occupants through the van's speakers or headphones, and CabinWatch, which uses a mounted camera to provide a view of the second and third row which displays on the main infotainment display, are also standard.
As for ports and plugs, there are three 12-volt, one 115-volt, and four USB-A (one up front, two in the second row, and one in the third row).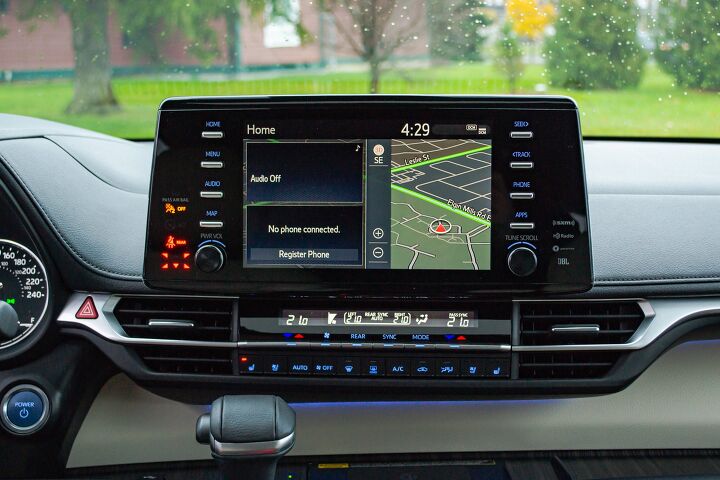 Sienna: Like the Odyssey, the Sienna comes loaded to the brim with technology. Among its more prominent features are a 9.0-inch infotainment touchscreen display with embedded navigation and a host of other connected-car tech. The system works fine, but as Kyle says, the underlying software is old and will eventually be replaced with a variant of the cloud-based unit found in the all-new 2022 Tundra.
SEE ALSO:
Kia Carnival vs Chrysler Pacifica vs Toyota Sienna Comparison
Despite being a bit slow, the system works well enough, and it comes with wired Apple CarPlay and Android Auto connectivity. The back-up camera is surprisingly low-res for a new vehicle but, on the plus side, its 360-degree view is a step up over the one in the Odyssey. As for rear-seat entertainment, the Sienna Limited in Canada comes standard with an 1080p HD 11.6-inch display with HDMI inputs and two wireless headphones. This unit is optional on the Limited in the US, but standard on the Platinum.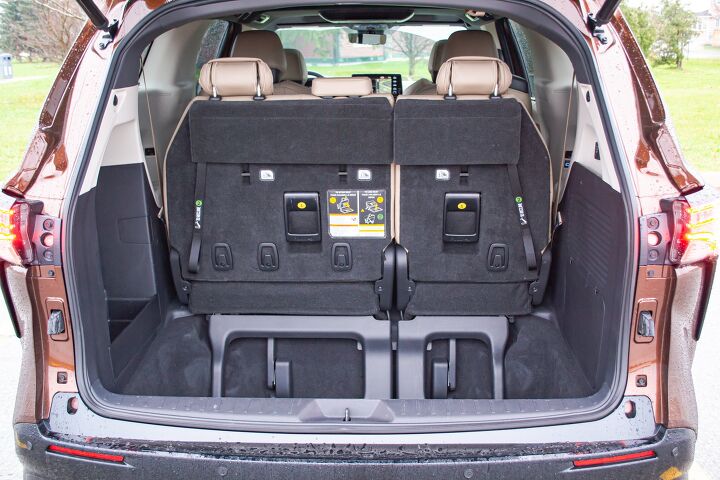 Our tester also comes with Toyota's version of an in-car PA system which it calls Easy Speak, a digital rear-view mirror and a wireless cell phone charge pad. Audiophiles will not doubt appreciate the JBL Clari-Fi 1,200-watt audio system, which comes with a subwoofer and 12 speakers. Seven USB ports are also standard.
Bottom line: While both vans come packed with a lot of standard technology, the Sienna has an edge when it comes to items such as a larger infotainment touchscreen, 360-degree camera, more powerful audio system and more USB ports. The Odyssey fights back with CabinWatch, which the Sienna doesn't have, and a more intuitive infotainment system, but the Toyota wins in the aggregate.
Powertrain, Driving Feel and Fuel Economy
Odyssey: The old versus new divide with these two vans is most noticeable in their respective choice of powertrain, and the Odyssey is in the traditional corner with its 3.5-liter V6 (280 hp and 262 lb-ft). Paired with a 10-speed automatic and front-wheel drive, this V6 has plenty of oomph for passing on the highway, whether it's carrying a full load or not. God bless VTEC.
The 10-speed feels mostly at home in the Odyssey, and while it still does some gear-hunting which Kyle and I both noticed, it's a mostly predictable transmission. Of the two vans, the Odyssey feels stiffer and has weightier steering, but it produced more NVH (noise/vibration/harshness) and isn't as well-insulated as the Sienna.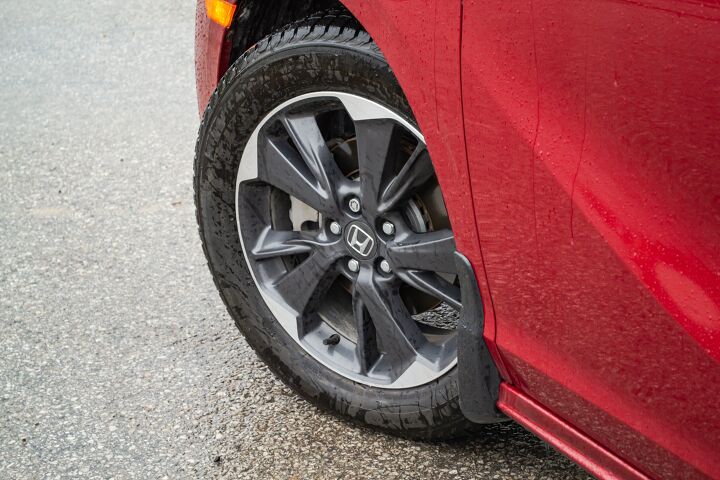 Oh, and then there's the Odyssey's fuel consumption: it's not great. It's not bad in the abstract, but when compared to the hybrid-only Sienna, it lags far behind. The Odyssey has more power, but you will pay for it at the pump. Fuel economy on regular 87 octane is rated at 19/28/22 mpg city/highway/combined (12.2/8.5/10.6 L/100 km).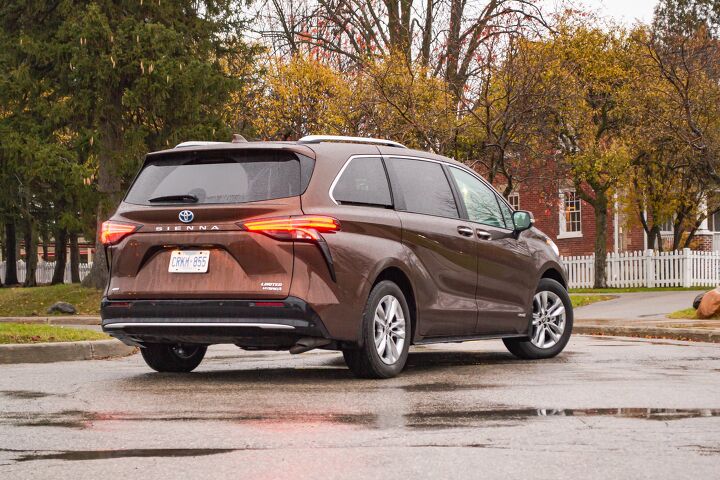 Sienna: Toyota made quite a declarative statement when it ditched its V6 for the fourth-gen Sienna. As mentioned, the Sienna is now hybrid only, which is both good and bad. The Sienna uses a 2.5-liter four-cylinder engine paired with an electric motor and a nickel metal hydride battery pack. Total system output is rated at 245 horsepower which produces much better fuel consumption returns, which I'll get to shortly.
From a performance standpoint, it is the slower of the two, a reality one really notices at speeds above 18 mph (30 km/h). Here's the thing, though: the Sienna isn't slow. As Kyle notes, 245 horsepower is nothing to sneeze at, and there is plenty of low-end system torque. To me, the Sienna feels reasonably responsive, although the four-banger does get noisy when full power is being extracted.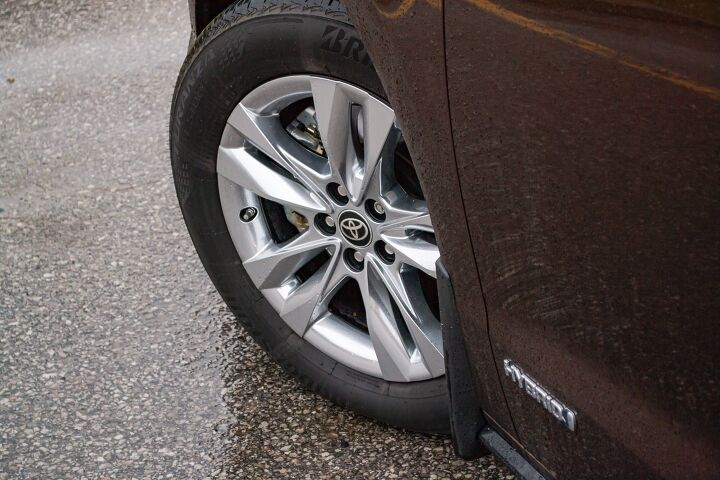 On the plus side, the Sienna has a softer, more compliant ride than the Odyssey and better sound insulation. But the biggest advantage the Sienna has is it's much less thirsty. No matter how hard we "caned" it, as Kyle says, we couldn't get our tester's average consumption below 32 mpg (7.35L/100 km).
Fuel economy on regular 87 octane is rated at 35/36/35 mpg city/highway/combined (6.8/6.6/6.7 L/100 km).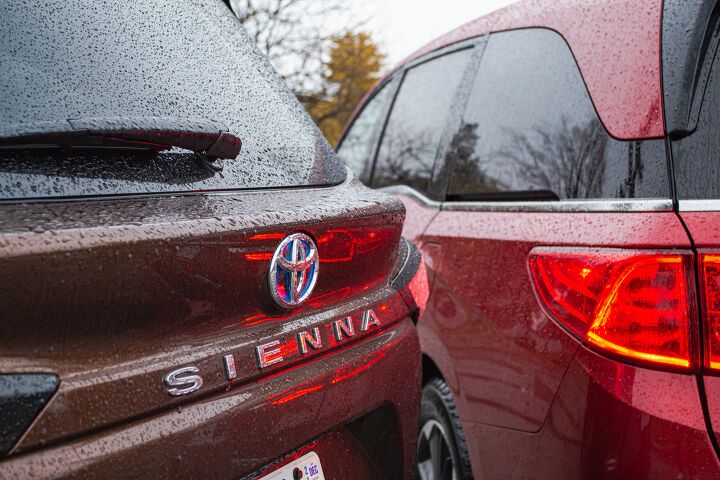 Bottom line: Much like the other categories, this one is about a buyer's priorities. As a long-haul, family vacation vehicle, the Odyssey has clear advantages. With its bigger, torquier engine, it has plenty of power in reserve for extended Interstate passing and cruising. It's not as quiet as the Sienna, but its conventional automatic transmission is more predictable and easier to modulate.
On the other hand, the Sienna will deliver significant savings at the pump on those long-haul trips. An extra 13 mpg (combined) is hard to ignore. There's less power to draw upon, and unlocking what is there is a noisy proposition, but the reward is there all the same. Plus, the Sienna is the quieter daily driver, and its available all-wheel drive is a benefit for those living in harsh climates.
Safety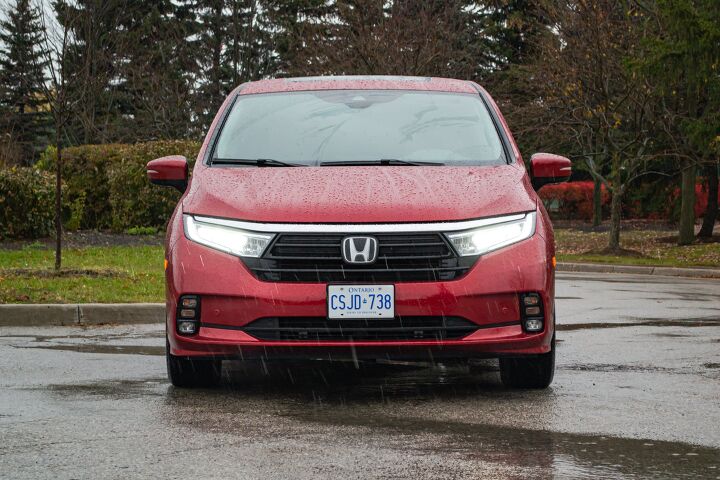 Odyssey: The Odyssey comes standard with Honda Sensing, the brand's suite of safety technology, which includes a laundry list of items such as Collision Mitigation Braking System (CMBS) with Advanced Pedestrian Detection, which automatically applies the brakes when a collision is imminent; Adaptive Cruise Control (ACC) with Low-Speed Follow, which allows the car to follow at a desired speed and distance from the vehicle in front; and Lane Keeping Assist System (LKAS), which uses a forward-facing camera inside the rear view mirror to keep the car centered in the traveling lane.
The 2021 Odyssey has been given a 5-star overall rating by the NHTSA and was named a Top Safety Pick+ by the IIHS with "good" ratings across the board, apart from headlights which are rated as "acceptable."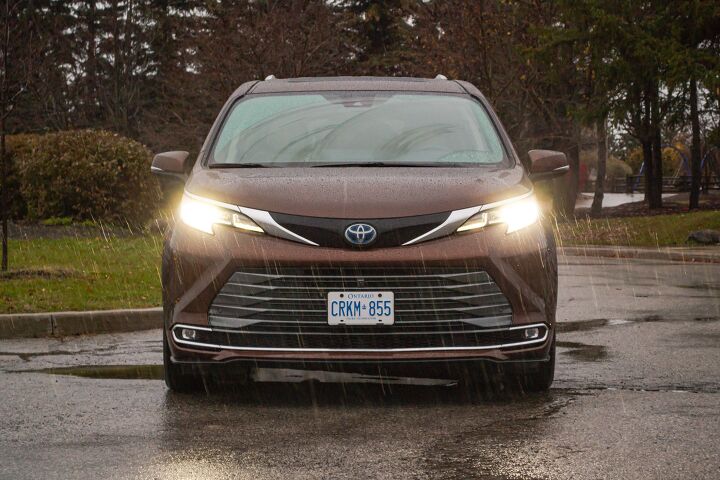 Sienna: The Sienna comes standard with loads of safety kit, including Toyota Safety Sense 2.0 (TSS 2.0), the company's suite of active safety features. Among these items are Lane Tracing Assist (LTA) which works in conjunction with Dynamic Radar Cruise Control (DRCC) to keep the van centered in its lane where road markers are visible. TSS 2.0 also includes Pre-Collision System with Pedestrian Detection and Bicycle Detection which uses an integrated camera and radar system to help reduce the chances of a frontal collision.
The 2021 Sienna has been given a 5-star overall rating by the NHTSA and was named a Top Safety Pick+ by the IIHS with "good" ratings across the board.
Bottom line: Both vans come loaded with reams of standard active and passive safety kit and carry excellent safety ratings. Neither vehicle has a noticeable edge regarding safety.
Styling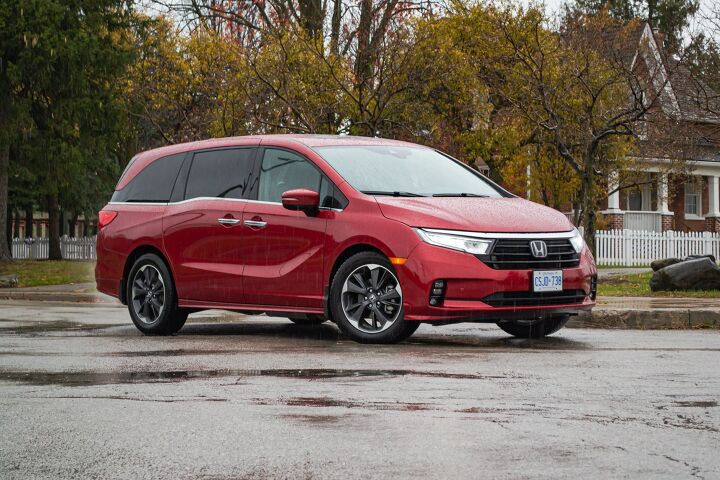 Odyssey: For vehicles as utilitarian as minivans, styling really isn't what moves them off dealer lots, but the Odyssey looks more conservative of the two. Kyle says that even in bright red, our tester feels "comparatively tame," and I agree with that assessment. That said, it does possess some attractive details, including its chrome door handles, grille and window trim, the latter of which Kyle refers to as a "lightning bolt". He means that as a compliment, incidentally.
SEE ALSO:
Poll: Honda Odyssey or Honda Pilot?
Looking at the Odyssey, I can't help but think I'm looking at the last in a long line of incredibly competent, yet rather staid and dull, Honda minivans. Honda has shined this Odyssey up as much as possible with fancy-looking LED headlights and spiffy two-tone 19-inch aluminum alloy wheels, which we both quite like, but it feels to me like the end of the road has been reached. The next Odyssey will likely depart significantly from this one in every way, including its looks, which I think will be a good thing.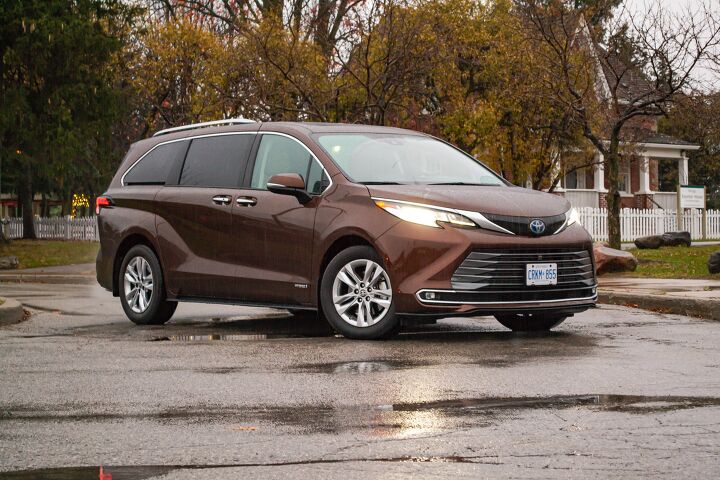 Sienna: I must hand it to Toyota—it's done everything it can to sex up a form factor that's famously resistant to such beautification. And the results are pretty darn good. This Sienna is much sleeker (for a minivan) and more high-tech looking that its predecessor, and it is the hands-down winner in the looks department for this comparison.
The Sienna's look was inspired by Japan's famous Shinkansen bullet train and its massive grille, deep creases, and interesting surfacing details are not what I would expect to see on minivan. Kyle thinks the Sienna's look is a bit "try-hard," and I somewhat agree, but I think it works here even in the Sunset Bronze Mica hue of our tester. Kyle agrees, even though he thinks our tester's 18-inch alloy wheels look a bit small.
Bottom line: While beauty is indeed in the eye of the beholder Kyle and I both think the Sienna is the better looking of the two. Honda has done its best with the Odyssey, but its styling is the embodiment of conventional minivan design and it's time for a change.
Pricing and Value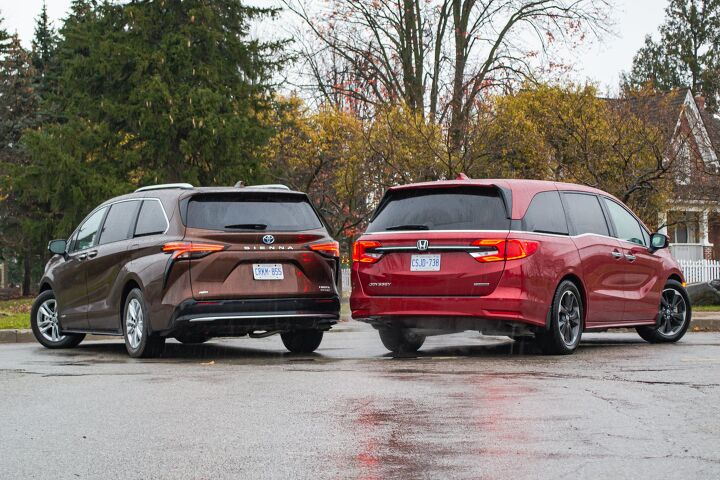 Odyssey: The 2022 Odyssey Elite (Touring in Canada) checks in at $48,020 plus a destination charge of $1,225 ($54,805 CAD plus $1,870 freight and PDI). Several premium colors carry an extra charge of $395 ($300 CAD).
Sienna: The 2021 Sienna Limited retails for $48,500 plus a destination charge of $1,215 ($58,190 CAD plus $1,860 freight and PDI). In the US, an optional entertainment package for $1,915 adds items such as a 1,500-watt inverter, 1080p HD rear entertainment center with 11.6-inch display, HDMI input, remote, two wireless headphones and a digital rear-view mirror. A second package adds a spare tire for $1,990. A spare tire is also available stand alone for $75.
Bottom line: Given that they are direct competitors, it's no surprise to see the Odyssey and Sienna priced so closely to one another on both sides of the border. As is the case with most vehicles, there are a few packaging differences, such as with the Sienna's rear-seat entertainment system, but it should be noted that the Limited is the second-highest trim in the US (Platinum is at the top), whereas it's the highest in Canada. The Elite (US) and Touring (Canada) versions of the Odyssey are very closely aligned.
Verdict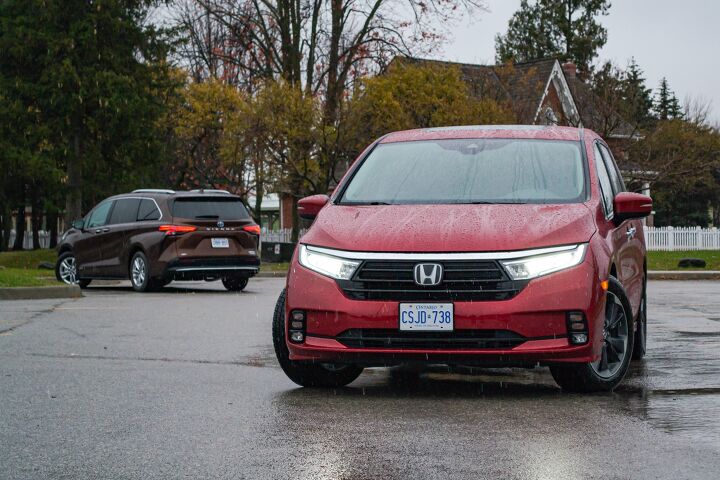 Lee: While these two vans compete hammer and tong against one another in the marketplace, they represent very different ideals.
The Honda Odyssey is the embodiment of where the minivan has been for a generation: V6-powered, front-wheel drive only, with utilitarian looks and cargo-hauling capability to match. Its ho-hum interior, lack of creative storage and hit and miss creature comforts – CabinWatch great, four USBs not so much – reflect its older paradigm. Honda has layered as much of the new stuff on to the Odyssey as it can, but it feels like we're at a point where a clean-sheet approach is coming.
That clean-sheet approach is reflected, in many ways, in the new Toyota Sienna. Its sexier packaging, hybrid powertrain, availability of front and all-wheel drive, combined with a fresher interior that's more inviting represents a paradigm shift.
Sure, the Odyssey has more power, more cargo capacity and is a smoother operator both in city and on the highway. It does traditional minivan things well, no question. But the Sienna gets much better fuel economy with decent performance and offers a high degree of utility. Yes, its powertrain is pretty blah, but the fuel savings are hard to ignore. Ultimately, I think the Odyssey's VTEC V6 may win the battle, but the Sienna's hybrid is poised to win the war.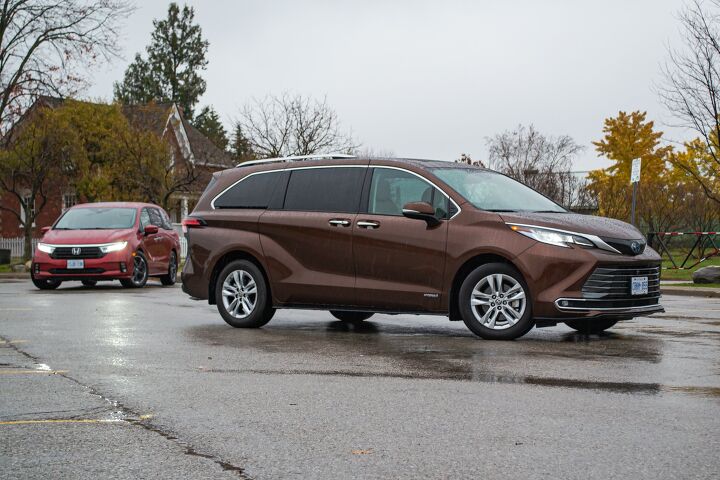 Kyle: It's best to frame these two as the present and future of the minivan.
The Odyssey is the result of Honda's obsessive refining of the original minivan formula. It's super-spacious, easy to drive, eminently practical… and yeah, a little boring. Well, at least until the VTEC kicks in. Everything here is done very well, but it doesn't venture out of the safety bubble. No hybrid, no AWD, no clever storage up front. It's the most car-like of all the minivans though, so if you need the space yet want to retain as much of that experience as possible, it's an excellent choice.
The Sienna looks forward. The savings at the pumps are hard to ignore. Sure, the hybrid isn't the most refined drivetrain, but you can't argue with 50-percent better gas mileage. I also really enjoy the additional storage solutions, and its third row is easier to tuck away. On the flip side, not being able to even remove the second row is unfortunate. The additional safety assists like a 360-degree camera and digital rear-view mirror should play well with the intended audience, too.
If you need to eventually run the family minivan like an S2000 (i.e. in two-seater form), and want the consistent power of a V6, the Odyssey is the ticket. Ready to sacrifice a bit of refinement for incredible economy, and an interior that feels more modern? Sienna. That's the one I'd go with, were it my hypothetical money and family.
Become an AutoGuide insider. Get the latest from the automotive world first by subscribing to our newsletter here.
{ "id": "12842308", "alt": "", "title": "", "video_link": "https://www.youtube.com/embed/cnPVet-ziqU", "youtube_video_id": "cnPVet-ziqU" }
{ "width": 634, "height": 357, "showRelated": true }

Published December 15th, 2021 3:59 PM
Popular Articles
Latest Comparisons
Car Buying Tools