586 Views
Hyundai Kona Vs Hyundai Tucson Comparison
April 6th, 2022 11:20 AM
Share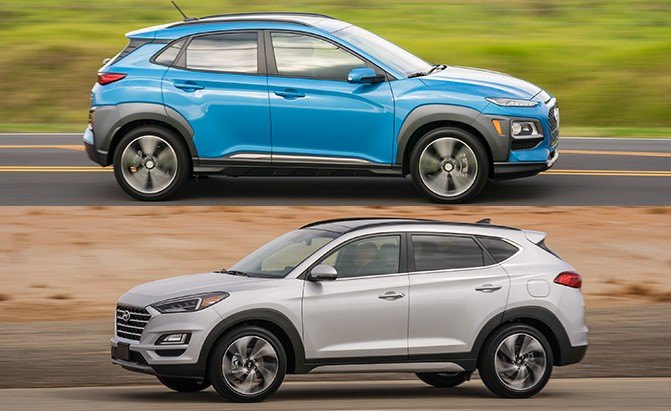 The brand from South Korea has been on a bit of an SUV and crossover binge lately, introducing several different models in rapid succession. These two options, the Kona and Tucson, reside on the smaller end of the spectrum. Offering the option of all-wheel drive, these wagons-on-stilts have found great popularity, becoming the bread-and-butter of the brand.
Both vehicles are available with a brace of engines and a myriad of trim levels. Hyundai likes to keep options to a minimum, instead choosing to offer packages and bundles rather than too many stand-alone features. Which one is right for you? Read on.
Powertrains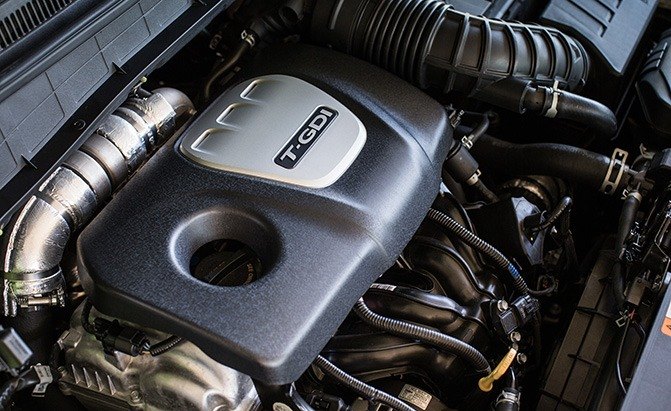 Kona: Dining at the Kona buffet means a choice of powerplants. Kicking things off is a 2.0-liter inline-four appetizer, rated at 147 horsepower and 132 pound-feet of torque. Moving to the second course, found in Limited and Ultimate trims, one will have the opportunity to sample a turbocharged mill, one which is smaller in displacement but heaves out 175 horses and 195 lb-ft of twist. The naturally-aspirated engine is lashed to a six-speed automatic but the turbo unit gets a tasty 7-speed dual clutch box. Shoppers can elect to have all-wheel drive with either power team.
Get a Quote on a New Hyundai Kona or Tucson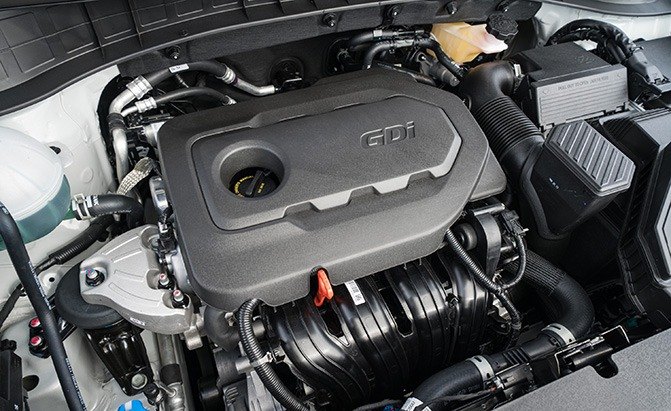 Tucson: A brace of engine choices also face shoppers of the Hyundai Tucson, though there is nary a turbocharger in sight this time around. Base models get a 2.0-liter four banger making 161 hp and 150 lb-ft of torque. Snazzier trims are endowed with a larger displacement four-cylinder, a 2.4-liter unit good for 20 more ponies and 25 more torques. No matter the engine, the transmission will be a six-speed automatic. All-wheel drive is optional.
SEE ALSO: 2018 Hyundai Kona Review and First Drive
Bottom Line: Your author is a sucker for anything with moar powerrr, so the turbocharged engine in the Kona appeals to him in this particular comparison. It provides that machine with the best power-to-weight ratio of any model or trim across the Kona and Tucson lines. That's enough to give it the W in our books.
Fuel Economy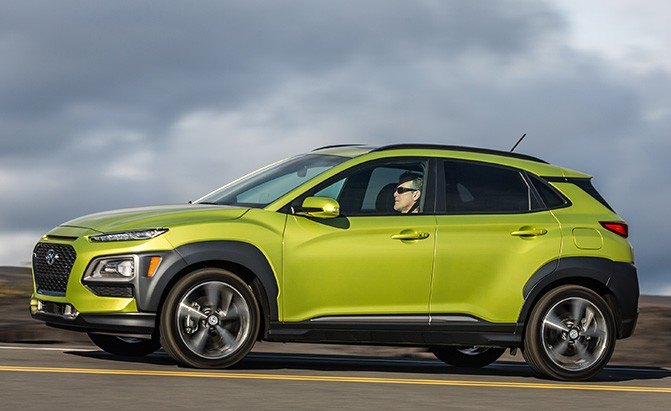 Kona: Naturally-aspirated front-drive Konas are rated at a reasonable 27 mpg in the city, 33 mpg on the highway, and 30 mpg on the combined cycle. Upgrading to the more powerful turbocharged engine results in mileage of 1 mpg better in the city and 1 mpg worse on the highway. In all, it's a wash no matter which engine is chosen. Thank the 7-speed dual clutch and extra around-town torque for that development. Adding all-wheel drive scuppers these numbers by about a single mile per gallon in town and 3mpg on the highway.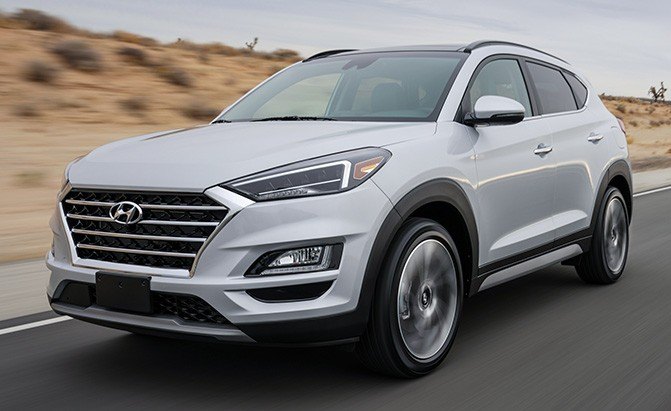 Tucson: Selecting the 2.0-liter engine returns mileage of 23, 30, and 26 mpg on the city, highway, and combined cycles, respectively. Adding all-wheel drive to this equation reduces economy in town to 22 mpg and a shocking 25 mpg on the highway. That's a damning indictment of the 2.0-liter's lack of power. The 2.4-liter engine is rated at 22 mpg in the city (21 mpg with AWD) and 28 mpg on the highway (26 mpg with AWD). The drop of just 2 mpg highway cycles when AWD is added suggests the bigger engine is much more suited for duty in the Tucson, which holds three more gallons of fuel than Kona, by the way.
Bottom Line: There's no getting around the fact that Kona, with a newer and more efficient powertrain and less mass, wins the fuel economy war outright. However, if one is shopping Tucson, they would be well advised to sample the larger 2.4-liter engine if it is in budget.
Cabin Space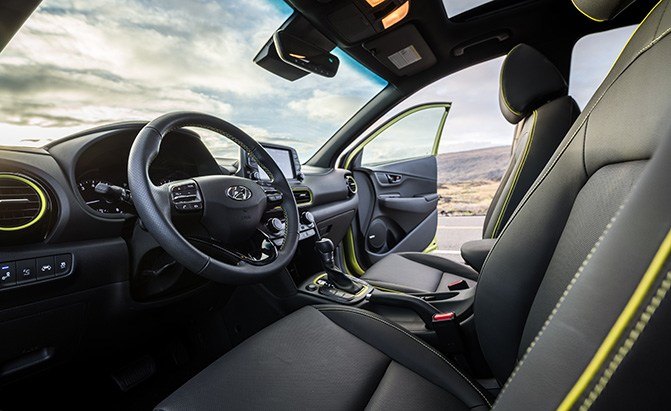 Kona: Even though Kona puts down a small footprint, making it easy to park in the tight confines of a city, its interior dimensions stack up well compared to its bigger brother … at least in the front row. Up there, occupants are treated to 39.6 inches of headroom and 41.5 inches of legroom. Shave about an inch and a half off that first measure if you order a Kona with a sunroof. Second row passengers will feel the pinch, with only 34.6 inches of legroom.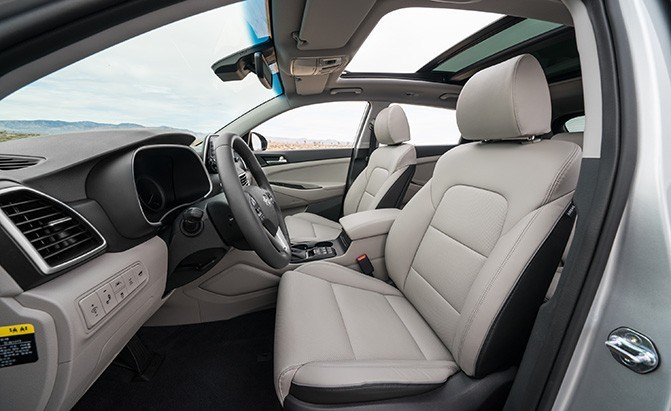 Tucson: Headroom in the front row measures 39.6 inches, 37.9 with the sunroof on night and Ultimate models. Legroom is an impressive 41.5 inches up front and a competitive 38.2 inches in the second row. Total passenger volume is measured at 102.2 cubic feet. The car's extra width pays off, with its 57.1 inches of shoulder room besting Kona by nearly two inches. That extra space will certainly be felt when sitting two or three abreast.
Bottom Line: If your family includes more than two people, the smart money will be on a Tucson. Both of these machines treat their front row passengers to approximately the same amount of space but the Tucson's rear seat accommodations are much more spacious.
Cargo Capacity & Trailering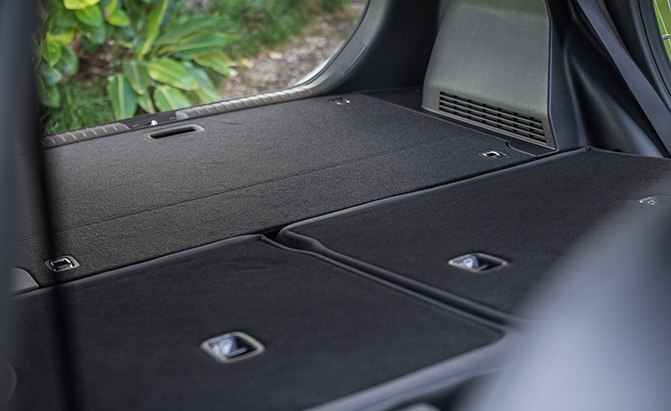 Kona: Cargo volume in the smaller of our two contendahs checks in at 19.2 cubic feet behind the rear seats with those seatbacks firmly in place. Flipping them forward and turning the Kona into a two-seater increases cargo capacity to 45.8 cubes. In case you're wondering, ground clearance is just 6.7 inches.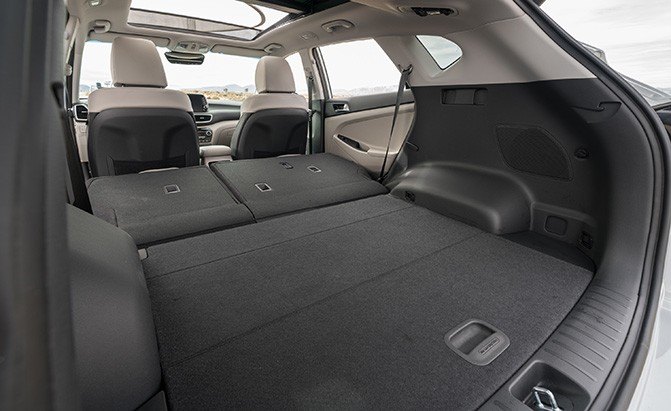 Tucson: With the rear seats up, a total of 31 cubic feet of cargo space is at the disposal of people who own a Hyundai Tucson. Flip the seats down and 61.9 cubic feet are revealed. Properly equipped, the Tucson can tow a maximum of 2,000 lbs.
Bottom Line: As with most vehicles of this ilk, a bigger box means more space. Even automotive engineers cannot change the laws of geometry, no matter how much they'd like to try. The Tucson can hold and haul more stuff, full stop.
Technology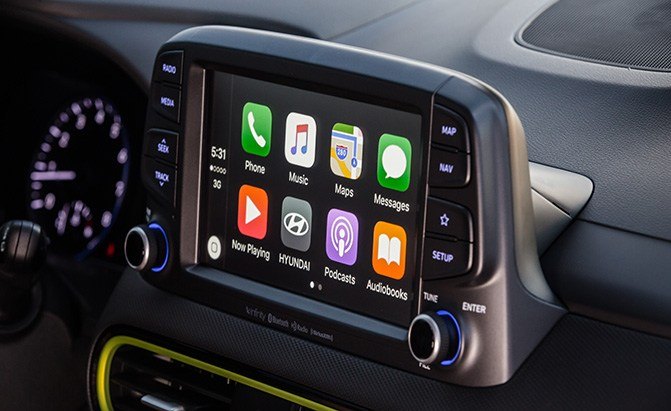 Kona: While snazzy driver aids like adaptive cruise control and forward collision avoidance are only on the top trim, helpful kit like lane keeping and forward collision-avoidance assists are standard on every single Kona. The 7-inch infotainment screen will be familiar to current Hyundai owners, as will the 8-inch unit on an Ultimate model. Apple CarPlay and Android Auto is also standard on all Kona vehicles.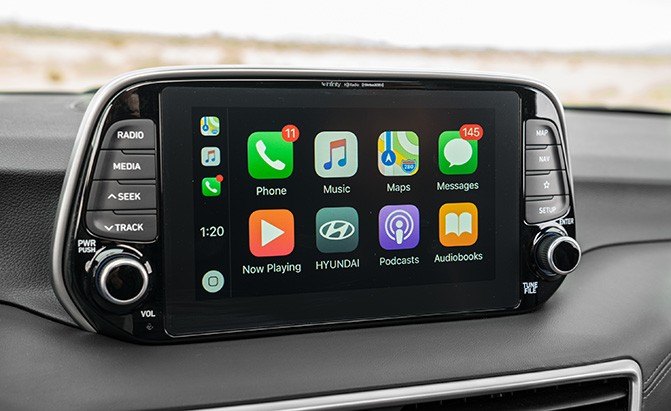 Tucson: All trims come equipped with Apple CarPlay and a 7-inch color touchscreen for infotainment duties but satellite radio is not included on base models. Top-rung Ultimate trim gets upgraded to an 8-inch screen. A banging Infinity audio system is available as well. Wireless device charging shows up on the $24,600 Sport model but Smart Cruise Control (with Stop & Go technology) is only found on the top two models.
Bottom Line: The Kona and Tucson are very similarly equipped in terms of technology and standard equipment. Comparing equivalent trims reveals markedly equal levels of kit, leaving customers with the simple choice of choosing size small (Kona) or medium (Tucson).
Style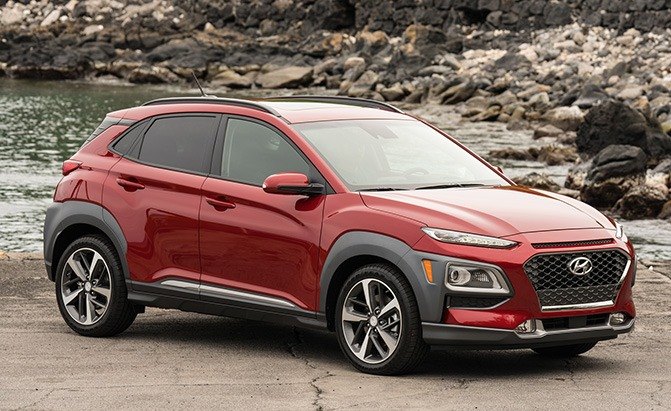 Kona: Drawing from the current design language of applying LED mascara for use as daytime running lights above a car's actual headlamps, the Kona – with its narrowed-eye look, appears as if it is extremely suspicious about something. It definitely knows what you did last summer. Around back, a pair of reflectors reside in deep recesses of the bumper's outer edges, looking for all the world like a squirrel with its jowls full of acorns.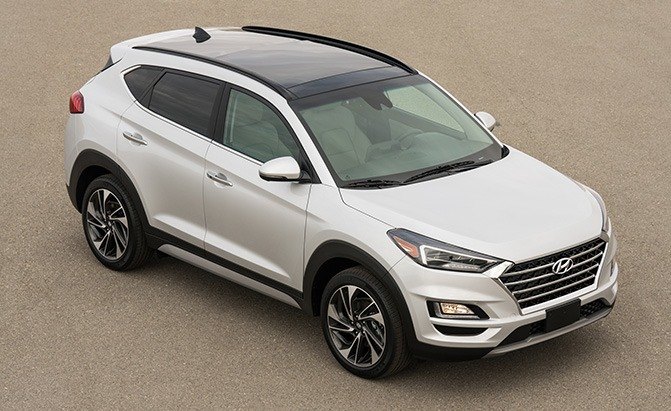 Tucson: This high-riding car is styled more traditionally than the Kona, with a pair of headlights featuring Hyundai's boomerang light signature bookending a corporate chrome grille. As with most crossovers in this segment, Tucson's wheel arches are painted black to provide the appearance of extra height. Upscale versions actually have some snazzy and complex-looking wheels, a styling touch not generally found in the compact-SUV set.
Bottom Line: Styling is always a subjective measure but the Tucson certainly looks more conventional than Kona. Its appearance is much more in line with the rest of Hyundai's SUV lineup, though the smaller of these two machines does have a certain quirky appeal. Another rig appearing next year, called the Venue, will take cues from the Kona as well.
Pricing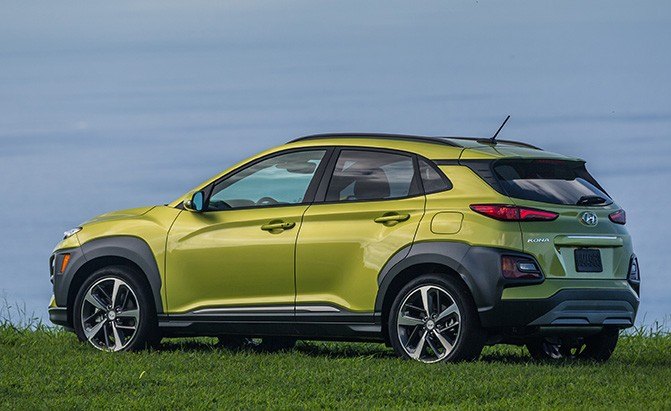 Kona: Value has always been a strong Hyundai play and that tradition continues for 2020. A base model front-wheel drive non-turbo Kona, called the SE, starts at just $20,100. Adding all-wheel drive tacks just $1,400 onto that sum. The cheapest example with a tasty 1.6-liter turbo mill under the bonnet costs $25,900 with power going to all four wheels again being a $1,400 proposition. A check all the boxes example taps out just shy of 30 grand.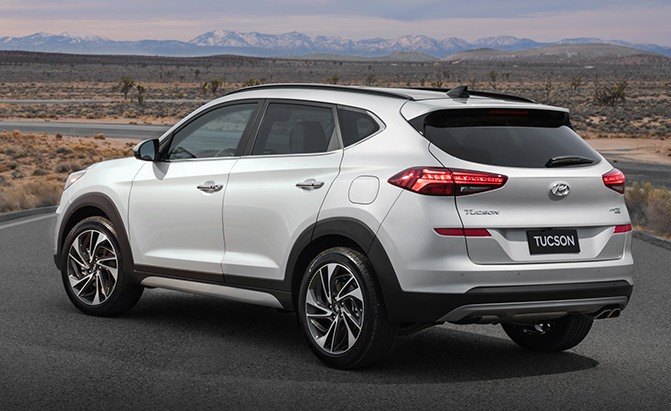 Tucson: Suggested retail of a front-drive Tucson SE is $23,500. This price undercuts a few of its competitors while still including a healthy amount of kit. Like its little brother, all-wheel drive is a $1,400 option. The more powerful 2.4-liter version will set you back at least $25,750 while the most spendy version of the Tucson, an all-wheel drive 2.4L Ultimate, costs $33,100.
Bottom Line: There's no getting around the simple fact that the Tucson costs more. Car companies engineer a hierarchy of models for a reason, after all. However, one should weigh the size of car they're getting to the size of the note they're signing. With the prices of these two machines in with a shout of each other, it's worth taking the time to cross-shop and take careful notes (which is why you're reading this, right?).
Hyundai Kona vs Tucson: The Verdict
Both these machines are of similar ilk, right down to the equipment levels on their array of trims. Their main differences are size and style. The former is easy on which to advise – if your family numbers more than two (in other words, if you have kids), it would be a very good idea to sample the Tucson and its larger passenger compartment. If a funky city-sized runabout is your goal, then the Kona will fit that particular bill quite handsomely.
Published September 26th, 2019 2:19 PM
Popular Articles
Latest Comparisons
Car Buying Tools