3.8K Views
Jeep Grand Cherokee Vs Toyota 4Runner: Which SUV is Right for You?
May 4th, 2022 6:10 PM
Share
We're committed to finding, researching, and recommending the best products. We earn commissions from purchases you make using links in our articles. Learn more here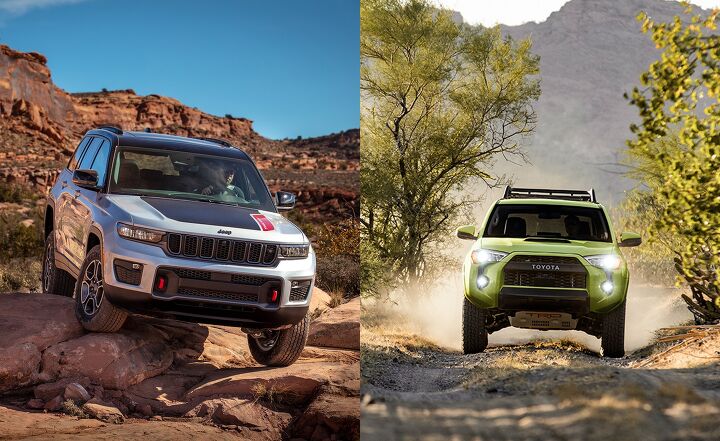 If you're looking for an extra dash of off-road ability in your mid-sized SUV, chances are you're looking at these two.
The Jeep Grand Cherokee and Toyota 4Runner are both heartier than the typical modern crossover when the road runs out. The Grand Cherokee was one of the first of its kind, blending the better on-road dynamics of a unibody construction with the brand's reputation for off-roading.
Get a Quote on a New Jeep Grand Cherokee or Toyota 4Runner
Meanwhile the 4Runner has stayed firmly in SUV territory, a body-on-frame veteran that still appeals to those who want a simpler, truck-like experience.
Which of these two is better suited to your particular set of needs, though? Let's find out.
Cabin Space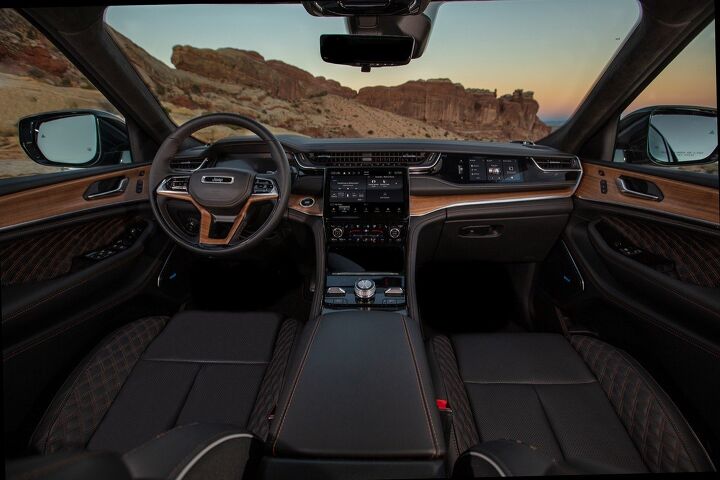 Grand Cherokee: The latest Grand Cherokee features a clean interior style with an emphasis on its width. A wide center console houses a high-res infotainment screen and a selection of knurled-aluminum rotary knobs for easy use. Fancier trims pile on the open-pore wood and diamond-stitched leather—not to mention entertainment screens for the front passenger and the second row—but even the basic Laredo is a swell place to be.
The latest Grand Cherokee grew a few inches in most directions, making for a roomy interior. Front headroom measures 39.9 inches (1,013 millimeters), with a half-inch reduction for rear-seat occupants. Front legroom is a sizeable 41.3 inches (1,049 mm), and 38.2 inches (970 mm) in the rear.
Looking for a third row? Jeep debuted the Grand Cherokee L in 2021, which stretches its best-seller for seating up to seven.
SEE ALSO:
2021 Jeep Grand Cherokee L Review: Big Red Sleigh Ride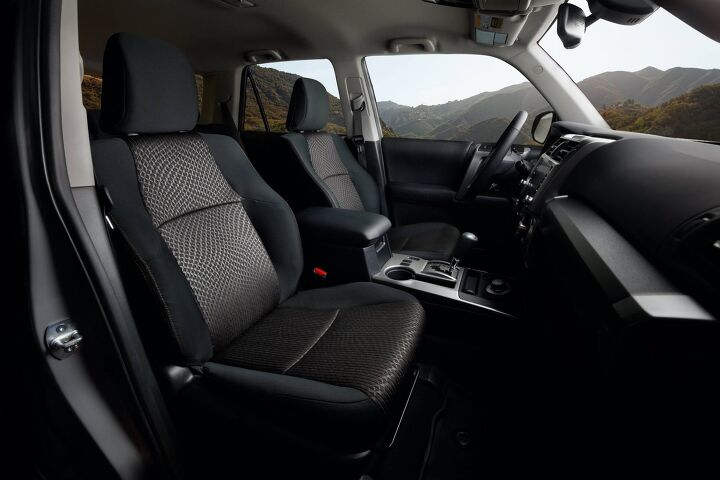 4Runner: The 4Runner interior looks its age, a cliff face of a center console and rectilinear door panel designs making it distinctly truck-like. There's a lot of not-entirely-convincing chrome-like trim all around, too.
The 4Runner is shorter overall and gives up over half a foot in wheelbase. Despite that, front-seat riders won't notice much of a difference between it and the Grand Cherokee. Without a moonroof, there's 39.3 inches (998 mm) of headroom, and 41.7 inches (1,059 mm) of legroom. Opt for the glass and front headroom shrinks to 38.6 inches (980 mm), the same measurement for the second row, regardless of spec. It's second-row legroom that takes a big cut, measuring just 32.9 inches (836 mm).
In America, the SR5, SR5 Premium, and Limited models also include third-row seating (only the Limited does in Canada). You'll find just 34.3 inches (871 mm) of headroom in the way-back, and 29.3 inches (744 mm) of legroom.
SEE ALSO:
Subaru Outback vs Subaru Forester Comparison
Bottom Line: Want simple and rugged? The 4Runner is that. It's also old. Those looking for luxury will gravitate towards the Jeep; even the fanciest 4Runner feels like wearing a tux to a breakfast at Denny's.
Cargo Space and Towing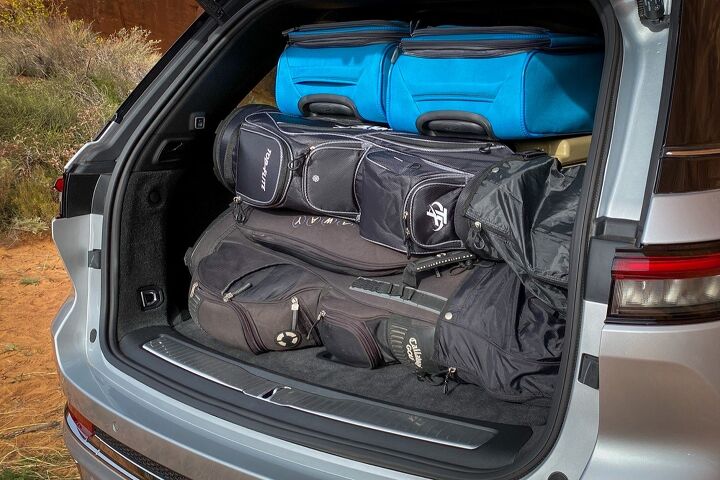 Grand Cherokee: Jeep quotes 37.7 cubic feet (1,068 liters) of storage space behind the Grand Cherokee's second row. Fold the seats flat and that figure expands to 70.8 cubes (2,005 L).
The latest Grand Cherokee will tow up to 6,000 pounds (2,722 kilograms) when properly equipped, in plug-in hybrid format. The V6 model gets a slight bump to 6,200 lb (2,812 kg); V8 GCs will tow up to 7,200 lb (3,266 kg).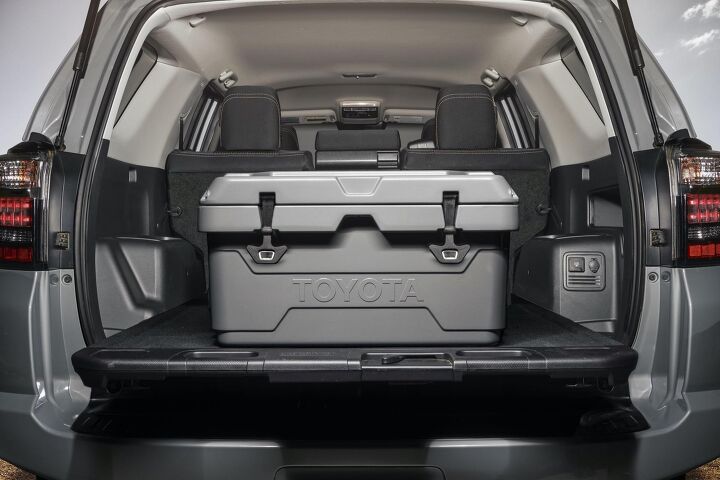 4Runner: Two-row 4Runners boast a healthy 47.2 cu-ft (1,337 L) stuff-swallowing space out back. Run them in two-seat form and you're looking at a massive 89.7 cubes (2,540 L). Models with the slide-out table lose a little less than a cubic foot for both measurements. Opt for the three-row model and those numbers don't change, but running with all seats up means a sports car-like 9.0 cubic feet (255 L).
Every 4Runner model is rated to the same 5,000-lb (2,268-kg) towing capacity.
Bottom Line: This category is simple. Planning on sticking more things in your SUV? The 4Runner has more space. Towing more behind it? Grand Cherokee.
SEE ALSO:
2020 Toyota 4Runner TRD Pro Review
Technology and Features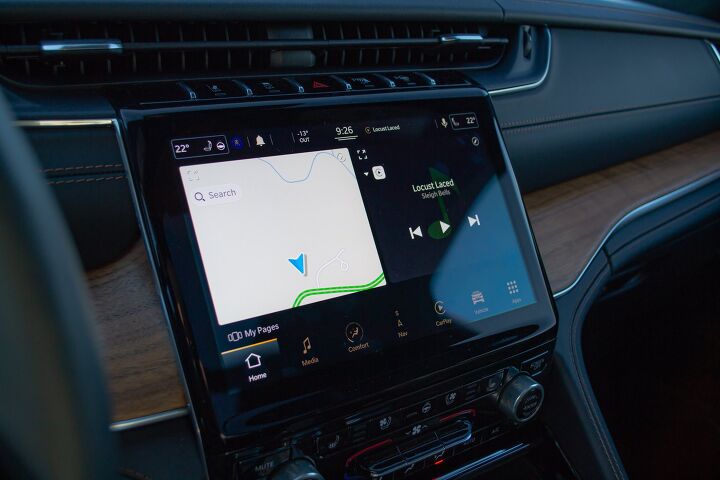 Grand Cherokee: Jeep's excellent Uconnect 5 infotainment system is standard in the Grand Cherokee. By default it operates on an 8.4-inch screen, but a larger 10.1-inch unit is available. Both utilize wireless Apple CarPlay and Android Auto, plus Alexa functionality. A 10.25-inch digital instrument cluster is standard as well, as are six USB ports.
Moving up to higher trims unlocks goodies like a 19-speaker McIntosh sound system, head-up display, wireless charging pad, night vision, rear-seat entertainment screens, and even a front-passenger screen. A digital rearview mirror is also optional. An air suspension also helps keep the Jeep's ride smooth, in addition to providing the Trailhawk with additional ride height.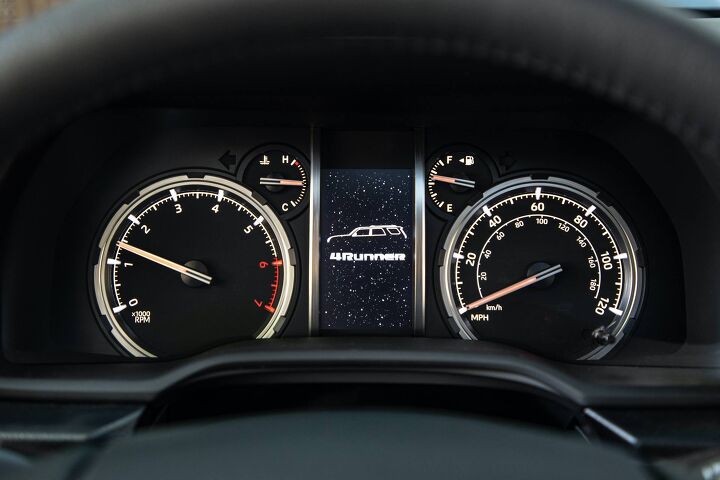 4Runner: The older 4Runner can't keep pace with the Jeep here. Its 8.0-inch touchscreen runs Toyota's ancient Entune system, a far cry from the current (and excellent) user interface found in the Tundra. Higher trims bring in the 15-speaker JBL sound system, multi-terrain monitor camera system, and 360-degree camera. An auto-dimming mirror is available, too.
There is one thing the 4Runner gets that the Jeep doesn't: the Trail edition comes standard with a cooler. So, you know, there's that.
SEE ALSO:
2020 Honda CR-V Hybrid First Drive Review
Bottom Line: It isn't even close; the 4Runner is a stone wheel, the Grand Cherokee is a laptop. That said, if you're the type that doesn't want a ton of tech, there's a lot of appeal in the Toyota's simple operation.
Powertrains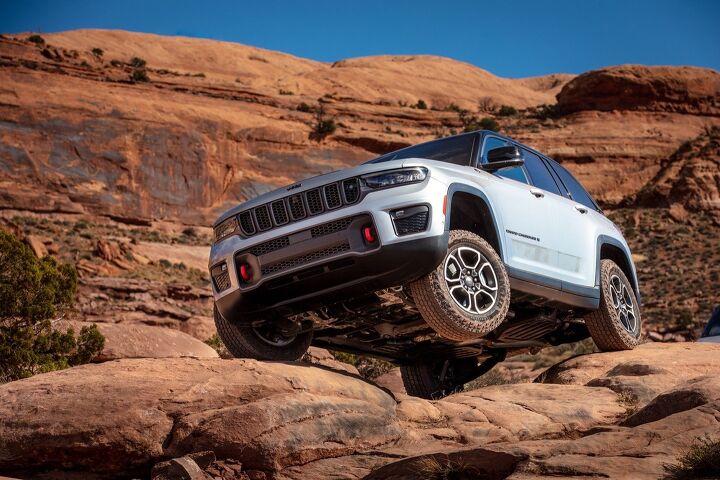 Grand Cherokee: The standard engine in the Grand Cherokee is the tried-and-true Pentastar 3.6-liter V6. It produces 293 horsepower and 257 pound-feet of torque, all funnelled through a standard eight-speed automatic transmission. Jeep offers no less than three 4WD systems, depending on trim. America also has the option of a lighter, more fuel-efficient rear-drive model; it's all 4×4 all the time in Canada.
From there buyers have two options. The venerable 5.7-liter V8 rumbles on for now—at least until the Hurricane likely replaces it—producing 357 horsepower and a stout 390 lb-ft. It features cylinder deactivation tech to run on just half capacity when full power isn't necessary.
The most torque comes from the smallest engine, however. Pick the plug-in hybrid Grand Cherokee 4xe and you'll find a 2.0-liter turbocharged four-cylinder paired to two electric motors. Total outputs are 375 hp and 470 lb-ft of torque.
Both the V8 and 4xe lock buyers into 4WD.
SEE ALSO:
2020 Ford Escape Hybrid vs 2020 Toyota RAV4 Hybrid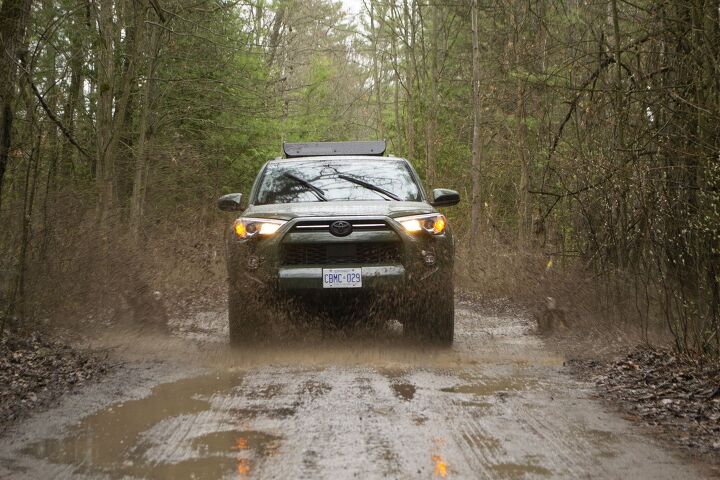 4Runner: Every 4Runner comes with the same V6 engine, a big 4.0-liter pumping out 270 hp and 278 lb-ft. It's the very last new vehicle you can buy with a five-speed automatic transmission, too—the only pairing for the V6. Most models stick to rear-wheel drive by default, with the option of part- or full-time 4WD based on trim.
Bottom Line: Jeep Grand Cherokee offers buyers more options, simple as that.
Fuel Economy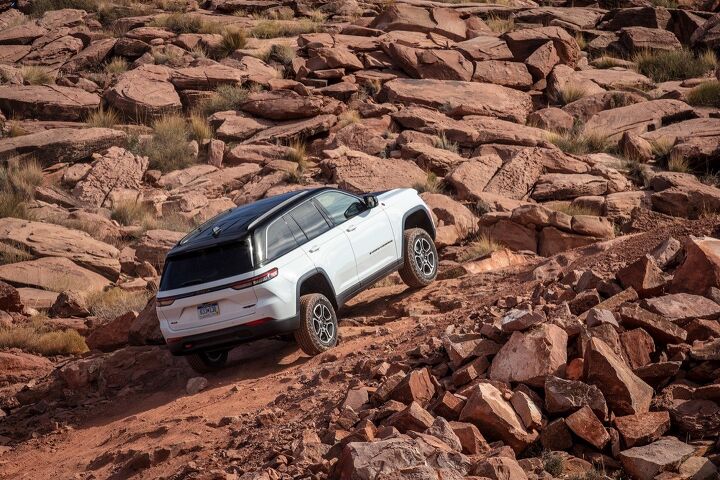 Grand Cherokee: Jeep has pulled off a small miracle, with both the two- and four-wheel drive V6 Grand Cherokees posting the same 19 mpg city, 26 mpg highway, and 22 mpg combined figures with the EPA. Opting for the V8 drops the numbers to 14, 22, and 17 mpg, respectively. Oh, and it requires the good stuff, instead of the regular 87-octane for the V6.
The Grand Cherokee 4xe naturally does better. It has a quoted all-electric range of 25 miles (40 km), and a 56 mpg-equivalent rating. Even in pure-gas form it'll average 23 mpg. Note that its smaller tank gives it a cruising range of 470 miles (756 km), versus 506 (814 km) for the V6.
Canadian figures are 12.3, 9.2, and 10.9 L/100 km, respectively, for the V6 model (4WD standard), and 16.7/10.9/14.1 L/100 km for the V8. The Grand Cherokee 4xe scores a 4.2 Le/100 km rating, with its gas-only scores sitting at 10.3, 9.7, and 10.0 L/100 km.
SEE ALSO:
Kia Telluride vs Subaru Ascent Comparison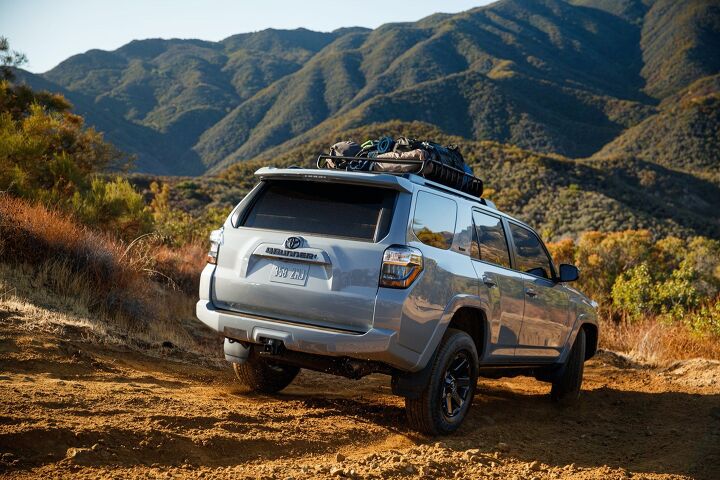 4Runner: Toyota one-ups Jeep by ensuring every single one of the 4Runner trims post the same fuel economy rating. Two-wheel drive, part-time four-wheel drive, full-time—it's all the same. Great! Well, except that we're talking 16 mpg city, and 19 mpg highway, for an average of 17 mpg. So tied with the V8 Jeep. Oof.
In Canada, the part-time 4WD numbers are 14.8, 12.5, and 13.8 L/100 km, respectively. The shift to full-time bumps the first two figures to 14.9 and 12.6, but that's not enough to move the average.
Bottom Line: That'll be another win for the Jeep, then.
SEE ALSO:
Toyota RAV4 vs Honda CR-V: Which Crossover Is Right For You?
Safety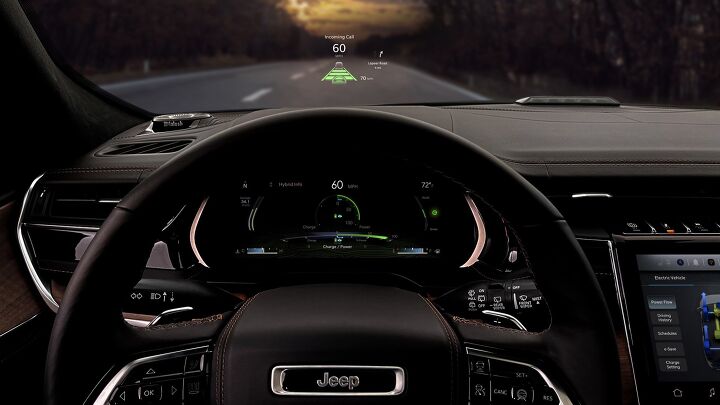 Grand Cherokee: Jeep includes a robust suite of driving assists on all Grand Cherokees. These include automated emergency braking (with pedestrian and cyclist detection), rear cross-traffic alert, auto high beams, lane departure warning, lane keep assist, blind spot monitoring, trailer sway control, rear parking sensors, and adaptive cruise control with stop-and-go. Certain trims also offer up a 360-degree camera, parking assist, drowsy driver alert, traffic sign recognition, front parking sensors, intersection collision avoidance, and even night vision.
At the time of writing, the National Highway Traffic Safety Administration (NHTSA) had yet to rate the current-gen Grand Cherokee or Grand Cherokee L. The outgoing model maintained a five-star rating, however, only scoring four stars for front driver side and rollover resistance. Similarly, there is no Insurance Institue for Highway Safety (IIHS) rating for the latest Grand Cherokee models; the outgoing WK-chassis model did not earn a Top Safety Pick designation.
4Runner: Toyota includes automated emergency braking, auto high beams, lane departure alert, and dynamic cruise control in every 4Runner. Blind-spot monitoring, front and rear parking sensors, and a 360-degree camera are available on higher trims. In addition, the TRD Pro now offers multiple camera views while off-roading.
The IIHS rates the Escape a Top Safety Pick when equipped with the optional LED headlights. It matches the Bronco Sport's NHTSA ratings exactly.
Bottom Line: Toyota has worked to modernize the 4Runner's standard safety kit. It still doesn't match the newer Grand Cherokee's suite, however, and the gap only widens as you move up the trims.
Styling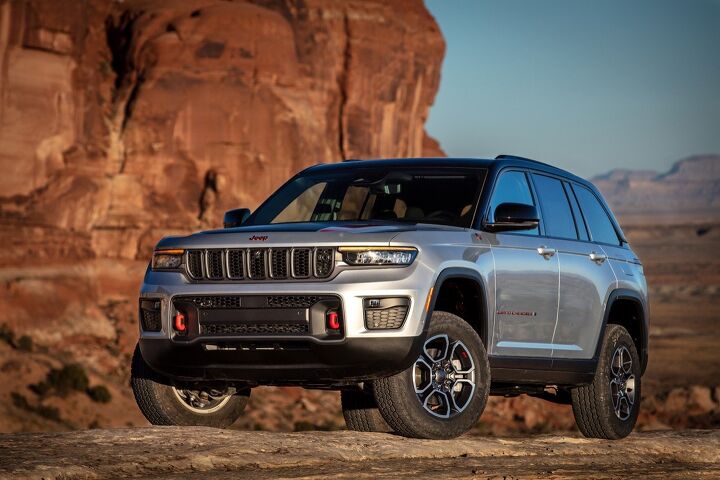 Grand Cherokee: Jeep hasn't messed with success for the latest generation Grand Cherokee. It's a little more reserved now, with a greater emphasis on width, clearest in the head- and taillight shapes. That seven-slot grille makes it easy to identify from a hundred yards. The adventure-ready Trailhawk looks the part with big sidewalls and matte hood graphics; on the other hand, the swanky Summit Reserve looks every inch the domestic alternative to luxury SUVs like the BMW X5 or Genesis GV80.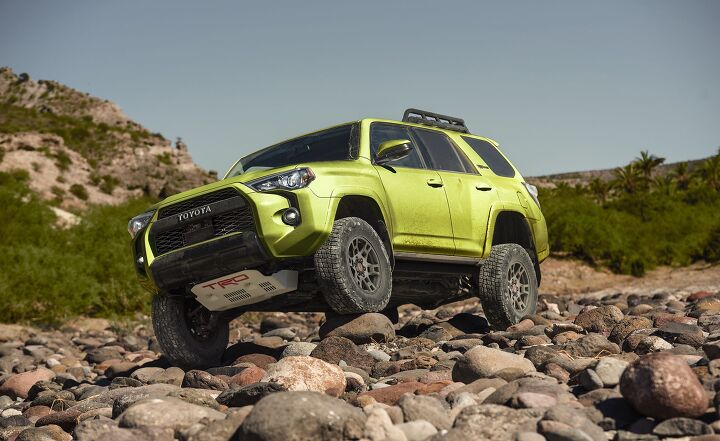 4Runner: The 4Runner has been running around with the same look since 2014, giving potential buyers plenty of time to make up their minds on its aesthetic appeal. Before that, this fifth-generation model debuted in 2009, with simpler, squarer headlights. Like the Jeep, it can be dressed up for road use, complete with 20-inch alloys on models like the TRD Sport and Limited. The 4Runner TRD Pro is the off-roading halo model, with a suspension lift and chunky, 17-inch all-terrain tires.
SEE ALSO:
Subaru Forester vs Nissan Rogue: Which Compact Crossover is Right for You?
Bottom Line: Your tastes will vary, as ever. The Jeep can be sophisticated yet not shouty, and there's a certain appeal to the classic SUV shape of the Toyota.
Pricing and Value
Grand Cherokee: Getting into a base-model Grand Cherokee Laredo will run you $40,120. From there, the trim walk consists of the Altitude ($45,225), Limited ($46,845), Overland ($56,430), Summit ($60,490), and Summit Reserve ($66,790). Adding 4WD is an extra $2,000, except on the Summit Reserve, where it's standard. Moving to the three-row Grand Cherokee L is also a two-grand upcharge.
The Trailhawk is a unique proposition, slotting right into the middle at $56,425. It's available only as a two-row, and only with full-time 4×4. The V8 becomes available here and up, where it'll set buyers back $3,795.
The Grand Cherokee 4xe slots in at $59,890, before covering the Trailhawk ($64,675) through Summit Reserve ($76,490) trims.
In Canada, the Grand Cherokee comes standard with 4WD, partially explaining the $54,740 CAD sticker for the Laredo. The walk is the same here, including Altitude ($58,740 CAD), Limited ($62,240 CAD), Trailhawk ($66,840 CAD), Overland ($71,240 CAD), Summit ($76,740 CAD), and Summit Reserve ($81,535 CAD). Grand Cherokee 4xe pricing ranges from $77,390 CAD to $91,490 CAD.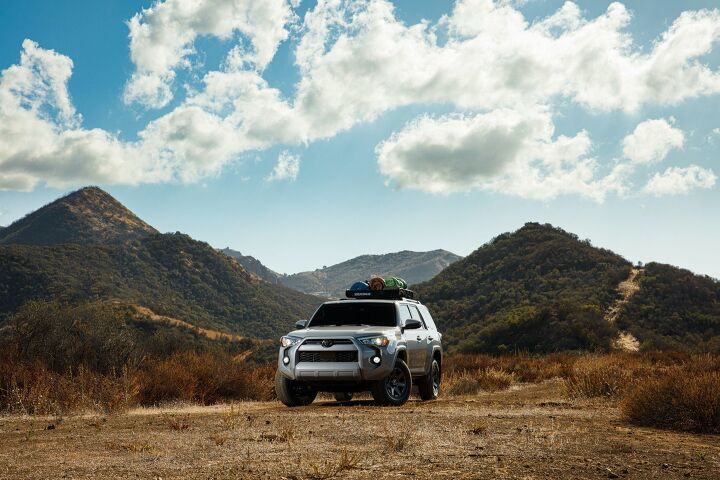 4Runner: The basic 4Runner SR5 undercuts its equivalent Jeep Grand Cherokee, if only slightly, coming in at $38,820 in rear-drive form. A small amount takes folks up to the special-edition Trail ($41,135), followed by the road-oriented TRD Sport ($41,665), SR5 Premium ($42,230), and Limited ($48,405). 4WD is optional on all of these trims, requiring an additional $1,875 outlay.
Full-time 4WD is standard on the TRD Off-Road ($42,650), TRD Off-Road Premium ($45,595), and TRD Pro ($53,635).
Canada's lineup is vastly different. In the Great White North, the Trail anchors the lineup, ringing in at $49,440 CAD. The SR5 ($52,460 CAD) is the next step up, after which the remaining available trims are actually option packages. Prepare to spend $55,670 CAD for a TRD Sport, for example, with the TRD Off Road another $1,190 CAD above that. The Limited is the only seven-seat option in Canada, at $59,820 CAD. Meanwhile, the TRD Pro sits atop the lineup, priced from $67,440 CAD.
Bottom Line: The Toyota is the more affordable choice, not just overall, but like-for-like, such as TRD Pro versus Trailhawk. That's because it's a design that debuted during Obama's first term, and it isn't as feature-rich as the Jeep. The Jeep's spendy top trims represent its ascension into the luxury realm.
In Conclusion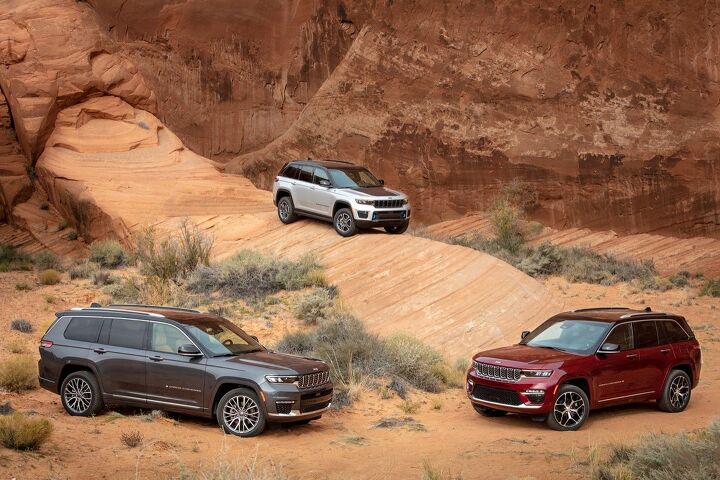 With a wider variety of options to please potential buyers, the Jeep Grand Cherokee is our on-paper prince here. We love its classlessness, as at home at a ritzy gala as it would be parked in front of a barn.
That's not to say the 4Runner is without its charms. Toyota takes the "if it ain't broke" maxim seriously here, and the rising yearly sales figures prove it isn't wrong to do so. If you want a simple, no-fuss SUV with a more obvious truck-like bent, the 4Runner is pretty darned unique.
Consider your needs and likely use cases, and drive them both before making your decision.
Become an AutoGuide insider. Get the latest from the automotive world first by subscribing to our newsletter here.

Kyle Patrick
Kyle began his automotive obsession before he even started school, courtesy of a remote control Porsche and various LEGO sets. He later studied advertising and graphic design at Humber College, which led him to writing about cars (both real and digital). He is now a proud member of the Automobile Journalists Association of Canada (AJAC), where he was the Journalist of the Year runner-up for 2021.
More by Kyle Patrick
Published May 2nd, 2022 12:20 PM
Popular Articles
Latest Comparisons
Car Buying Tools