110 Views
Mazda MX-30 Vs Mini Cooper S E Comparison: Big Style, Small Range
April 13th, 2022 1:23 PM
Share
Let's take a trip back to 1999 for a moment.
GM reveals an upgraded version of its EV1 using NiMH batteries, which can now travel 105 miles (169 kilometers) on a single charge.
It's not the first electric vehicle to exist by a long shot, but EV tech has come a long way in the 22 years since.
Get a Quote on a New Mazda MX-30 or MINI Cooper S E
Fast forward to 2021 and we have Lucid making cars that'll go a claimed 520 miles (837 km) in one shot. At the other end of the range spectrum though, there are cars like the Mazda MX-30 and Mini Cooper SE with a driving range in the mid 100s. The usual marketing spiel claims those of us that live in big, congested cities don't need a long range anyway, since all we're doing is going to work and picking up groceries from up the street. In that scenario, smaller batteries attached to smaller price tags make a ton of sense for the urban dweller, so these city runabouts should be plenty useful.
Editor Kyle Patrick and I plug into the charging network to take these two competitors on a drive to see if short-range EVs actually make any sense in the real world.
Interior and Cargo Space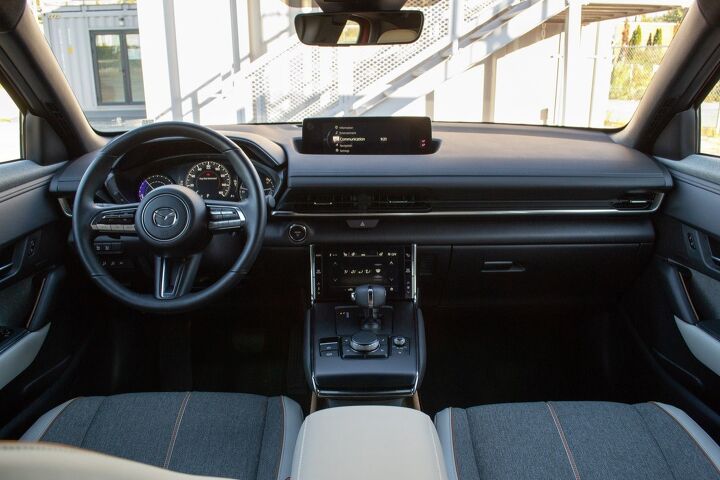 Mazda MX-30: What Mazda has done with the interior is its wacky waving inflatable arm-flailing tube guy; the unique selling proposition. Patches of cork mixes with faux-leather and recycled textiles to make sitting inside the MX-30 similar to dropping into a quaint Danish living room. We kind of wish there was a better place to put our phones than the area under the floating console, so we wouldn't have to reach into the abyss to retrieve them. The chunky shifter design can be easily overlooked, but is easily one of the most ergonomic ones currently on the market.
With all four doors open, the resulting entry space looks cavernous. It isn't until you shuffle and twist your way into the back seats do you find out it's not exactly somewhere you'd want to spend a lot of time in. There are 41.6 inches (1,056 millimeters) of legroom and 38.5 inches (978 mm) of headroom in the front, with 30.1 inches (765 mm) of legroom and 37.0 inches (940 mm) of headroom in the back. The back row also has tiny port windows that don't roll down, creating a slightly claustrophobic experience should you find yourself back there. Rear cargo space is 14.3 cubic-feet (405 liters) with the rear seats up, and 36.3 cubic-feet (1,028 L) with them folded down.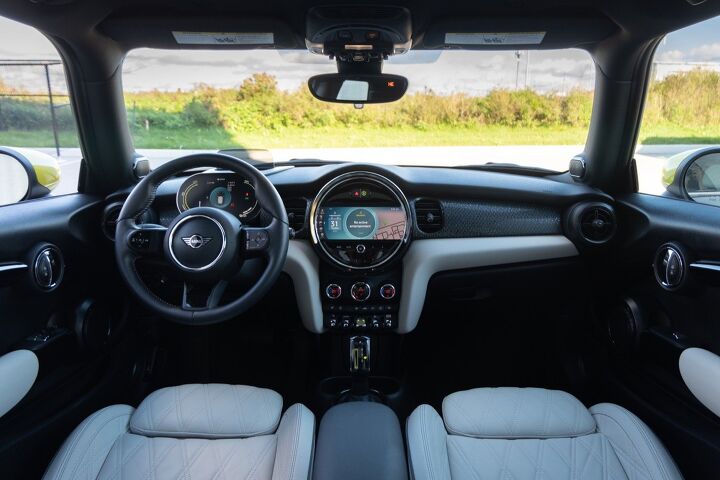 Mini Cooper SE: The Mini doesn't take itself too seriously, and that's immediately apparent from the moment you take a seat. There are circles and arcs everywhere you look, from the neat floating instrument cluster attached to the steering column to the big circular infotainment screen in the center. Material quality is a step behind the Mazda, however, particularly noticeable on the top of the dashboard. An LED ring around the center screen can be configured to display different colors and patterns depending on driving modes or even provide battery status and navigation clues. The quilted leatherette seats look and feel premium, and the glass greenhouse grants excellent visibility all around.
Pop open the rear hatch and you'll have room for a Playstation or two with the rear seats up. That 8.7 cubic-feet (246 L) of space jumps up to a healthy 34.0 cubes (962 L) when you sacrifice the rear seating area. Assuming those in the front are of an average height, there is enough space to seat more average passengers in the back. Front passengers get 41.4 inches (1,052 mm) of legroom and 40.3 inches (1,024 mm) of headroom, and in the back you'll get 30.8 inches (782 mm) of legroom and 36.9 inches (937 mm) of headroom. Chances are you'll want to save the back row for pets, children, or things, but there is more space than one would expect.
Bottom Line: We applaud both companies for using non-animal materials to dress up the interior. Mazda dominates the market in interior design, and with the MX-30 the company has brought in some uncommon elements to create a comfortable, modern, if not slightly sterile environment. The Mini's textures on the other hand can feel a bit dated, but the cheery details are playful and very revealing of the SE's character as a car. Either car suffers from a tight back row, but despite the MX-30's larger size it doesn't exactly offer much more usable space on the inside.
Technology and Features
Mazda MX-30: The MX-30 uses a dual screen setup in the cabin: a 7.0-inch screen on the dash for infotainment, and another down below for climate controls. The lack of a touchscreen in the infotainment system makes for a frustrating user experience, especially when the UI of Apple CarPlay or Android Auto is usually more than what a single rotary knob and button can easily handle. It almost defeats the purpose of having on-screen controls for things like music and navigation so you don't have to divert your gaze away from the road by staring down at a phone.
The lower touchscreen is entirely dedicated to climate controls and comfort functions. Unsurprisingly it is very easy to use for changing the single zone climate or turning on the seat heaters, so not having a touchscreen for the media functions really feels odd and something we'd like to see improved upon.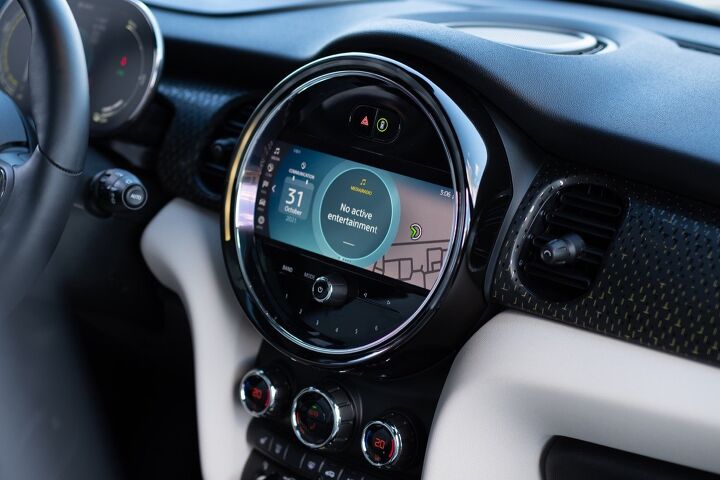 Mini Cooper SE: The SE comes standard with a 6.5-inch center infotainment screen which has navigation and Apple CarPlay/Android Auto enabled. You can opt for a larger 8.8-inch screen as an option with a Harmon Kardon sound system. A Mini Connect app allows users to preheat or cool the car from their phone, and is standard with every SE. The main frustration we came across with the iDrive system in the Mini is with the navigation knob operating in reverse from standard—a seemingly minor issue but one that felt very unintuitive every time we needed to move through the system menu.
The higher trim also includes a head-up display. Heated seats and dual zone climate control are standard, plus a heated steering wheel. Kyle notes the wireless charger housed in the tiny armrest is perhaps not the best design, and can even lead to your phone accidentally dialing emergency numbers using the spring-loaded clips.
Bottom Line: Both cars pack a decent arsenal of gear from the get-go. The Mini's infotainment system is more friendly and easier to navigate through when compared to the MX-30's lack of a touchscreen. Both cars benefit from heated steering wheels, but the Mini lacks dual zone climate controls which seem so commonplace in the market today.
Powertrain, Driving Feel, and Fuel Economy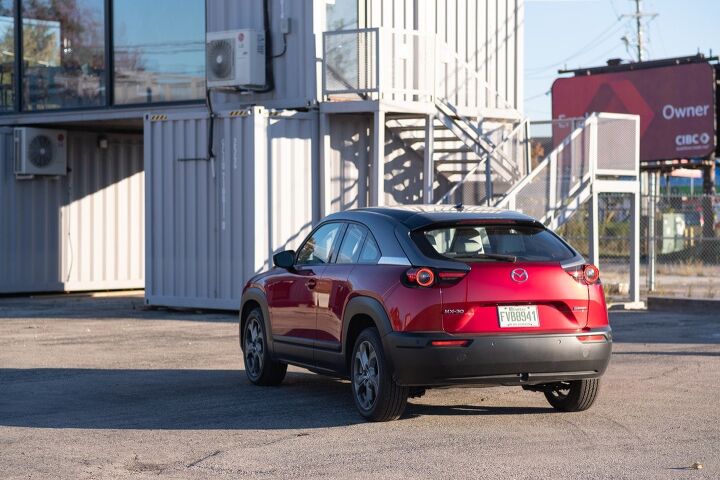 Mazda MX-30: Mazda explicitly made a point to engineer the MX-30 as a shallow-end of sorts for newcomers to electric vehicles. Power is sent through a single 80.9-kW motor attached to the front wheels, rated at an output of 107 kW (143 horsepower) and a maximum torque of 271 Nm (200 lb-ft). The instantaneous torque that is a hallmark of most EVs is subdued in favor of a more linear power delivery. While we don't necessarily see this being of too much benefit, it could help those with a heavy foot or slower reactions to mitigate potential accidents. Steering is light and can be used to zip about an urban landscape, but you'll never mistake it for its other "MX" sibling in the handling department. Over rougher roads, the MX-30 manages to smooth out bumps and dips well enough to make for a comfortable ride.
SEE ALSO:
How Driving the Current and Original Miatas Has Me Excited for Its Electrified Future
The shifter paddles won't put you in different gears, but will let you adjust the regenerative braking level. At maximum regen, it gets close to a one-pedal experience but not completely. Driving range is rated at 100 miles (161 km) using a 33.5 kWh battery. In our testing we were able to get close to this figure with mostly city driving. Put it out for a bit on the open highway and the range diminishes faster than we'd like. Fuel economy figures are rated at 98/85/92 MPGe (2.4/2.8/2.6 Le/100 km, in Canada) for city/highway/combined. Even if those figures hold up, we'd get a little nervous about doing too much if some length of highway travel were involved on our route.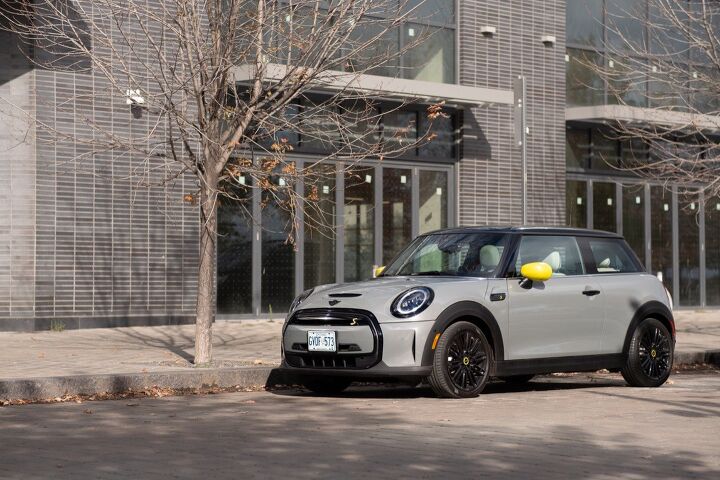 Mini Cooper SE: Even with a small battery, the Mini drives with pep and zeal. Fast-acting electric power (181 horsepower and 199 pound-feet of torque) combined with the low seating position makes you feel a bit of a budget racer. Put it into Sport mode with your foot to the ground, and you'll find yourself wrestling with a bit of torque steer as the motor works the pavement through the front tires. 60 mph (96 km/h) can be achieved in 6.9 seconds, topping out at a top speed of 93 mph (150 km/h). You can also put the SE into Mid (normal), Green (focusing on range), or Green+ modes, with the lattermost option turning off most creature comforts to maximize usable range. Steering is heavy and direct, but the ride is notably harsher over imperfect roads.
The Mini is rated at 115/100/108 MPGe (2.0/2.4/2.2 Le/100 km) for city/highway/combined, and a range of 110 miles (177 km). Two levels of regenerative braking can be selected, with the maximum level feeling asymptotic to one-pedal driving. In our testing we were able to eke out 31 kWh per 100 miles from the 32.6 kWh battery pack, with sporadic bursts of acceleration. Even with a similar battery size and range as the Mazda, we felt more confidence in the quote range in the Mini.
Bottom Line: Polarized on design concept but also driving feel, the Mazda and the Mini approach the low-range EV with vastly different ideas. The MX-30 drives as a no-nonsense commuter car, one that won't ever get you into trouble. The Mini on the other hand is as much fun as any other offering from the marque to whip around into a corner, but you sacrifice a bit on comfort. There is no right or wrong choice here, you just have to be realistic about what you need from a car that you'll presumably use everyday to go to work and run errands in.
Safety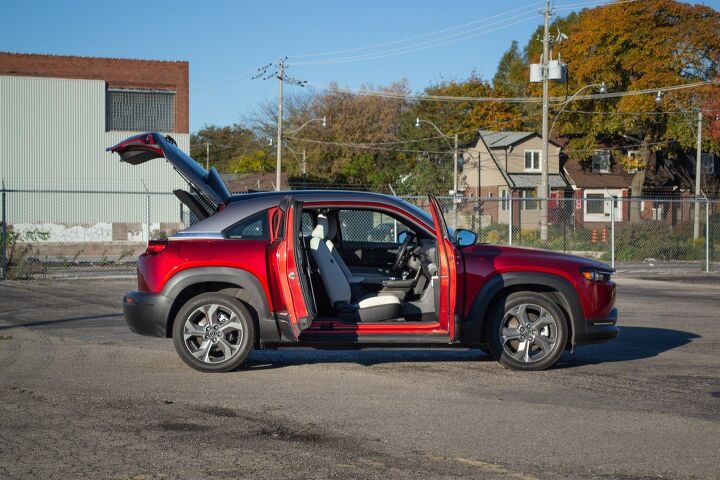 Mazda MX-30: The base MX-30 comes standard with the i-Activsense safety suite, which bundles features such as collision-mitigation and lane-keeping. Automated emergency braking, pedestrian detection, lane-departure warning, adaptive cruise control, blind spot monitoring, and rear cross-traffic alert is also included on the standard trim. Opt for the higher trim and you'll add Traffic Jam Assist, front cross-traffic alert, and a 360-degree camera. As of writing, testing of the MX-30 is pending by the National Highway Traffic Safety Administration (NHTSA) and has not yet been tested by the Insurance Institute for Highway Safety (IIHS).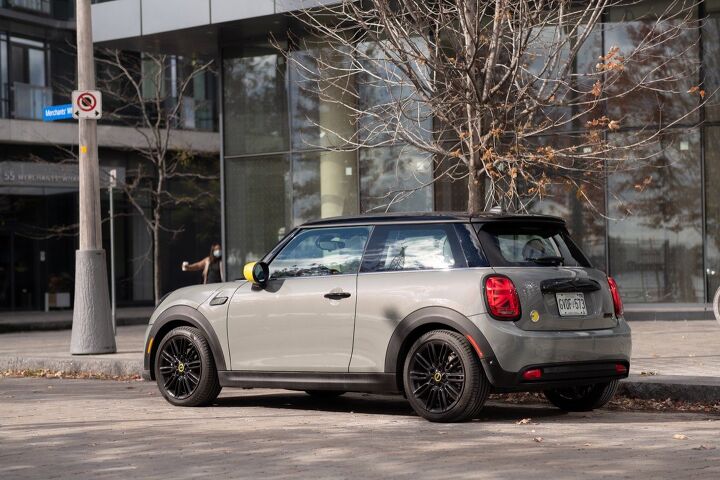 Mini Cooper SE: Almost all of the SE's safety features come as standard, save for the Parking Assistant and parking sensors. The suite includes forward-collision warning, pedestrian detection, and rain-sensing windshield wipers and headlights. The 2021 Mini Electric has yet to be crash-tested by the National Highway Traffic Safety Administration (NHTSA) or the Insurance Institute for Highway Safety (IIHS).
Bottom Line: Both cars come packed with passive and active safety features as standard. Whereas the Mini has exceptional visibility, the dealbreaker with the Mazda is its poor rear quarter visibility. As such, having additional cameras on the Mazda makes it a much more liveable car, but it also means shelling out more money and upgrading to a higher trim.
Styling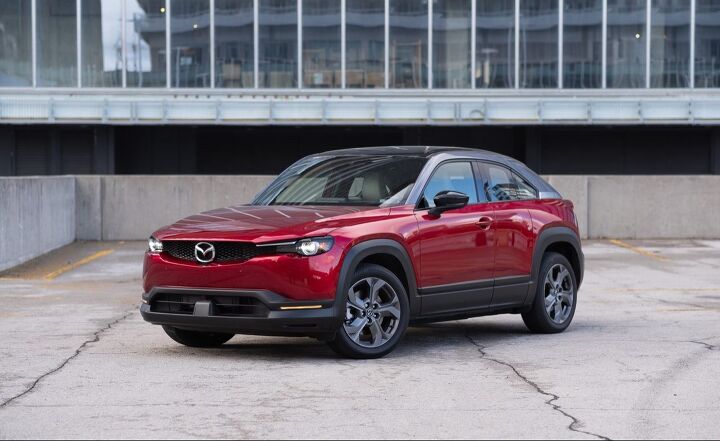 Mazda MX-30: Looking from afar, you might accidentally mistake the MX-30 for its CX-30 cousins that are commonplace on the road. Get up close enough to make out the details, and you'll find a thoroughly modern piece of design. The MX-30 ditches some of the curvatures of the CX-30 and opts for squared wheel arches and less-sculpted front and rear bumpers. The roof line cuts more abruptly at the back, accommodating the two rear-hinged doors for back row passengers. A contrasting roofline emblazoned by a metallic "MAZDA" badge seals the unique design brief to differentiate the MX-30 from any of the company's ICE offerings.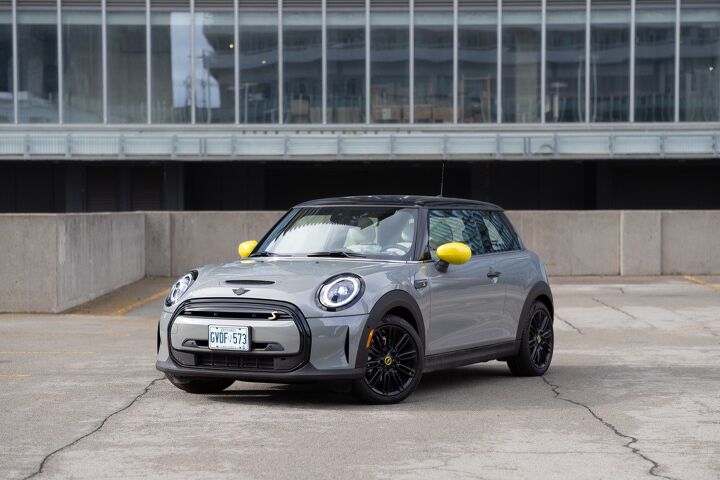 Mini Cooper SE: The Mini is well, a Mini. This is a design that has been with us for more than twenty years, in some form or another. If it weren't for the fluorescent side mirrors highlighting the two sides of the Cooper SE, you'd nary give it a second glance as it rolls past silently. The grille has smaller cutouts than usual, and you get an equally fluorescent "S" badge attached to it. If you are shopping for a Mini for the way it looks, there are no acceptable substitutes.
Bottom Line: Two cars that bank on style, but done so in very different ways. The MX-30 is an urban crossover that rides high and sculpted with crisp lines and angles. The Cooper SE sticks to its roots as a park-it-anywhere go-kart for the city formed around the classic Mini design. As subjective as styling is, we do have to give Mazda some points for making more of an effort in designing its EV, rather than making minor cosmetic changes on an existing design.
SEE ALSO:
Mazda CX-30 vs Mercedes-Benz GLA Comparison: Lofty Aspirations
Pricing and Value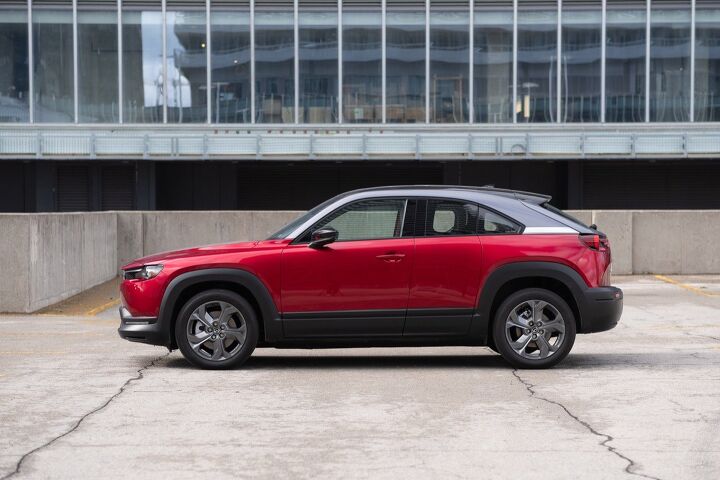 Mazda MX-30: The Mazda starts at $34,645 ($44,100 CAD), including destination charges. Our test vehicle comes in at $38,650 ($50,000 CAD). That'll get you a big moonroof, a Bose 12-speaker system, 360° View Monitor with front parking sensors, and more safety technology over the standard trim level. You'll also get access to fancier paint options on the premium trim level. It's a lot of money, that's for certain. What also doesn't help the Mazda in the value department is because of the poor rear quarter visibility, the upgraded camera and safety options are almost necessities.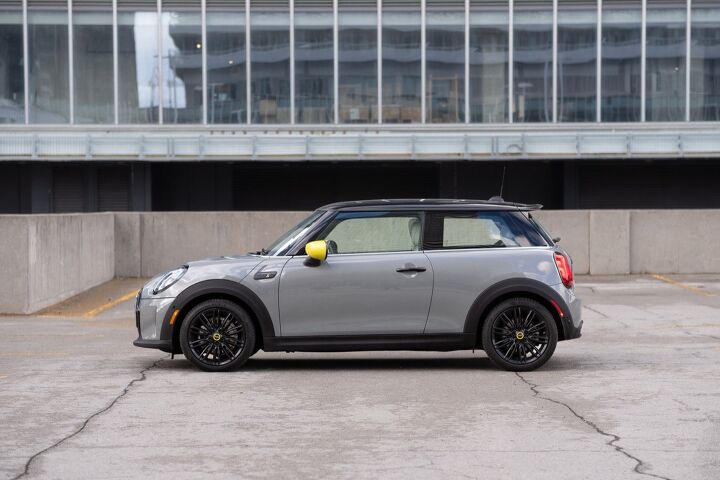 Mini Cooper SE: An electric Mini will start off at $30,750 ($40,990 CAD) including destination charges. (In Canada, that's $43,235 CAD in Ontario; BMW charges different destination charges in each province, so it's slightly less in Quebec, and slightly more in BC.) Add in some extras like our test car, and that jumps up to $38,100 ($51,585 CAD). For the extra bucks, you'll get the panoramic sunroof, a Harmon Kardon sound system, a heads up display, navigation, Park Assistant, and some upgraded cosmetic bits. These features (or more accurately, the added price) seem a little frivolous for what should be an affordable, fun EV, so the base model Mini EV makes more sense to us.
Bottom Line: It's hard to argue for the MX-30's pricing as an entry-level EV. It's more plush and design-conscious than any of the budget electrics on the market—like the Nissan Leaf—but those will give you much more range to run around in. The Mini is right there in the same ballpark once optioned in, but the Mini brand carries a certain cachet that Mazda hasn't quite attained yet. Think of it as an investment into Mazda's electric future, and the sticker won't be nearly as upsetting. We'd be happy with a base Mini Cooper SE though, especially with government incentives accounted for.
SEE ALSO:
Mini Cooper S vs Mazda 3 Turbo Comparison: Little(ish) Bundles of Joy
Verdict: Mazda MX-30 vs. Mini Cooper SE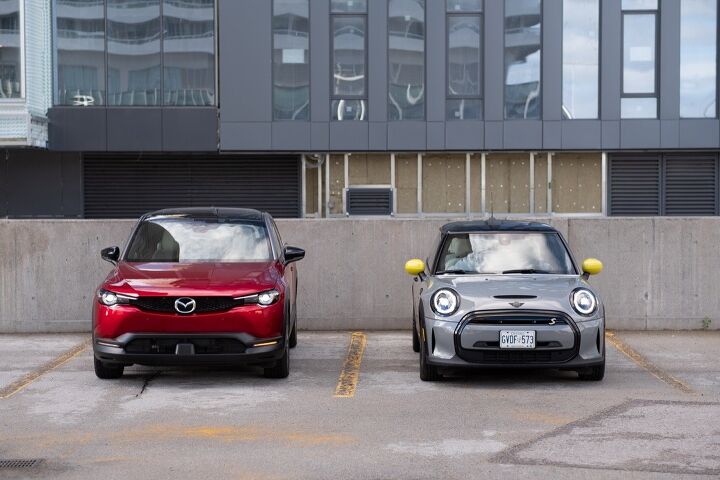 Harry: Short-range EVs seem like the end-all be-all solution for private urban transportation, in theory. Smaller batteries claim a smaller toll on the environment, especially when the average daily commute is much less than the range of all entry-level EVs on the market today. In practice however, that range can be an issue if you're unable to have the proper charging infrastructure to support it. Live in a condo and the board won't approve a charger installation? Tough luck, you'll have to pay to park in a parking garage with a charger, or find an IKEA to charge your car, plus figuring out the logistics of getting to and from the car as it's left to charge.
That said, should you be blessed with convenient access to a charger every night, my pick would likely be the Mini. The diminutive size makes navigating around the city a breeze, not to mention the chipper driving feel. If you're shopping for a car of this size, rear passenger space shouldn't be a top concern, and it'll carry just as much stuff as the Mazda. Combine the modern interior from the MX-30 with the Mini and it would make for the ultimate unicorn in this segment.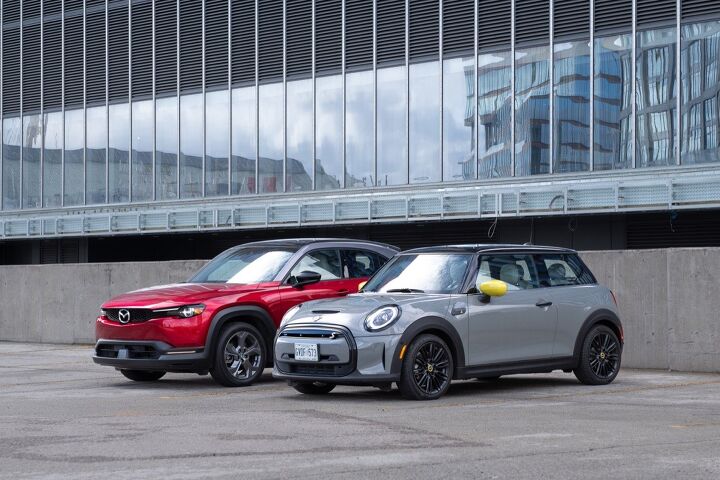 Kyle: Neither of these cars feel quite right for North America, even in a city as big as Toronto. We could do our daily errands, yes, but without chargers in our condos, it meant mapping trips in a way that I'm betting most ICE drivers won't want to bother with. And if you're doing well enough to own a home, you're probably looking at a different EV.
Beyond that though, which is better? Like I said in my review, I want to like the MX-30, so badly. It's a unique design outside, and features one of the most inviting-yet-unconventional interiors. Mazda's use of texture is a masterclass. But it's barely more practical than the two-door Mini, and its pace is glacial. Hopefully the range-extender model redeems it.
The Mini would be my pick. If both of these would be secondary cars—keep the ICE or PHEV as the main mode of transport, use the short-range EV for local errands only—then they can sacrifice some practicality for fun. Not that the Mini sacrifices much practicality over the Mazda, and oh boy is it more fun. In that way, it doesn't feel like a step back from an equivalent gas-only model, the way the MX-30 cuts out so much of what I enjoy in the CX-30.
Become an AutoGuide insider. Get the latest from the automotive world first by subscribing to our newsletter here.
Published November 29th, 2021 12:30 PM
Popular Articles
Latest Comparisons
Car Buying Tools