2.8K Views
Toyota Crown Vs Lexus ES: Which Luxury Sedan is Right for You?
January 11th, 2023 5:23 PM
Share
The Toyota Crown is a car unlike any others on the market. But there's a family rivalry brewing. For the best luxury bang for your buck, we're looking at the Toyota Crown vs Lexus ES.
The Toyota Crown is a wholly different proposition than the Avalon that came before. A sort of crossover between a sedan and an actual crossover, this vertically stretched sedan sits as the flagship of Toyota's car lineup. Available only as a hybrid (including a new, more powerful setup in the top Platinum trim), it certainly can't be accused of blending in.
Get a Quote on a New Toyota Crown or Lexus ES
For similar money, you can get a luxurious four-door in a more conventional shape. Lexus has been cranking out the ES for 30 years now, and the latest one continues what it does best: smooth, nonplussed transport in a spacious, comfortable cabin. There are similarities—not least of which is the shared chassis both cars ride on—but the ES differs from the young upstart in a few key ways.
Which one better suits your needs? We take a deep dive into both cars' specs to figure that one out.
Cabin Space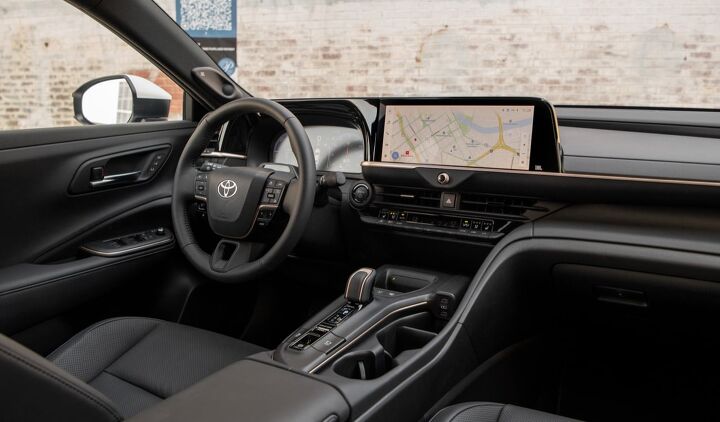 Toyota Crown: The Crown doesn't veer too far away from modern Toyota interior design trends. A simple dashboard design keeps plenty of physical buttons (yay) easily accessible in the center stack. A thin strip of brightwork runs right across and through part of the vents, mirroring the car's front-end design. A slimline shifter opens up space for a pair of generously-sized cupholders, not to mention an available slot-into-place wireless phone charger.
While it may have some unusual proportions, actual cabin space in the Crown isn't much greater than the ES. Headroom, for example, is less than an inch better at 38.2 inches (970 millimeters) up front; at 37.5 inches (953 mm) in the back, it's at best a hair's width more, or even slightly worse. Legroom is pinched on both pews too, though we're talking fractions here: 42.1 and 38.9 inches (1,069 and 988 mm). The Crown's wide-boy stance does give it the shoulder- and hip-room advantage, however.
SEE ALSO:
2023 Toyota Crown First Drive Review: The Emperor's New Groove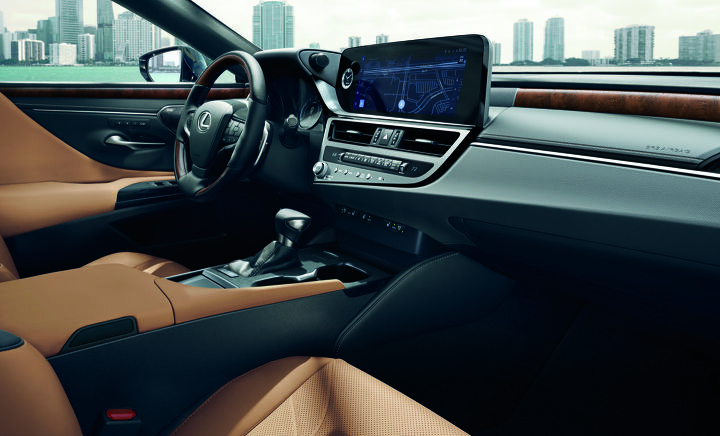 Lexus ES: The basic layout of the ES is remarkably similar to the Crown. A big ol' screen perches atop the dashboard, with pertinent physical controls below. Material quality is a step above, however, and there's a more modern, angular design to the dashboard. The most noticeable differences include available wood trim, a more traditional full-size shifter, thicker steering wheel, and the more dramatic cowl. The latter houses the Lexus brand's "horns," which handle driving mode and traction control selections.
With a variety of roof options—normal, moonroof, and panoramic glass—the ES offers up 37.5–37.6 inches (953–955 mm) of front headroom and 37.4–37.8 inches (950–960 mm) in the rear. There's room to stretch those legs too, with 42.4 and 39.2 inches (1,077 and 996 mm) of front and rear legroom, respectively.
SEE ALSO:
2022 Lexus ES Contains Touchscreen Under Subtle Facelift
Bottom Line: Despite very different proportions, these two offer similar levels of space inside. The Lexus' interior can be nicer, but it's also narrower.
Toyota Crown vs Lexus ES: Cargo Space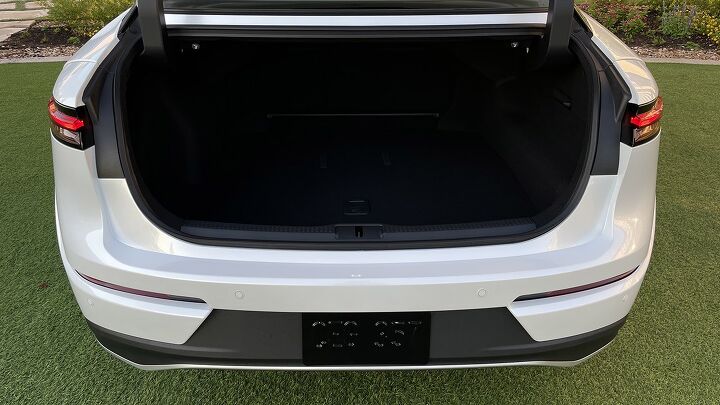 Toyota Crown: Toyota quotes the trunk space of the Crown at 15.2 cubic feet (430 liters). The opening is slightly small because of the short rear deck, but it's a pretty cavernous space once you get things in. A 60/40-split folding rear row is standard.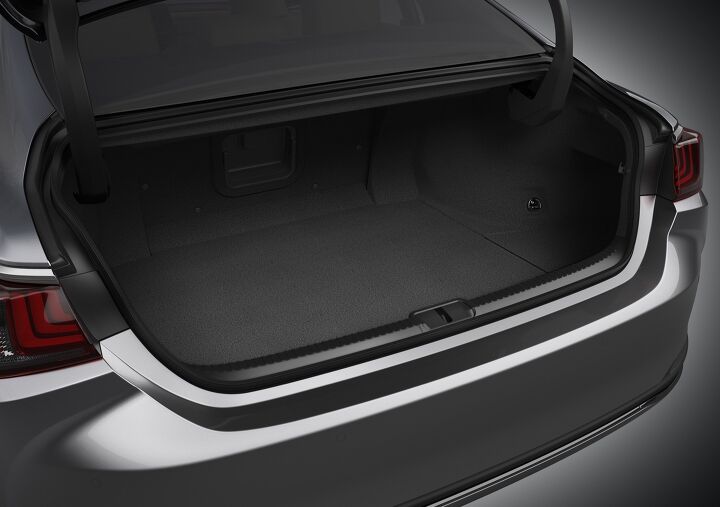 Lexus ES: A slightly deeper opening pairs with a slightly smaller space: 13.9 cubic feet (394 liters), to be exact. There is a small pass-through in the middle of the rear row to accept longer items.
Technology and Features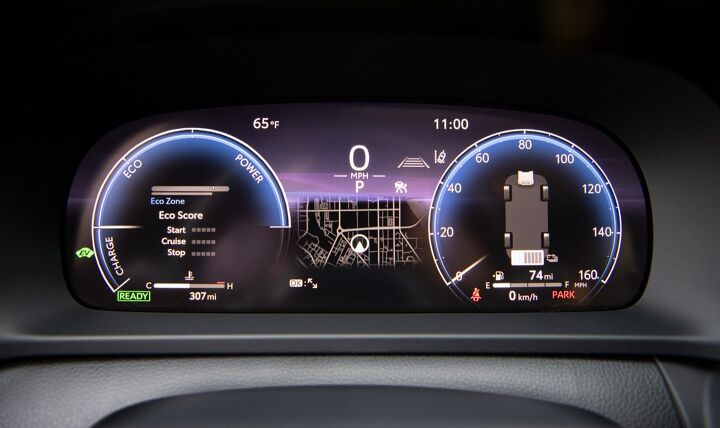 Crown: The Crown comes with a 12.3-inch infotainment system, regardless of trim. It runs the latest Toyota Multimedia operating system, which includes a voice assistant as well as wireless Apple CarPlay and Android Auto. A wireless charging pad is also standard.
Other available goodies include a digital key feature, 11-speaker JBL sound system, heated and ventilated front seats. A 360-degree camera is also available. Toyota offers numerous connected service trials as well, ranging anywhere from 30 days (Wi-Fi Connect) to 10 years (Service and Safety Connects).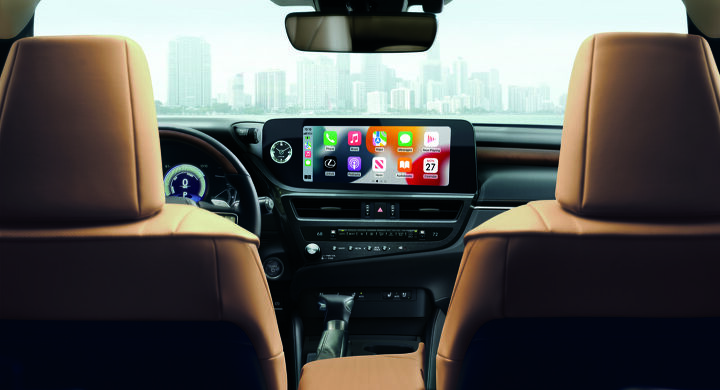 Lexus ES: Like the Crown, the Lexus runs the newest infotainment system from the mothership, though obviously with a different skin. It runs on a standard 8.0-inch screen, however; the 12.3 is optional on all trims, and standard on higher models. Everything we like about the Toyota setup applies here too.
The ES doesn't have a digital key, but it does have a SmartAccess key card. There is an available 10.2-inch head-up display, which puts the most important information right in the driver's field of view, above the digital instrument panel. Other options include a 360-degree camera, sweet 17-speaker Mark Levinson sound system, and swanky power-operated rear sunshades.
SEE ALSO:
2023 Lexus RX First Drive Review: Best-Seller Gets Better
Bottom Line: The infotainment systems are essentially the same now, and they're both huge improvements over the previous systems. The newer Crown has a few unique features like digital key, but misses out on a handy HUD.
Toyota Crown vs Lexus ES: Powertrains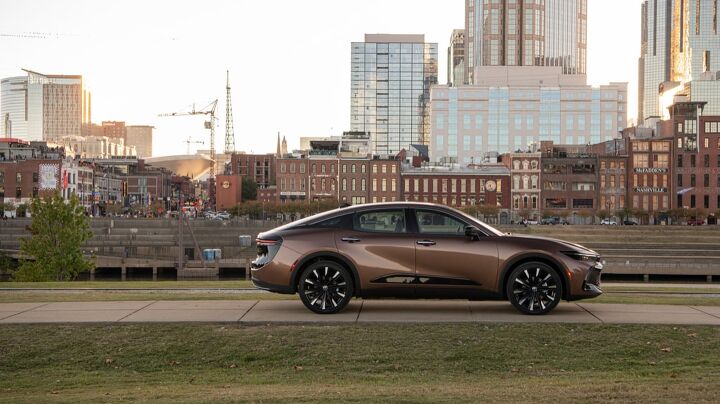 Toyota Crown: The Crown follows the lead of the last few Toyota debuts that aren't trucks: it's hybrids only, all the time. Specifically, there are two powertrains, both featuring standard AWD. The XLE and Limited trims use the familiar 2.5-liter inline-four setup and a pair of electric motors—one on each axle—to produce a combined 236 horsepower. Paired with an electronically controlled continuously variable transmission, the system is good for a 7.6-second dash to 60 mph (96 km/h). Like other AWD Toyota hybrids, there is no mechanical connection between gas engine and rear axle.
The Platinum trim debuts the Hybrid Max powertrain, which is closely related to the one in the Lexus RX 500 h F Sport Performance. This uses a slightly smaller 2.4-liter engine, but adds a turbocharger. It also swaps out the E-CVT for a six-speed automatic transmission, to handle the combined 400 pound-feet of torque. The AWD system is also different, with permanent power from the rear axle. Also included is an adaptive variable suspension. The Crown Platinum can dash to 60 mph (96 km/h) in just 5.7 seconds. Note that Toyota's acceleration runs are quoted on 91-octane fuel, though both setups can run on good ol' 87.
SEE ALSO:
2023 Toyota Prius First Drive Review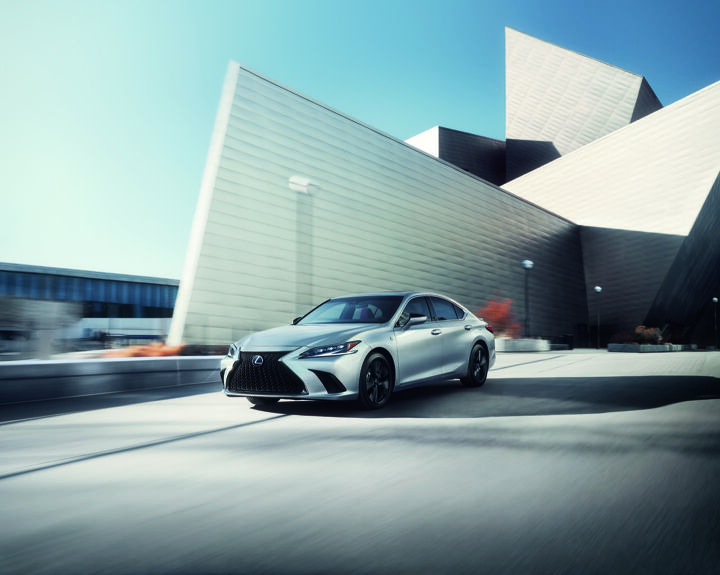 Lexus ES: The Lexus has three drivetrain options, and shares one engine with the Crown. Yep, it's the hybrid: though here, the 2.5-liter setup produces 215 combined horsepower, and routes through the front axle only. It hits highway speed in 8.1 seconds.
Beyond that, there are two gas-only choices for ES buyers. Want power? The trusty 3.5-liter V6 model spits out 302 horsepower and 267 lb-ft, all through a buttery smooth eight-speed automatic transmission. It will also hustle to 60 mph (96 km/h) in 6.6 seconds. Want all-weather traction? The ES250 subs in a 2.5-liter inline-four and a modified eight-speed auto hooked up to AWD. Its 203 horsepower and 184 lb-ft make it the tardiest of the lot though, adding a full two seconds to the milestone dash.
Bottom Line: It's hard not to favor the newer Crown here. The Lexus' V6 is the last of a dying breed, sure, and it sounds pretty good too. But we like the blend of power and standard AWD that the Crown offers more.
Fuel Economy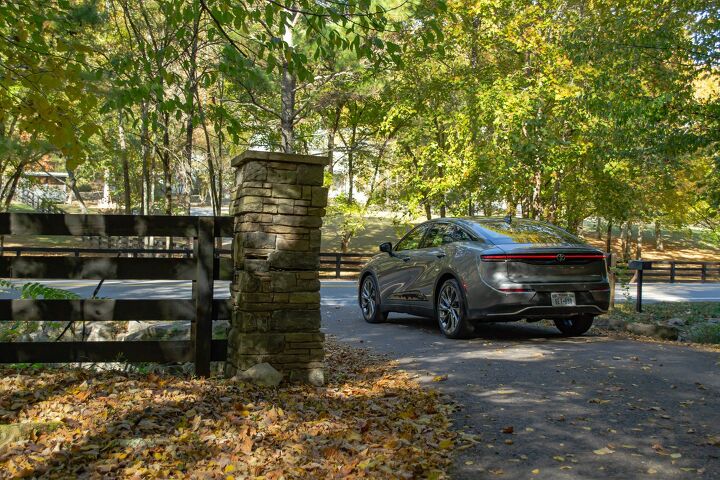 Toyota Crown: The Crown's simple lineup makes its fuel economy figures straightforward, too. Opt for the XLE or Limited trim and you're looking at 42 mpg city, 41 mpg highway, and 41 mpg combined. Those are exceptional figures for something so large. Canadian figures are 5.6, 5.7, and 5.7 L/100 km, respectively.
The Platinum's performance bent does ding it at the pumps. Nonetheless, figures of 29 mpg city, 32 mpg highway, and 30 mpg combined (8.1/7.3/7.8 L/100 km) are impressive for anything running 340 hp.
SEE ALSO:
2023 Toyota Corolla Hybrid AWD First Drive Review: All-Weather Fuel Miser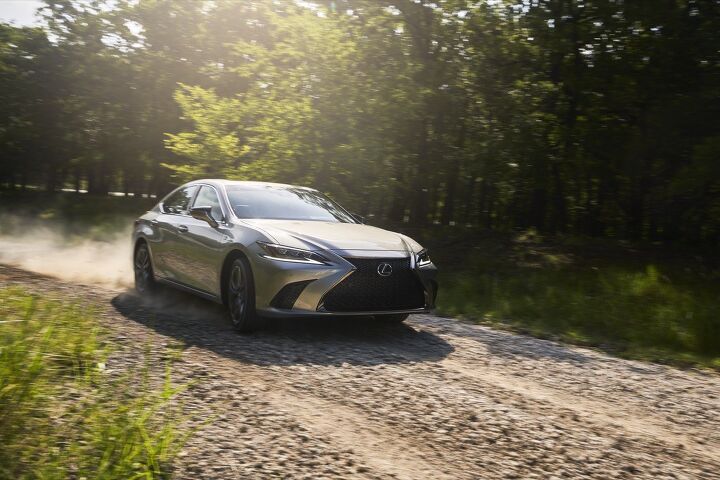 Lexus ES: The Lexus ES300h is the efficiency champ, scoring 43 mpg city, 44 mpg highway, and 44 mpg combined (5.5, 5.2, and 5.3 L/100 km, respectively). The next-best is the ES250 AWD, scoring 25/34/28 mpg (9.5/7.0/8.4 L/100 km), respectively.
The V6 model is, unsurprisingly, the thirstiest of the pack. Expect a 26 mpg average (9.2 L/100 km), split between 22 and 32 mpg (10.7 and 7.3 L/100 km) city and highway. Opt for the F Sport trim and its larger tires knock 1 mpg off the highway and combined ratings, for scores of 22/31/25 mpg (10.9/7.5/9.4 L/100 km).
Bottom Line: Looking for the absolute best fuel-sipper? ES300h, no question. The Crown XLE and Limited give up a few mpgs for AWD though, and more power to boot.
SEE ALSO:
Hyundai Tucson Hybrid vs Toyota RAV4 Hybrid Comparison: Fuel-Sipping Family Haulers
Styling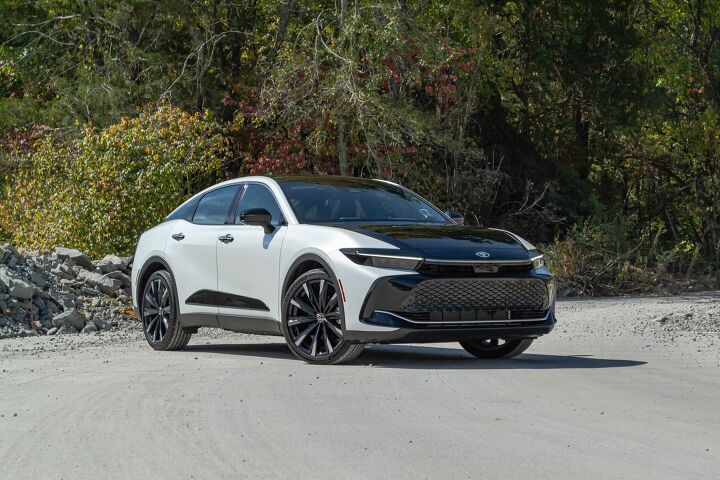 Toyota Crown: We certainly can't accuse Toyota of being conservative here, right? The Crown is odd looking in isolation, with bizarre proportions that really do split the difference between sedans and crossover coupes. It looks good from the front three-quarters, where its width and low headlights give it presence. The rear looks pinched, however. In the wild, surrounded by other cars, it does have a modern presence that draws the eye. We appreciate the available two-tone paint jobs too, even if we know most people won't pick 'em.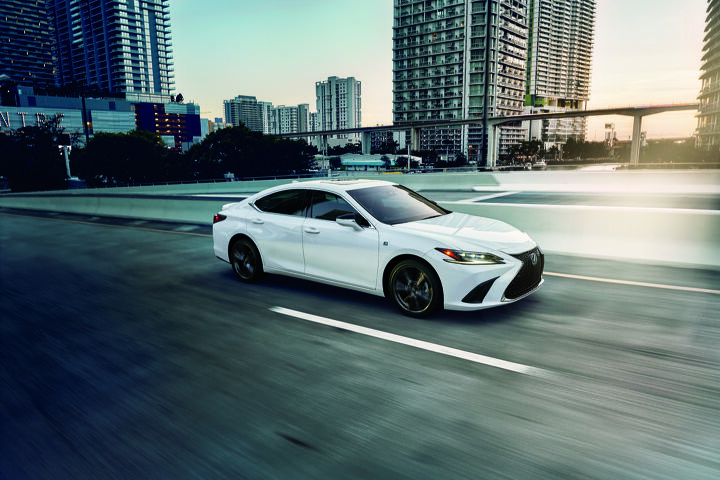 Lexus ES: Something happened with the latest ES: Lexus made its cruisemobile… sexy? The ES is long and low, and the latest iteration of Lexus' design language is handsome and edgy. There are a handful of good colors available, too. Go for the F Sport and the ES becomes genuinely sporty to our eyes, even if the lines are writing checks the car itself can't quite cash.
SEE ALSO:
2022 Lexus LX600 First Drive Review: Comfortably Niche
Bottom Line: Looks, as ever, are objective. The Lexus is more traditional, the Crown is trying something different.
Pricing and Value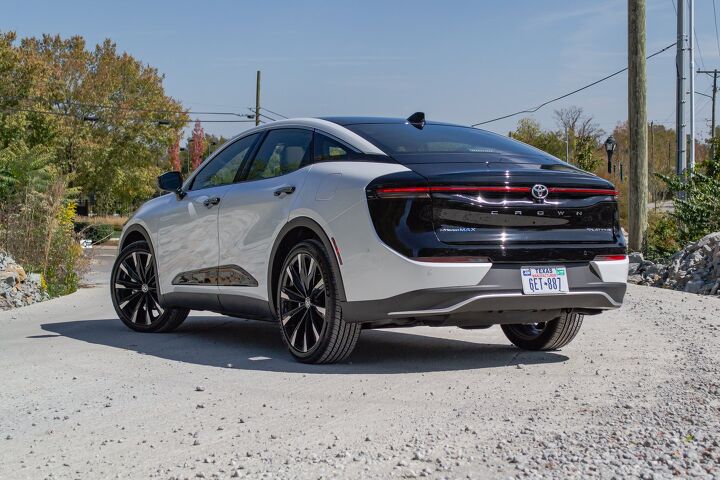 Toyota Crown: With just three trims to choose from, the Crown keeps things simple. The "entry-level" XLE comes in at $41,045, including destination; the Limited bumps that up to $46,645, and the top-shelf Platinum will set buyers back at least $53,445.
Beyond that, the only additional prices are premium exterior colors (including two-tone options) and the Limited's Advanced Tech package, which pulls the 21-inch alloys, Panoramic View Monitor, and digital key from the Platinum.
Lexus ES: The ES comes in myriad flavors: 14, at last count. The three drivetrain layouts all see four trims: base, Luxury, Ultra Luxury, and F Sport Design. The 300h and 350 both also come in F Sport Handling form.
To keep things easy, Lexus prices both the ES250 AWD and ES350 the same, for all four of their shared trims. The base trim is $42,490, including destination; Luxury is $47,660, Ultra Luxury is $51,280, and F Sport Design is $47,075. Want the hybrid? Add $1,200 on the former three trims, and $1,000 on the latter.
The F Sport Handling pack and its adaptive dampers comes in at $48,950 for the ES350, and $49,985 for the ES300h.
Bottom Line: These two cover a lot of the same ground. The Lexus is more expensive spec-for-spec, but does feel more premium inside. The sheer number of options means it should be able to satisfy more buyers' tastes, too.
Toyota Crown vs Lexus ES: In Conclusion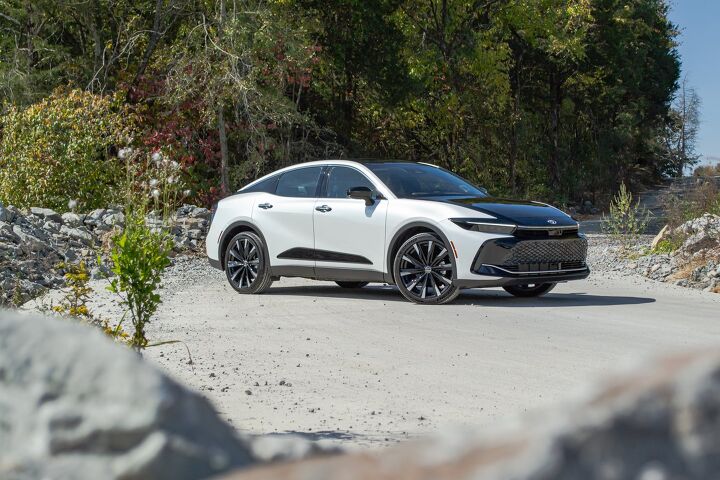 The sedan breed has never been better. If you want just a hint of SUV-ness to your four-door, however, the Crown does it. The elevated driving position and (slightly) increased ride height gives crossover vibes, but crucially the Crown still drives like a car. In high-power Platinum trim, it even drives like a reasonably fun one. It can get pricey however, and you have to love those looks.
Lexus' best-selling sedan is undoubtedly the safer choice. It plays by the rules, but it excels at exactly what it always has: no-fuss ergonomics, a hushed cabin, and a smooth ride made for long trips. The electrification-averse can still play with one of the last nat-asp V6s out there, too.
In the end, both cars in our Toyota Crown vs Lexus ES comparison have their strengths. Try them both to figure out how they gel with your use case, and go from there. Neither will disappoint.
Become an AutoGuide insider. Get the latest from the automotive world first by subscribing to our newsletter here.
Published January 11th, 2023 1:33 PM
Popular Articles
Latest Comparisons
Car Buying Tools