760 Views
Big Juice: Testing the EcoFlow Delta Pro Power Station
June 2nd, 2023 3:37 PM
Share
3.6 kilowatts of portable Level 2 rechargeable power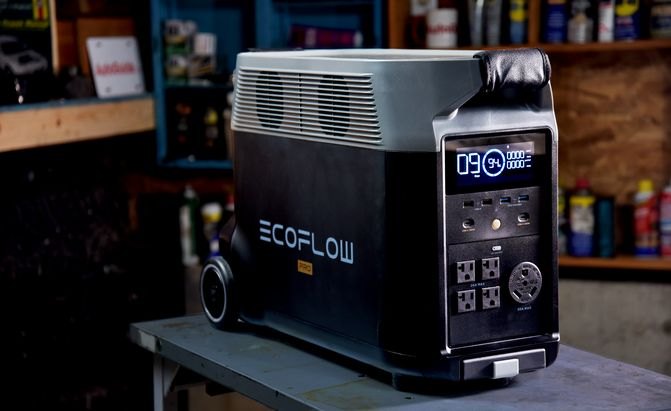 In the world of portable power stations, the EcoFlow Delta Pro stands at the edge of where "portable" and "big" meet. It's only portable because it comes with wheels and a telescoping handle like a piece of carry-on luggage, because even with two wrapped handles, you're not slinging this nearly 100-pound box around casually. We have moved ours quite a bit, including bringing it to a Level 2 charger and literally out into a field, but unlike the smaller Jackery we recently reviewed (and EcoFlow's own Delta 2, which we have in testing right now), tailgating isn't what the Delta Pro is aimed at.
The EcoFlow Delta Pro is intended to be a real power source, not a big phone charger. You can easily link multiple units together for a whole house backup or solar generator; or use just one as the center of an overlanding build or extended offroad expedition. As the difference between prepping and a normal emergency or disaster kit gets smaller, the idea of having a household battery power source like this also gets more appealing.
There's a third use case, too. We've tested ours for over six months, and ended up using it in place of a portable generator, when we weren't going to need the ability to refill, or to draw a lot of power for a long time. It won't last as long and it's much bigger than a small generator, but you don't have to worry about gas slopping out, starting it, maintaining it, or having gas on hand at all. Plus, while the upfront cost is high, no matter what you do with it, it's only going to be a few dollars to charge from there on out. Or nothing at all, if you have solar panels. See our section on The Economics of a Portable Power Station for a breakdown of costs.
We've got many more power station reviews coming up in a range of sizes and capacities, including units from Anker, Bluetti, and Goal Zero, as well as another smaller but still mighty EcoFlow, so check back as we expand our coverage over the next few months.
| | |
| --- | --- |
| Pros | LiFePo4 batteries will last a decade, Level 2 recharging, 15 ports with up to 30A output |
| Cons | Barely portable and very expensive |
| Bottom Line | Amazing for overlanding, RVs, off-grid living, or the ultimate tailgating setup; glorious overkill for most other uses |
Table of contents
EcoFlow Delta Pro Specs and Features
The Delta Pro has perhaps the widest set of input and outputs of any large power station. There are 15 total power ports, ranging from a 125V, 30A TT30 (RV connector) plug down to 5.0V USB-A ports, as well as 120V household outlets, and proprietary plugs to connect multiple EcoFlow units.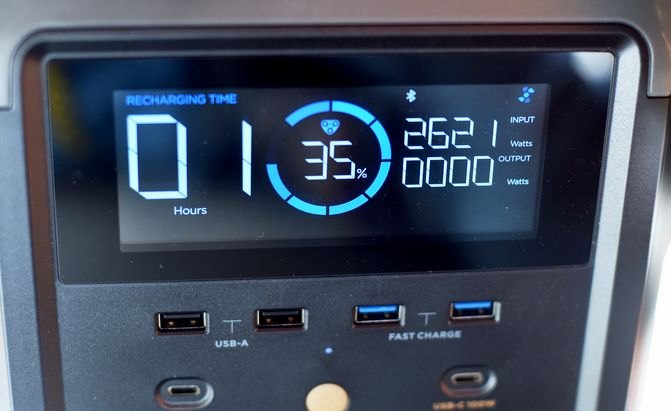 Even though it's not the listed 3,400 watts, we still have trouble getting our heads around Level 2 charging speeds. Photo credit: David Traver Adolphus / AutoGuide.com.
Inputs are more impressive in their way. With multiple add-on batteries and solar panels attached, any unit can hypothetically charge at up to 6,500 watts. We're a little skeptical of that claim, because it's also supposed to accept 3,400 watts from a Level 2 charger, and we saw 2,621 watts sustained in charging. Both are probably peak charging rates, which is common behavior in charging stations. And lets not get distracted: 2.6kWh is crazy fast.
Charging from a household 120V outlet using the included standard C13/C14 cable (think computer power) eventually settled at 923 watts.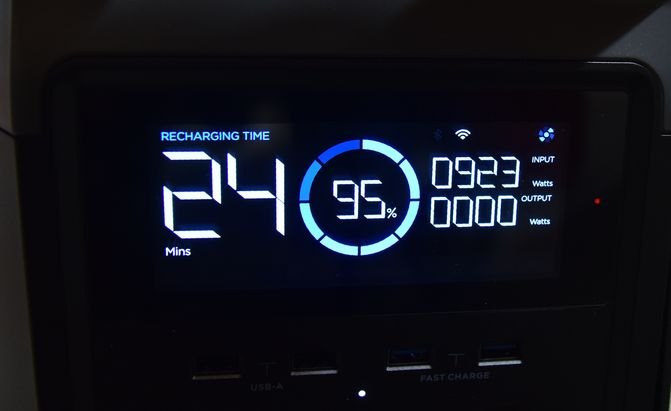 This is the fastest wall charging we've seen from any portable power station. Photo credit: David Traver Adolphus / AutoGuide.com.
We also used our random assortment of solar panels ( one Anker and one Goal Zero) and the Delta Pro's XT60 plug, and saw about 75 watts. You can string up to four 400W EcoFlow solar panels together for up to 1,600 watts.
Connectivity
EcoFlow has a useful app, which gives you realtime status monitoring and control of many functions via bluetooth. There's also an RJ45 connection for networking, which lets you add remote monitoring and controls.
EcoFlow Delta Pro Specifications
| | | |
| --- | --- | --- |
| Height | | 16.4 inches |
| Width | | 11.2 inches |
| Length | | 26.0 inches |
| Weight | | 99.2 pounds |
| Total outlets | | 15 |
| Capacity | | 3.6kWh |
| AC output | | 3600W |
| AC input | | 1800W |
| Maximum input | | 6500W |
Using the EcoFlow Delta Pro
EcoFlow has done everything it can to make moving the Delta Pro around easy, with the two grab handles wrapped and a pull-out handle integrated into the bottom of the unit, but it's really intended for semi-permanent installation, either in an RV or overlanding rig; or as a home backup. That said, it would make the ultimate tailgate power source, if you could work within the limitations of not being able to refuel it. On the other hand, you might be able to pull up next to an EV charger, plug it in, and use it as sort of a giant adaptor. We're sure that wouldn't cause any fights with the next Tesla driver who wanted to use the space.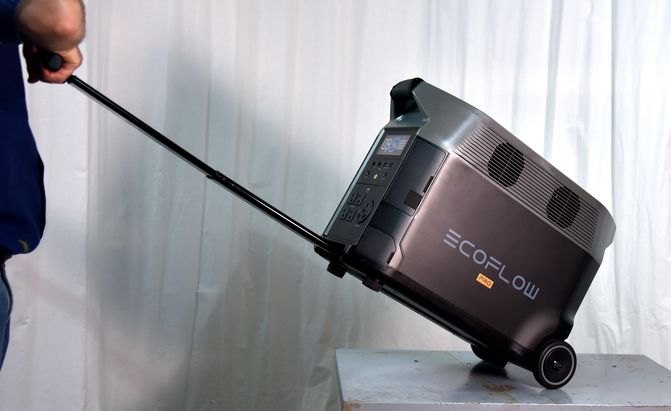 The pull handle and wheels would be handy if you needed to haul it around an RV park to a charger. Photo credit: David Traver Adolphus / AutoGuide.com.
We really don't have much analysis to do, because it took everything we threw at it. Peak output is 3,400 watts, which means it can easily handle startup and running draw from something like a circular saw or microwave. When we were trying to get Earth Sky Time farm's Chevy one-ton working (above), we used it with a NOCO Genius Pro 50 to charge batteries, and recharged some 5Ah DeWalt XR Max batteries, making it the center of a little portable repair operation. We actually used it two other times to charge dead car batteries that were too far from a wall outlet for an extension cord, and when we didn't want to remove them from the vehicle.
If you really, really need power, you can daisy-chain a pair with a 240V hub and get 7,200 watts at 240V, and hypothetically run a welder, although this scenario is much better suited to home appliances.
The Economics of a Portable Power Station
Buying a big portable power station is a little like buying an electric car. A lot of the cost is up front, then operating expenses are lower for the rest of the time you own it. The EcoFlow Delta Pro has come down in price a little since we got ours at the beginning of the summer of 2022, but it's still a big investment. If you're planning on making one part of a larger system, EcoFlow has modular 3.6kWh addon batteries for 30% less than the main battery, but it's going to be expensive no matter what.
Fortunately, the LiFePo battery chemistry means the lifespan is measured in years, and in a no-moving-parts system there isn't much to go wrong, unlike anything with an engine. LiFePo batteries can stay fully charged and discharged without affecting performance, and EcoFlow says the Delta Pro should retain 80% capacity after 3,500 charge/discharge cycles (that's presumably a full 0-100% cycle; lighter use should extend that).
That's still 9.5 years of daily use. The amortized cost of purchase is almost exactly $1.00/day for that time (3,500 days), and the national average for electricity is currently at 16¢/kWh. If you're charging it from a wall or a Level 2 charger, that all works out to about $1.50/day of combined purchase price and electricity, or $5,180. A good small generator, like the very popular Honda EU2200i, costs about $1,200 new, but is going to use about a gallon of gas a day. If you got one to run for 9.5 years, that would be over $11,000 in gas alone, assuming gas prices didn't rise between now and 2032. Solar panels or add-on batteries bump up your initial investment, but each piece you buy up front lowers your running costs every day after that.
Our Final Verdict
Few people will be impulse buying a Delta Pro, at least not since the crypto crash. Almost anyone could find a use for it, especially with affordable folding solar panels, but it would take a long time to recoup your investment with casual use. If you're the target market and own an RV or overlanding rig; or you want to build a modular zero-maintenance home backup or offgrid power source, it quickly becomes a much more compelling argument.
---
We are committed to finding, researching, and recommending the best products. We earn commissions from purchases you make using the retail links in our product reviews. Learn more about how this works.
AutoGuide may accept review samples for testing and evaluation. Suppliers of review products do not have any input into our conclusions and are not allowed to review our content before publication.
Published January 11th, 2023 4:04 PM
Popular Articles
Latest Comparisons
Car Buying Tools