36 Views
May 29th, 2015 9:04 AM
Share
We're committed to finding, researching, and recommending the best products. We earn commissions from purchases you make using links in our articles. Learn more here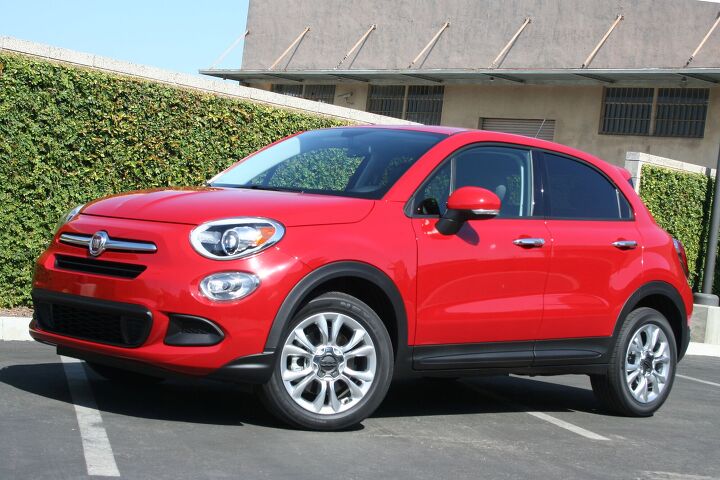 Small SUVs are the new hot segment in America, and style-conscious Fiat is jumping into the fray with the new 500X. But is the Fiat's Italian flair enough to make it competitive?
Fiat is a brand that sells primarily on style, and they've done their best to infuse the 500X with the charms of its baby sibling, the 500. There's a clear family resemblance around the headlights and taillights, and the 500X's paint palette is filled with eye-catching hues (though the most vivid ones come at extra cost—a thousand bucks extra, if you can believe that). Trekking models get "bull-bar" style bumpers to give them more of an SUV-like look. But while the details may be unique to Fiat, the shape is generic, and at a distance it's easy to mistake the 500X for a Kia Sportage or any one of a number of small SUVs.
FAST FACTS
| | |
| --- | --- |
| Engine: | 1.4 liter turbo four makes 160 HP, 184 lb-ft of torque, the 2.4 liter naturally-aspirated four-cylinder makes 180 HP, 175 lb-ft. |
| Transmission: | Six-speed manual or nine-speed automatic |
| Fuel economy: | TBA |
| Price: | $20,900 - $33,500 |
That said, there's a reason so many small SUVs look alike: It takes a certain shape to provide the utility buyers want. And the 500X does deliver on utility, with an 18.5 cubic foot cargo bay that dips well below bumper level. (There's a removable false floor that provides a surface level with the bumper and the fold-down seatbacks.) The back seat itself is decently sized; headroom is good but knee-room can get very tight if the front-seaters slide their seats too far back. But the back seat's misshapen seat-bottom cushion is a real turn-off: There's a ridge that protrudes at the aft end of the cushion, and we found sitting in the 500X's back seat to be, quite literally, a pain in the butt.
A Unique and Quirky Interior
The 500X does get points for its interior styling: The dashboard is a pop-art version of the one used on the 500, with the same simple control layout we've come to expect from Fiat. Pop, Easy and Lounge trim levels get a body-color dash—another favorite element from the 500—while the Trekking models get a gray dash.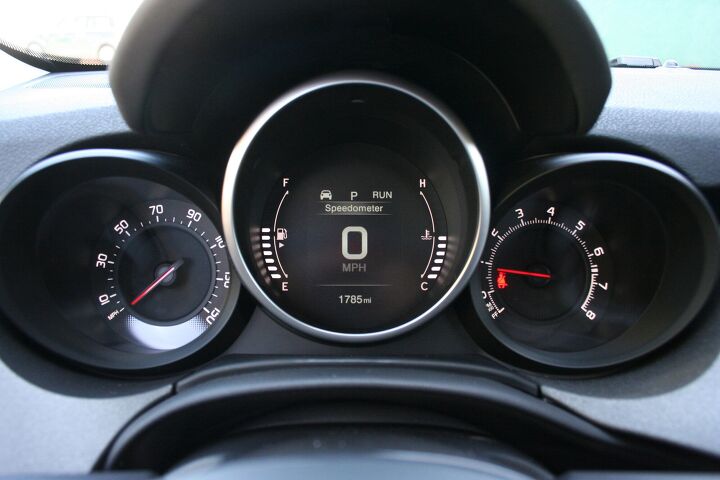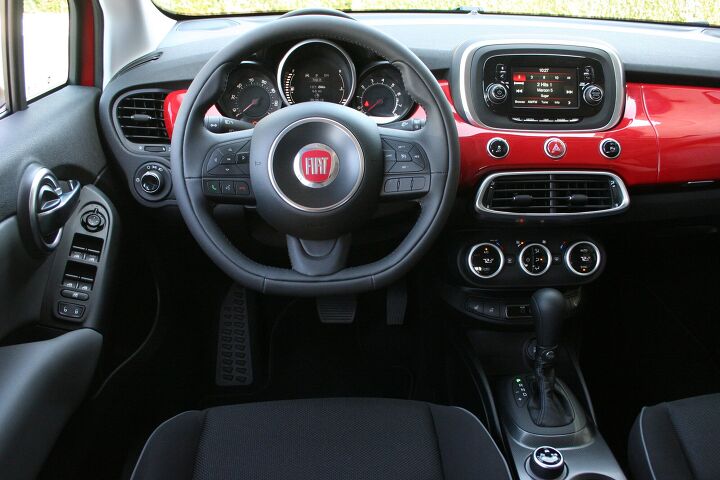 The gauge panel seemed a bit strange to us: It uses a standard three-pod layout, but the speedometer and tachometer are banished to the smaller outer pods, while the large pod in the center is home to the fuel and temperature gauges and a combo display (trip computer, digital speedometer, and the like, though it doesn't display next-turn directions on 500Xs equipped with navigation). Shouldn't the speedo (or at least the tach) be featured front and center?
On the plus side, the Fiat 500X's cabin provides plenty of storage space for odds and ends, and fit and finish is nicer than what we've seen on other Fiat models. If you test-drive a 500X, be sure to sink your fingers into the door panels and armrests; we rarely see padding this thick outside of a mental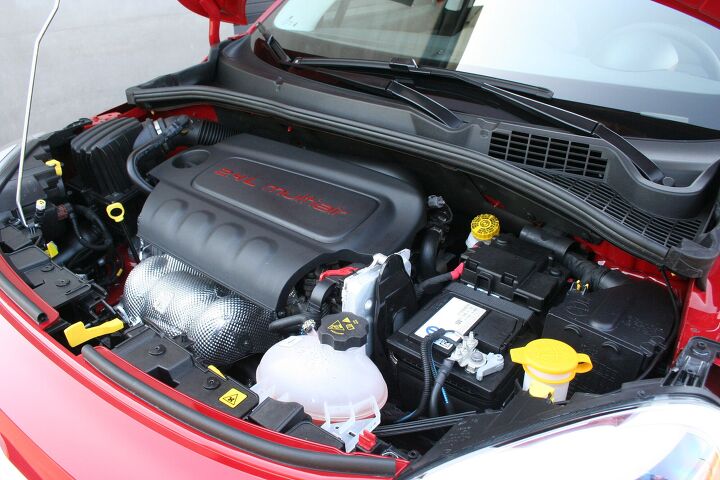 institution. Six airbags come standard, while active safety features such as a backup camera, lane departure prevention, and a collision mitigation system are available in all 500Xs save the basic Pop model (with the caveat that lane departure isn't offered in the mid-level Easy trim).
Hardest Working Engine in Show Business
Though the standard powertrain is a turbocharged 160hp 1.4 liter engine with 180 lb-ft of torque mated to a six-speed manual, that combination is only available in the entry-level 500X Pop; all other trim levels get Fiat-Chrysler's 2.4 liter "Tigershark" four coupled to a nine-speed automatic to produce 180 hp and 175 lb-ft of torque. (The 2.4/auto combo is a $1,500 upgrade on the Pop). The 500X's off-the-line acceleration is certainly brisk—a bit too brisk, perhaps. We found that turning the 500X's drive-mode selector (which fine-tunes the throttle response, transmission shift points, and steering stiffness) to the snow/rain mode ("Traction +") gave us some blessed relief from the aggressive starts that come with "Auto" and "Sport" modes. The engine noise wasn't easy on our ears either. Its farty drone might be appropriate for the little 500, but it seemed rather tedious on the family-oriented 500X.
Official fuel economy estimates had not been announced at the time of our press preview, but the numbers reported by the trip computers of the two 500Xs we sampled were in the high teens, which is worryingly low. To be fair to Fiat, we were driving pre-production vehicles that may not have had their engine tuning finalized, and the conditions of our Los Angeles test drive were less than ideal, with twisty hillside roads and stop-and-go traffic. Our test-driver is an L.A. resident, and said he'd expect an SUV of this size to return MPG figures in the low 20s under these conditions and mid-to-high 20s in normal driving. We'll eagerly await final EPA figures and a drive in a production model.
The 500X is offered with both front- and all-wheel-drive, the latter using Chrysler's rear-axle disconnect system to save fuel (and the 500X will certainly need all the help it can get). Fiat stresses that the 500X is not an off-roader; the AWD system is tuned not for off-road adventures but for foul-weather traction and improved dry-weather handling.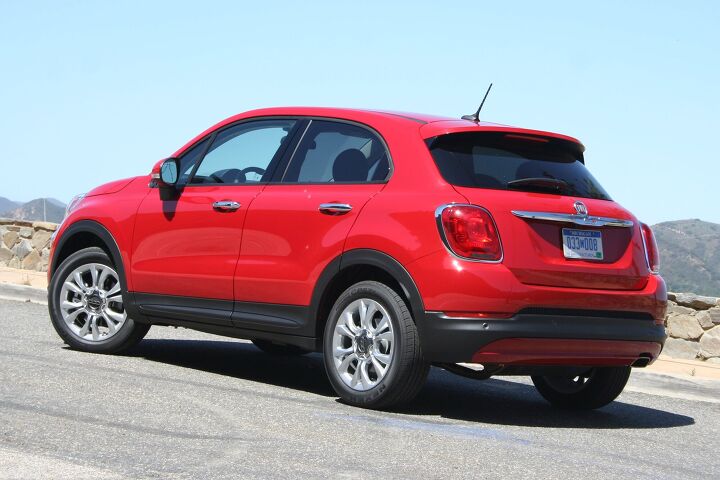 Dull to Drive, Decent Value
Speaking of which, we're pretty sure we ought to like the 500X's handling better than we did; like the Jeep Renegade, it's surprisingly competent for an SUV, with good grip and a flat cornering attitude. Nimble as it is, though, the 500X isn't as enjoyable to drive as we had hoped. It doesn't feel quite as responsive or as fun to toss around as the Renegade. The ride feels stiff-legged, and while we'll stop short of calling it uncomfortable, we'd expect such a firm suspension to pay dividends in the form of a high fun factor. No such luck.
One thing that did impress us was the pricing structure. The front-wheel drive 500X Pop starts at $20,900 (including destination), a price that gets you two-tone upholstery, an AM/FM stereo with USB and auxiliary inputs, cruise control, air conditioning, and a height-adjustable driver's seat. One of the models we drove was a mid-line Easy, and we thought the $23,200 price tag was very reasonable for the standard equipment it offered, which included Bluetooth, a touch-screen stereo, and an automatic transmission. Trekking models start at $24,000, and a fully-tricked-out 500X—that would be an all-wheel-drive Trekking Plus with standard leather and navigation and all available options (including automatic lights and wipers, a dual-pane sunroof, and all available safety kit), tops out at $33,500.
Not our cup of tea…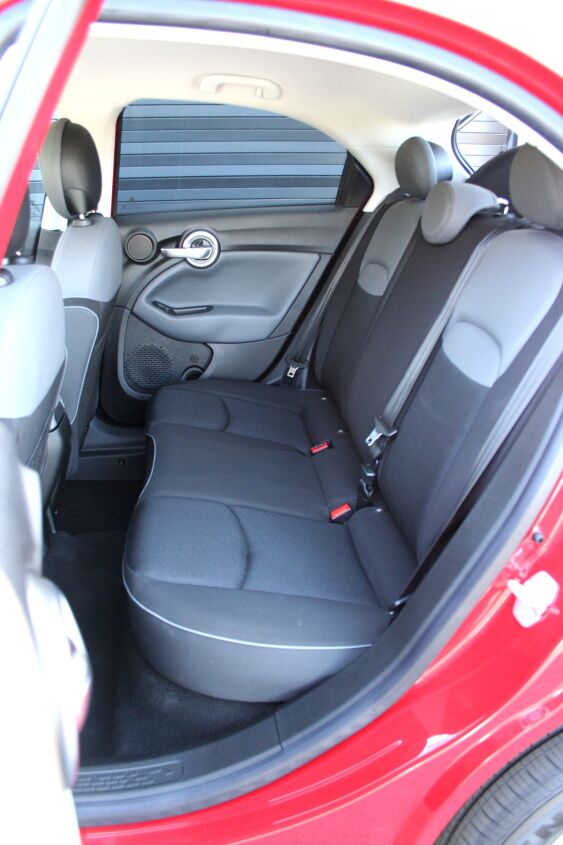 As car enthusiasts, the 500X left us a little cold. We like vehicles that are fun to drive, an area where the 500X comes up short. But there were other things that bothered us about the 500X, including the lumpy back seat and potential thirst for unleaded, issues that we imagine most buyers will be concerned with.
That said, there are a lot of things we did like about the 500X. While the shape may be generic, the styling details and bright colors give it some much-needed character. We love the interior's cheeky style, sensible control layout and the use of high-quality materials. The cargo area is well designed, and the pricing and option structure give buyers lots of choices and solid value-for-money.
500X vs. the Competition
Unfortunately for the 500X, it's facing strong competition. The Honda HR-V is a good alternative for those who are concerned about the 500X's Italian build quality, while the upcoming Mazda CX-3 (which we have not yet driven) will most likely prove a good choice for those who love to drive.
The biggest challenge to the 500X comes from its closest relative, the Jeep Renegade. Though a bit tighter on space, the Renegade is fuel-efficient, good fun to drive and laden with value. Given a choice between the two Fiat-Chrysler products, the Jeep is the one he'd buy.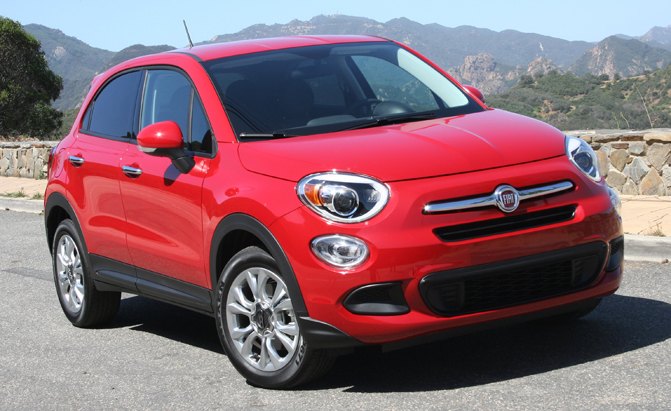 Fiat 500X Review: The Verdict
We understand why Fiat is getting into the small SUV business; it's bound to be a strong segment, and Fiat does specialize in small cars in the European home market. But blending Fiat's unique charm with a functional SUV body is difficult and the driving experience certainly doesn't distinguish the 500X from its competitors. We expect the 500X to face a tough battle in what is soon to be a very competitive marketplace.
LOVE IT
Interior styling, quality and control layout
Flexible cargo space
Attractive pricing
LEAVE IT
Indifferent driving experience
Droning engine
Lumpy back seat Published April 20th, 2015 2:54 PM
Popular Articles
Latest Comparisons
Car Buying Tools