1K Views
2024 Jeep Wrangler Review: First Drive
June 29th, 2023 12:50 AM
Share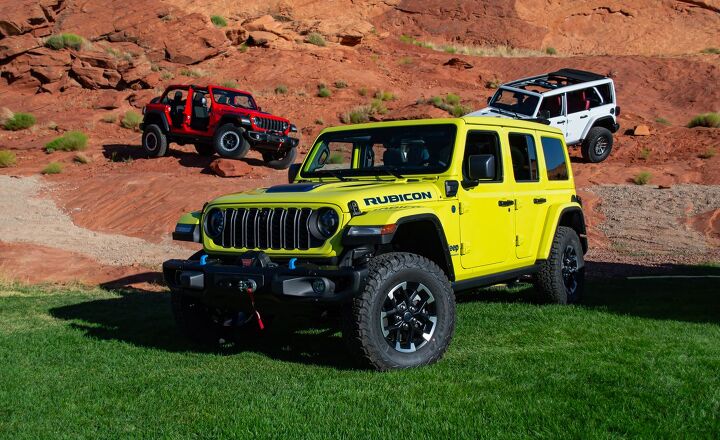 FAST FACTS
| | |
| --- | --- |
| Engine: | 2.0L I4 Turbo / 3.6L V6 / 2.0L I4 Turbo PHEV / 6.4L V8 |
| Output: | 270 hp, 295 lb-ft / 285 hp, 260 lb-ft / 375 hp, 470 lb-ft / 470 hp, 470 lb-ft |
| Transmission: | 6MT/8AT, 4WD |
| US fuel economy (MPG): | TBD |
| CAN fuel economy (L/100KM): | TBD |
| Starting Price (USD): | $33,690 (inc. dest.) |
| As-Tested Price (USD): | see text |
| Starting Price (CAD): | n/a |
| As-Tested Price (CAD): | n/a |
What do you do when a certain four-legged competitor is threatening your territory?
Well, if you're the 2024 Jeep Wrangler, you definitely don't mess with the approach that's secured an entire segment for decades. The American brand's icon rolls into the new year doing a lot of the same stuff that's made it the eighth-best-selling SUV in America: it still comes in a diverse variety of layouts and powertrains, it'll still conquer a trail you probably couldn't on foot, and it's still one of the most affordable droptops on the market.
Only now there's more: Wrangler-Plus, if you will. There's a wider range of trims, adding more on-road refinement or off-road capability. Smarter tech promises to make work and play better. Oh, and it's safer, too. Are all these detail changes enough to tame the wild Bronco? Jeep invited us to St. George, Utah to find out.
Get a Quote on a New 2024 Jeep Wrangler
What's new?
This is a Wrangler we're talking about: of course the visual changes are minor.
The seven-slot grille is shorter now, which Jeep says emphasizes the width of that smiley front-end. There's more separation between the front bumper and wheel arches now as well, which gives that fascia more of a "floating" feel. It isn't just for show: the subtle reprofiling has allowed Jeep to fit an available 8,000-pound Warn winch from the factory. Even that isn't a simple bolt-on: chief vehicle engineer Marc Ramsey details the extended front bumper crash cans necessary to maintain crash safety. Speaking of safety, Jeep has integrated standard side-curtain airbags, too.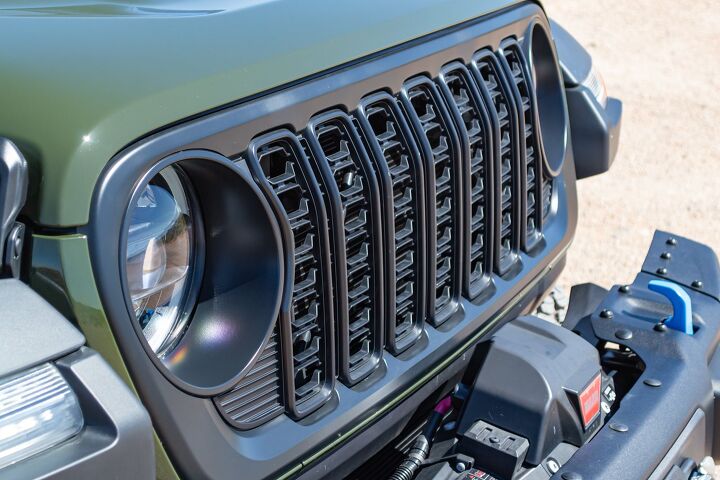 Gone is the front-mount antenna, which allows for those coveted Trail Rated badges to sit on both sides of the body. You'll find a whole gaggle of redesigned wheels too, ranging right up to 20-inch alloys on the swanky High Altitude, which is now exclusively available in plug-in hybrid 4xe form.
The 4xe and the other three powertrains are all carryovers from last year. Anchoring the lineup is the venerable 3.6-liter Pentastar V6, still offering the choice of a six-speed manual or eight-speed automatic. Both the optional 2.0-liter turbo-four and rumble-tastic 6.4-liter V8 (Rubicon 392) are auto-only; the 4xe and Rubicon 392 are also both exclusive to the four-door Unlimited body.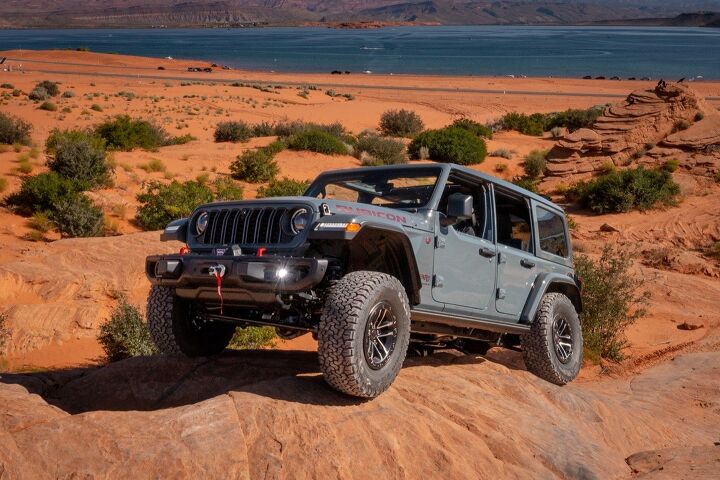 New trims include a more robust Rubicon X trim—just above this sentence, more on it later—and a Sport S 4xe, which continues to drop the plug-in price lower, following the lead of the 2023 Jeep Wrangler Willys 4xe.
That's all well and good, but like a calzone, a Kinder Surprise, or a pocket watch, it's what's on the inside that counts.
Smart tech upgrades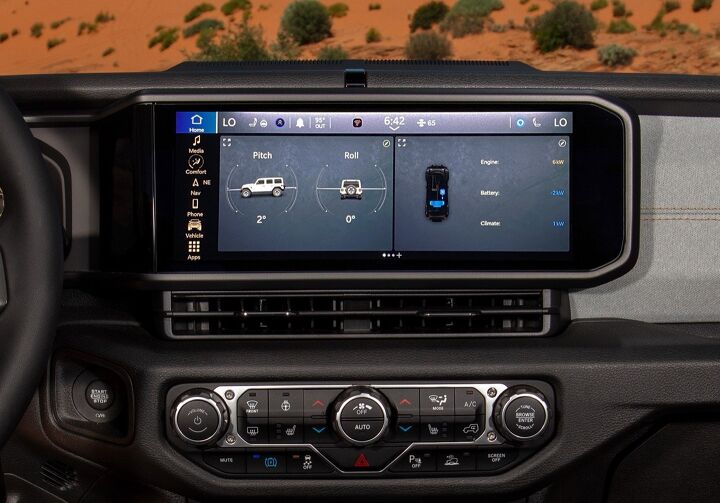 Even though the Wrangler's base price has shifted up just $700, Jeep has fit every 2024 model with a much larger, much nicer 12.3-inch touchscreen. Uconnect 5 is running the show now, with much sharper graphics and quicker response times. The screen also features included full array local dimming for increased contrast. Even with the roof off, under the full might of a mid-day Utah sun, the new widescreen setup is easy to read. Listen to Jeep head Jim Morrison tell it, and this big screen isn't just a numbers game: it addresses a real customer need, as folks were pinning their own third-party screens to the dashboard.
Delve into the menus and there are some other clever tweaks for Wrangler duty. The navigation maps now take into account pitch and roll, for instance. Pop into the Jeep Dashboard page for easy access to trail logs, exterior cameras, E.Hybrid pages (on the 4xe), and the new Adventure Guides.
As Morrison explains, Adventure Guides are a bit "like having an onboard trail guide and a historian." The system launches with 200 maps onboard, taking in some of the most well-known off-road trails in the country. With the difficulty of planning off-road trips, Jeep believes this "one-stop shop" solution should be appealing. Each route provides info such as distance, duration, and elevation, and there are 15 icons to give drivers an idea of the trail experience—including one for chargers. There's a difficulty rating and a vehicle recommendation, as well. Drivers can also create their own routes and save them to an SD card. A premium subscription unlocks over 3,000 trails in total.
While Adventure Guides is a seriously cool bit of kit, it isn't alone. There's onboard TomTom navigation, over the air updates, and real-time traffic reports. Jeep has also tucked seven mics into the cabin, for better speech recognition.
Relatively refined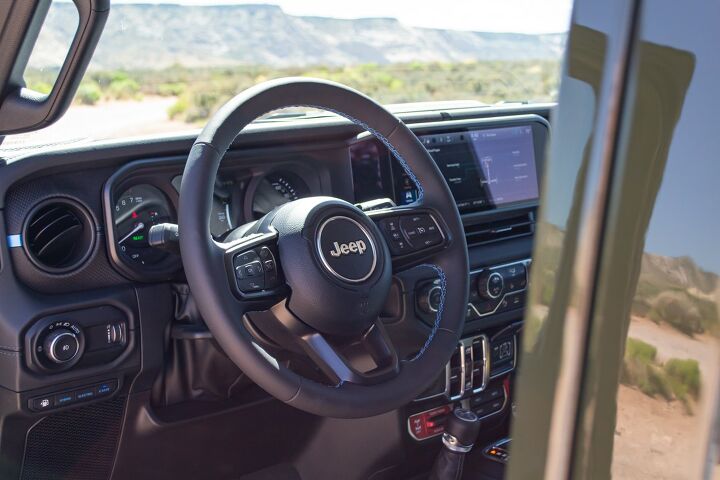 If nothing has changed under that classic hood, how much different can the Wrangler really be to drive?
That depends on the trim. I start the day in a Rubicon 4xe. The plug-in Rubi is easy to get along with, providing lots of power in its default hybrid setting. Having just done hours in a 2023 Willys 4xe only a few days prior, it's a familiar experience, with a light helm that only sort of wanders with its knobbly all-terrain tires. A trio of buttons to the left of the wheel provide control over the electrified powertrain, doling out or saving electrons as the driver sees fit. As the route took us through a state park, I switched to electric mode and silently swished through. On the back half, it's now in E-Save, conserving (and in fact building) charge for whoever might be driving this one next. The all-electric range is still just 21 miles, and the hand-off between propulsion systems isn't the smoothest. But that's just part of the Jeep charm—and going on three years later, Ford still doesn't have an electrified counter-argument of any kind.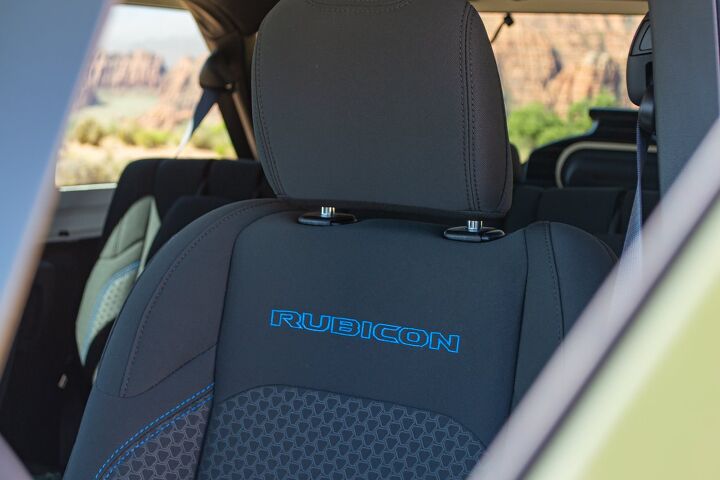 For 2024, the 4xe now offers an available Power Box, with four 120-volt outlets and 30 amps of power. It's what powers the pre-event presentation, in fact.
From there I'm into a V6 Rubicon, ahead of a two-ton Airstream. Jeep has fit the Rubicons with full-float Dana 44 axles, improving both overall capability and the tow rating, the latter now hitting 5,000 pounds for the 2.0- and 3.6-liter models. There are strong crosswinds along Highway 7, but the Wrangler sticks to the intended path. Climbing a hill pegs the tach at 5,000 rpm just to stay close to the speed limit, but that's the extent of the towing drama.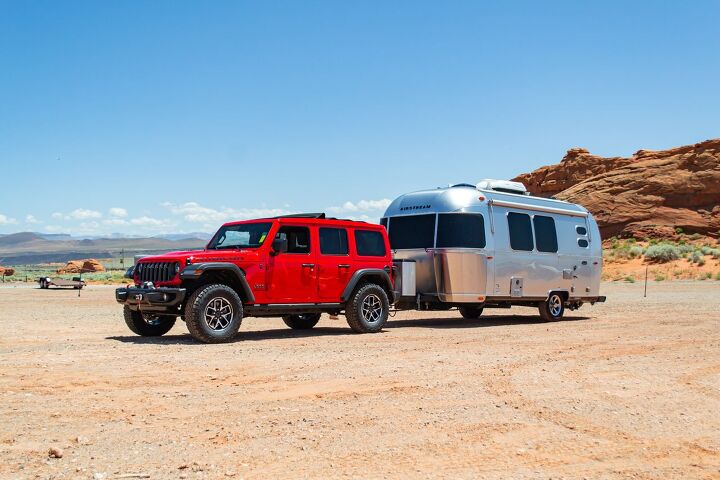 An after-lunch stint in the High Altitude 4xe shows the breadth of the lineup. The fancy pants model boasts more road-friendly rubber, so it tracks straighter on tarmac. Laminated glass and a full windshield surround foam treatment also knocks up to 5 decibels off in-cabin noise, a noticeable improvement. There are even 12-way adjustable power seats, a Wrangler first—and they'll still function when wading through 34 inches of water.
My final ride of the day is in the simplest model present: a humble two-door Willys. With a fabric roof, but without doors (okay, they're the tubular type). My lack of forethought means I'm doing almost all highway driving in this thing, but it's a Wrangler in its purest form, so I explore the upper reaches of the radio volume and just grin. The Willys gets a useful set of upgrades this year, switching over to 33-inch KO2 tires and adding a locking rear differential.
Still a beast off-road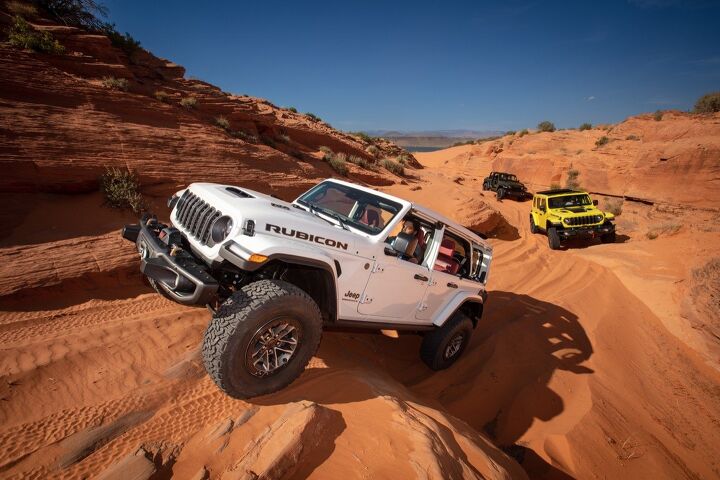 This wouldn't be a Wrangler event without some trail fun. We take a quartet of models out to the rocky paths around Sand Hollow State Park. I've lucked into a Rubicon 392 with half doors and the Sky one-touch power top. Jeep has already taken all the tires down to around 18–20 psi.
The trail includes tricky navigation over big rocks, serious inclines and declines, and deep sand. The 392 shrugs it all off with what I swear is a laugh from its four exhaust tips. We play with the drive modes, toggle the electronic sway bar disconnect, and lock the differentials at various points, but it's clear that the fleshy meat bag behind the wheel is the weak point here. But the Wrangler includes you in the fun, with the various gauges and screens providing all sorts of geeky details. From inside, it feels like I'm about to faceplant into the windshield on every rocky descent, but thanks to the experienced trial guides, both the Wrangler and I make it through unscathed.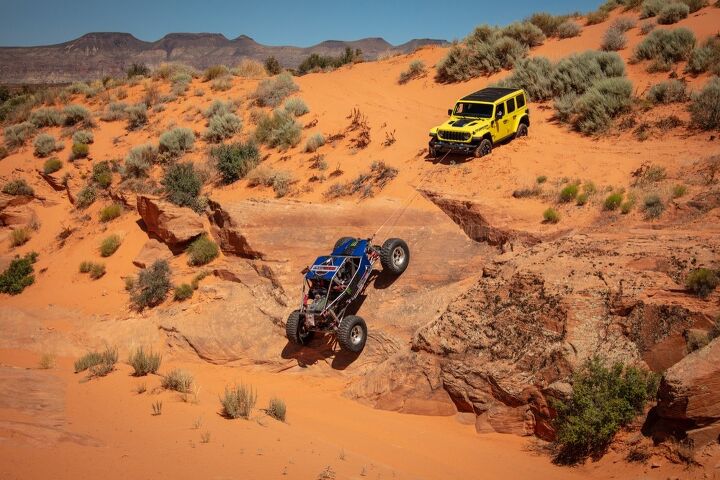 2024 Wranglers are better at getting others unstuck, too. One sits atop a steep hill; an off-roading buggy, at the bottom. The Warn winch does its thing, effortlessly pulling the purpose-built machine right up to the neon yellow SUV. The Wrangler never once shifted.
2024 Jeep Wrangler: Pricing and competition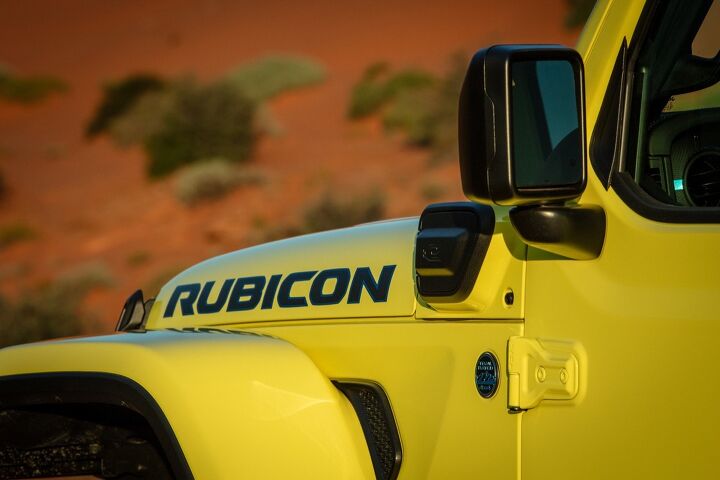 As mentioned before, the 2024 Jeep Wrangler base price is up $700 over last year, to $33,690 including destination. That nets buyers a stripped-down Wrangler Sport "362": three-pedal, six-cylinder, two-door. The upgraded Willys is something of an enthusiast sweet spot, and comes in at $45,785 with the extra set of doors (a four-grand expense).
Moving up to the Wrangler 4xe swells the price of entry to at least $51,790. That's a significant $10,005 over the equivalent gas Wrangler Sport S Unlimited, a gap that can range from around $9,000 to $12,000, depending on trim. Remember that, depending on your location, it might be eligible for some level of rebates.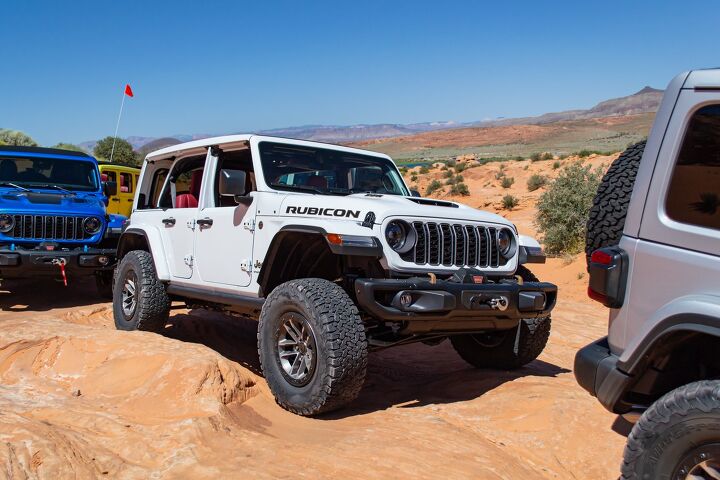 At the top of the pile sits the $89,985 Wrangler Rubicon 392 in all its rumbly, gravel-gargling glory. Is that ridiculous? Yes. Did the trail run have me lusting after it anyway? Also yes.
Final Thoughts: 2024 Jeep Wrangler Review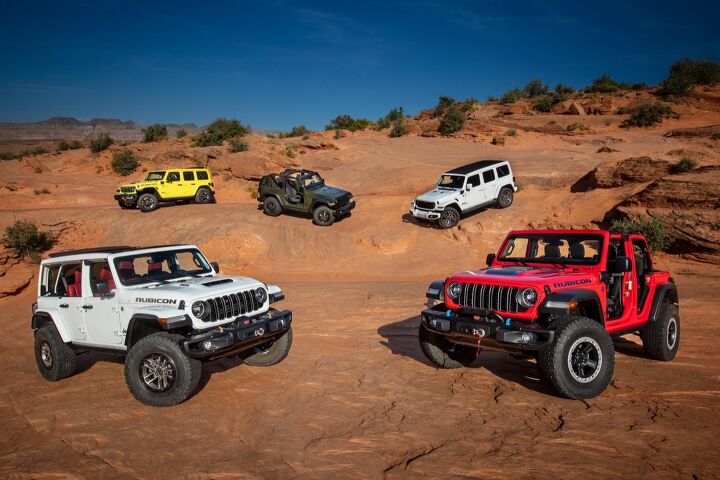 There's nothing seismic enough about the 2024 Jeep Wrangler to warrant 2023 owners crying into their nalgenes. The detail changes are small but numerous, creating an SUV that's just a bit better in every way, without alienating existing owners.
The latest Wrangler does exactly what it needed to: improves the breed. It keeps all of the off-roader purity it's renowned for in its core trims, while casting an even larger net to lure in potential buyers. Want an even tougher off-roader? Rubicon X. A taste of luxury in between all the sand? High Altitude. How about exploring nature in silence? Wrangler 4xe, baby—and it's cheaper now, too. The Bronco's going to have to gallop a little bit harder now.
---
FAQs
How much does the 2024 Jeep Wrangler cost?
For 2024, the Jeep Wrangler starts at $33,690 including destination, an increase of $700.
What is the new Jeep Wrangler lineup for 2024?
The gas-only trim lineup consists of Sport, Sport S, Willys, Sahara, Rubicon, Rubicon X and Rubicon 392 models. The plug-in Wrangler 4xe trims are Sport S, Willys, Sahara, Rubicon, High Altitude, and Rubicon X.
What changed in the 2024 Jeep Wrangler?
Amongst other things: a redesigned seven-slot grille, a larger 12.3-inch infotainment screen, standard side-curtain airbags, and new trims.
Become an AutoGuide insider. Get the latest from the automotive world first by subscribing to our newsletter here.
LOVE IT
Still the off-road GOAT
Excellent tech upgrade
Cheaper 4xe entry point...
LEAVE IT
...is still $50k
No powertrain upgrades
See you, EcoDiesel
Published June 29th, 2023 12:03 AM
Popular Articles
Latest Comparisons
Car Buying Tools