10 Views
2018 Mitsubishi Outlander PHEV Review and First Drive
February 4th, 2021 3:45 PM
Share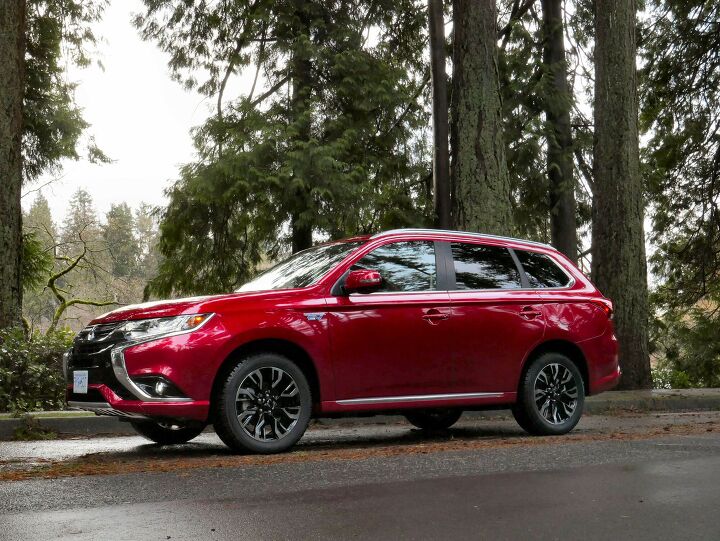 The SUV renaissance has provided a tempting platform for rebirth for brands like Mitsubishi.
Having largely faded from the public consciousness after years of flagging investment in new products and keeping themselves alive by way of pricing incentives and extraordinarily long warranty offerings, the Japanese automaker's recent push into people movers presents a lifeline for reinvention. While smaller, more affordable models like the Outlander Sport (called the RVR in Canada) and the upcoming EclipseCross will no doubt offer the chance at the volume the company seeks, it's the new 2018 Mitsubishi Outlander PHEV that serves as the shiniest tree-topper in the showroom.
Unfortunately for Mitsubishi, spending such a long time sitting on the sidelines in North America has allowed much of the industry to pass it by. While there are aspects of the near-mid-size plug-in hybrid Outlander that work on the modern market, as an overall package, it's clear that the manufacturer is still playing catch-up.
FAST FACTS
| | |
| --- | --- |
| Powertrain: |  2.0L 4-cylinder/60-kW electric motor/60-kW electric motor |
| Output: | 197 total system horsepower |
| Transmission: | CVT |
| US Fuel Economy (combined): | 25 mpg, 74 MPGe |
| CAN Fuel Economy: | 9.2 L/100 km (combined), 3.2 LE/100 km (combined) |
| US Price: | Starts at $35,590 |
| CAN Price: | Starts at $44,817 |
| : | (includes destination - CAN price also includes all associated charges (PDI, AC, dealer fees, etc) |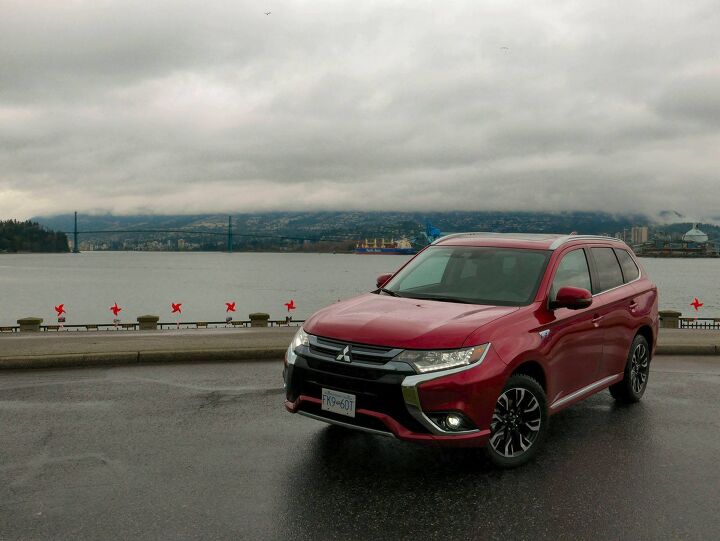 Split Personality
There are conflicting forces at play in the genesis of the 2018 Mitsubishi Outlander PHEV. On the one side is the desire to provide family customers with the chance to sample a useful, battery-assisted sport-utility vehicle with a window sticker that won't have them looking across the aisle at luxury offerings with lust and longing in their eyes ($35k USD / $43k CAD). At the same time, the Outlander can be ordered in a higher spec edition (GT) that attempts to build on the more modest switchgear and materials of the base model in terms of both price and prestige.
ALSO SEE: 2018 Mitsubishi Eclipse Cross Review
It's a strategy that leads to the $40,295 GT ($49,998 GT S-AWV in Canada) offering a mixed bag of gear that is a little too tightly tied to its cost-conscious roots. Hence the top-tier's model's excellent leather seats (brown leather with red piping to match the exterior paint on my test vehicle) sharing a cabin with clunky turn signal and wiper stalks, pedestrian climate controls, and significant amounts of dark plastic. There was no navigation available on the vehicle I drove – a surprising omission given the cost of entry, with Android Auto/Apple CarPlay stepping in to pick up the slack – and the vehicle's fussy console-mounted shifter asks buyers to relearn how to get things in gear with no tangible convenience benefit.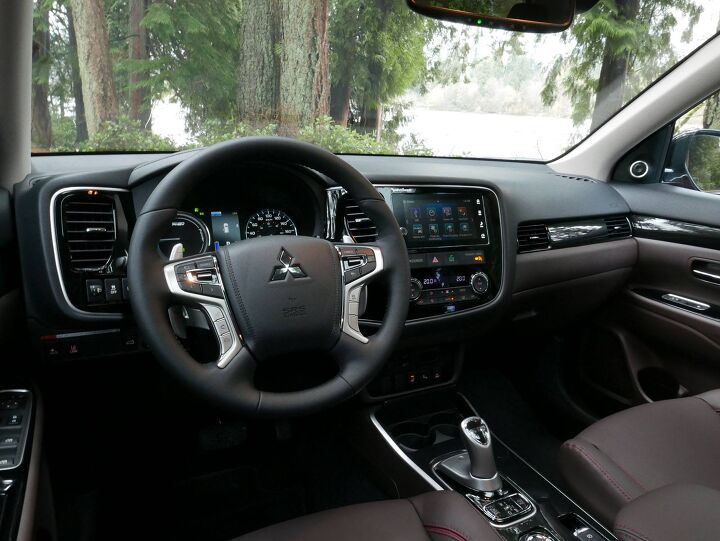 The spacious and practical Outlander interior calls back to an earlier decade of SUV development with its almost retro feel, perhaps best embodied by the exposed subwoofer housing protruding from the left rear of its cargo area. Don't look for a third-row seat in the PHEV, either – the vehicle's battery has claimed the space required to expand beyond five passengers.
Battery Yes, Power…No
Further evidence of the 2018 Mitsubishi Outlander PHEV's time-out-of-joint character can be found when examining its plug-in hybrid drivetrain, which exhibits both forward-looking as well as decidedly non-progressive characteristics.
On paper, the SUV appears quite innovative. Drivers are treated to a pair of electric motors – one for each axle – that are managed in tandem with the gasoline engine by a version of Mitsubishi's Super All-Wheel Control (S-AWC) all-wheel drive system. The Outlander PHEV is able to count on active power management at both axles, operate in four-wheel drive on battery power alone, and can use its gas-fired 2.0-liter four-cylinder mill as either a generator or linked directly to the front wheels.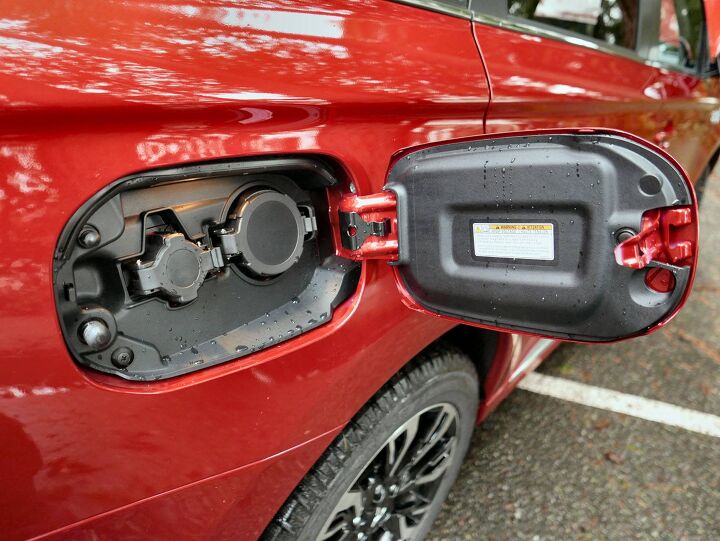 In practice, the hybrid system never transcends the sum of its parts. The Outlander's 197 total system horsepower are simply incapable of motivating the hefty hauler with any authority. Around town, the PHEV provides acceptable performance, but ask the vehicle to pass, surge up a hill, or merge with highway traffic, and suddenly you find yourself searching for the afterburner button. Loaded with kids and cargo, that sensation is only going to be amplified. Taken together with the SUV's comfortable, but non-athletic chassis, it comes across as a distinctly different experience from what you would encounter in a rival like the (somewhat) smaller Toyota RAV4 Hybrid – and definitely not in keeping with class expectations.
ALSO SEE: 2018 Mitsubishi Eclipse Cross Review
As for battery-only driving range, the advertised 22 miles (35 kilometers) from the vehicle's 12 kWh battery comes at a cost of four hours plug time using a DC fast charger (although 80 percent of that figure is available after 30 minutes), and double that on household current. Mitsubishi has installed a configurable regenerative braking system in the Outlander that can be accessed via paddles mounted on the steering column as well as a battery recharge drive mode useful on the highway for juicing the vehicle up for later-on urban crawl.
The Verdict: 2018 Mitsubishi Outlander PHEV Review and First Drive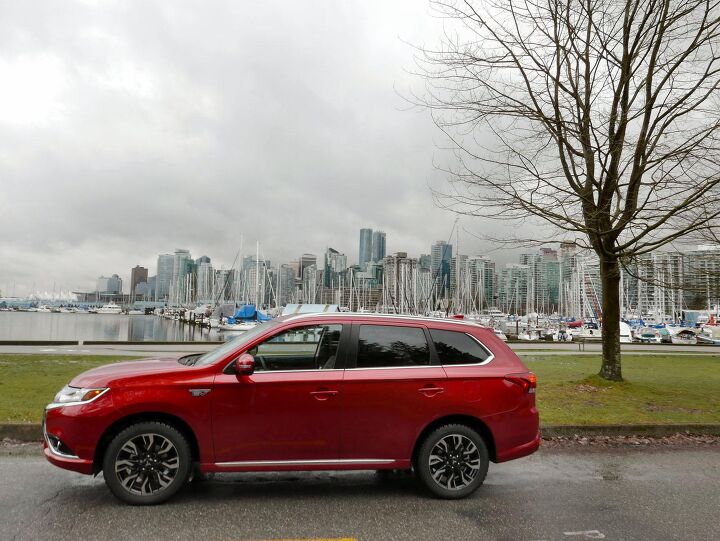 The 2018 Mitsubishi Outlander PHEV finds itself occupying an uncomfortable gray zone when it comes to hybrid SUVs. An interior refresh away from potentially justifying the higher price tag of its range-topping trim level, yet not quite frugal enough (25 mpg or 9.2 L/100 km combined) nor pleasant enough to drive to make a case as an entry-level ride, the Outlander is an outlier in a market space that's already the very definition of niche.
Mitsubishi claims class-leading sales for the PHEV in other parts of the world, but in North America, it seems destined to do best in regions where state, provincial, and federal tax credits conspire to encourage the adoption of EV automobiles. It's possible that these incentives will help to float the Outlander PHEV's volume to where Mitsubishi needs it to be to justify the space it takes up on dealer lots, but it's difficult to recommend parking a vehicle in your driveway based solely on the ability to subsidize its purchase with the tax dollars of your friends and neighbors.
Discuss this article on our Mitsubishi Forum
LOVE IT
Comfortable, well-appointed seats
Roomy, adult-friendly interior
Most affordable plug-in hybrid on the market
LEAVE IT
Dated switchgear
Not enough power for weight
No navigation available
High-priced top trim lacks sizzle
Published January 29th, 2018 10:29 AM
Popular Articles
Latest Comparisons
Car Buying Tools