222 Views
2023 Mitsubishi Outlander PHEV First Drive Review
December 13th, 2022 8:56 AM
Share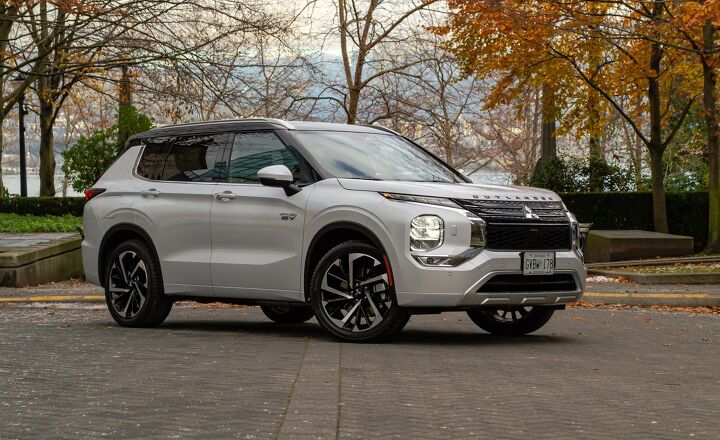 FAST FACTS
| | |
| --- | --- |
| Engine: | 2.4L I4 w/ 2x electric motors |
| Output: | 248 hp, 332 lb-ft |
| Transmission: | 1AT, AWD |
| US fuel economy (MPG/MPGe): | 26 (combined), 64 |
| CAN fuel economy (L/100KM): | 9.0 (combined), 3.6 |
| Starting Price (USD): | $41,190 (inc. dest.) |
| As-Tested Price (USD): | $50,485 (inc. dest.) |
| Starting Price (CAD): | $48,438 (inc. dest.) |
| As-Tested Price (CAD): | $59,848 (inc. dest.) |
A lot of folks buy a lot of cars based on a lot of what-if scenarios. The 2023 Mitusbishi Outlander PHEV has an answer for most of them.
Maybe you're in the market for a compact SUV, the most popular segment outside of trucks, but want just a bit more space. In case. No-emission driving sounds great, but you know you've got those longer trips out of town every month or holiday or whatever.
The second-generation Mitsubishi Outlander PHEV has got these concerns covered. Well-equipped, spacious without being unwieldy, and offering the best of both the EV and ICE worlds, the Japanese flagship looks well-placed to find serious mainstream success in its sophomore outing.
Get a Quote on a New 2023 Mitsubishi Outlander
EV first, gas second
It might be based on an existing ICE model, but the Outlander PHEV has a different sort of design brief. According to segment chief vehicle engineer Kentaro Honda, the focus is to have the Outlander operate on electrons as often as possible. To that end, the engineers have slung a higher-capacity lithium-ion battery under the rear seats. Even though the battery is now up to 20.0 kilowatt-hours, it takes up less physical space. Pair that advancement with the larger dimensions of this new generation of Outlander, and the PHEV is now able to have three rows of seats like the gas model. Range is up too, now clocking in at 38 miles (61 kilometers).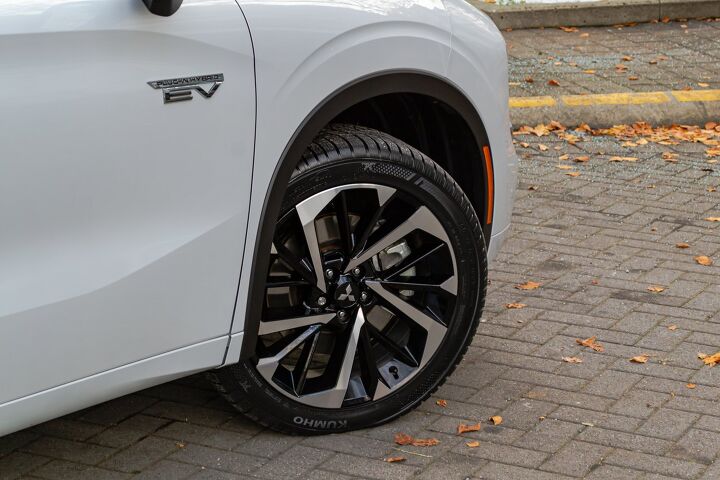 There's been a corresponding increase in power as well. The Outlander once again employs two electric motors, one at each axle for full-time all-wheel drive. Ratings of 85-kW up front and 100-kW out back represent increases of 25 and 30 kW, respectively. Combined system figures are 248 horsepower and 332 pound-feet of torque. About the only thing that has carried over is the 2.4-liter inline-four gas engine—and even that sips from a larger tank now, for even more range between stops.
Major glow-up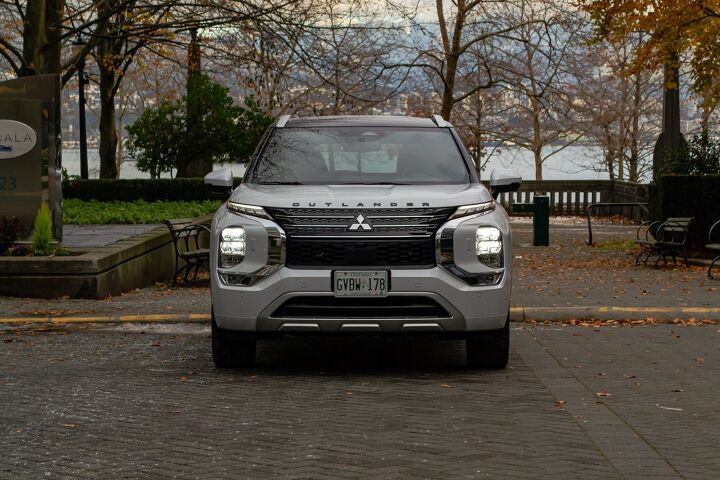 It might've been 18 months since we first drove the current-generation Outlander, but this bears repeating: it's really grown up. Mitsubishi's design team wasn't afraid to get adventurous with the styling, itself largely based on the 2019 Engelberg Tourer concept. The puffy-cheek visage might not be for everybody, but the sculpted flanks and planted stance give the Outlander previously unattainable levels of curb appeal. PHEV buyers even get the option of a contrasting roof color, something that will be available to the rest of the Outlander family soon. Pair that with the thin headlights and name badge above the grille, and there's even a little Coventry vibe here.
SEE ALSO:
2022 Mitsubishi Outlander Review: First Drive
The glow-up continues inside. Clearly an economy car in its original form, the latest Outlander leapfrogs a significant portion of the compact-SUV set with its classy cabin design. Unlike the exterior, there's nothing too wild here, just clean, simple design that should age well—and a dash of contrasting color for good measure.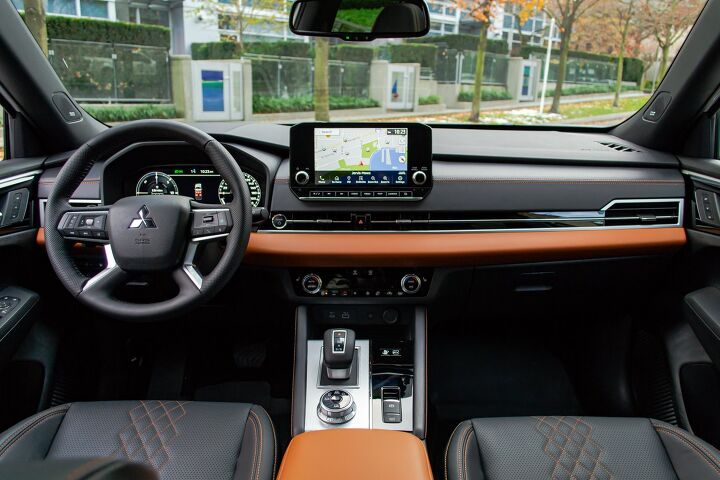 The seats might not feature parent company Nissan's zero-gravity tech, but they're comfy all the same. Same goes with the second row, even if it doesn't feel quite as spacious as others in the class. That's to fit the third row of course. It's telling that Mitsu refers to the Outlander as a 5+2 on the spec sheet: with just 19.1 inches (485 mm) of legroom, it's a kids-only spot. It's a bit of a fuss to fold the way-back down too, though when you do, you'll find just as much storage as the outgoing model.
Mitsubishi says it paid much attention to ease of use. To that end, the only changes for the move to PHEV are the digital instrument panel (standard on all PHEV trims), and the addition of two buttons beside the shifter. On shuffles through the four available EV driving modes, while the other activates the Innovative Pedal Operation Mode. Time to put 'em both to work.
SEE ALSO:
2022 Kia Sorento PHEV Review: Plugging the Gap
Smooth progress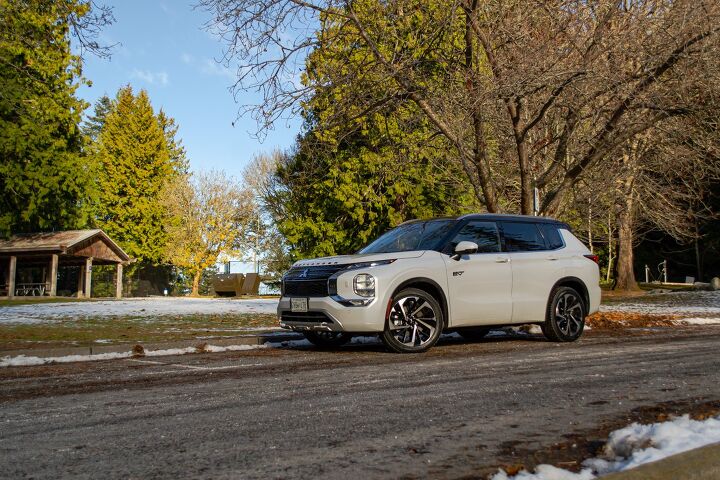 Our drive starts in downtown Vancouver, which has just received an unseasonable blast of actual snow. It's not enough to challenge the 7.9 inches (201 mm) of ground clearance this thing has, and the wide 255-section rear tires find purchase dang near everywhere. Plus, it sure is pretty as we escape the city and find lightly dusted conifers as far as the eye can see.
The Outlander is unruffled. The new platform offers a sturdy foundation to hang the suspension off of, a suspension that prioritizes comfort with a compliant, not-too-soft mentality. Steering feel is expectedly light, though it's quite quick and consistent. Power delivery takes a little getting used to, slightly over-eager at tip-in and then more consistent from there. Despite the on-paper numbers, The Outlander never feels sprightlier than "adequate," even when all the power sources are working together.
Switching into the Power driving mode trims the Outlander PHEV's 60 mph (6 km/h) to a respectable seven-ish seconds. There's a dull drone when the four-pot wakes up, but that's the thing: it happens so much less often here than in others in the class. In most modes, the 2.4 won't wake up until 40-percent throttle; EV Priority mode knocks that all the way back to 80 or 90. There's a slight whirring from the electric motors and the heat pump, but otherwise it's just smooth sailing.
The S-AWC system keeps the Outlander planted and pointed the right way. In an unplowed area, Mitsubishi encourages us to fling the SUV around. The system adjusts the power ratio undetected, offering a strong feeling of control even when the car is ever so slightly sliding. New this year is rear axle torque vectoring, which results in even more precise control. Kaoru Sawase, the godfather of S-AWC, was on hand to tell media about the system. According to Sawase-san, the goal is just as much security and comfort as it is about performance: he wanted S-AWC to produce precise driving characteristics, as that would in turn reduce driver error.
Keep it simple
If there's a complaint about how the Outlander drives, it's in the quasi-one-pedal driving setting. There are six levels of regen available to drivers, but there's barely any real-world difference between them. For a car with a mission brief about ease of use, I feel like it could've been half the number.
That being said, I do very much enjoy the control over battery charge that Mitsubishi has left to the driver. Normal and EV priority modes are pretty self-explanatory. Between them sits Save and Charge. The former keeps the battery at its current state of charge, while Charge puts the ICE on overtime duty to build back up to 80-percent battery.
We used all of the driving modes on way out of the city. Even climbing the mountains, the Outlander was hovering right round its official figure of 26 mpg (9.0 L/100 km). The second half of the route saw us chop that to 38 mpg (6.2 L/100 km). If anything, the official electric-only range seems conservative; we did a 13-mile (21-km) leg on less than a quarter of a charge.
SEE ALSO:
2022 Mitsubishi Eclipse Cross Review: Better, But Too Rich
Unique, valuable features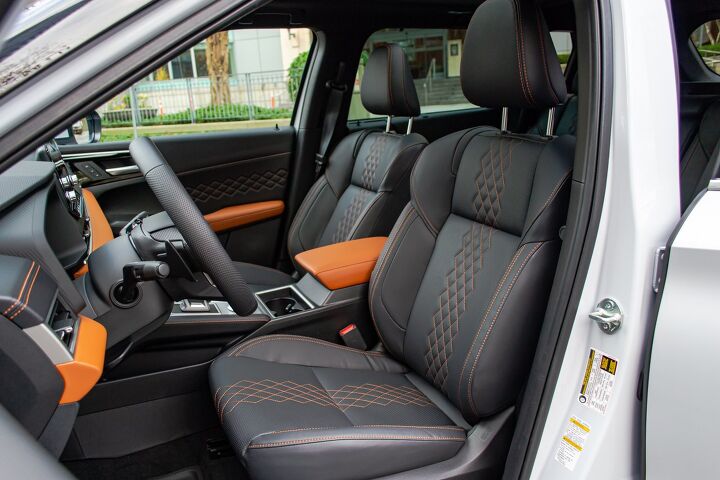 That it rides smoothly and feels well put together isn't enough for the Outlander. This is a Mitsubishi that lists for more than the average transaction price—it needs to bring additional goodies to the table.
Thankfully, the Outlander largely succeeds. There's a full suite of standard driver assists, including forward collision mitigation and adaptive cruise control. The latter evolves to include long-form stop-and-go support on these top-trim testers. The 360-degree camera has an okay framerate, but a crisp resolution. We're always fans of big head-up displays, too. There's not much at this price that offers massage seats, either—a PHEV-exclusive in the Outlander lineup.
There are a couple other PHEV advantages as well. It's rare to offer Level 3 charging on a plug-in, yet Mitsu has, with the CHAdeMO plug being even rarer. A top-up to 80-percent should take about 38 minutes or so. Stick to Level 2 and it's about 6.5 hours. There's also Vehicle-To-Load (V2L), which allows owners to charge various accessories from the Mitsu's battery.
SEE ALSO:
2021 Mitsubishi Mirage Review: Fitness for Purpose
Dollars and sense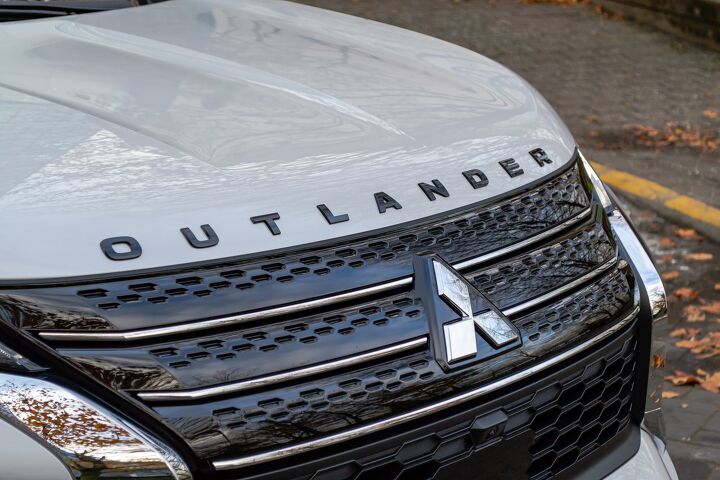 The Outlander PHEV has had a swanky makeover, but Mitsubishi still has the value angle. The Outlander remains one of the most affordable plug-ins on the market, especially if you filter for only those options with more than five seats. Pricing starts from $41,190 ($48,438 CAD) including destination, which significantly undercuts the Kia Sorento PHEV and Chrysler Pacifica Hybrid. Only one of those comes with AWD, too.
Flagships are a different story. Every vehicle at the event was an identically-prepped, Canadian-spec Outlander PHEV GT S-AWC, with an as-tested price of $59,848 CAD. The US equivalent, the same in all but name, is the SEL Premium ($50,485). The two-tone exterior option contributes around a grand to those bottom-line figures.
Final Thoughts: 2023 Mitsubishi Outlander PHEV Review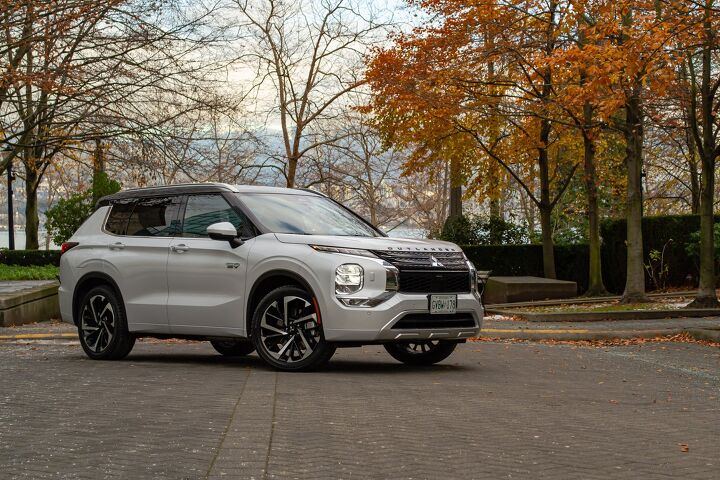 Vancouver's snowfall served as a timely reminder to always be prepared. The 2023 Mitsubishi Outlander PHEV sure is.
When we did our massive 11-SUV comparison the Outlander's sibling, the Nissan Rogue, was the highest-scoring non-electrified entry. Our biggest criticism was the lack of a hybrid. The Outlander addresses that, with a quieter, more refined drive to boot. It also offers more space when you need it, and the ability to control when the SUV does (or doesn't) use electrons. To these eyes, it's even more stylish. Add it all up, and the Outlander PHEV makes a strong case for mainstream success.
---
FAQs
How much does the 2023 Mitsubishi Outlander PHEV cost?
The 2023 Mitsubishi Outlander PHEV starts from $41,190 ($48,438 CAD) for the SE trim.
When can you buy the 2023 Mitsubishi Outlander PHEV?
The Outlander PHEV should be in dealerships as of December 2022.
Does the 2023 Mitsubishi Outlander PHEV have a third row?
Yes, though it's best left for little ones.
Discuss this story on our Mitsubishi Outlander Forum
Become an AutoGuide insider. Get the latest from the automotive world first by subscribing to our newsletter here.
LOVE IT
Smooth powertrain
Premium interior
Level 3 charging and V2L capability
LEAVE IT
Too many regen settings
Really a 5+2 layout
Top trim runs rich
Published December 5th, 2022 7:01 AM
Popular Articles
Latest Comparisons
Car Buying Tools