57 Views
2016 Subaru Impreza Review
May 24th, 2019 11:39 AM
Share
We're committed to finding, researching, and recommending the best products. We earn commissions from purchases you make using links in our articles. Learn more here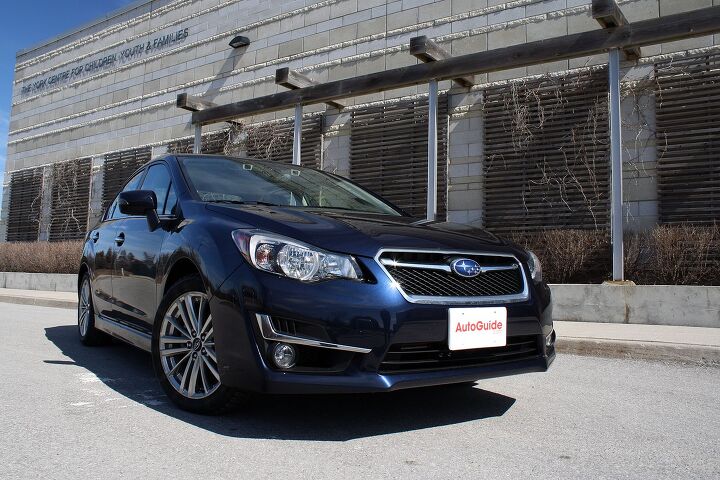 This Subaru is about to become obsolete, but that doesn't mean you should cross it off your shopping list.
The 2016 Subaru Impreza is on its way out the door because the next-generation 2017 model was recently unveiled. The new model addresses some of the complaints with the current model, but there are a lot of reasons you should still be looking at the 2016 model as a new or used car purchase when the next model hits dealers.
Here's a quick look at the car and the reasons you might want to take a look or wait for the new model.
Unremarkable Driving, Great AWD
If you want to be invisible and unconventional, the Impreza is a great choice. Not typically the first pick for a compact sedan, it provides good value for being the only car in its segment that offers standard full-time symmetrical all-wheel-drive. The fuel economy is also decent for an AWD car – the EPA rates it at 28 mpg in the city and 37 mpg on the highway. As tested, I was averaging about 29 mpg in mixed driving.
Powered by a 2.0-liter boxer four-cylinder, the Impreza gets a modest 148 horsepower and 145 pound-feet of torque. It's enough to get the sedan going, but it isn't enough to make it fun.
FAST FACTS
| | |
| --- | --- |
| Engine: | 2.0L boxer 4-cylinder |
| Power: | 148 hp, 145 lb-ft of torque |
| Transmission: | CVT or 5-speed manual |
| EPA Fuel Economy (MPG): | 28 city, 37 hwy |
| CAN Fuel Economy (L/100 km): | 8.5 city, 6.4 hwy |
| US Price: | Starts at $18,295 |
| CAN Price: | Starts at $19,995 |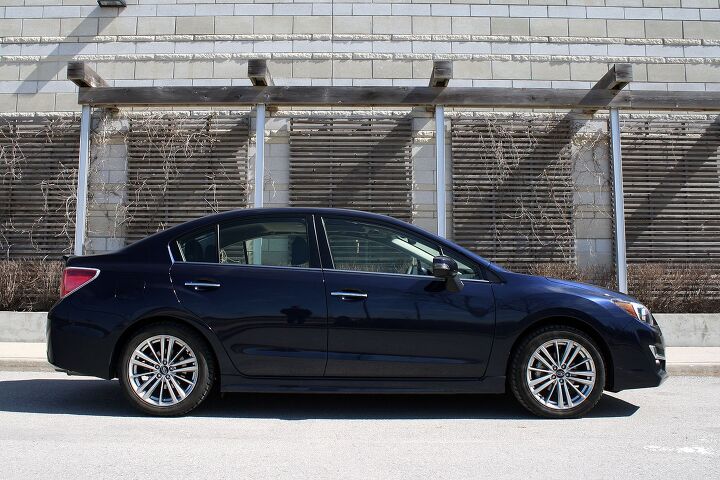 When you first get into the Impreza, the driving doesn't seem that special. The drive is completely unremarkable, but also easy for an average driver to live with. The CVT acts quite normally, except it makes a lot of noise, and the car has uninspiring acceleration outside of the city.
In the city, however, the car is too jumpy off the line. As soon as you take your foot off the brake or just tap the gas, it leaps forward, meaning that if you're not used to it, it may catch you off guard. The steering is also a bit too light on the highway, which means it acts a bit twitchy. A heavier setup would be preferred. I have no complaints suspension-wise.
But then you get into some bad weather, and everything starts to make sense. Equipped with the proper tires, the Impreza is unstoppable in the snow and wet weather. This added traction alone makes the Impreza stand out among its peers.
Boring but Functional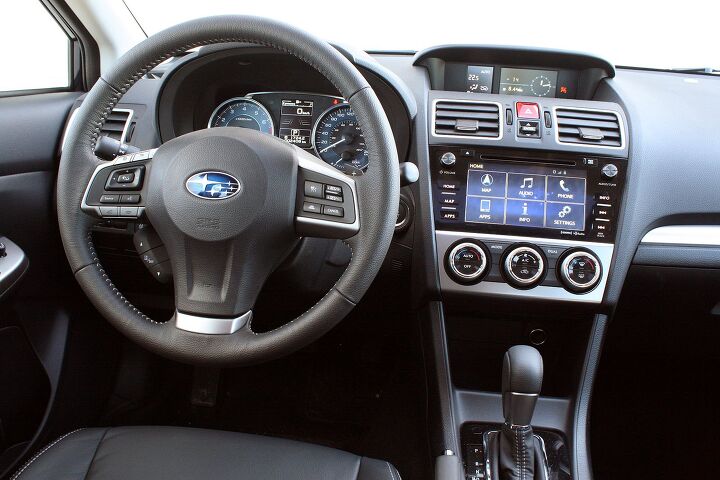 Subarus have always been criticized for its boring interiors, but the lack of pizzaz is easy to forgive because the layout is clean and user friendly. All the controls make sense and nothing is placed where it shouldn't be. The cabin is also roomy in the front and back, and the trunk was able to fit two full-sized rolling suitcases and two duffle carryons without any issues.
ALSO SEE: 10 Things I Learned About the 2016 Subaru Forester
The Impreza also has great outward visibility. Nice big windows and thin pillars means you always have a good sense of what's happening around the car and blind spots aren't a huge problem.
What Needs to Be Fixed
Besides the uninspiring drive, the Subaru Impreza could use a few fixes.
As tested, the Impreza has Subaru EyeSight, which includes adaptive cruise control, lane departure warning, and automatic emergency braking. There are warnings for everything, even something I like to call the distracted driving feature, which gives you a beep if the car in front of you moves and you don't because you're probably looking at your phone.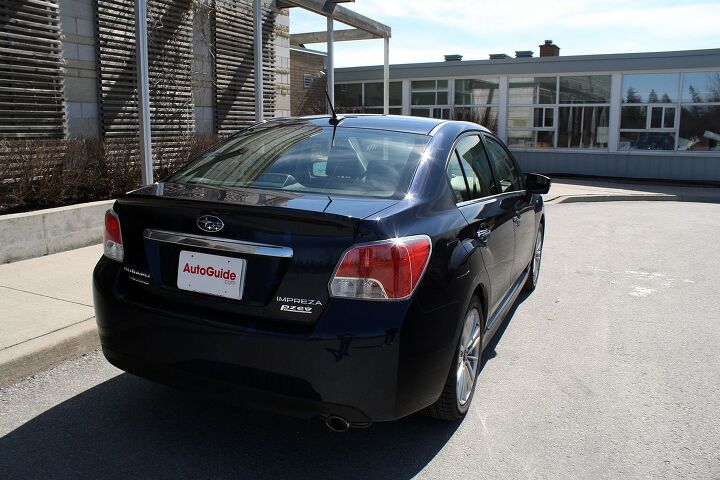 One weird thing it does is that when adaptive cruise control is activated, the car gives you an audible notification to tell you it sees a car in front of you. On paper, it seems useful, but in practice, it becomes annoying to get a beep every time a car moves in front of you. In other cars with this feature, an icon in the dashboard lights up, which is a much less annoying way to get a notification.
Strangely, blind spot monitoring isn't included in this EyeSight package. The sound system in the Impreza is also awful – the sound is shallow and it doesn't do anything to mask the racket coming from the CVT.
Why You Might Want to Wait for the New Impreza
The 2017 Subaru Impreza is a bit longer and roomier, but also a bit lower and more aerodynamic. It also gets a slight bump in power to 152 hp. Blind spot detection, rear cross traffic alert and rear emergency braking will also be available as options, along with adaptive headlights. The interior is also a bit more interesting, and the exterior looks more modern, although not by much. It's still a conservative design inside and out.
ALSO SEE: 2017 Subaru Impreza is Roomier, Slightly More Powerful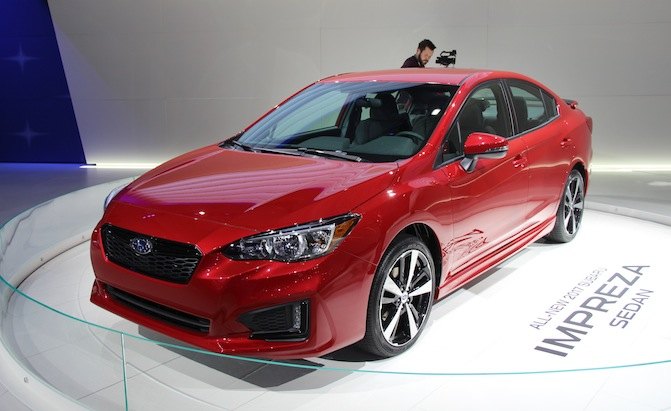 The Verdict: 2016 Subaru Impreza Review
The Impreza has always been an underdog in its segment. Going up against heavyweights like the Honda Civic and Hyundai Elantra, the Subaru's biggest benefit over its competition is its standard all-wheel drive.
If you're thinking of buying the 2016 model or waiting for the newer 2017 model, the 2016 model might be a better bargain because it doesn't appear that the 2017 Impreza will offer big enough improvements to really justify the longer wait and possibly higher price. Of course, the story might be different when we get to test drive the new model, but on paper, the 2016 Subaru Impreza is already a pretty solid offering.
Discuss this story on our Subaru Forum
LOVE IT
Standard AWD
Not the conventional choice
Functional interior
LEAVE IT
Unremarkable driving dynamics
Conservative design
Awful sound system

Jodi Lai
Jodi has been obsessed with cars since she was little and has been an automotive journalist for the past 12 years. She has a Bachelor of Journalism from Ryerson University in Toronto, is a member of the Automobile Journalists Association of Canada (AJAC), and a jury member for the prestigious North American Car/Truck/Utility Vehicle of the Year (NACTOY). Besides hosting videos, and writing news, reviews and features, Jodi is the Editor-in-Chief of AutoGuide.com and takes care of the site's day-to-day operations.
More by Jodi Lai
Published April 12th, 2016 9:23 AM
Popular Articles
Latest Comparisons
Car Buying Tools