3K Views
2024 Toyota Grand Highlander Review: First Drive
May 30th, 2023 5:47 PM
Share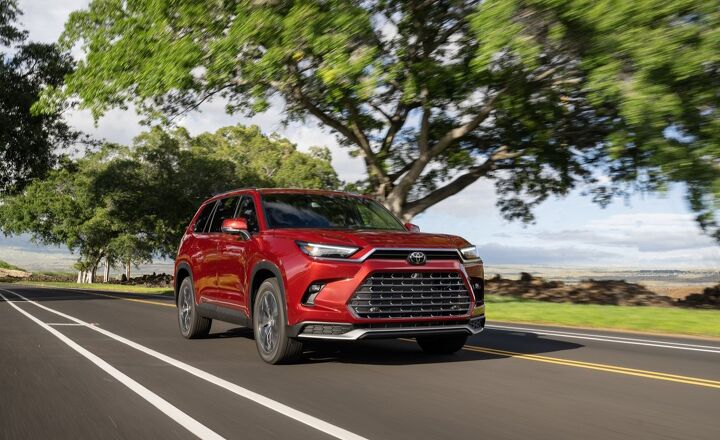 FAST FACTS
| | |
| --- | --- |
| Engine: | 2.4L I4T + hybrid (Hybrid Max) |
| Output: | 362 hp, 400 lb-ft |
| Transmission: | 6AT, AWD |
| US fuel economy (MPG): | 26/27/27 |
| CAN fuel economy (L/100KM): | 9.0/8.6/8.8 |
| Starting Price (USD): | $44,405 (inc. dest.) |
| As-Tested Price (USD): | $59,460 (inc. dest.) |
| Starting Price (CAD): | $53,870 (inc. dest.) |
| As-Tested Price (CAD): | $68,830 (inc. dest.) |
Are you one of the people who find the existing Toyota Highlander just a little too small for your squad?
It's okay. So. Do. We. It's one of the most common complaints about the current three-row SUV. The Japanese automaker has heard the comments, and has crafted this counterpoint, the 2024 Toyota Grand Highlander. But that isn't the only ask it's answered.
Do you want more power, too—but also better fuel economy? Well earlier this month Toyota invited us and dozens of other automotive journalists to Hawaii's big island to drive the Highlander's new big brother. And guess what? It solves all of those problems, better aligning with the needs of buyers in this competitive segment.
Get a Quote on a New 2024 Toyota Prius
What's new?
So, what makes this bigger Highlander so Grand? To start, Toyota has stuck to the same TNGA platform as the regular model, but stretched the wheelbase by around 4.0 inches (102 millimeters) and the overall length by half a foot (152 mm). All that extra girth goes behind the C-pillar, directly benefitting the way-back and trunk space.
It doesn't just look like a Highlander put through a stretcher, either. Toyota has given this rig an entirely new look, which aligns a lot more closely with the more truck-ish offerings in the lineup. Look at that upright front end with its chrome moustache, or the RAV4-aping D-pillar (for a larger, more inviting rear window). There are some solid RAV4 vibes around back too, with those rectangular taillights. Wheels range from 18 to 20 inches in size.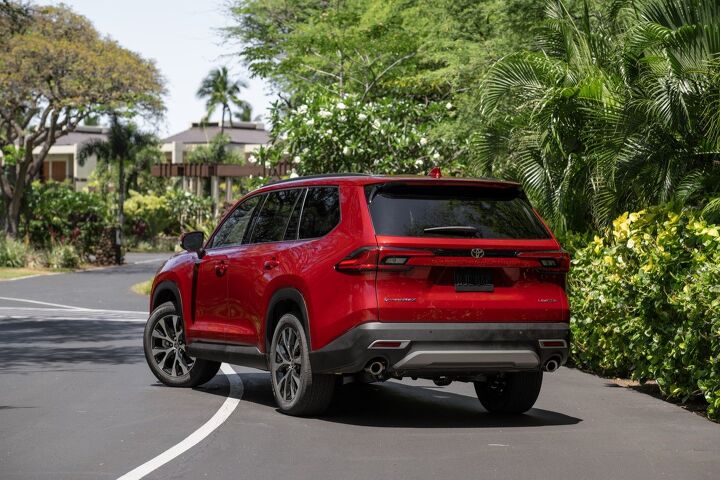 Truth be told, the design is probably my least-favourite part of the Grand Highlander. It's very safe and manages to feel a few years old already, especially in full gated-community spec cream and chrome.
Under the hood are three powertrains, two of which are shared with the regular Highlander. The default engine is Toyota's 2.4-liter turbo-four, sending 265 hp and 310 lb-ft of torque through an eight-speed automatic. The other returning powertrain is the traditional Toyota hybrid setup. A naturally-aspirated 2.5-liter pairs with two electric motors for 245 hp. This fuel-economy champ barely suffers a penalty in the bigger body, scoring 36 mpg city, 32 mpg highway, and 34 mpg combined in XLE trim. (Knock 1 mpg off each for the Limited.)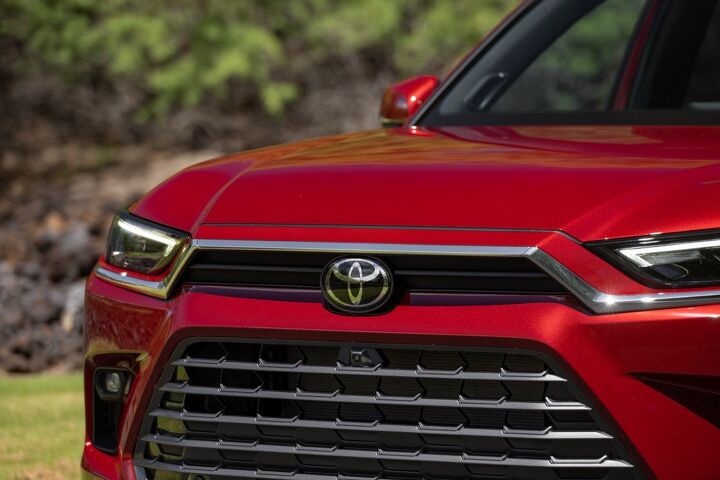 For both of these familiar powertrains, front-wheel drive is standard, with all-wheel drive optional.
Take it to the Max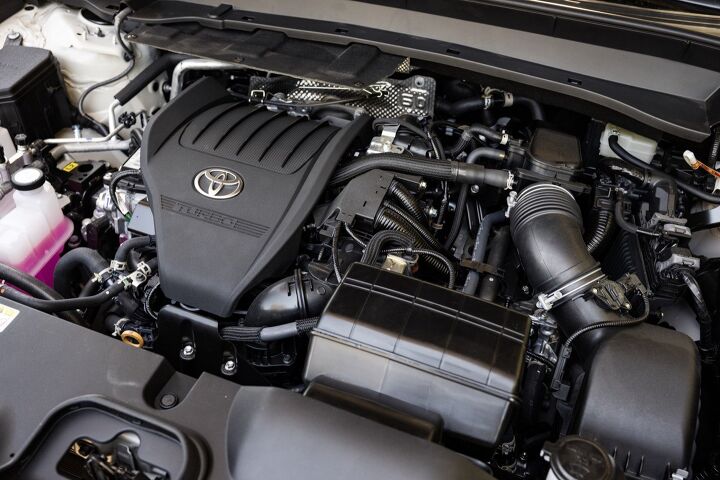 Then there's the Hybrid Max. This powertrain has already shown up in the Crown (and Lexus RX), adding a hybrid assist to that 2.4-liter turbo-four. There's a big increase in power and torque, to 362 and 400, respectively. And yet the Hybrid Max will still happily do 27 mpg combined; better than any gas model. AWD is standard, and it's a full-time system instead of the on-demand in the others.
This is the powertrain I'd recommend. The Hybrid Max has real oomph, moving with authority and making passing simple. Toyota quotes a 0–60 mph (0–96 km/h) time of 6.3 seconds and yeah, that tracks. The six-speed auto isn't quite as quick to respond as the eight-speed, but the torque masks most of that out on the road.
Just as important as the going is the stopping, and the Grand Highlander's brake pedal is easy to modulate. The steering is par for the course: light on feel and effort to keep folks content on long drives. Despite the extra size, the Grand Highlander is no harder to place on the road than the non-Grand, with light and accurate steering. Toyota's engineers have given the Grand Highlander a unique rear suspension tune to handle the added weight—just 60 or so pounds (27 kilograms)—and it maintains that smooth, comfort-oriented ride of its little brother.
Hawaii's roads are super smooth, so it's hard to judge just how upset the Grand can get, but if anything, the cabin feels more insulated than the last few Highlanders I've driven. Credit to the active noise cancellation tech that's standard on Limited and Platinum models.
About the Cabin
The interior is a good mix of old and new. The layout is typical Toyota functionality, with usable storage cubbies along the dashboard, along the transmission tunnel, and in the large center console. There are a variety of two-tone color schemes available, including the new-to-Grand Portobello. It's an easy space to get comfortable in: since just about every modern Toyota rides on some permutation of the TNGA platform, the driving position is instantly familiar. The low, flat shoulder line makes it easy to see out of, and in combination with the available panoramic roof, lets in tons of natural light. Hybrid Max models gain pretty bronze highlights on the dashboard and seats; the latter also become a mix of leather and suede, which looks and feels great.
Of course, the big deal is the third row. It's now properly adult-friendly, with 33.5 inches (851 mm) of legroom. The cushion is still low-ish, so knees are high, but it's no longer a penalty box for folks past elementary school. There are useful storage cubbies along the windows with integrated USB-C ports, plus handles along the C-pillars to aid ingress and egress.
And there's tons of room out back: enough for seven suitcases, according to Toyota. Drop all the seats and with 97.5 cubic feet of storage, the only way you'll fit more is finding a body-on-frame SUV.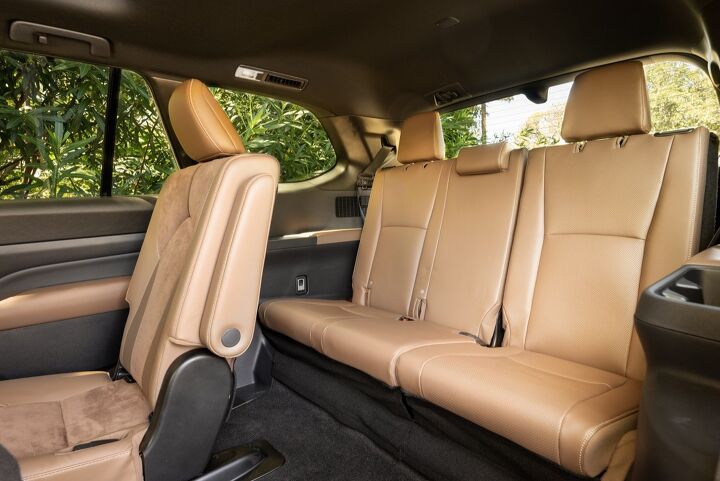 Toyota has fit every Grand Highlander with its larger, 12.3-inch infotainment screen, running the latest user interface. It's a cinch to use. Higher trims also pair it with a large digital instrument cluster, and an available head-up display. All these combine for a useful command center, with plenty of configuration to tailor it to the driver's needs. A long list of standard safety features, including full-range adaptive cruise control, auto high beams, lane keep assist, road sign recognition, and more, all come bundled under the Toyota Safety Sense 3.0 banner.
Returning Classics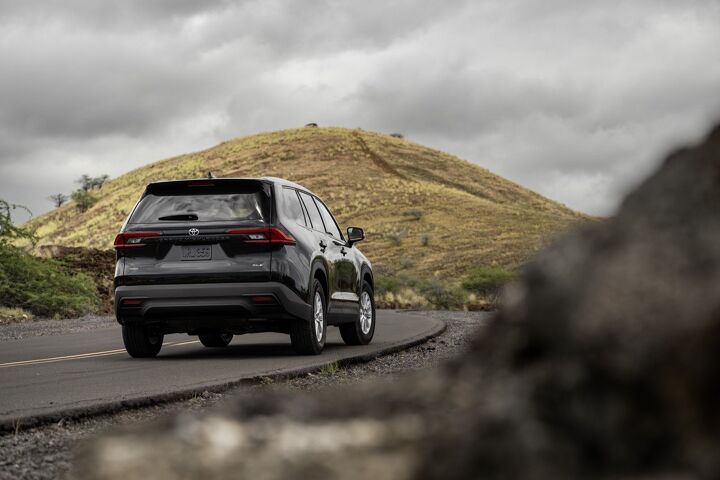 We split our day between all three powertrains (all models on-site were AWD). The base 2.4-liter turbo is a solid powertrain; lots of low-end torque keeps it feeling quick-ish around town where the atmospheric V6s in the Honda Pilot or Kia Telluride would need to rev up. The trade-off is a coarser, more industrial engine note making its way into the cabin.
This engine is a relative fuel-sipper in this segment, scoring up to 28 mpg highway in front-drive form (27 mpg or 8.6 L/100 km for AWD). It'll still tow 5,000 lb too, just like the regular Highlander and Grand Highlander Hybrid Max.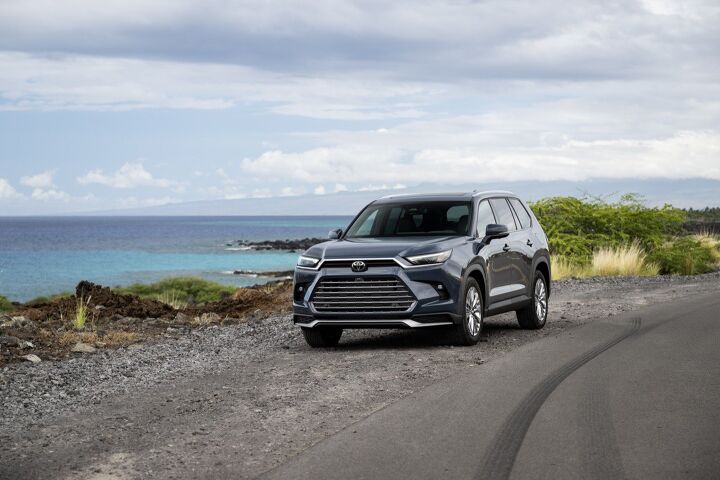 Of course, if you're concerned with fuel economy, that's the role of the tried-and-true hybrid. This is the model I was most curious to try: would the added heft of the larger body make it feel even slower?
Yes and no. It's true, the hybrid is the tardiest of the trio, sauntering to highway speeds in the mid-8s. I'd like to point out that a) that's fine for a family vehicle, and b) the gap is only noticeable in the second half of the sprint. From low speeds the hybrid feels just as potent as the turbo-four, thanks to the quick-acting e-CVT and the instant-on torque from the electric assist. When the gas engine wakes up, it does so with the same drone as before, too.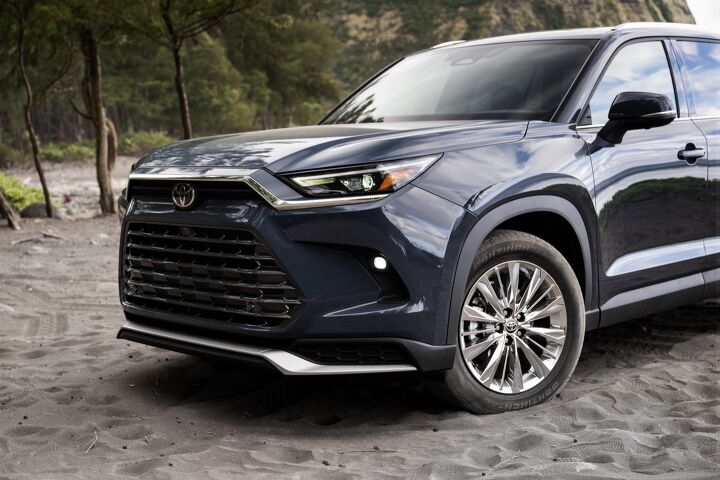 But the payoff is stellar fuel economy. The Grand Highlander XLE hybrid is rated at 36 mpg city, 32 mpg highway, and 34 mpg combined (6.6/7.4/7.0 L/100 km)—in either front- or all-wheel drive forms. The AWD Limited knocks just 1 mpg off those figures. (Curiously, Canada rates them the same.)
If you're really careful, the results can be on another level. On a shorter 15-mile drive loop, my drive partner and I managed to cajole a wild 81.8 mpg (2.9 L/100 km) out of the GH. This was a hilly route, too!
Dollars and sense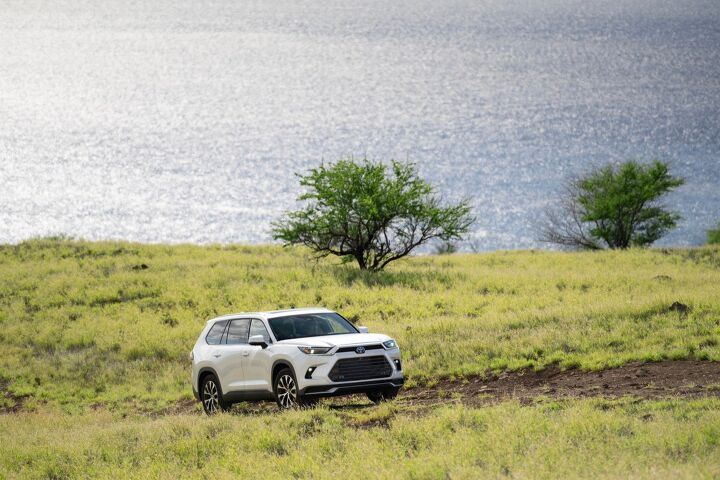 The 2024 Toyota Grand Highlander kicks off at $44,405 in XLE FWD form. Adding AWD—standard in Canada—bumps the price to $46,005 ($53,870 CAD). That's just over a grand richer than the equivalent regular Highlander in the US, and about two grand in Canada. If you need the space, it's a no-brainer. There are three trims, with varying drivetrain combos based on market: XLE, Limited, and Platinum. A Toyota rep told us Capstone will stick to its body-on-frame offerings.
A loaded Grand Highlander Platinum Hybrid Max (whew) stickers for $59,460 ($68,830 CAD). There's precious little that will match its available mix of space, pace, and fuel economy, however. Mazda CX-90? A sweet-driving model, and there's an available plug-in hybrid powertrain. But you'll contend with a tight third row. Grand Cherokee L? No 4xe option there, and the V8 is capital-T Thirsty.
My personal sweet spot is the Limited Hybrid Max. Its price is barely above that of the loaded 2.4L Platinum, and losing features like second-row ventilated seats is a small price to pay for an extra hundred horses and better fuel economy. (Sorry Canadians, the only way into the Hybrid Max powertrain is the Platinum trim.)
Final Thoughts: 2024 Toyota Grand Highlander First Drive Review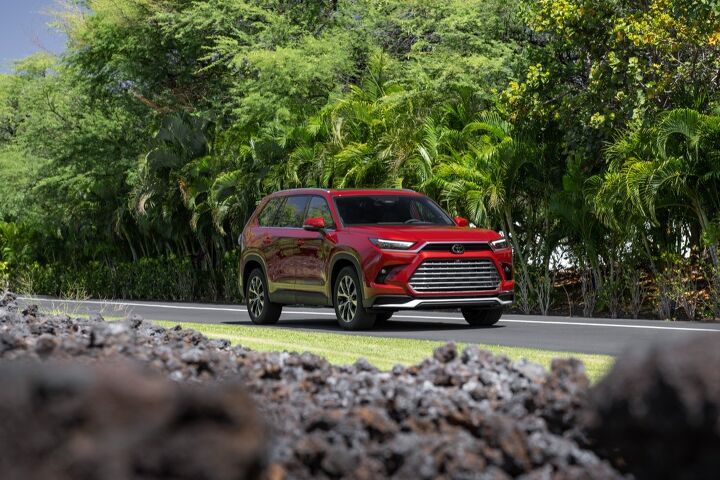 When Toyota debuted the Grand Highlander earlier this year, I asked a company spokesperson what the point of the old one was now. This model fixes its biggest weakness—a tight third row—but also improves cargo space and cabin insulation. It doesn't pull out any surprises, and it didn't need to.
The smaller model will continue on with a more approachable price tag and more of a two-row-plus feel for those who find a RAV4 just a wee bit too tiny. But the Grand Highlander, especially in powerful Hybrid Max form, makes a compelling argument in the ruthlessly competitive three-row segment.
---
FAQs
How much does the 2024 Toyota Grand Highlander cost?
The new model starts from $44,405 (including destination, or $46,005 ($53,870 CAD) with AWD.
When can you buy the 2024 Toyota Grand Highlander?
The 2024 Toyota Grand Highlander arrives in dealerships this summer.
Does the 2024 Toyota Grand Highlander have a third row?
Oh it sure does, and with 33.5 inches of legroom, it's one of the most spacious in the class.
Become an AutoGuide insider. Get the latest from the automotive world first by subscribing to our newsletter here.
LOVE IT
Useful rear seats!
Strong Hybrid Max powertrain
Small price increase
LEAVE IT
Super-conservative looks
Base engine is grumbly
Touching $60k
Published May 30th, 2023 5:35 PM
Popular Articles
Latest Comparisons
Car Buying Tools