2.5K Views
The Best Hot Wheels Track Sets
December 22nd, 2022 4:43 PM
Share
Sure, go ahead and buy them for 'your kid'...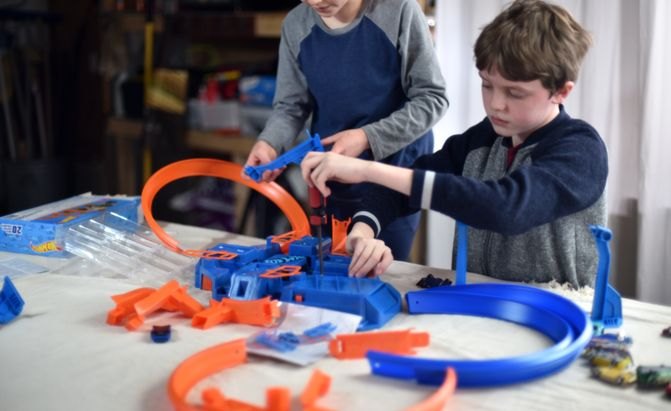 Whether you're a kid at heart or shopping for a child, Hot Wheels track sets are the perfect way to have fun away from your actual car. Modern Hot Wheels track sets offer a ton of versatility, allowing you to put together the wildest creations and tracks of your dreams. Whether it's to race head-to-head or side-by-side, or you just want to capture some spectacular crashes or gravity-defying stunts, Hot Wheels offers it all with a huge variety of track sets.
When you're shopping for Hot Wheels tracks, be sure you know how much space you have available. Some of them can stretch out over 10 feet, so we've included options that can be built in several different ways to pack all the excitement into a smaller area, as well as some that go vertical to make the most of tight spaces. All Hot Wheels track sets are compatible with each other so if you're starting someone out, look for a complete one with a lot of options, so they can add simpler track later on as they expand.
Most tracks are motorized to keep Hot Wheels cars whizzing around at speed, and many of them have crash zones where cars collide. Don't use your valuable, collectible cars there! In fact, not all cars will run smoothly in all track sets. It's hard to predict which ones work, but cars start at about $1 each, so a five-pack makes a nice gift along with the track. You'll generally get one or two included with the larger sets, however.
If you're looking for some of the best Hot Wheels track sets for the holiday season, you've come to the right place. We take a look at some of the most popular ones currently available, covering a range of prices so you can pick the right gift for a loved one, or yourself. But the Criss Cross Crash Track Set and other very popular Hot Wheels sets often sell out, so you may have to shop around if you want one. If you're looking for more adult presents, take a look at our holiday Guide to Gifts for Car Lovers.
See our Table of Contents for information about finding the right car for your track.
1. Editor's Pick: Hot Wheels Criss Cross Crash Track Set
The Hot Wheels Criss Cross Crash Track Set is one of the most popular Hot Wheels track sets available. It features four intersecting track "crash zones" and a car feeder ramp designed to amp up the action. There's a total of more than 16 feet of track with this package, incorporating hairpin turns, motorized boosters, and endless loops for racing. One of the standout features of this track set is a car feeder, which allows plenty of Hot Wheels cars to line up and get fed onto the track. There's a sturdy and elevated figure-eight track featuring four intersecting zones, resulting in plenty of possible misses and wipeouts. With almost 18,000 reviews, this Hot Wheels track set has a great 94% positive rating
Play Testing the Criss Cross Crash Track Set
The Criss Cross Crash Track Set comes with one car, but we purchased it with the optional pack of cars, which was a great assortment of fantasy and real-life cars (our favorite was a Mercedes 500E). All of them worked just fine. Our two testers had no trouble getting it together, but did struggle with the battery box, which has four captive Philips screws. The motor has a big friction wheel in the center, and plenty of power to send up to six cars whizzing around at a highly satisfactory speed, and to highly satisfactory crashes. Both age 11, they enjoyed it but agreed that six to eight years old would probably be the sweet spot for this set. The ability to add on additional track and make it the center of a larger course add to it's appeal. We adults didn't like that it requires four D batteries, which are expensive, not something everyone has on hand, and for which there aren't many rechargeable options. We'd like to see a rechargeable lithium battery pack, or at least AA batteries, even if it needed a dozen of them.
Mattel Warranty and Customer Service
Hot Wheels maker Mattel warranties track sets for one year, and will provide replacements for broken parts. There is an 800-number for customer service on the Mattel site, but it's well hidden and you have to plow through several pages and end up on a different site that seems to come from about 20 years ago to find it. We reached a somewhat clueless offshore representative with a bad connection when we called, so we'd recommend using the various web forms if you need help.
| | |
| --- | --- |
| Pros | The motors really work, compatible with lots of cars, self-contained for younger kids and expandable |
| Cons | Requires four D batteries, needs more track to hold older kid's interest |
2. Best Expansion Track Set: Hot Wheels Track Builder Straight Track with Car
Offering 15 feet of track, the Hot Wheels Track Builder Straight Track isn't really a set. Rather, it's intended to expand existing sets. However, it's also very affordable would make a good beginner-level set for younger kids who might get frustrated with larger or more complicated sets.
It comes with one Hot Wheels car and 18 track pieces, which include nine-inch track pieces, 12-inch track pieces, and track connectors. This track set is designed for customization and can connect with other Hot Wheels track sets for a whole new level of excitement and creativity. It's also available as a Mega Track Pack with 40 feet of track pieces, or you can purchase many other combinations of track to add on later.
Like other Hot Wheels track sets, these pieces may not be compatible with certain Hot Wheels cars. This makes for an ideal gift for any Hot Wheels fans, since it's versatile and can be used with other track sets to expand on any track set they already have.
3. Biggest Track Set: Hot Wheels Colossal Crash Track Set
If your kids are anything like ours were, smashing cars together is somewhere between a hobby and their life's mission. A figure 8 track set takes that to the next level, especially if it's the appropriately-named Colossal Crash Track Set.
This is one of the largest sets they've ever made, over five feet wide, so be sure there's enough floor space for both the set, and people to move around it and play. Fortunately, the launchers and track are hinged and fold in, making it about half the size for somewhat more convenient storage.
It features gravity feed chutes into dual overlapping figure 8 tracks, jumps in both directions, and a hand-operated launcher. Once the cars are in the track, there are two boosters to keep them flying around until they crash and go flying, but you'll need six D batteries for the booster. It's pricey as well, will take some careful assembly, and you need to supply the cars, but you get a whole lot of track and options for your money.
4. Hot Wheels Track Builder Unlimited Power Boost Box Track Set
This is one of the most popular and highly-rated track sets that Mattel has ever made for Hot Wheels. The Track Builder Unlimited Power Boost Box Track Set crosses over into the digital world with Hot Wheels id App compatibility. But for most people, that's not a main feature.
The highlights are a storage box that's part of the track when in use, then holds the whole thing when you put it away. The track can be configured in multiple ways, stretching out to over 10 feet of raceway loop with a crossover, or down to two compact side-by-side loops, each with a booster and 90° vertical turn, for super fast heads-up racing. With almost 30 pieces and multiple layouts to build, this is perfect centerpiece to build around; or just use by itself.
| | |
| --- | --- |
| Pros | One of the few rebuildable sets, includes storage, can be up to 10 feet long |
| Cons | Like most Hot Wheels sets, it requires D batteries, expensive |
5. Hot Wheels Color Shifters Sharkport Showdown Trackset
Yet another Amazon exclusive, the Hot Wheels Color Shifters Sharkport Showdown Track Set takes advantage of Color Shifters vehicles, which change colors when they come in contact with warm or cold water. This track set is a themed water and speed play set, as Hot Wheels vehicles speed down from the tower ramp and towards a hungry shark with chomping jaws.
If a car manages to get trapped by the shark's jaws, you can send another towards the release lever to send the trapped car to safety. If you miss though, you could send the car flying off the track!
This track set comes with a Color Shifters car and two color-change zones, the dunk tank and the splash pool. This set can also be attached to existing Hot Wheels tracks, expanding the possibilities towards endless fun.
| | |
| --- | --- |
| Pros | Theme will appeal to younger kids, doesn't take up much room, affordable, no batteries required, can be used in the tub |
| Cons | Older kids will want additional track, color shifting cars cost more |
6. Hot Wheels Track Builder Total Turbo Takeover
Hot Wheels' Track Builder lineup is all about customization and building your very own track set. This particular selection is the Total Turbo Takeover Track Set, which includes a pull-back launcher, strips of orange track, curved track pieces, two kicker loops, two car-activated stunts, and a multi-directional booster. All of this can be combined to create multiple possibilities, limited only by your imagination.
The two-way motorized booster lets you setup head-to-head racing showdowns and with a flip of a switch, you can send the cars going in the opposite direction. This kit does also include a single Hot Wheels die-cast car. However, it's only a one-way track; you'll need to add more to make it a loop, or it can be connected to any other set.
The listing also has a few other Track Builder sets you can choose from, including starter kits that are a great place to begin when it comes to building your own track sets. What's best about these products is that you can continue adding onto your tracks, mixing and matching as you purchase more sets.
| | |
| --- | --- |
| Pros | Part of a large number of compatible Track Builder sets |
| Cons | As usual, D batteries are required, not a loop so cars just run off the end |
7. Hot Wheels Sky Crash Tower Track Set
If you don't have room to spread out to 10 feet or more of track in some sets, but still want one of the most popular and highest-rated sets, then go up. The Sky Crash Tower Track Set is almost three feet tall and packs a lot of action into a small footprint. This motorized Hot Wheels set has three spiraling loops, a completely upside-down one at the top, and jumps through the crash zone. A very fun feature is that the cars are shot straight up to the top over a vertical jump to start, turn completely upside down, then spiral down over another jump to the beginning. It's exciting to play with when you have four or five cars on it. It even comes with one to get you started, although many reviewers agree you'll have to try a lot of different cars to find ones that work well with it.
The real trick is that it doubles as storage, carrying 20 cars and folding up for storage. It's a clever design that's a lot of fun by itself, or can be built in to any other track.
| | |
| --- | --- |
| Pros | Loop with multiple aspects, folds up for storage or travel |
| Cons | Very picky about which cars work in it |
8. Hot Wheels Super Ultimate Garage Playset
Standing over three-feet tall, this track set offers non-stop action. The Hot Wheels Super Ultimate Garage Playset offers storage for over 140 cars and each set includes 4 cars and a massive jet plane. It offers several different and exciting play zones, including a drive-up diner and car wash, with dynamic moving parts like a motorized elevator. There's even a menacing gorilla that is determined to swipe cars out of the elevator! The elevator can support up to 23 cars at a time.
Plenty of racing action can take place on this playset as well, with a thrilling side-by-side racetrack that starts at the penthouse. The garage also offers multiple connection points, so other Hot Wheels sets can be connected for a customizable world of track and play.
| | |
| --- | --- |
| Pros | Storage, display, and playset in one, includes four cars and a plane |
| Cons | Huge and expensive |
What Hot Wheels Cars Will Work With a Track Set?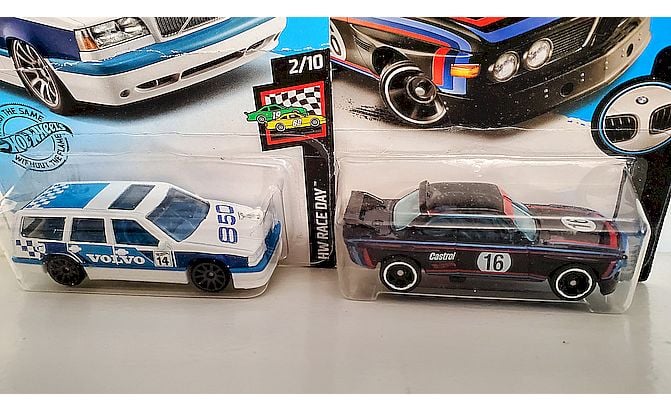 You would think that with Hot Wheels cars all at 1:64 scale, and Hot Wheels tracks made by the same company for their cars, everything would work with everything. But it's a lot less simple than that, according to Hot Wheels collector and diecast car historian Jeff Koch. Most will, but there's no easy way to tell what will fit what, "because not all 1:64 scale cars are actually 1:64 scale, they are made to fit the package." That's right, if the proportions of a real car would make it too wide, tall or narrow for the packaging, it'll get squashed or stretched to fit, with the result it might either fly off the track, not engage with power boosters, or not fit through tight spaces. Additionally, the modern, high-end collectible Hot Wheels are often not even engineered to roll.
You don't want to use any collectible car on a track, anyway, as they take a lot of abuse even on sets that don't have a crash. We have found that cars with orange tires do tend to be track ready. Fortunately, you can get affordable packages of cars to mix, match and test.
What Are the Best Cars to Use On a Hot Wheels Track?
We turned to Jeff Koch again to answer this question, who had surprising news: "Although people may complain about Hot wheels not being made of enough metal any more," he said, "The fantasy cars with plastic bodies and metal chassis are actually some of the quickest to go around the track."
"You do you generally want a lower center of gravity," he added. So go ahead and put the most affordable, wildest designs you like into the starting gate, and watch them fly.
Recent Updates:
December 22, 2022: Updated introduction, images, and product links. Removed Workshop Track Builder Starter Kit and Versus Track Set.
March 23, 2022: Added hands-on kid play test of Hot Wheels Criss Cross Crash Track Set.
December 7, 2021: Added FAQ section.
December 6, 2021: Added additional links for sold-out Hot Wheels tracks.
---
We are committed to finding, researching, and recommending the best products. We earn commissions from purchases you make using the retail links in our product reviews. Learn more about how this works.
AutoGuide may accept review samples for testing and evaluation. Suppliers of review products do not have any input into our conclusions and are not allowed to review our content before publication.
Published December 3rd, 2021 2:02 PM
Popular Articles
Latest Comparisons
Car Buying Tools