1 View
GM Spending $890 Million on New Engines, Including Direct-Injection Aluminum V8s
April 28th, 2010 11:09 AM
Share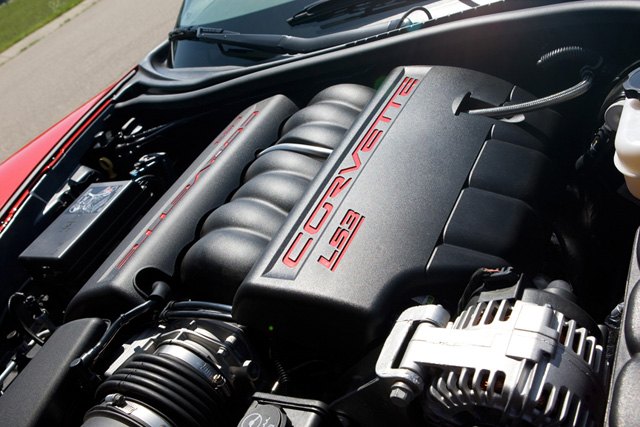 General Motors has announced it will invest $890 million in its powertrain facilities, part of which will go towards development of a new generation of powerful and efficient small-block V8 engines. The new engines will be E85 compatible, will use aluminum blocks and will get direct-injection technology. They will also get a new type of combustion system design. All of these updates will result in "unprecedented" improvements in fuel economy.
Updates to powertrain facilities will be made at five locations: Tonawanda, NY; St. Catharines, Ontario; Defiance, Ohio; Bedford, Indiana and Bay City, Michigan. GM says more than 1,600 jobs will be added or retained due to the investment.
There's no word on exactly what vehicles will get the new engines, but its likely they will arrive in GM's trucks, as well as a new generation of spots cars and luxury cars, ranging from the Corvette, to the Camaro, to the Cadillac CTS-V.
Official release after the jump:
PRESS RELEASE
GM To Invest $890 Million To Build Cleaner, More Fuel-Efficient Engines
o Five plants receive work: Tonawanda, N.Y.; Defiance, Ohio; Bedford, Ind.; Bay City, Mich. and St. Catharines, Ontario, Canada
o Investment creates or retains about 1,600 jobs
o New engines to save more fuel through direct injection technology and advanced combustion system design
DETROIT – General Motors will invest more than $890 million which will create or retain more than 1,600 jobs in five North American plants to produce a new generation of fuel efficient small block truck and car engines. The investment consists of the following:
* Two plants will support the engine production:
o Tonawanda, N.Y. – an investment of $400 million resulting in more than 710 jobs
o St. Catharines, Ontario – an investment of $235 million resulting in approximately 400 jobs (click here for Canada release)
* Three plants will support engine casting and component production:
o Defiance, Ohio – an investment of $115 million resulting in up to 189 jobs
o Bedford, Ind. – an investment of $111 million resulting in about 245 jobs
o Bay City, Mich. – an investment of $32 million resulting in over 80 jobs
The investments include facility renovation and installation of new, highly flexible engine machining and assembly equipment and special tooling designed for manufacturing efficiency and engine quality. At the casting facilities, investments include expansion of semi-permanent mold and precision sand casting technologies that result in a high degree of dimensional accuracy and material strength properties needed to support the newer, more efficient engines in GM's product portfolio.
"GM is investing in our plants, restoring and creating jobs and making progress toward our vision of designing, building and selling the world's best vehicles," said Mark Reuss, president of GM North America. "These latest investments show our commitment to improving fuel economy for buyers of every GM car, truck and crossover and giving them the best possible driving and ownership experience."
The next generation small block engine family will have unprecedented fuel efficiency through direct injection and an all-new advanced combustion system design. The new engine family will rely exclusively on aluminum engine blocks, which are lighter and contribute to the improved fuel efficiency. In addition to being E85 ethanol capable, these engines are being designed with the capability to meet increasingly stringent criteria emissions standards expected throughout this decade.
Specifics about the engine capabilities as well as product applications will be shared at a later date.
Since the launch of the new GM last July, the company has announced investments of more than $2.3 billion at 22 facilities in the U.S. and Canada. These investments restored or created more than 9,100 jobs, and they demonstrate a strong commitment to GM's future and to the United States and Canada.
About General Motors: General Motors, one of the world's largest automakers, traces its roots back to 1908. With its global headquarters in Detroit, GM employs 217,000 people in every major region of the world and does business in some 140 countries. GM and its strategic partners produce cars and trucks in 34 countries, and sell and service these vehicles through the following brands: Buick, Cadillac, Chevrolet, FAW, GMC, Daewoo, Holden, Opel, Vauxhall and Wuling. GM's largest national market is the United States, followed by China, Brazil, Germany, the United Kingdom, Canada, and Italy. GM's OnStar subsidiary is the industry leader in vehicle safety, security and information services. General Motors acquired operations from General Motors Corporation on July 10, 2009, and references to prior periods in this and other press materials refer to operations of the old General Motors Corporation. More information on the new General Motors can be found at www.gm.com.
Published April 28th, 2010 10:37 AM
Popular Articles
Latest Comparisons
Car Buying Tools