1 View
McLaren F1 Designer Gordon Murray Unveils World's Most Efficient Electric Car
June 29th, 2011 3:57 PM
Share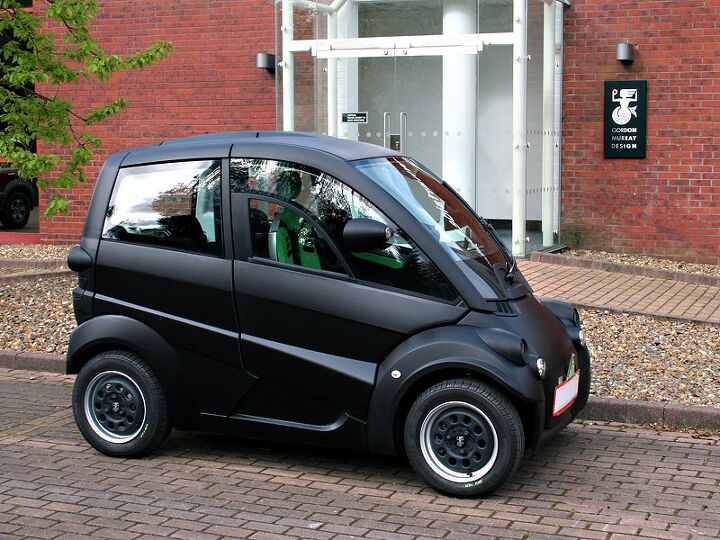 For years, Gordon Murray's pet project has been rumored for a while, like the secret creation of a mad scientist. And after much speculation, it's finally been unveiled: the T.27 city car, the world's most efficient electric car.
The electric city car has been Murray's singular obsession ever since he wrapped up the McLaren F1 and various go-fast consulting projects. £9 million has been invested in the project over the past three years, a car that has been described at various points as " revolutionary"—which in this case means its packaging and size.
At a tick over 7 feet long, it's even smaller than the Smart car: three T.27s can cram into one parking space. The car seats three with the driver up front and center, just as on the F1, and they climb in through a massive upwards-swinging door that takes over much of the cockpit. As far as McLaren comparisons go, that's about it.
With a top speed of 60mph and 15 seconds to get there, nobody is labeling it a supercar in the traditional sense. But as far as efficiency goes, the T.27 is as dedicated to mileage as the F1 was to speed: it is 36% more efficient than Mitsubishi's i-MiEV and 29% more than the electric Smart car, with the ability to reach 100 miles on its charge. It features a 33-horsepower electric motor powered by lithium-ion batteries, and still manages to be just 1,500 lbs. The T.27 has also been tested under the strict Euro-NCAP safety standards under Murray's approval, with results that he claims are "first-class."
The T.27 will be built in England as an example of low-cost manufacturing, with a streamlined process that adds the powertrain, brakes, and suspension to the chassis before the body panels, which should take full advantage of its lightweight packaging. A sales figure has not been listed yet.
[Sources: Motortorque, Gordon Murray Design]
Published June 29th, 2011 3:57 PM
Popular Articles
Latest Comparisons
Car Buying Tools