1 View
MINI Keeping Manuals Alive With 34% Take Rate
September 28th, 2011 11:15 AM
Share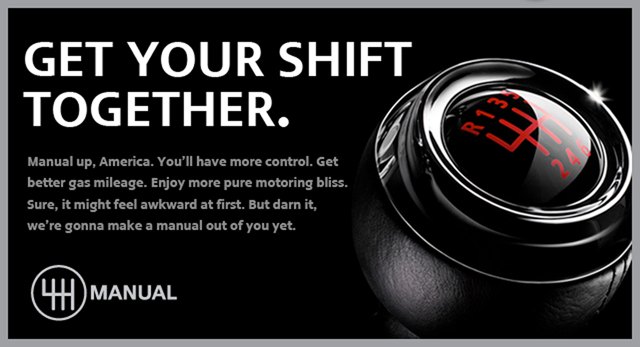 Sadly, manual transmissions are a dying breed. For many, the convenience of an automatic far outweighs the many advantages of driving stick, from the lower cost of the car, to improved driving enjoyment and vehicle control, to better fuel economy (although those pesky dual-clutch units are starting to make this argument obsolete).
Several months ago MINI announced the launch of a new " Manualhood" marketing campaign aimed at getting drivers to choose three pedals over two, while simultaneously building up the brand's enthusiast appeal. More recently, the quirky British automaker followed up with its " Becoming a Manual" PSA video.
At the recent launch of the new MINI Coupe (review here), brand boss Jim McDowell didn't provide any specifics on how the new campaign is going but he did point out just how popular stick-shift transmissions already are with MINI drivers. While total sales of manual transmission models make up just five to six percent of all vehicles sold in the U.S. each year, the take rate for MINI buyers is vastly higher at 34 percent. Depending on the region, that number can be even higher, with roughly half (49%) of all MINIs sold in New England being manuals.
Long live the stick-shift!
Published September 28th, 2011 11:15 AM
Popular Articles
Latest Comparisons
Car Buying Tools