1 View
GM Developing Vehicle-to-Vehicle And Vehicle-to-Infrastructure Communication Systems
October 19th, 2011 3:45 PM
Share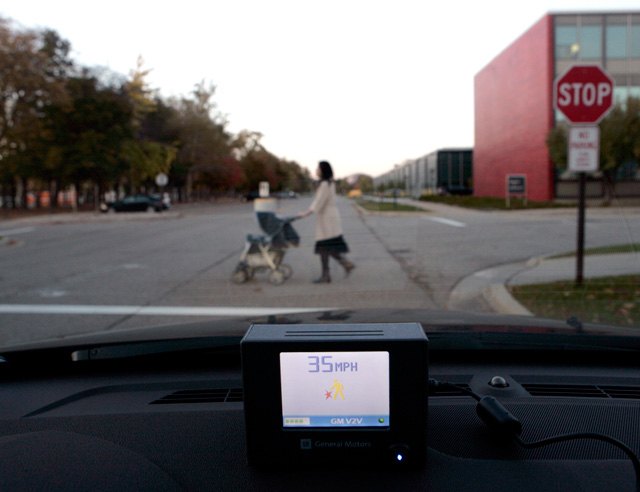 GM showed off the next step towards their new vehicle-to-vehicle and vehicle-to-infrstructure communication systems at the Intelligent Transport Systems World Congress.
The technology hopes to significantly reduce traffic accidents, with GM stating that it could potentially avert 81-percent of all U.S. vehicle crashes, according to the National Highway Traffic Safety Administration. GM is utilizing portable devices and smartphone applications to create a wireless safety net, gathering and transmitting information from other vehicles and infrastructures. The company hopes that these technologies will warn drivers about slowed or stalled vehicles, hard-braking drivers, slippery roads, sharp curves and upcoming stop signs and intersections.
GM has been testing the technology with two different platforms, one being a mobile transponder about the size of a GPS unit while the other is a smartphone application that is tied to the vehicle's display unit. The transponder features a display unit only. while the smartphone application can utilize the vehicle's audio and video display systems to integrate seamlessly into the daily drive. Both platforms use Dedicated Short-Range Communication (DSRC) to transfer data between devices and has a communication range of about one-quarter of a mile.
GM hopes to have this technology integrated into new vehicles, and are also currently figuring out a solution to retrofit it to older vehicles.
Published October 19th, 2011 3:45 PM
Popular Articles
Latest Comparisons
Car Buying Tools