1 View
Volkswagen Poised to Overtake Toyota as World's Largest Automaker
October 26th, 2011 8:15 AM
Share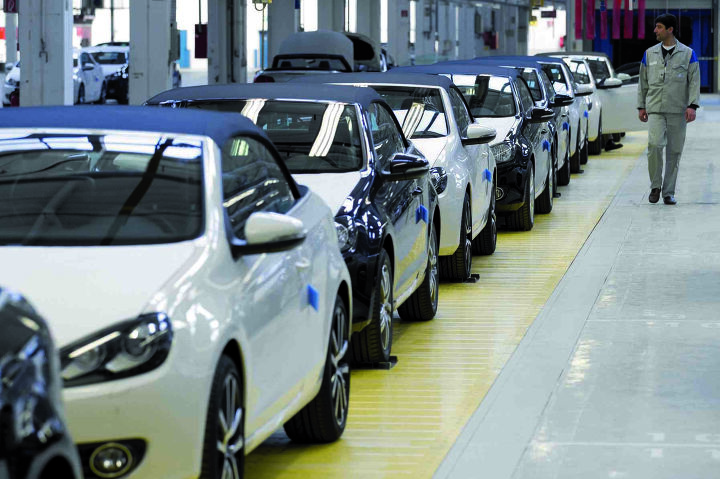 If sales continue to grow steadily in emerging markets, then it looks very likely that by the end of this year, Volkswagen AG will overtake Toyota as the world's biggest volume producer of automobiles.
VW's sales, which ranked third in 2010 are expected to rise by some 13 percent this year, resulting in a total of 8.1 million vehicles finding owners across the globe, according to projections from three different auto analysts, surveyed by Bloomberg.
The surge is expected to come primarily from China, where gains are expected to be around 20 percent for VW and also India, where the automaker's volume is forecast to more than double.
According to Jenny Gu, a senior market analyst for J.D. Power & Associates, based in Shanghai, "Emerging markets are at a stage of car-adoption by consumers and there is still a large space for sales to grow. VW realized this and put a lot of effort on emerging markets."
Toyota, by contrast, is still struggling in the wake of the March 11 natural disaster in Japan. In addition, the company also had to suspend operations in Thailand recently due to heavy floods, though analysts at IHS Automotive believe that Toyota has every chance of recovering and nudging VW out of the lead as the largest vehicle producer next year, provided its recovery remains on track. Current estimates from IHS peg Toyota selling some 8.4 million vehicles next year, about 500,000 more than Volkswagen.
Whether that happens or not, one thing's certain; emerging markets are seen as key to growth in the automotive sector, as sales in developed countries slow. Volkswagen plans to invest a record 62.4 billion Euros (approximately $87 billion US) next year, plus another 14 billion Euros on its joint venture operations in China.
VW was the first western automaker to set up shop in China and has been selling cars there for around three decades. And it looks like its goal of becoming and remaining the world's biggest automaker in terms of volume is likely to bear fruit, for in addition to VW products, it's also seen demand for its Audi brand vehicles grow significantly.
In terms of global sales, Audi nudged past Mercedes-Benz this year to become the second volume seller of premium branded cars and SUVs in the world, behind BMW. In addition, Audi plans to build another factory in China in order to cope with growing demand – sales in that country are projected to reach some 700,000 units annually by 2015, according to Dietmar Voggenreiter, head of Audi's Chinese operations.
However potential obstacles to achieving number one status still loom on the horizon. The ongoing dispute between VW and Suzuki over their intended alliance is likely to cause possible road blocks, especially in India where Maruti-Suzuki is by far the most dominant player in the automotive market, as is the situation at home between VW and Porsche AG, where a planned merger is experiencing significant delays.
[Source: Automotive News]
Published October 26th, 2011 8:15 AM
Popular Articles
Latest Comparisons
Car Buying Tools