4 Views
Birdman Gives Away a Rolls-Royce and Two Bentleys
February 9th, 2012 2:00 PM
Share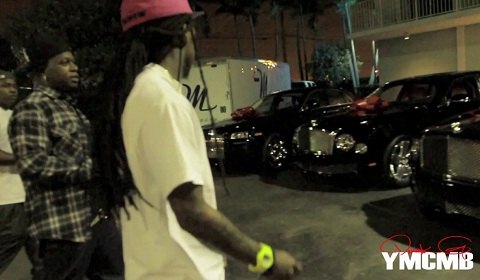 Defining the one percent is messy math business that we're far from doing, but maybe you can reach this stellar status by demonstrating your wealth through gifts.
If that is the case, hip hop entertainer Birdman certainly made the cut in the video below where he gave away a Rolls-Royce Ghost and Bentley Mulsanne — along with a second Bentley that he kept for himself.
If you aren't up to date on the world of ultra-luxury cars, here's a quick rundown.
The Bentley Mulsanne launched in 2010 and is the company's sedan, sporting a 6.75-liter twin-turbo V8 making 505 horsepower and 753 fl-lbs of torque. You can choose to enjoy that power behind the wheel, though at the $290,000 starting price some people may prefer just to pay a chauffeur. Little Wayne got the Mulsanne, while Birdman's brother and business partner Ronald "Slim" Williams walked away the happy new owner of a Rolls-Royce Ghost.
The Ghost starts at $380,000, and packs 563 horsepower and 575 ft-lbs of torque. Realistically, people buying these cars aren't all that concerned with the power specs. Badges and emblems emblazoned on the body and throughout the vehicle mean more to status symbols than big power numbers. The interiors ain't bad either.
Either car offers a splendid example of what it feels like to swim in fine leather and rich wood. Ferris Beuller said it best, "It is so choice. If you have the means, I highly recommend picking one up." Of course in that movie he's referring to a Ferrari 250 GT California, but the words still ring true.
If you've been scratching your head over these names, this "Lil Wayne", Ronald "Slim" Williams and a grown man who walks around calling himself "Birdman", you probably don't have a taste for rap music.
The three men referred to above are responsible for Cash Money Records, the label behind some of today's pop icons like Drake, Nicki Minaj, T-Pain and among others, the predator look-a-like himself: Lil Wayne. Know then or not, the first guy in the video is Birdman and these cars cost him a total of well over $1 million so he must be doing something right.
You can watch the video below.
Get the Flash Player to see this player.
{ "id": "12970726", "alt": "", "title": "", "video_link": "https://www.youtube.com/embed/oD6v8m0FoX8", "youtube_video_id": "oD6v8m0FoX8" }
{ "width": 634, "height": 357, "showRelated": true }
Published February 9th, 2012 2:00 PM
Popular Articles
Latest Comparisons
Car Buying Tools