1 View
Ferrari FF Burns to the Ground in Poland
May 28th, 2012 11:48 AM
Share
We're committed to finding, researching, and recommending the best products. We earn commissions from purchases you make using links in our articles. Learn more here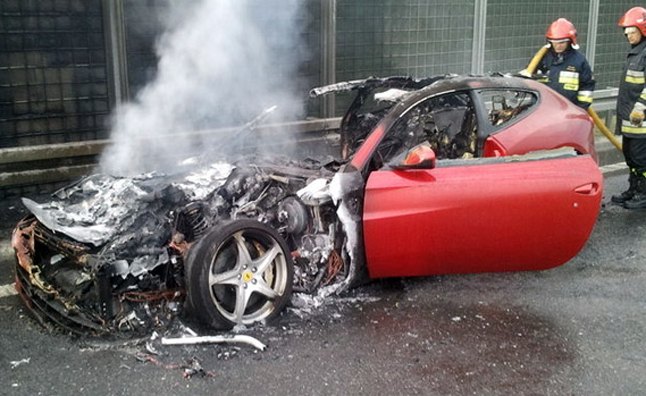 Ferrari has been gaining a name for itself lately for having hot cars, but not in a design sort of way.
Reports of Ferrari's spontaneously self-combusting have been common in the news over the last few years, and the newest case is that of a Ferrari FF burning itself down in Poland. The fires started in 458's, and this is now around the third case of an FF burning that has been reported. This spells out that the problems are not isolated to one model, but to something in the engine or electronics setup.
This seems to be a growing problem in the Italian supercars, and is quite a cause for concern, as watching your half-million dollar investment burn to the ground must be a painful experience.
The driver of this FF reported that the fire started under the hood while he was cruising on the highway, and quickly made its way into the cabin, entering where the drivers pedals are.
If the automaker doesn't do something about this flame ridden epidemic soon, it will probably start to curb sales numbers of the exotic cars.
You can watch a video of the Ferrari burning here.
Stephen Elmer
Stephen covers all of the day-to-day events of the industry as the News Editor at AutoGuide, along with being the AG truck expert. His truck knowledge comes from working long days on the woodlot with pickups and driving straight trucks professionally. When not at his desk, Steve can be found playing his bass or riding his snowmobile or Sea-Doo. Find Stephen on <A title="@Selmer07 on Twitter" href="http://www.twitter.com/selmer07">Twitter</A> and <A title="Stephen on Google+" href="http://plus.google.com/117833131531784822251?rel=author">Google+</A>
More by Stephen Elmer
Published May 28th, 2012 11:47 AM
Popular Articles
Latest Comparisons
Car Buying Tools