3 Views
Five-Point Inspection: 2013 Hyundai Genesis Coupe 3.8 Track
August 23rd, 2012 3:54 PM
Share
We're committed to finding, researching, and recommending the best products. We earn commissions from purchases you make using links in our articles. Learn more here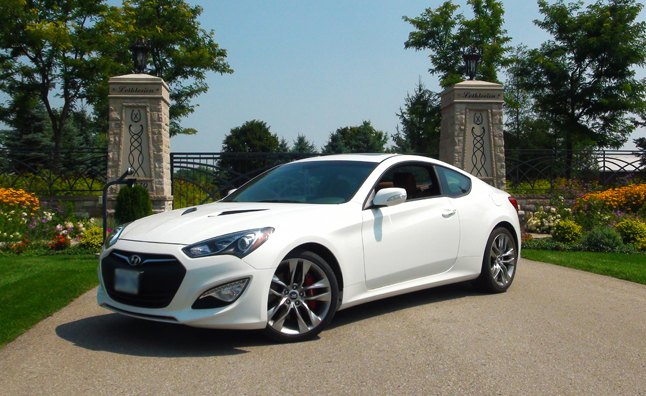 This week, AutoGuide's Five-Point Inspection takes a look at the 2013 Hyundai Genesis Coupe 3.8 Track. Using direct injection for the first time, the 3.8-liter V6 manages to squeeze out 348 hp and 295 lb-ft of torque.
If equipped with the smaller 2.0-liter turbo four, the Genesis Coupe can be had for a starting price of $24,250. When maxed out with Track trim, the Genesis Coupe hits the ceiling at $34,250.
Redesigned for 2013, the Genesis Coupe got radical style updates, and a pretty serious power boost to make it more competitive than ever. Taking the fight to the Scion FR-S and Mustang V6, the Genesis Coupe is a serious player in its segment.
Read on to learn more about the 2013 Hyundai Genesis Coupe.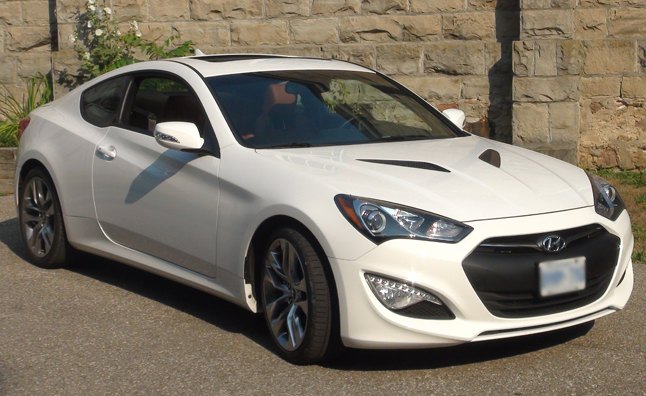 If you didn't know, the Hyundai Genesis Coupe 3.8 could easily fool you into believing a thirsty V8 lives under the hood. Apart from the awesome power, it also sounds fantastic. Quiet at cruising speed, thanks to an air intake noise generator that pipes sound into the cabin, it hits peak awesome at around 4,000 rpm.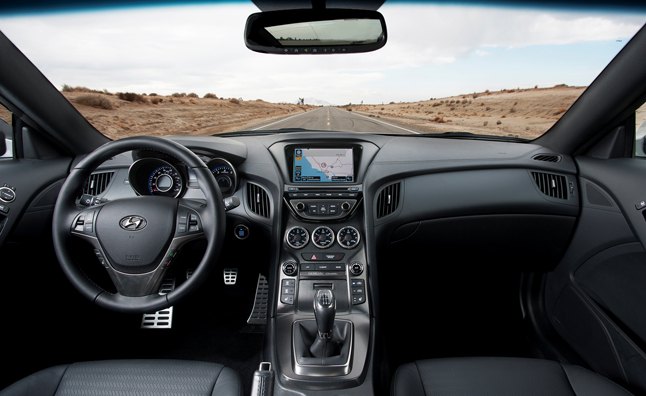 Redesigned for 2013, the Genesis Coupe has been transformed from a slick looking, under the radar racer, to a sports car you can't ignore. The large maw, complete with angled hood lines and hood scoops (cosmetic only) make it look simply vicious. Inside, the sports car DNA is evident with a new center stack that houses gauges for temperature, fuel economy and a torque readout.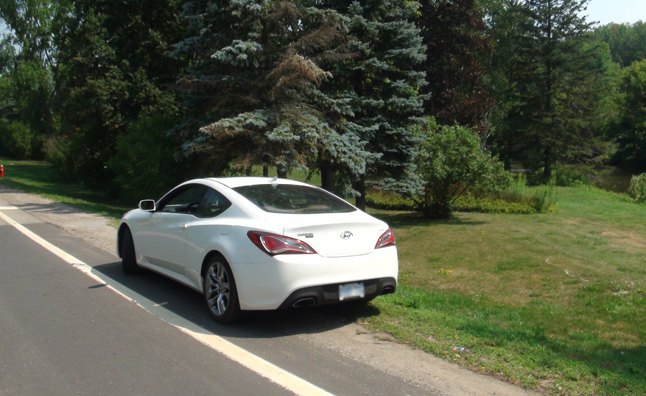 Pleasing to look at, it's less ideal to sit in and isn't quite tall enough for big folks. Drivers taller than six feet might find themselves leaning their torso to keep their head from touching the roof by fitting it into the sunroof recess, which makes for an uncomfortable experience. Making it more frustrating, there seems to be plenty of room but the seat just doesn't go any lower.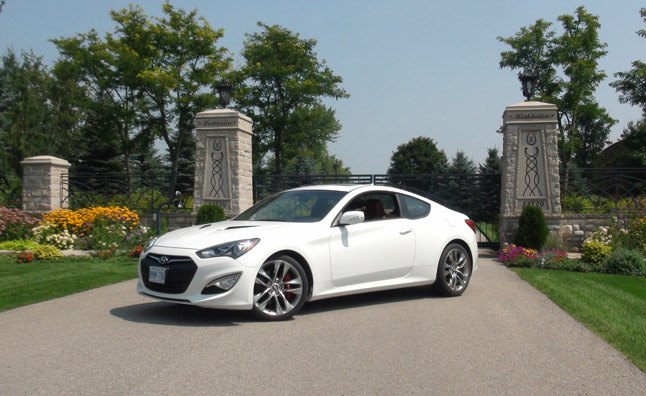 All 348-hp and, more importantly, 295 lb-ft of torque are commandable with just millimeters of input from your right foot. The six-speed manual transmission in our test car also operates with a hair-trigger clutch via your left foot.
Jumping off the line is easy, but try just going for a cruise or worse, getting stuck in traffic. The competition, like the Mustang, are much more forgiving and much easier to drive relaxed. The Genesis is easy to stall, and can be hard to keep smooth.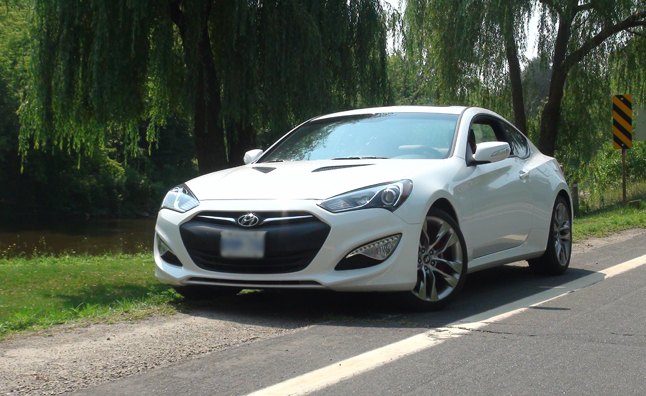 Nanny controls are great at times, and the safety systems in the Genesis are no exception. However, at even a hint of something that resembles a chirp of the rear tires, all power is cut from the wheels for a stomach-churning second and a half. When the car reacts exactly how you don't want it to, safety has never felt so un-safe.
Now, it is a three-stage system, and the 'sport mode', is more aggressive without letting you take the rear end all the way around. That setting became the default, however, because the regular traction control is just too harsh. Doesn't Hyundai understand that whoever is buying these cars doesn't want totalitarian control over the gas pedal, just some gentle guidance?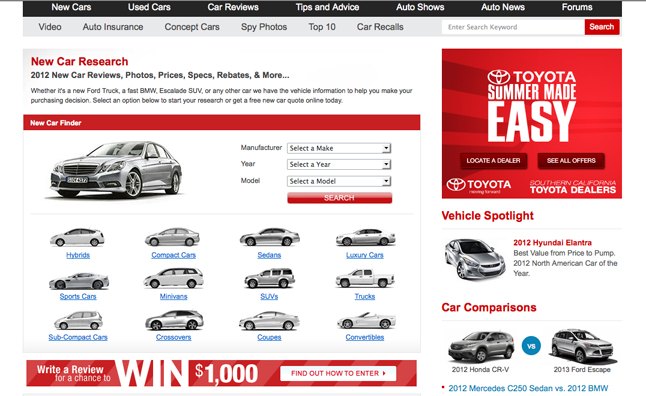 Interested in purchasing a Hyundai Genesis Coupe? Check out our new cars buying section to spec out a model how you like it, then compare it to the competition.
To view the Hyundai new cars page, click here. To skip right to the Genesis Coupe, click here.
You can also read a full review here, or watch AutoGuide's video review here.
Stephen Elmer
Stephen covers all of the day-to-day events of the industry as the News Editor at AutoGuide, along with being the AG truck expert. His truck knowledge comes from working long days on the woodlot with pickups and driving straight trucks professionally. When not at his desk, Steve can be found playing his bass or riding his snowmobile or Sea-Doo. Find Stephen on <A title="@Selmer07 on Twitter" href="http://www.twitter.com/selmer07">Twitter</A> and <A title="Stephen on Google+" href="http://plus.google.com/117833131531784822251?rel=author">Google+</A>
More by Stephen Elmer
Published August 21st, 2012 4:02 PM
Popular Articles
Latest Comparisons
Car Buying Tools