1 View
Kia K900x Previewed in Trademark Filing
March 23rd, 2015 9:55 PM
Share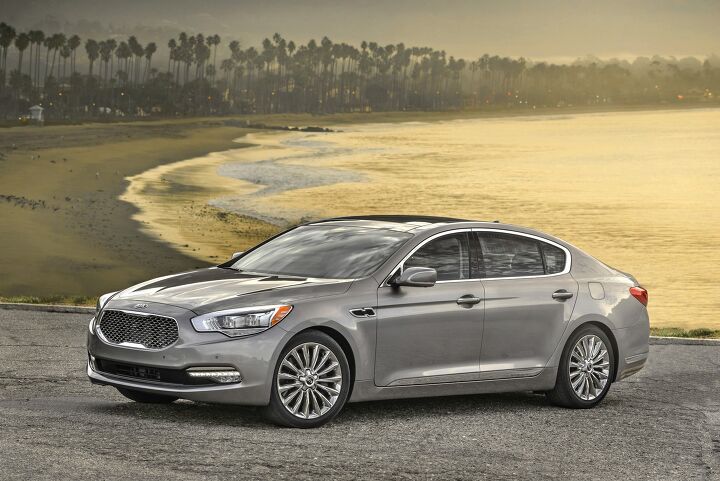 A new trademark filing by Kia suggests a possible adoption of all-wheel drive to its flagship sedan. But that's not all.

Last week the Korean automaker renewed an earlier filing with the United States Patent and Trademark Office for the terms K100x to K900x, inclusive.
"That seems like like an indication that AWD is on the way," said Dave Sullivan, product analysis manager for AutoPacific, Inc.
SEE ALSO: Kia Sportspace Concept First Look
While Kia doesn't currently offer any models named K100 to K800, the K900 was introduced in 2014 as the brand's new flagship luxury sedan. That car is available with either a 311-hp 3.8-liter V6 or a 420-hp 5.0-liter V8 with power going exclusively to the rear wheels.
Currently the only all-wheel drive models Kia offers are the Sportage and Sorento crossovers.
The adoption of all-wheel drive, says Sullivan, isn't surprising. "The K900 is very closely tied to the [Hyundai] Equus and the next Equus is right around the corner," he said. "The next Equus is slated to get AWD," which is, "probably an indication that the next version (of the K900) will have AWD.
Sullivan said that he expects that the Kia K900x would use a rebranded version of the H-TRAC system introduced in the 2015 Hyundai Genesis.
So with much of the engineering already completed, Kia's real motivation is consumer demand.
"This was part of Jaguar's problem…they didn't have an AWD car," Sullivan said. "When you look at BMW and [Mercedes-Benz] dealers in the Midwest and Northeast, they don't stock cars without xDrive or 4Matic."
The trademark application for the other numbers 100x to 800x might also suggest the move away from traditional nameplates like the Rio or Optima towards an alphanumeric nomenclature, much in the way that premium brands do. But Sullivan isn't so sure. "I don't think Kia is going all alphanumeric," he said.
SEE ALSO: 2015 Kia K900 First Drive
The original K100x to K900x filing was made in August of 2013 and was recently updated with an extension, an indication that Kia still intends to use the new names. The filing is brief on details but does specifically outline that the "x" is lower case.
When asked for comment, James Hope, product communications manager for Kia Motors America, said he had no knowledge of trademark filings and had no comment on the matter.
Discuss this story at our Kia Forums
Published March 23rd, 2015 12:44 PM
Popular Articles
Latest Comparisons
Car Buying Tools