1 View
Racing Legend Offers Top 10 Winter Driving Tips
February 10th, 2017 2:20 PM
Share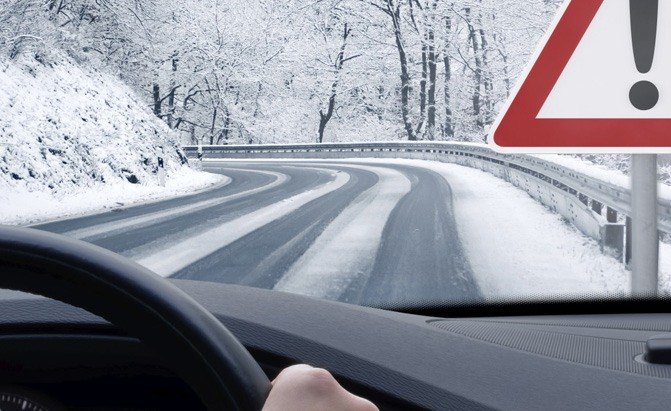 The winter season often brings along the most dangerous driving conditions.
Top Fuel drag racing legend Doug Herbert lost his two young sons in a tragic car crash in 2008 and has since transformed his grief into something positive by creating the non-profit, teen-focused defensive driving program Be Responsible and Keep Everyone Safe (B.R.A.K.E.S.). Herbert and his team of highly trained instructors travel throughout the U.S. with their fleet of new vehicles donated by Kia, offering teens and their parents free, hands-on driving exercises like panic braking, drop wheel (off-road) recovery, skid control and distracted driving awareness.
SEE ALSO: Why You Absolutely Need Winter Tires, Even If You Have All-Wheel Drive
Herbert has released a top 10 list of winter driving tips to help you and your loved ones be prepared and stay safe during the season.
10. Rain Water Can Cause Slick Roadways
The first rainfall of each year can create oil slicks on roadways, which reduces traction. Most people tend to drive too fast and experience a loss of traction, increasing the risk of a crash. In other low-lying areas, small puddles of water can cause tires to hydroplane. In most situations, accidents can be avoided by simply slowing down in rainy conditions.
---
9. Be Aware of Windy Conditions
Along with rain, windy conditions can result in several hazards for drivers. High winds can blow snow, dirt or sand across the roadway, reducing visibility and traction. In addition, loose objects can blow across the path of travel, surprising drivers and causing panic steering and braking inputs. In some cases, it's better to park in a safe location and wait until the high winds subside.
---
8. Understand How Your Vehicle Behaves in Low-Traction Conditions
One of the most important factors of winter driving is understanding how your vehicle performs in low-traction conditions. Front-wheel-drive vehicles can offer better traction and car control in corners, while rear-wheel-drive vehicles may not respond to steering inputs or experience loss of traction, causing the vehicle to spin. But even with all-wheel drive, speeds must be reduced when traction is limited by snow, ice or sand.
---
7. Avoid Distracted Driving
Needless to say, you should avoid using your cellphone while driving under any conditions. But if you must use your phone for navigation, it's best to use a phone mount or pair your phone to your vehicle's infotainment system. To also help reduce distracted driving in winter, you should set your defroster to run automatically and turn on your headlights before you leave, even if it's daylight outside. Also, it's best to create a playlist before you leave so you're not fumbling around looking for music. Herbert also recommends minimizing your radio's volume so you can focus on driving.
---
6. Pack a Small Emergency Bag
It may seem trivial, but you never know when you'll need it. A small emergency bag with two or more blankets, jumper cables, extra clothing, extra phone charger or battery, boots, a flashlight and extra batteries, ice scraper, umbrella, water, high-calorie non-perishable snacks and a bright piece of cloth. No, you aren't preparing for the zombie apocalypse, but winter conditions are unpredictable and all those things could come in handy.
---
5. Check Your Battery
Always check your battery's condition before heading out on a long road trip. Most automotive batteries last about three years and extreme cold requires more energy to start your car. At zero degrees Fahrenheit, a car's battery loses about 60 percent of its strength, and at 32 degrees Fahrenheit, it loses 35 percent.
---
4. Inspect the Tread on Your Tires
No matter what the conditions may be, you should check and make sure you have enough tread on your tires before hitting the road. Also, make sure you're using the correct type of tire (winter vs. all season) as it could make a major difference when driving. All-season tires can harden in low temperatures, creating less traction between the road and your tires.
---
3. Slow Down for Icy Conditions
Sometimes it's the things you can't see that are the most dangerous. Bridges and overpasses typically are the first place for icy conditions to develop. So expect traction to be diminished when approaching those areas and always slow down for icy conditions.
ALSO SEE: 6 Tips for Driving in the Snow and Not Crashing
---
2. Be Familiar With Your Vehicle's Braking System
Even in today's most advanced vehicles, you should be familiar with the braking system in your particular car. If you have ABS, be sure you know how to activate it and that you know what it feels like when ABS is activated. It's recommended to test your ABS system in an empty, dry parking lot before you have to experience using it in an emergency. If ABS does activate, stay on the brakes, look and steer the car in the direction you want to go.
---
1. Never Use Cruise Control With Slick Road Conditions
Even though it's designed to make long drives more comfortable, it is never a good idea to use cruise control with slick road conditions. That's because the system does not have a feel for loose road conditions and could add more power at the wrong time, resulting in the loss of control. It's best when driving in challenging conditions to have full control of your accelerator, brakes and steering wheel.
Published February 10th, 2017 9:29 AM
Popular Articles
Latest Comparisons
Car Buying Tools